IMPRESSIONS: American Realness Presents Claire Cunningham & Jess Curtis, Rosy Simas, and Neal Medlyn
Now in its ninth season, American Realness shares the work of artists who deviate from traditional contemporary dance fare. These performers, many from marginalized and underrepresented communities, spill their guts onstage while sussing out complex ideas in live performance. It can be very raw. Sometimes messy. Sometimes weird. And once in a while, performances fall short.  But one thing is certain: After a tumultuous 2017, this festival is more necessary and relevant than ever.
---
The Way You Look (at me) Tonight (New York City Premiere)
January 10, 2018 at Gibney Dance
Creation and Performance: Claire Cunningham & Jess Curtis
Philosophical Consultation: Alva Noë / Dramaturgy: Luke Pell
Video Design: Yoann Trellu /Composed: Matthias Herrmann
Lighting Design: Chris Copland / Costume Design: Michiel Keuper
In The Way You Look (at me) Tonight, Claire Cunningham and Jess Curtis lay everything out on the table. Cunningham, an artist who identifies as physically disabled, and Curtis, a choreographer who explores gender and sexuality issues, have collaborated for over a decade. Both white haired, punkish, and casually dressed, they share that, though there is dancing, there will also be a fair share of conversation. "We're loquacious talkers," quips Cunningham at the outset.
The artists not only divulge what they'll be doing but how, so everyone knows what to expect. During the next 100 minutes, Cunningham and Curtis scamper through the labyrinth of chairs, body surf over one another, and reveal intimate thoughts about their own identities. Their conversations and dancing flow seamlessly into one another — a fast-moving game of performative Ping-Pong. The Way You Look (at me) Tonight has a loose, shoot-from-the-hip quality that's refreshing.
Cunningham, in particular, is magnetic. As she elegantly swings her body through her gray crutches, her feet land on one of the poles like a bird on a perch. She then gracefully jumps down, and as she rides the momentum, her pelvis swoops in a circle like a skateboarder turning down a ramp. Even her face dances. With furrowing brows and sparkling eyes, Cunningham and Curtis reawaken our senses to the body's possibilities and resilience.
---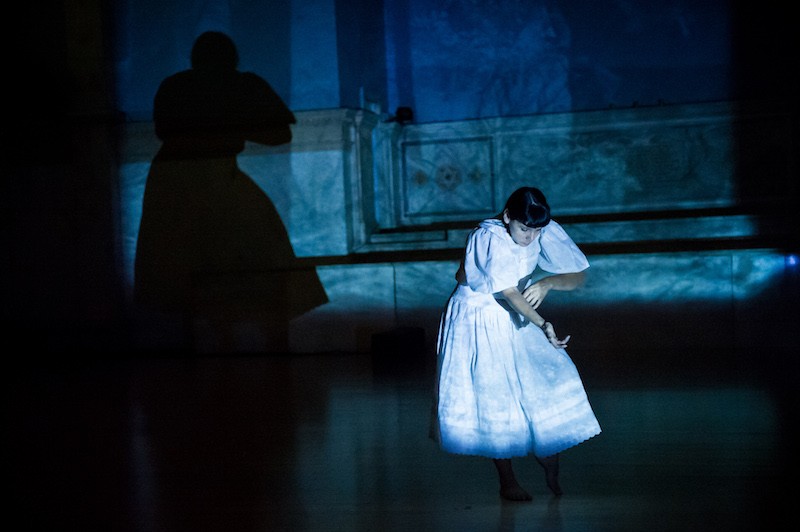 Rosy Simas in We Wait in the Darkness; Photo by Ian Douglas
We Wait in the Darkness
January 15, 2018 at Abrons Art Center
Choreographed and performed: Rosy Simas
Music Composition: Francois Richomme / Set and film design: Rosy Simas
In her solo, We Wait in the Darkness, Rosy Simas, a Seneca Haudenosaunee artist based in Minneapolis, mediates on her ancestry, the trauma her family endured, and the land they lost. In 1961, John F. Kennedy approved plans to break the 1794 Canandaigua treaty to build what is now the Kinzua Dam and Recreation Area. Simas' grandmother would have inherited part of this region had it not been taken. Using images and sounds of the dam and her ancestors, Simas merges the personal and the political.
Sitting on her knees facing away from the audience, Simas is flanked by a series of white woven rectangles, a scrim, and a long cascading paper spiral. A white dress forlornly hangs from the ceiling. A recording of a letter from Simas' grandmother plays. A husky voice rings out reflecting on the past and present, the woman's abusive childhood, and her granddaughter's fiery spirit. The set and the letters give a strong sense of place — a fading community that, despite its fractures, is made up of steely individuals.
Francois Richomme's score is a worthy partner to Simas. In a cacophonous moment, sounds reminiscent of an army of cicadas encircle viewers; percussive wails compound in syncopation. These deafening moments contrast with silences and whispers that glide over us like ghosts.
Simas delivers her movements intently. Swiping her hand across her chest, she pulls her elbow back like a bow and arrow. In a crouch, she cups her hands around her mouth to release a short gust of breath. These gestures vividly express the expulsion of pain and the search for peace. We Wait in the Darkness lacks a single superfluous moment, its measured orchestration giving the performance its magnetic power.
---
Neal Medlyn and Maggie Cloud; Photo: Gillian Walsh
I<3 PINA
January 16, 2018 at Abrons Art Center
Creation: Neal Medlyn
Performance: Neal Medlyn, Maggie Cloud, and Gillian Walsh
Choreography adapted from works by Pina Bausch by Gillian Walsh with Maggie Cloud and Hannah Wischnewski
Text: Neal Medlyn with Siobhan Burke, Gillian Walsh, Lumi Tam, and others
Performance artist Neal Medlyn, at first glance, seems out of place among artists like Curtis, Cunningham, and Simas. Yet, underneath Medlyn's tongue-in-cheek pop culture investigations, is a queer man with a complicated religious past trying to make sense of the world around him. Classically trained in theater, Medlyn interrogates his fascination with Pina Bausch, her connection to romanticism, and the reasons people connect to her work. He plucks and plops a handful of Bausch motifs into a pastiche of online dating references, Rihanna songs, and a clip of The Bachelor.
Medlyn serenades us while his musings on Bausch are projected on the brick wall. This obviously isn't his first rodeo as he croons convincingly to Rihanna's "Needed Me." "Tryna fix your inner issues with a bad bitch / Didn't they tell you that I was a savage /Fuck your white horse and a carriage."
Maggie Cloud and Gillian Walsh, meanwhile, conjure up Saturday Night Live versions of signature Bausch characters: sexy and enigmatic women dripping of drama. Cloud offers an uncanny adaptation of Bauschian long-hair dancing while Walsh lingers morosely at the stage's edges. Though the dancing is sparse and intermittent, it's difficult to keep track of the simultaneous scrolling text and live performance.
The artist makes a number of astute, funny observations, including a personal favorite, "it looks like white people running into each over and over." Yet I<3 PINA begs more of its creator. Like an inspiration board, images and thoughts loosely lie next to one another, but the parts never quite coalesce. It's hard to believe that someone like Medlyn, a go-for-broke, infectious performer who has taken on the Insane Clown Posse and Beyoncé with aplomb, can't put his finger on Bausch's mystique. Then again, perhaps that's the point. Holding a mirror up to our celebrity-obsessed culture where the media evaluates every detail, Medlyn shows that some things are better left untouched.
---
The Dance Enthusiast Shares IMPRESSIONS/ our brand of review and Creates Conversation.
For more IMPRESSIONS, click here.
Share your #AudienceReview of performances for a chance to win a prize.