IMPRESSIONS: Diana Vishneva and Marcelo Gomes in "Sleeping Beauty Dreams" at the Beacon Theatre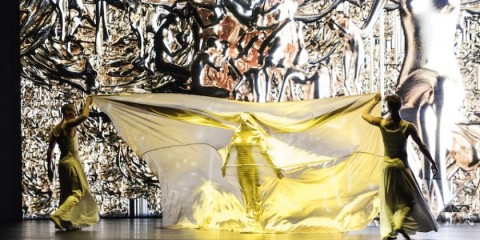 December 14, 2018
Director: Rem Hass
Dancers: Marcelo Gomes, Diana Vishneva, Steven Blandino, Hunter Wayne Foster, Jakob Karr, Eric Lehn, Jonatan Lujan, Brayden Newby, Scott Schneider, Ian Spring, Clifford Williams, Brandon Coleman
Choreographer: Edward Clug / Composer: NOISIA, Thijs de Vlieger    
Costume Designer: Bart Hess / Digital Artist: Tobias Gremmler    
Technology Partners: Perception Neuron, Noitom, L-Acoustics, Disguise, BlackTrax, Varilite
---
"What did the Princess dream about during her 100-year slumber?" 
This intriguing question heads the prologue printed in the one-page program of this wildly ambitious event, starring prima ballerina Diana Vishneva as "The Princess" with a brief appearance by Marcelo Gomes. 
Sleeping Beauty Dreams at the Beacon Theatre; Photo by SBD Photography.
A transparent ramp upstage center is where Vishneva, supine, begins the story. Billowy white blobs suggesting a dream state appear behind her on the 50 foot long, 24-foot high projection screen. Vishneva's movements, tracked by penny-size sensors woven into her costume, are reduced to dots on the screen.
Miami-based Magical Reality Group partnered with Tobias Gremmler, Perception Neuron, Noitom, L-Acoustics, Disguise, BlackTrax, and Varilite to create seven or so screen ideas that dwarf Vishneva's minimal, grounded moves.  A male ensemble appears. Among many actions they perform, they waft  gold cloth which creates a pavilion for Vishneva to run through three times. 
Sleeping Beauty Dreams at the Beacon Theatre; Photo by SBD Photography.
First performed as a ballet in 1890 in St. Petersburg, Russia, The Sleeping Beauty involved a score by Pyotr Ilyich Tchaikovsky, a scenario by Ivan Vsevolozhsky based on Charles Perrault's La Belle au bois dormant published (1697), and choreography by Marius Petipa. Imagine the reactions of Tchaikovsky, Vsevolozhsky, and Petipa to this contemporary take on the fairytale. 
Sleeping Beauty Dreams at the Beacon Theatre; Photo by SBD Photography.
Those of us who have watched multi-media experiments over the years (from Twyla Tharp's Catherine Wheel and Merce Cunningham's Biped  to Wayne McGregor's Future Self, and the work of Troika Ranch) know that larger than life imagery can add a dimension to live dance, enhancing its potency. The creators of Sleeping Beauty Dreams seemed to forget its Princess, whose art was sacrificed for the sake of brutal sensation.
The imagery is impressively macabre; the sound by the appropriately named NOISIA, relentlessly loud; and the lighting sometimes blinding.
---
The Dance Enthusiast Shares IMPRESSIONS/our brand of review and Creates Conversation.
For more IMPRESSIONS, click here.
Share your #AudienceReview of performances.