IMPRESSIONS: Camille A. Brown & Dancers "ink" at the Joyce Theater
February 5, 2019
Direction and Choreography: Camille A. Brown in collaboration with the musicians and members of Camille A. Brown & Dancers
Dancers: Beatrice Capote, Timothy Edwards, Catherine Foster, Juel D. Lane, Yusha-Marie Sorzano, Maleek Washington, and Camille A. Brown
Musicians: Juliette Jones, Allison Miller, Scott Patterson, and Wilson B. Torres
Dramaturgs: Daniel Banks, Kamilah Forbes, and Talvin Wilks
---
Camille A. Brown & Dancers' ink isn't made of the liquid that seeps from pens or printing presses. Instead, it is born of human fluids, the ones that etch deep wounds but leave few written records.
I'm speaking of the sweat, blood, and tears of Black men and women, who were enchained and exploited for profit by white people. Chattel slavery shattered previously whole communities into splinters that regrouped with other splinters until those were rent apart, and the process started again.
ink, which made its New York premiere at the Joyce Theater, reclaims these stories to celebrate the vibrancy and resiliency of the African diaspora. It is the final entry in a trilogy that includes Mr. TOL E. RAncE (2012) and BLACK GIRL: Linguistic Play (2015).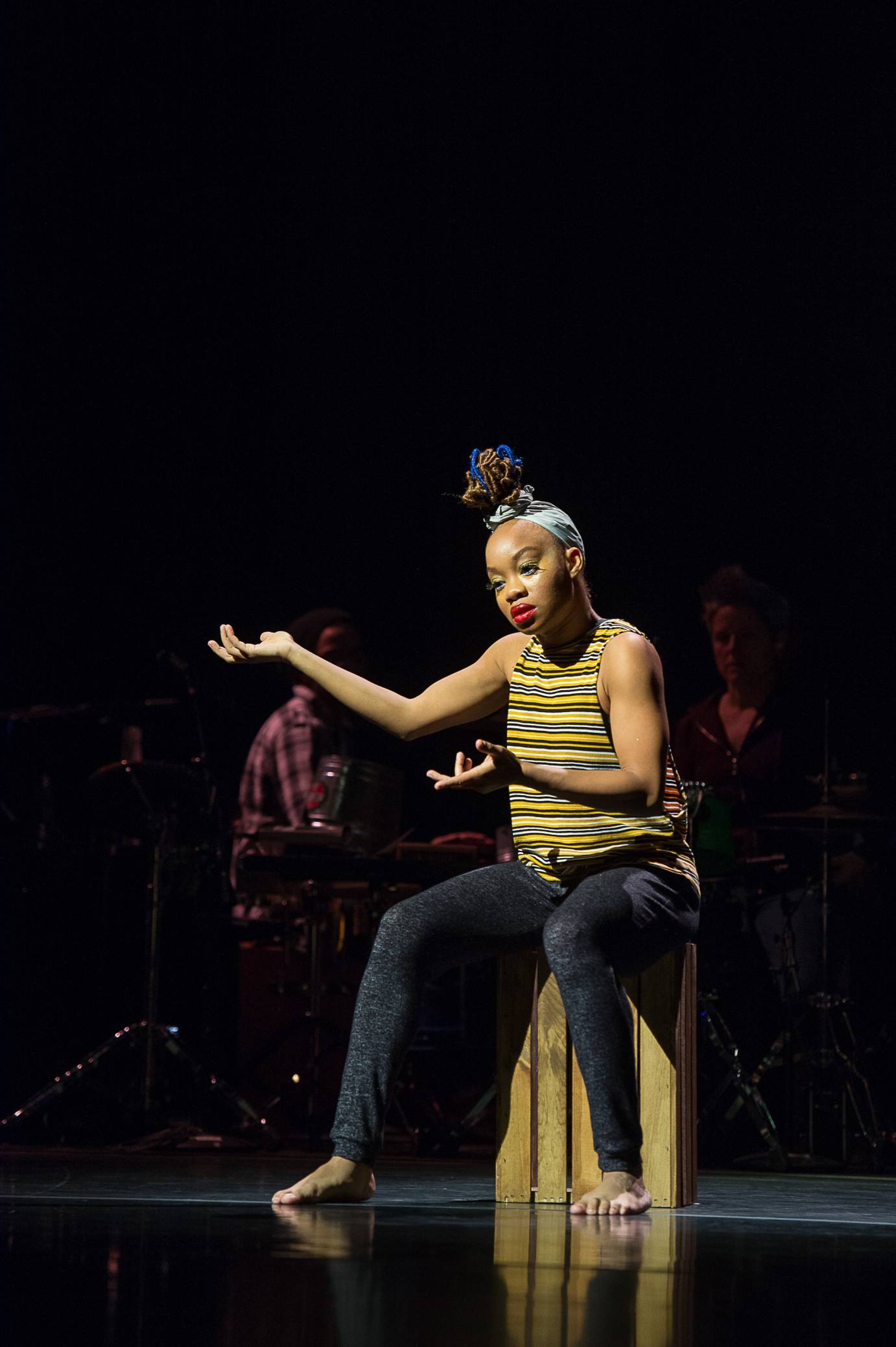 Camille Brown in ink; Photo by Christopher Duggan
If you're unfamiliar with Black history, then ink might seem like nothing more than a lively block party. A terrific if underutilized band with music direction by Allison Miller is situated before the stage's brick-walled back. A couple of percussionists, a piano player, and one roaming violinist generate toe-tapping rhythms that are shaded with heart-on-the-sleeve melodies.
What Brown calls a "billboard" has been split in two, each half hanging angled above the stage. This billboard contains the depictions of Black individuals from Black.Archive on Instagram, who loosely represent several episodes in ink. A secondary performance of sorts occurs when the lights darken and lighten these colorful collages, causing them to bleed into suggestions of graffiti or modern-art masterpieces.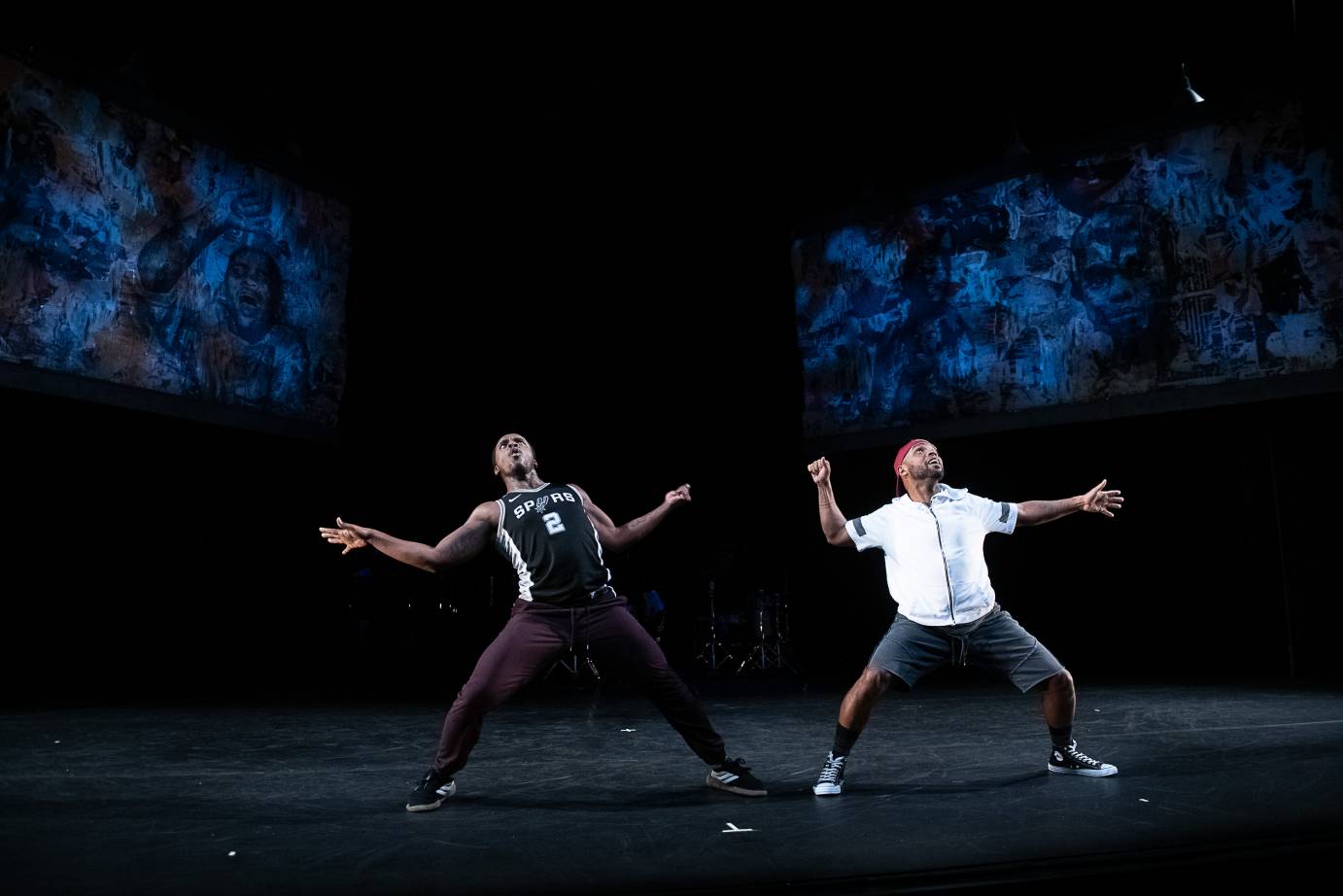 Maleek Washington and Timothy Edwards of Camille A. Brown & Dancers in ink; Photo by Christopher Duggan
Brown, mixing mindfully, stirs up a style all her own. The lickety-split footwork of tap combines with the thrusting bravado of hip-hop. Evidencing the flair of Afro-Cuban dances like Salsa, torsos separate and sway. The result is bodies that function as their own band with multiple lines of music manifesting. In the talkback that's part of every show, she calls this physical language "Camille."
This easy-to-enjoy genre, though, isn't for us. It's for them, the performers, who often dance face-to-face, like they're absorbed in soul-searching conversations. During the most fleshed-out vignette of about a half dozen, Maleek Washington and Timothy Edwards form a brotherhood: joking, teasing, and roughhousing. The mood swerves, though, when they realize their Blackness and the ways it endangers them. Suddenly, the stage appears shrunken to the size of a jail cell as the two men poke at the air tentatively. Their world has changed and not for the better.
Juel D. Lane and Beatrice Capote of Camille A. Brown & Dancers in ink; Photo by Christopher Duggan
Yet there are others in whom to find comfort. Juel D. Lane and Beatrice Capote loop the stage as she cradles him. Although Lane threatens to succumb to anguish, Capote keeps him on his feet. The imagery is striking, like that of an injured soldier being helped to safety by a comrade.
These character portraits include solos where even a few minutes prove incisive, insightful. The opening monologue starts with Brown in a chair, rippling sinuously, as if she's made of molten gold. Later, she stands, wags her hands, and sinks into a cushiony squat. Catherine Foster uses her body as a drum, slapping and smacking her hips and ribs. She remains focused inwardly, the artist in conversation with herself. From our vantage point, it often feels we're peering through a window, witnessing a secret ritual.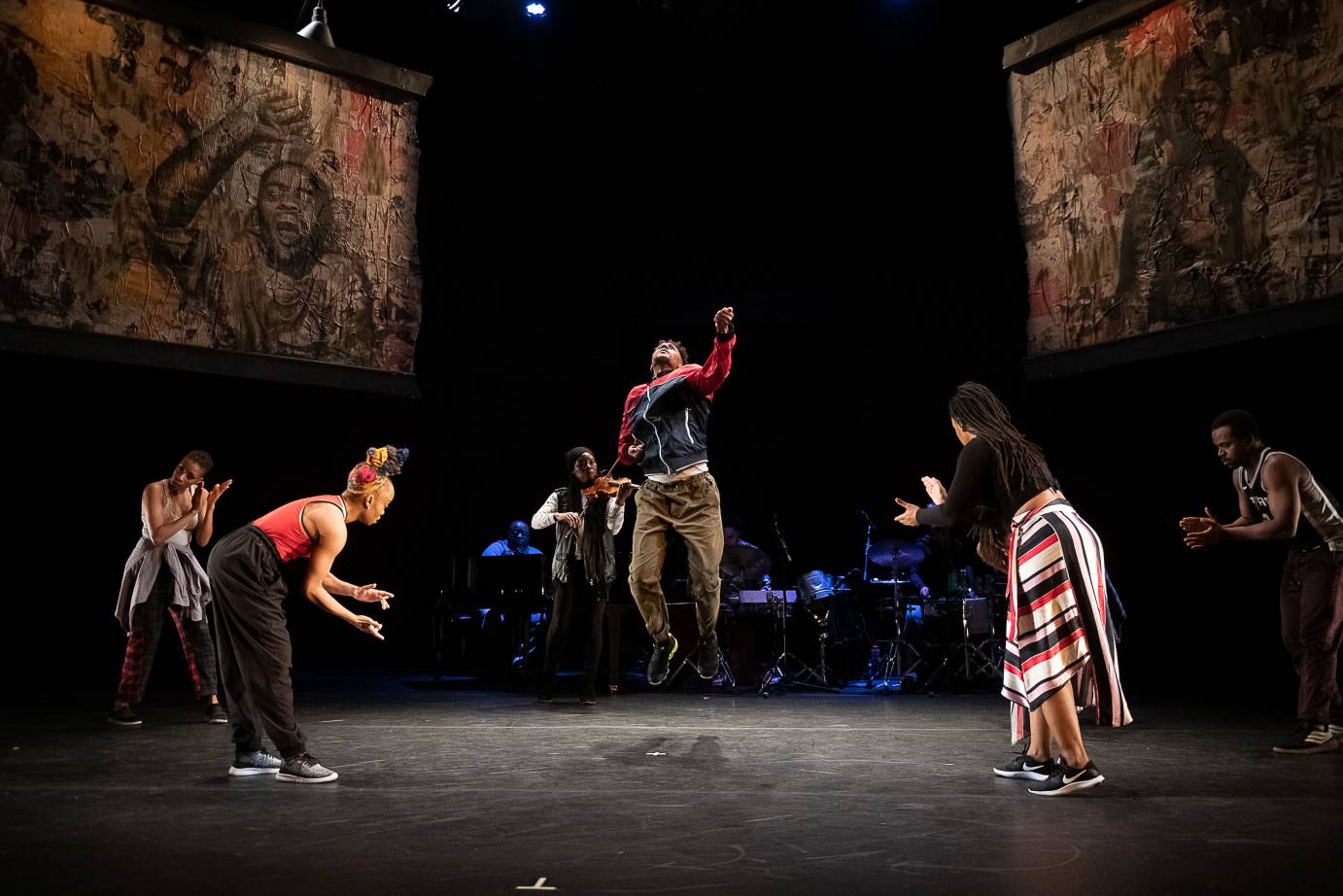 Camille A. Brown & Dancers' ink; Photo by Christopher Duggan
At the end, which comes out of nowhere, the cast gathers for a rousing dance party. After establishing a circle, everyone takes turns as the hub, showing off their moves, flaunting their mettle. Just when it seems we're segueing into a new act where they'll collectively engage, the lights go out. The last page has been written in ink.
---
The Dance Enthusiast Shares IMPRESSIONS/our brand of review and Creates Conversation.
For more IMPRESSIONS, click here.
Share your #AudienceReview of performances. Write one today!