Related Features
Advertise With Us
Make an impression — place an ad on The Dance Enthusiast and receive thousands of eyes on your work every week. Learn more. 
Contribute
Your support helps us cover dance in New York City and beyond! Donate now.
IMPRESSIONS: The Dance Enthusiast in Copenhagen, Royal Danish Ballet's "Napoli"
Det KGL Teater, Copenhagen
March 7, 2019
---
With the notable exception of La Sylphide, the full-length ballets of Danish choreographer August Bournonville are rarely seen in the U.S. His style, known for its light, airy jumps and its focus on male dancing, is hard for dancers not trained in it to execute, and the ballets' heavy emphasis on mime and storytelling can seem old-fashioned to contemporary audiences.
Audiences outside of Denmark are generally able to see only excerpts from the works. Bournonville's 1842 Napoli, for instance, is known to audiences here mainly from its famous pas de six performed in the ballet's last act.
Royal Danish Ballet's Napoli; Photo by Costin Radu
I had the chance to see the full-length Napoli on a recent trip to Copenhagen. Seeing the complete ballet in the theater where it premiered was both a pleasure and a revelation. The Royal Danish Theater, whose Danish name has been shortened to Det KGL Teater, is an 18th-century jewel box. All red velvet and gilt, it is an intimate space with an intimately scaled stage.  Though deep, the stage is narrow, and I am told that its proportions partly account for the fact that jumps in the Bournonville style emphasize height over traveling.
The stage's small size may also account for the fact that dancing in the Bournonville style seems to take place in a frame—each movement exquisitely detailed with head, upper body, legs, and feet making sculptural shapes. The smaller scale of his style also allows for detailed footwork and a fast rhythmic complexity that is unique to "the Danish school."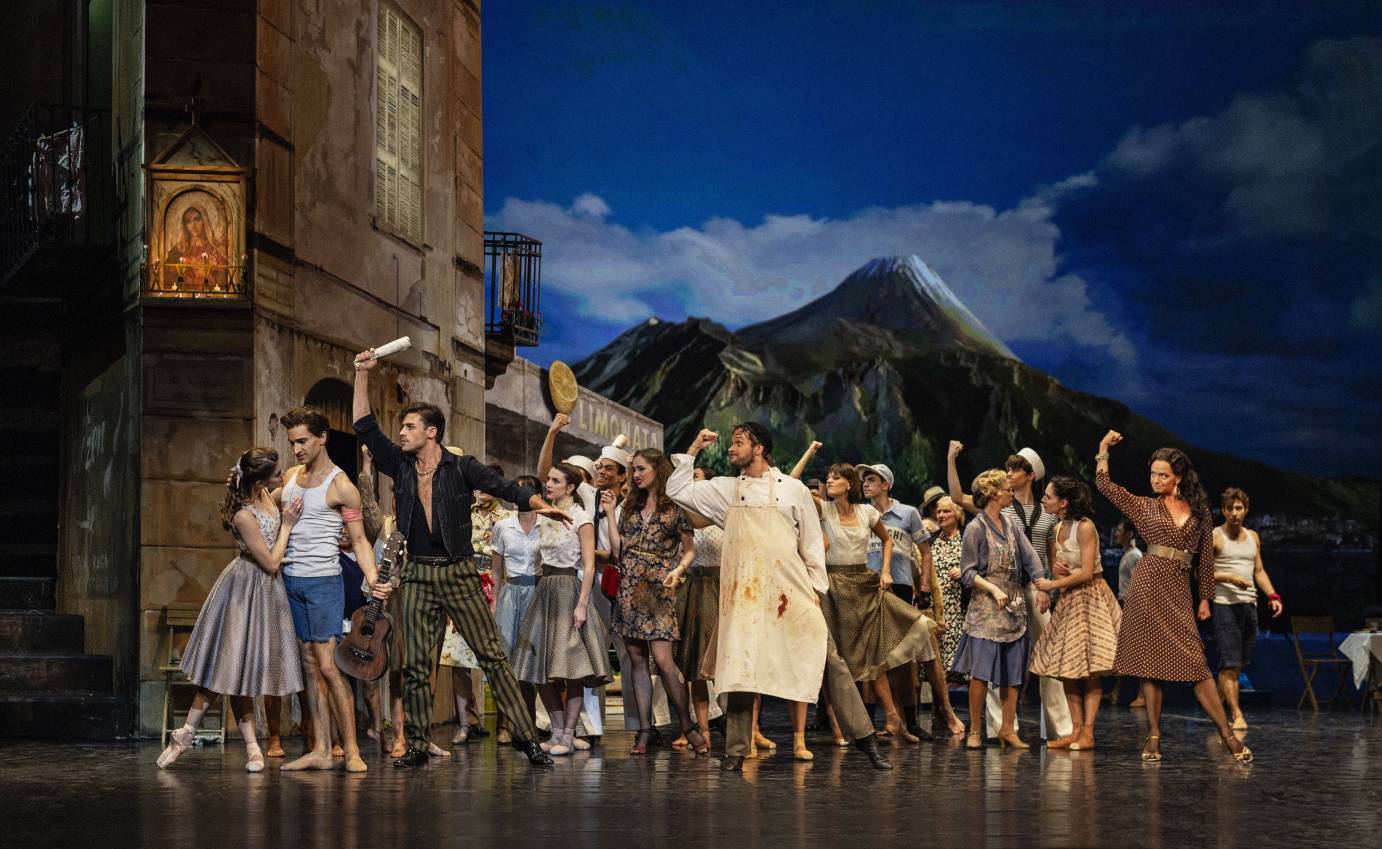 Royal Danish Ballet's Napoli; Photo by Costin Radu
The Danes' current production of Napoli, which premiered in 2009, features additional choreography by RDB Artistic Director Nikolaj Hübbe and former RDB soloist and character dancer Sorella Englund. In an effort to modernize the story, Englund and Hübbe fast-forward the setting by 100 years to the Naples of the 1950s. More controversially, their production ditches entirely the music for the second act, and much of the choreography.
Perhaps the greatest pleasure of seeing the ballet in toto was the opportunity it afforded to get to know the central couple. Subtitled "The Fisherman and His Bride," the ballet tells a familiar ballet love story between a penniless boy and a girl whose mother would prefer a wealthier match. In this case the girl, Teresina, is being courted by two older and wealthier suitors, a lemonade seller and a macaroni seller. Her beloved, Gennaro, is a fisherman.
Soloist Jón Axel Fransson offered a vivid portrayal of Gennaro in what was for me the standout performance of the evening. His Gennaro was boyish and ardent, confident of his chances of prevailing, and appealingly raffish around the edges. His dancing was also marvelous, with a high jump, beautifully articulated beats and wonderful lines. Dancing opposite him as Teresina, Stephanie Chen Gundorph had beautiful legs and feet but both her dancing and her characterization could have been more vivid.
Royal Danish Ballet's Napoli; Photo by Costin Radu
The production was sometimes problematic, with Englund and Hübbe making some questionable artistic choices. Among these was their decision to take some of the dancing out of the first act, rendering it even heavier in mime passages than the original. Usually, the curtain opens on group dancing set to exuberant music punctuated by the clashing of cymbals. Here, we had to wait at least 10 minutes before seeing any dancing at all as minor substories within the main story are played out among characters busily costumed as a crowd of individuals instead of a corps de ballet. The women largely wore circle skirts, while some men were dressed as sailors. The fishermen were effectively dressed in skin-tight jeans cut off at the knee over bare legs, which showed off their calf muscles in jumps.
Englund and Hübbe's decision to commission new music and set new choreography for the second act was more problematic still. Louise Alenius's commissioned score had a film-music sweep that was out of keeping with the joyous lilt of the work's original score. The act takes place in an underwater realm called the Blue Grotto, which Teresina has floated down to after apparently drowning at the end of the first act. The Blue Grotto is ruled by a Sea Demon, who turns her into a naiad, or sea sprite, and Teresina can no longer remember who she is.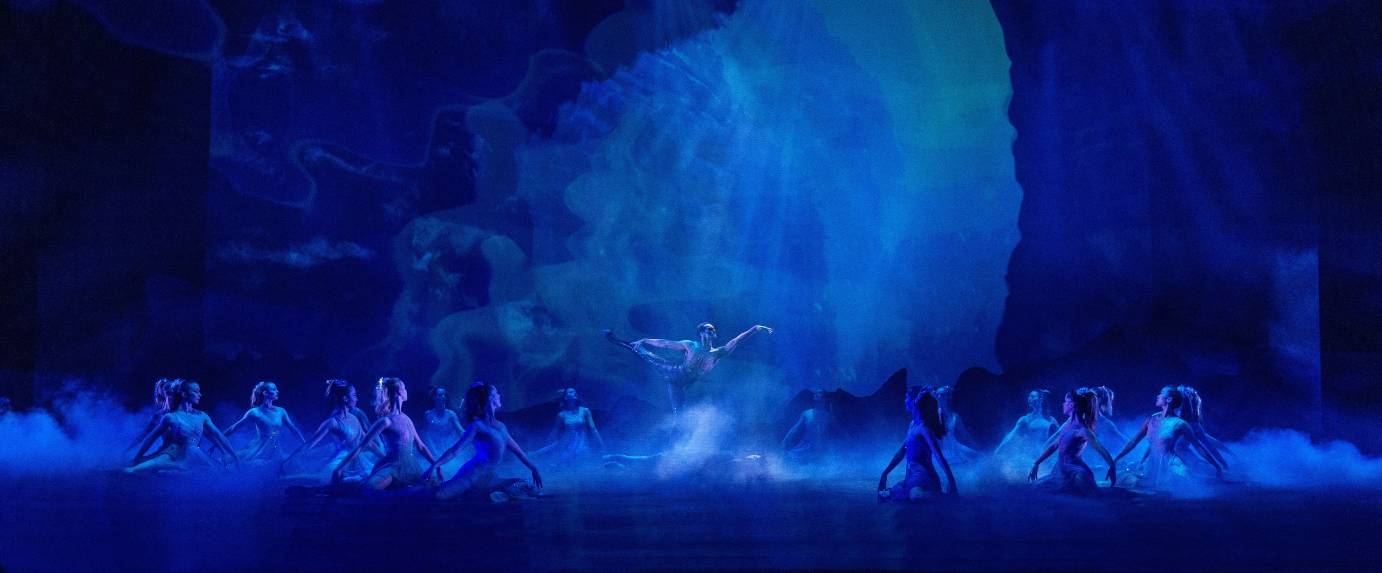 Royal Danish Ballet's Napoli; Photo by Costin Radu
The act offers the chance to incorporate a more contemporary style of ballet, with overhead press lifts and higher extensions, but it does feel like a different ballet. Evidently the act was always problematic—considered dull by some ever since its premiere—but redoing it wholesale for me calls into question the entire enterprise of presenting the "complete" ballet.
Gennaro comes searching for Teresina with guitar fetchingly in hand in the hopes of luring her through his music. With the aid of a magic necklace he is able to recall her from her naiad state and the two escape back to Naples ready to wed in the last act.
The dance-heavy third act is the ballet's show-stopper and displays well what the company can do. The men's dancing was particularly fine, with high, precise jumps and exciting rhythms. Some of the women's dancing lacked the detail and piquancy I have come to expect of this style, but the vivacity, energy and joy on display was infectious.
Bournonville felt that joy is the emotion that dance best expresses, and, indeed, after a Bournonville evening, the audience leaves the theatre feeling bathed in a golden glow of joy and the comfort of happy endings. It's a tonic, especially welcome against the setting of a cold, dark Danish winter.
---
The Dance Enthusiast Shares IMPRESSIONS/our brand of review and Creates Conversation.
For more IMPRESSIONS, click here.
Share your #AudienceReview of performances. Write one today!