IMPRESSIONS: Natalia Osipova's "Pure Dance" with David Hallberg at New York City Center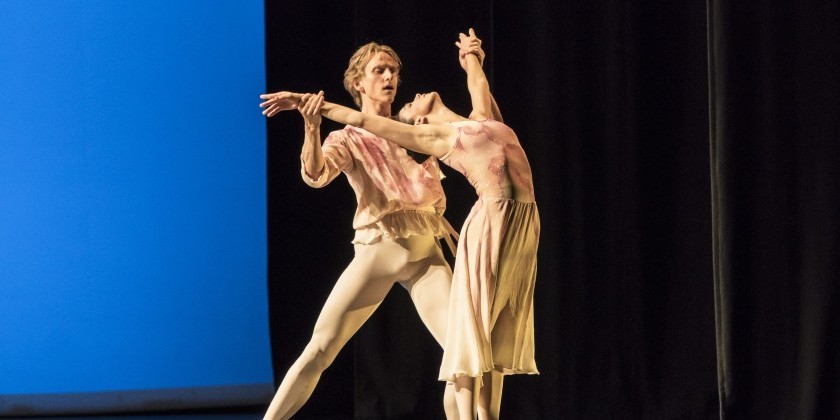 A Sadler Well's Production, co-produced with New York City Center
Artistic Director and Dancer: Natalia Osipova
Choreography: Antony Tudor, Ivan Perez, Kim Brandstrup, Roy Assaf, Yuka Oishi, Alexei Ratmansky
Dancers: Jonathan Goddard, David Hallberg, Jason Kittelberger
---
Natalia Osipova embodies what it means to be a "prima ballerina" even if that term is rarely used today. During her prestigious international career, she has danced as a principal with several world-class companies, distinguishing herself as both a soloist and dynamic partner. Pure Dance — conceived, directed, and performed by Osipova (she dances in every piece but one) — showcases a versatility that places her solidly in the modern era of ballet stardom. 
The main pas de deux from Antony Tudor's sentimental The Leaves are Fading perfectly opens the evening, offering Osipova's perhaps most celebrated partnership, with American Ballet Theatre principal David Hallberg. The famous duet in which a woman meditates on happier times of her life is layered with the nostalgia of remembering Osipova and Hallberg over the years. The duo has performed together with ABT, the Royal Ballet, and the Bolshoi Ballet.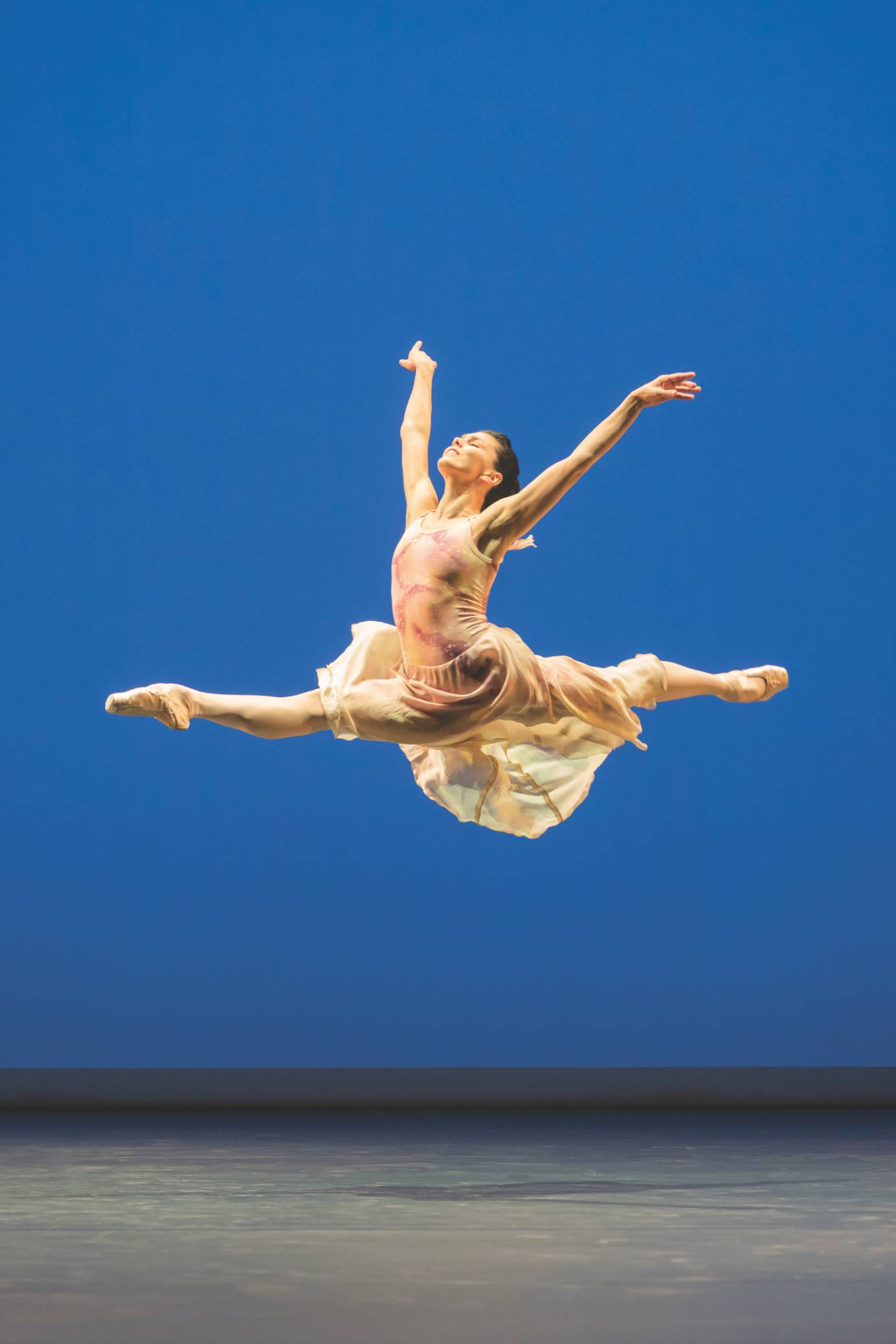 Natalia Osipova in The Leaves are Fading; Photo Johan Persson
The trust between them is thrilling as they navigate the choreography's tricky shifts in direction. Osipova often seems to hang in the air before Hallberg catches her. The title's metaphor of fading leaves captures the bittersweet, transient nature of romantic relationships, and perhaps, the ephemera of performance itself. In one intimate moment, Osipova perches on Hallberg's knees, and the couple finds themselves face to face — if only they could stay there forever.
Roy Assaf's Six Years Later highlights a different chemistry between Osipova and Jason Kittelberger. Their campy interactions revive the suffocatingly long work, which details a mysterious relationship as it unfolds from a tumultuous past into the present. Six Years Later demonstrates Osipova's versatility — she is as articulate in small, theatrical movement as she is in grandiose gestures. In a clever moment, the pair stands face to face, and Osipova bludgeons him in rapid succession with her shoulders and chest, a sort of "dance fighting."
Natalia Osipova and David Hallberg in The Leaves are Fading; Photo Johan Persson
Ivan Perez describes his Flutter, which premiered in 2018 at the Sadler's Wells Theatre, as "… a jump into the abyss, stepping into the unknown." Osipova, known for her aggressive bravura, that "unknown" may be the airy, elusiveness of the movement, accentuated by Nico Muhly's "Mothertongue," which weaves together ethereal female voices to create a textual soundscape. In the striking opening section, Jonathan Goddard, Osipova's partner, continually propels her downstage before the pair recedes into darkness. If we squint, she appears as a whirling, flying object above his head. From start to finish, Flutter captures a prolonged sense of suspension.
Two solos illustrate a male and a female archetype. In Yuka Oishi's Ave Maria, Osipova — clad in a white dress and illuminated by brilliant beams of yellow light — portrays a strong yet emotional woman. In Kim Brandstrup's Absentia, a brooding Hallberg sits alone in a chair at downstage right, his hunched frame amplified on the back wall. As he walks upstage, his figure is diminished by the massive shadow of the chair.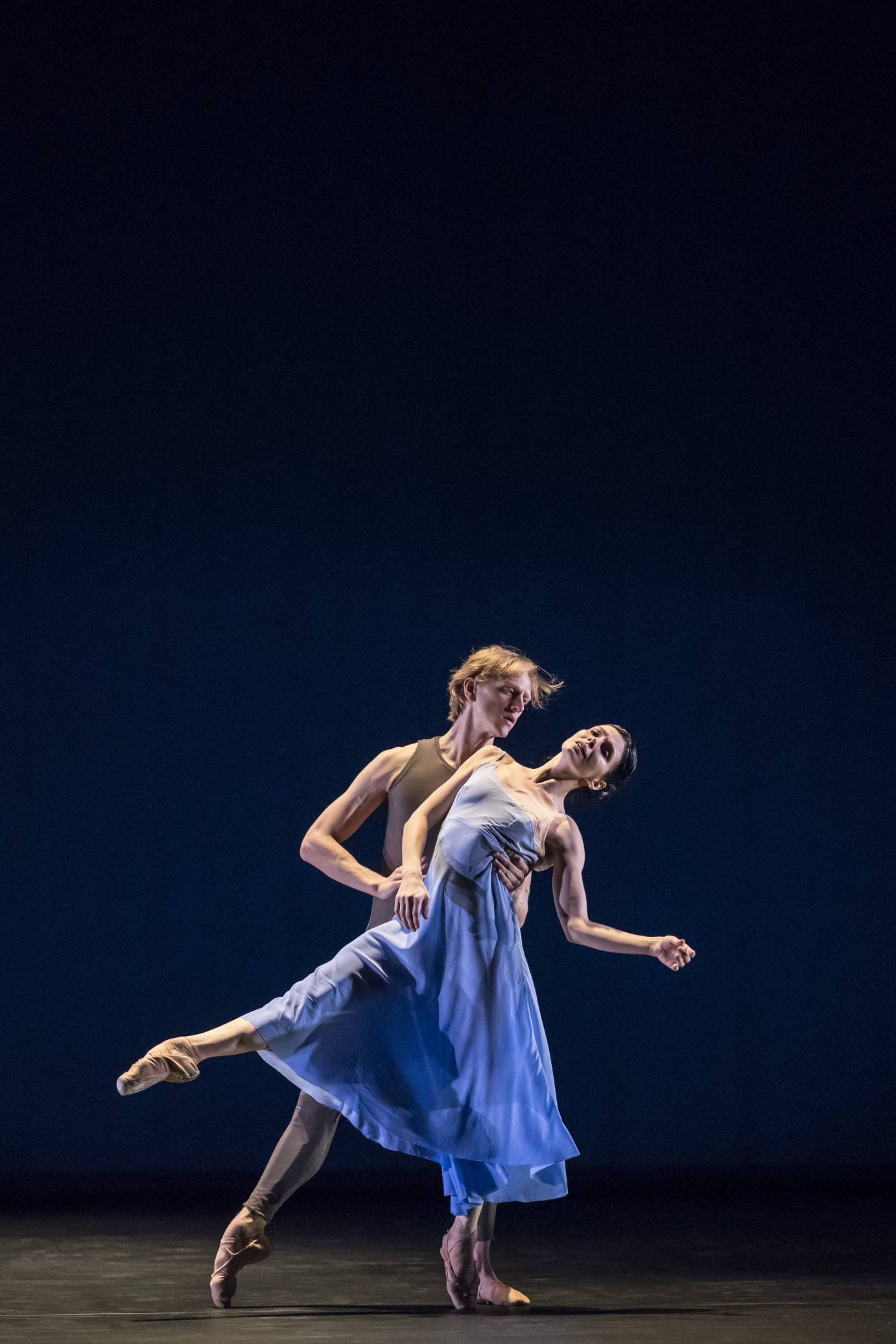 Natalia Osipova and David Hallberg in Valse Triste; Photo Johan Persson
Valse Triste, the evening's closer, again spotlights the dynamism of Hallberg and Osipova. Set to Jean Sibelius' "Sad Waltz," the ballet, choreographed by Alexei Ratmansky, packs a flurry of tempos and moods into just six minutes. Osipova's periwinkle dress, the bright blue rays of light that cascade from the ceiling, and the fluidity with which the pair tackles the difficult movement lends an aquatic feel to the piece. Ratmansky, former artistic director of the Bolshoi Ballet and Osipova's long-time mentor, highlights Hallberg's ease at complementing this prima ballerina.
---
The Dance Enthusiast Shares IMPRESSIONS/our brand of review and Creates Conversation.
For more IMPRESSIONS, click here.
Share your #AudienceReview of performances. Write one today!