IMPRESSIONS: 600 Highwaymen's "Manmade Earth" at The Invisible Dog Art Center as part of FIAF's Crossing the Line Festival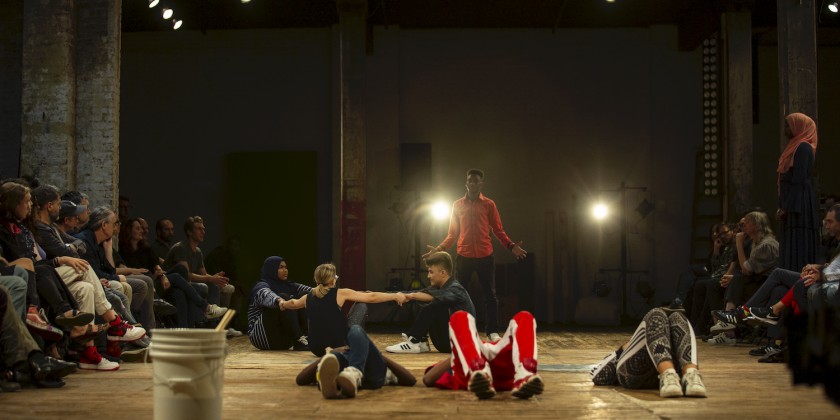 September 14, 2019 at 2 p.m.
Creation: Abigail Browde and Michael Silverstone
In Conversation With and Performed By: Nur Aisyah, Nasra Ali, Raiza Almonte, Dimyana Angelo, Amanda Barsi, Augustin Bonane, Jeanvier Nkurunziza, Diaaeddin Zabadani
Original Music and Sound Design: Michael Costagliola
Production Design: Eric Southern & Deb O
---
By themselves, the props hold little interest. When set in motion, they become the elements of a large-scale artistic sculpture. As for their meaning once assembled? Well, that's where the magic of 600 Highwaymen's Manmade Earth resides. 
These props include slabs of cardboard, ladders, boards, plastic buckets, and a drop cloth that seemingly stretches the length of a city block. In the industrial brick-and-wood space of The Invisible Dog Art Center where the piece makes its world premiere, they seem entirely at home. But what eight teenagers do with them is wholly surprising.
600 Highwaymen's Manmade Earth; Photo by Maria Baranova
600 Highwaymen is the name under which Abigail Browde and Michael Silverstone produce work. Since 2009, the married theater artists have presented genre-provoking pieces that interrogate "what takes place in the encounter between people." Manmade Earth results from a project that originated in 2018 as a residency among the University of Buffalo's School of Architecture, Torn Space Theater, and themselves.
It opens with solos for five young women and three young men. Moving across the drop cloth, they pose questions, many, many of them. "Whose place is this?" one asks. "Have you ever been in love?" another inquires. These queries — unanswered, yet instructive in the asking — range from the silly to those throbbing with self-aware absurdity. "How do you define natural?" one implores.
600 Highwaymen's Manmade Earth; Photo by Maria Baranova
In athleisure or denim, and, for two, hijabs, the octet pairs their questions with stances. Legs part in lunges while hands clasp; arms stroke through the air while elbows poke at it. Regardless of their movements, they all enunciate like professional actors. This is impressive since most of them are non-native English speakers, having emigrated from countries like Somalia and Syria.
After the solos conclude, the artists form a colony where cooperation and kindness are the overriding values. They take buckets and mix their contents. I'm too far away to appreciate the process, yet I hear liquid being poured; I see powder waft. Eventually, the concoction is revealed to be a circular brick. A stake rises from its middle, like a cupcake adorned with a candle. Vaguely inspiring electronica swells at various points although the real soundtrack comes from the young adults' narrations. "This is what I look like when I'm confused," one states.
600 Highwaymen's Manmade Earth; Photo by Maria Baranova
Later, the performers gather front-door-sized pieces of cardboard, one side colored chartreuse, from around the sidelines. In a ritual that appears to make sense only to them, they pile the rectangles into the center before laying a couple over audience members' legs, like they're makeshift dinner tables. Adding ladders, boards, buckets, and boxes to the mix, they erect a sculpture of connected lean-tos that extends down the runway-shaped performance space. Once the piece-within-a-piece is finished, the sculpture's earth-toned peaks and valleys evoke a topographical map. 
During the building process, the eight steady each other or offer a helping hand. They're all in it together, and they never forget it.
600 Highwaymen's Manmade Earth; Photo by Maria Baranova
The last third of the piece feels more lackadaisical, less urgent as the sculpture is disassembled. My attention flags although that of the teenagers stays acute.
Even at the end, there are more questions. "Will you tell me that you saw me?" someone asks right before the lights darken.
Finally, one I can answer. I saw, we saw, and everyone should see you because you are what we should aspire to be.
---
The Dance Enthusiast Shares IMPRESSIONS/our brand of review and Creates Conversation.
For more IMPRESSIONS, click here.
Share your #AudienceReview of performances. Write one today!