IMPRESSIONS: Teac Damsa's "Swan Lake/Loch na hEala" at BAM Harvey
October 18, 2019
Writing, direction, and choreography: Michael Keegan-Dolan // Music: Slow Moving Clouds
Set design: Sabine Dargent // Costume design: Hyemi Shin
Dancers: Elizabeth Cameron Dalman, Zen Jefferson, Anna Kaszuba, Saku Koistinen, Alexander Leonhartsberger, Mikel Murfi, Erik Nevin, Rachel Poirier, Latisha Sparks, Carys Staton
Musicians: Aki, Mary Barnecutt, Danny Diamond
---
Swan Lake has been having a moment. Enchantingly flexible, it has accommodated interpretations as diverse as Matthew Bourne's with its all-male swan corps to Guangdong Acrobatic Troupe of China's, which features the Swan Queen balancing on top of her paramour's head. Maybe that's because, like all timeless stories, its many light and dark elements can be mixed and matched in infinite ways.
The original incarnation, with a clear delineation of good versus evil, settled long ago into its current state as a balletic warhorse. A century-plus later, it remains a favorite for showcasing bravura technique, Tchaikovsky's inimitable score, and a picturesque, old-world setting. But there's a new version in town, and it's so interesting, so powerful that you won't miss any of the things you thought Swan Lake needed to be Swan Lake, which is to say the dancing, the music, and the setting.
Teac Damsa's Swan Lake/Loch na hEala at BAM Harvey; Photo by Stephanie Berger
A 75-minute work of Irish tanztheater, Teac Damsa's Loch na hEala manages the impossible by being radical yet familiar, universal yet singular. The Guardian recently crowned it the second-best dance piece of the 21st century, so my zeal isn't hyperbole. After seeing it, you might actually be a different person.
The reimagining retains the broad strokes of its source material. A mother orders her disaffected son to find a wife. He, as youths do, follows her directions while also rebelling against them by falling for a woman trapped in a swan's body. Because destiny doesn't belong to the lovers alone, a sorcerer spins the prince's heart toward a dark doppelgänger. Tragedy ensues, but true loves prevails in a way — if you consider the bottom of a lake a charming way to pass eternity with your beloved. 
Teac Damsa's Swan Lake/Loch na hEala at BAM Harvey; Photo by Stephanie Berger
Here, the narrative serves the details, which are what make the story stick to your soul. 36-year-old slacker Jimmy O'Reilly (Alexander Leonhartsberger) has fallen into a deep depression after the death of his father. To cheer him up and marry him off, his mother throws him a birthday bacchanalia with beer, babes, and pointy party hats. She also gives him his father's old gun.
Because this occurs in a small Irish village and not America, Jimmy doesn't deal with his mental illness by joining incel forums and shooting up schools. Instead, he crushes on a swan (Rachel Poirier) who's as broken as he. She was once a teenager named Finola, but a priest turned her and her three sisters into swans after she snitched about his sexual assault of her.
Teac Damsa's Swan Lake/Loch na hEala at BAM Harvey; Photo by Stephanie Berger
Embedded is a twist worthy of a bestselling psychological thriller. I won't spoil that, but the finale is too enthralling not to share. The cast — including the lovers, reunited after their theatrical death — unleashes bags of feathers. They toss them into the air, pelt them at the audience, and turn in giddy circles, their arms outstretched, their fingers clutching the snowy plumes. It's as gratifying as it sounds: happy and heart wrenching, cathartic and a little absurdist.
Director/choreographer Michael Keegan-Dolan and his collaborators are masters of minimalism, using an element or two to suggest an entire person, place, or thing. Cuddling his gun like a teddy bear, Jimmy spends much of his time curled up in "bed," which is a couple of cinderblocks. The male chorus also doubles as eligible bachelorettes. A slash of red lipstick indicates their femininity. A black tarp is the titular lake, the light hopscotching across its crinkles romantically. Who needs fantastically painted sets or ornate costumes when this little can convey that much.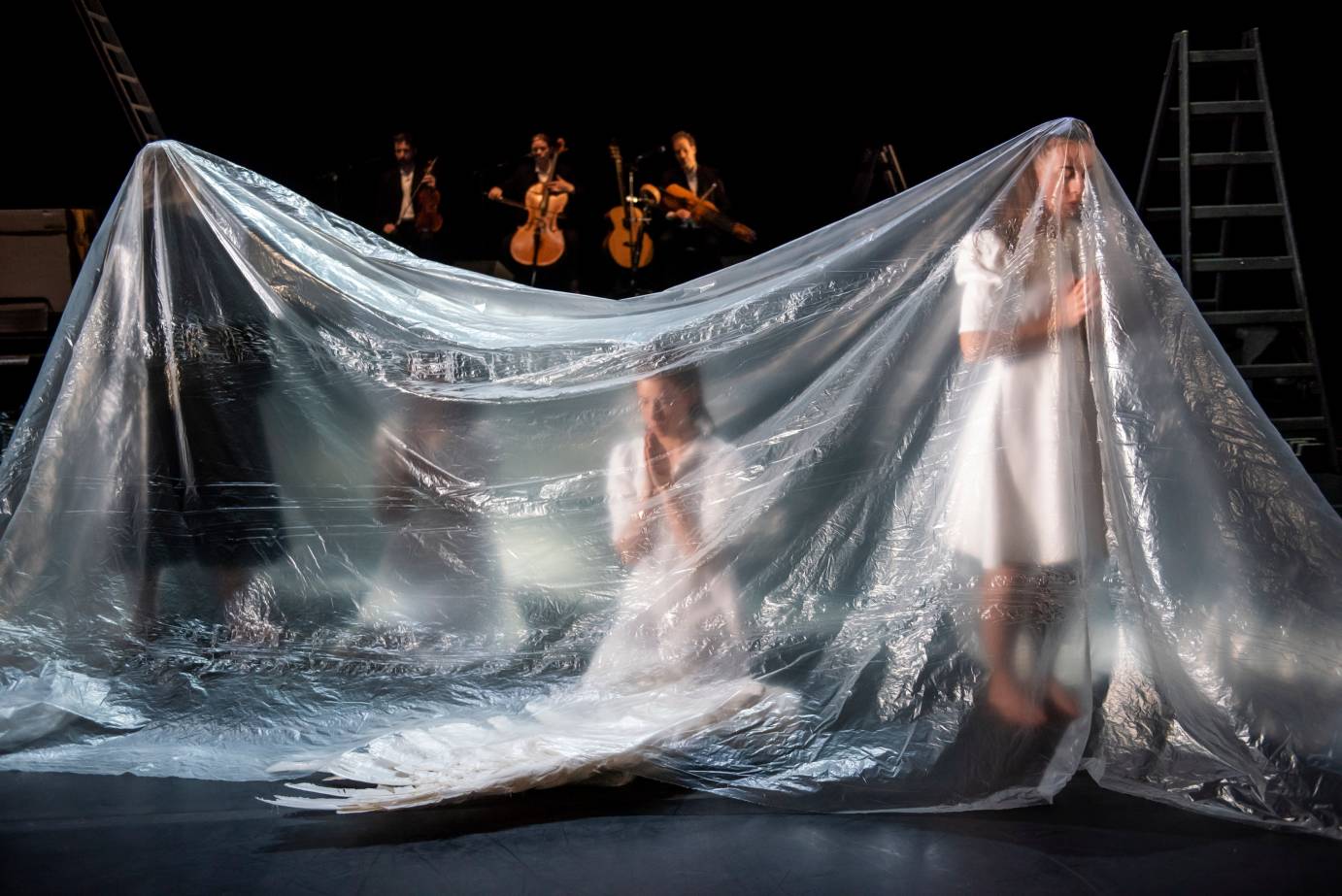 Teac Damsa's Swan Lake/Loch na hEala at BAM Harvey; Photo by Stephanie Berger
If you're worried you won't recognize Swan Lake without its iconic music, don't be. Musicians on fiddle, cello, and nyckelharpa relay the sweetness and poignancy of Slow Moving Clouds' score. Blending Nordic and Celtic traditions with occasional forays into pop, the songs act like yarn, circling around, weaving through, knitting us closer to the action.  
The choreography — a little folk, a lot of modern — rises out of the music and then sinks back into it, the dancers' movement the life between the birth and death of a note. Although the cast boasts superb credentials, they dance like people who dance because it's the only way to express their roil of emotions. Toes don't point. Feet don't turnout. Legs don't straighten. Ugly is pretty because ugly is true.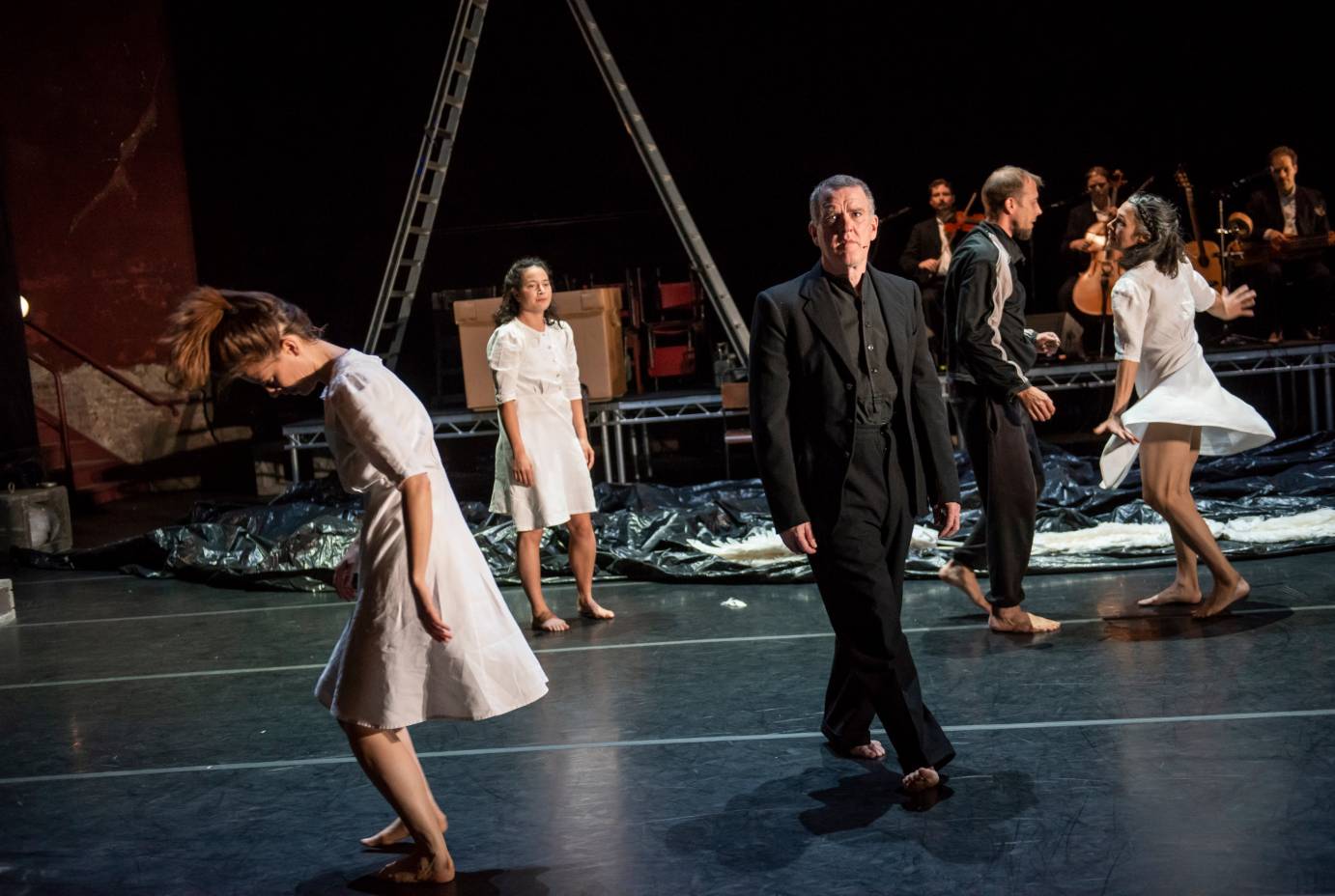 Teac Damsa's Swan Lake/Loch na hEala at BAM Harvey; Photo by Stephanie Berger
The literal hub of many spokes is Mikel Murfi, who often performs center stage. As the audience trickles in, he is tethered to a pile of cinderblocks, bleating like a lamb on the cusp of slaughter. Is he another animal who was once human with a story to tell?
After being rescued and revived with a cuppa, Murfi narrates the tale of Jimmy and Finola while acting as residents of the village, all named McLoughlin: the priest, the policeman, and the politician. He is the bad guy and he is the good guy, but most of all, he is the storyteller, the practitioner of a respected, essential craft that stretches far into the mists of Ireland's history.
Teac Damsa's Swan Lake/Loch na hEala at BAM Harvey; Photo by Stephanie Berger
Superficially, Swan Lake may seem like a quaint throwback to bygone times with its folkloric magic and easy morality. Yet, by stripping away the plumage of the original, Loch na hEala reveals that underneath is a tale as old as time. It is about being different, but wanting the same as everyone else. It is about finding that, but at the cost of leaving who you were to become who you can be. It is, most of all, about us — the witness — who feels everything alongside the characters and changes as a result.
Once upon a time should be eternally upon a time.
---
---
The Dance Enthusiast Shares IMPRESSIONS/our brand of review, and creates conversation.
For more IMPRESSIONS, click here.
Share your #AudienceReview of performances. Write one today!
---
The Dance Enthusiast - News, Reviews, Interviews and an Open Invitation for YOU to join the Dance Conversation.