IMPRESSIONS: Jennifer Tipton "Our Days and Night" at Baryshnikov Arts Center 
Light and Text by Jennifer Tipton 
Dance Conceived by Jennifer Tipton 
Performers: Liz Gerring and Ain Gordon 
Space Design by Michael Yeargan 
Sound Design by Scott Lehrer
---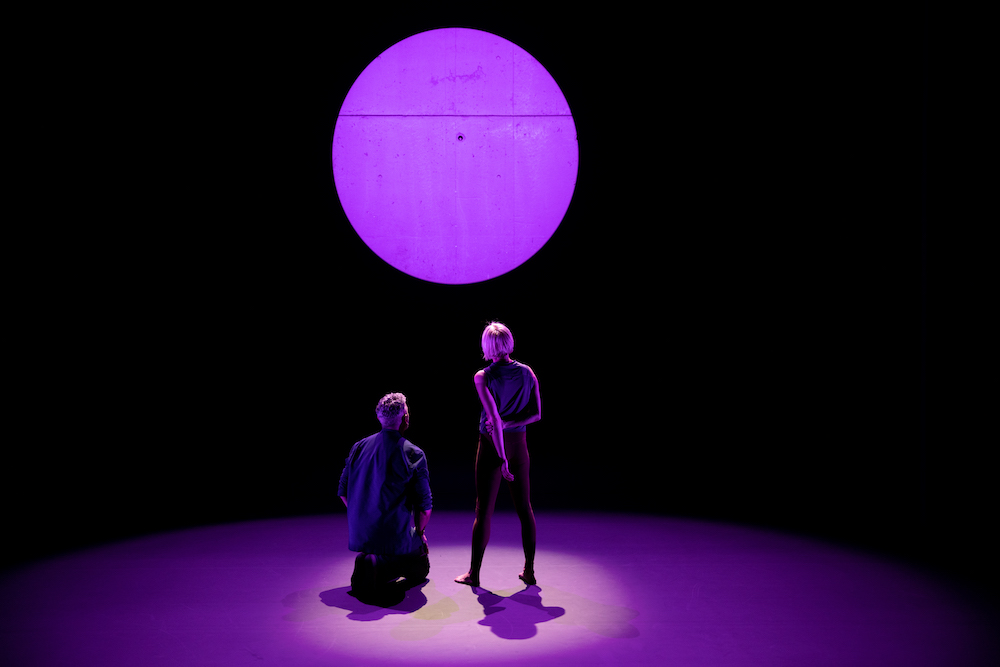 Ain Gordon and Liz Gerring in Jennifer Tipton's Our Days and Night; Photo: Maria Baranova
The star of veteran lighting designer
Jennifer Tipton
's show
Our Days and Night
is a star of her own making. The proximity of this star, its size, its unrivaled dominance provokes questions, and/or, induces a trance, if you'd rather have a non-cerebral relationship to this energetic being. Tipton brings you into her world of lighting design, and wordlessly makes you muse the mysteries of theatrical timing, spatial perception, and change. 
Beginning in the dark, Tipton slowly expands a dot of light on the floor, until it fills the stage. Gradually, the floor starts to ripple, as though a breeze invited the light to dance. Just as slowly, the light - still in its circular shape - shifts to the cement back wall, only to reveals its inner colors, sliding from cool blue to red hot.
Ain Gordon  (foreground) and Liz Gerring (background); Photo: Maria Baranova
The two performers,
Liz Gerring
and
Ain Gordon
, appear midway through the piece. Tipton's conception is produced with minimalist rigor,  each pedestrian move is brief, each pose long, with only a few lighting options-- shifting lights from overhead, from the side, and weaving beams like gleaming swords. 
When Gerring first enters she thrusts her elbow in a beam, like a swimmer testing the temperature of the sea with her toe. Later, she extends her straight arms into a beam twisting them as though to see how best to wear the light. Initially, the two performers simply share the space, dividing and defining it, until they eventually sit with their backs to the audience to gaze at the light on the wall. Transfixed, they invite us to wonder.
The nuggets of text were few and often hard to hear, whether spoken by Gordon or delivered as a voiceover woven into an intriguing sound design by
Scott Lehrer
whose score sometimes has the rickety rhythm of a subway.
Conceived by Tipton after a lifetime of designing lights for operas, Broadway, Off-Broadway, ballet, and experimental productions, this installation, "is designed to show the relationship of the earth to the sun, tracing the origin and precarity of the sun's support of life, and exploring the visual archetypes of the seasons."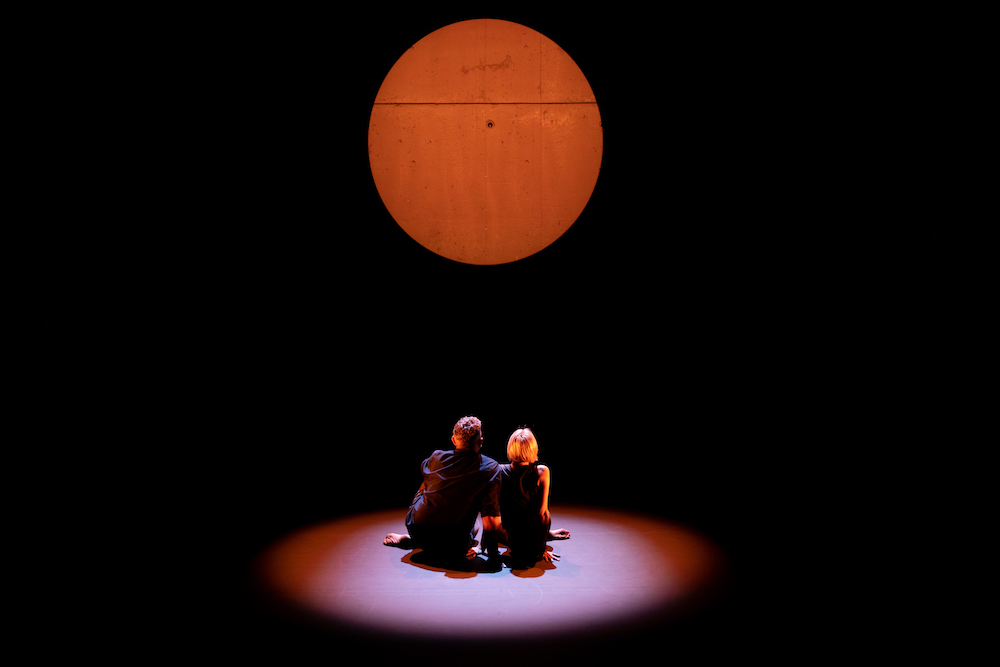 Ain Gordon and Liz Gerring in Jennifer Tipton's  Our Days and Night; Photo: Maria Baranova
Tipton's recent work in dance includes
Lauren Lovette'
s
PENTIMENTO
for the Paul Taylor Company and Balanchine's
MIDSUMMER NIGHT'S DREAM
for the Paris Opera Ballet. She received the 2019-20 Cage Cunningham Fellowship, an award established in 2015 for artists who demonstrate John Cage and Merce Cunningham's commitment to artistic innovation.
---
---
The Dance Enthusiast Shares IMPRESSIONS/our brand of review, and creates conversation.
For more IMPRESSIONS, click here.
Share your #AudienceReview of performances. Write one today!
---
The Dance Enthusiast - News, Reviews, Interviews and an Open Invitation for YOU to join the Dance Conversation.