IMPRESSION: Sally Silvers & Dancers in "Pandora's New Cake Stain" at Roulette Intermedium, a 40th Anniversary Season Special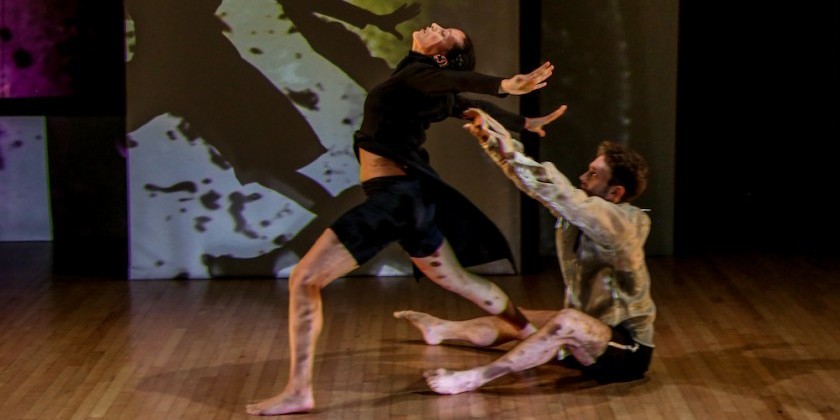 Company: Sally Silvers & Dancers
Dancers: Bria Bacon, Brandon Collwes, Ben Freedman, Burr Johnson, Koosil-ja (reprising her original role), Cori Kresge, Benedict Nguyen, Rafael Cañals Peréz, Myssi Robinson, Andy Santana, Melissa Toogood (on video), S. C. Lucier (Stage Manager on skates), w/cameos from the original cast: Seán Curran, Kate Gyllenhaal, Phillip Karg, Alison Salzinger, Laura Staton, Sally Silvers.
Live Music and Additional Sound Design: Bruce Andrews with Michael Schumacher
Video and Scenic Design: Ursula Scherrer
Lights: Kathryn Kaufmann
Costume Design: Sally Silvers // Associate Costume Designers: Elizabeth Hope Clancy, Izzy McClelland // Costume Construction: Izzy McClelland
---
What if the inhabitants of surrealistic paintings escaped their frames to live, breathe, and romp in canvases not originally their own?  Maybe that experience would be something like mine watching Sally Silvers' Pandora's New Cake Stain.
Dancing below me (I am sitting up high in the side balcony of Roulette Intermedium's performance space) are characters —particular and determined in mission— athletic, sensual, witty, aggressive, playful, quizzical. They seem removed from reality, yet vivid. Is there a story to follow?.
    Ben Freedman (below) and Brandon Collwes ( above); Photo: Julie Lemberger
The "old" Pandora's Cake Stain (1996), was the first evening-length work ever created by Silvers. Twenty-six years ago, she was inspired by Alban Berg's (1935) opera Lulu, based on two plays by Frank Wedekind (1863-1913). Wedekind, who in 1891 also wrote Spring Awakening, the play on which the contemporary musical is based, was considered controversial for his bold discussions of sexuality and challenges to societal mores. His Lulu is a femme fatale who moves from waif, to educated mistress of means, to a street walker who is eventually murdered by Jack the Ripper. Is she dangerously loose or an inevitable victim of a misogynistic society?  What a fascinating character to commit to movement.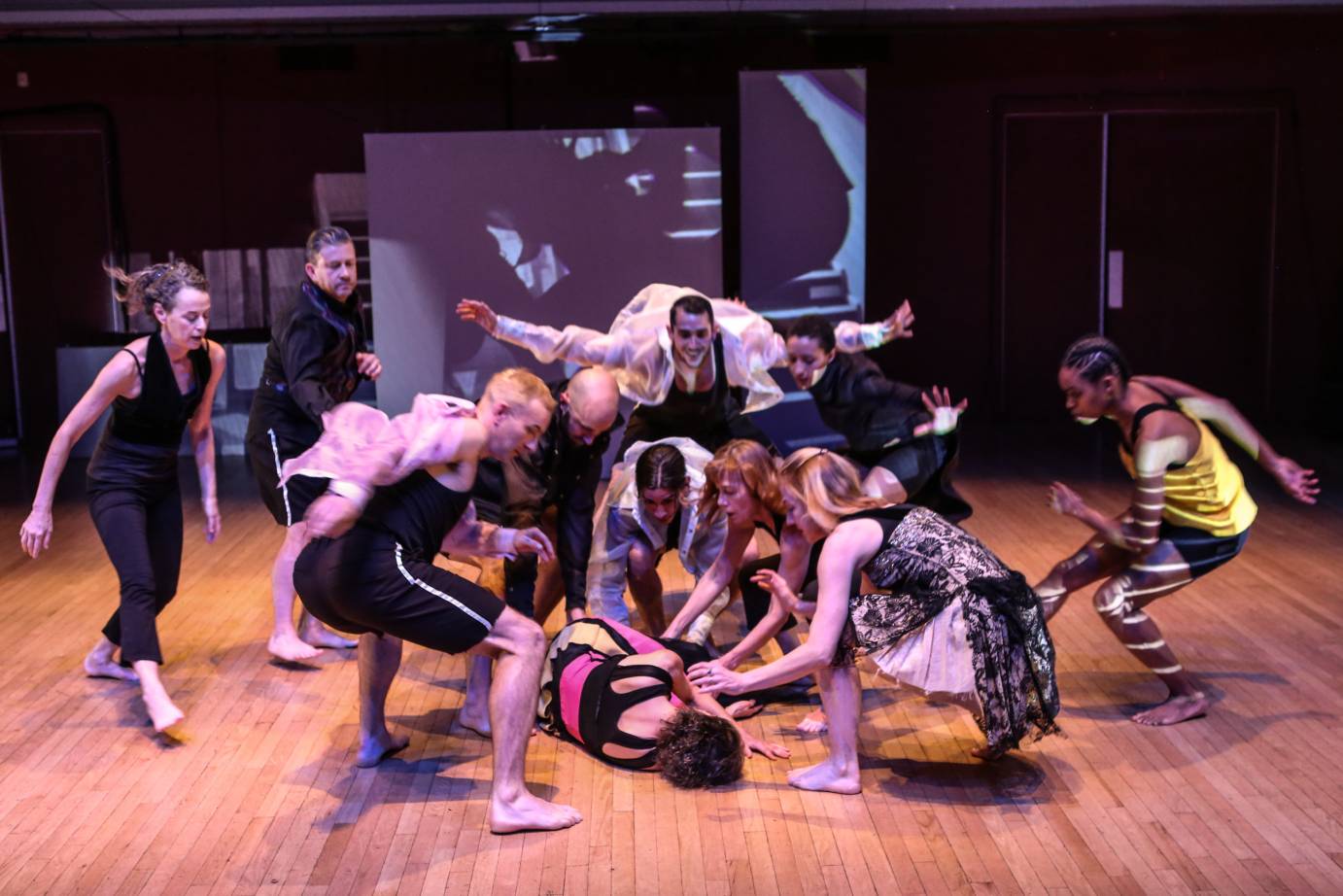 Sally Silvers & Dancers in Pandora's New Cake Stain; Photo: Julie Lemberger
In Pandora's New Cake Stain (2022), Silvers seeks to change the tone of her original work, to create more of a "sense of female agency" for the 21st century. She introduces her fictional Lulu to her version of the actual Tina Modotti (1896-1942). Modotti, a captivating beauty, was a model, actress, renowned photographer and activist, who spent much of her career working in Mexico. During her colorful life she befriended Frida Kahlo, photographed the Mexican muralists, including Diego Rivera, and created her own distinctive stamp in the artistic world.
 "It's a dream meeting," says Silver, where Lulu, embodied by five of the evening's performers, cavorts though imagined landscapes with Tina, embodied by Myssi Robinson, and on video, Melissa Toogood, with a cameo appearance by Silvers herself.
   Myssi Robinson (left)  and Bria Bacon (right)  with S.C. Lucier (center); Photo: Julie Lemberger
The new Pandora… veers from curious to curiouser beginning with the entrance of two sinewy, statuesque  Black women—Myssi Robinson and Bria Bacon. Bacon (Lulu?) wears a mini-dress composed of tightly-knit colorful diamond patches, and Robinson (Tina?), a black, fringed, asymmetrical outfit.  As the women make eye contact, we recognize that they could be twins, opposite sides of the same coin. Standing eye-to-eye, side-to-side, fingertip to fingertip, they fall into one another, exchange places, twirl, then swivel apart only to be swept off the stage by  S.C. Lucier, the marvelous stage manager on roller skates. Wearing expansive wings, this silent yet operatic skater majestically glides through the evening helping to change scenes and float characters on their way to new adventures.
    Benedict Nguyen (aloft),with Brandon Collwes, Laura Staton and Cori Kresge; Photo: Julie Lemberger
And what adventures! There are festivals in Mexico, where celebrants, wearing brightly colored scarves around their waists, flow in a parade of inter-connected shapes and whimsical relations. Bathing beauties bend, stretch, balance and dive synchronously, to all variations of music from ragtime, to New Orleans jazz, to Viennese waltzes. Non-emotional types, sporting long, colorful, wrong-way-round aprons, fill the stage space with intricate acrobatics and passionate dispassion.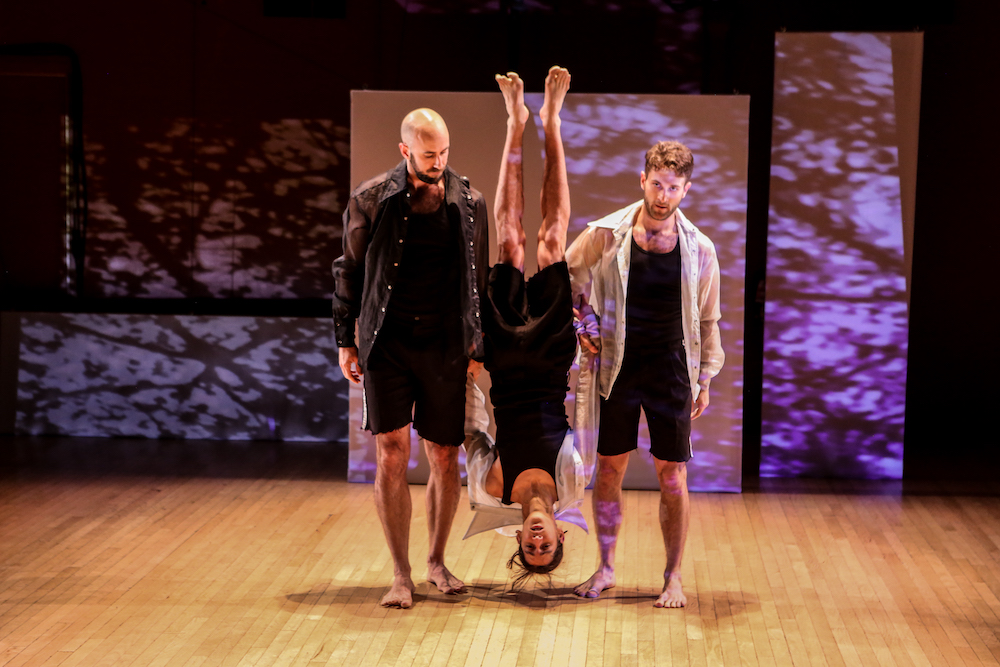 Dancers (L to R) Burr Johnson,  Rafael Cañals Peréz, and  Ben Freedman; Photo: Julie Lemberger
The movement itself is full of idiosyncratic partnering, quirky gesture, and not-ever-typical ways of traveling from one point to another. Upside down is better than right side up. Stiff, pointed legs can transform to swinging, swishy metronomes. Enigmatic projections of rooms, nature, falling houses(?), by Ursula Scherrer, lend to the dreamy mystery.
One may not know entirely what it represents when Rafael Cañales Pérez walks like a peg-legged crab balancing on an elbow, knee and toes before he gets up to chase Cori Kresge, but we're fascinated. Similarly, when Myssi Robinson uses her foot and powerful toes to "slap" Burr Johnson's face at the conclusion of their turbulent duet, we notice —such a singular detail. And there are so many.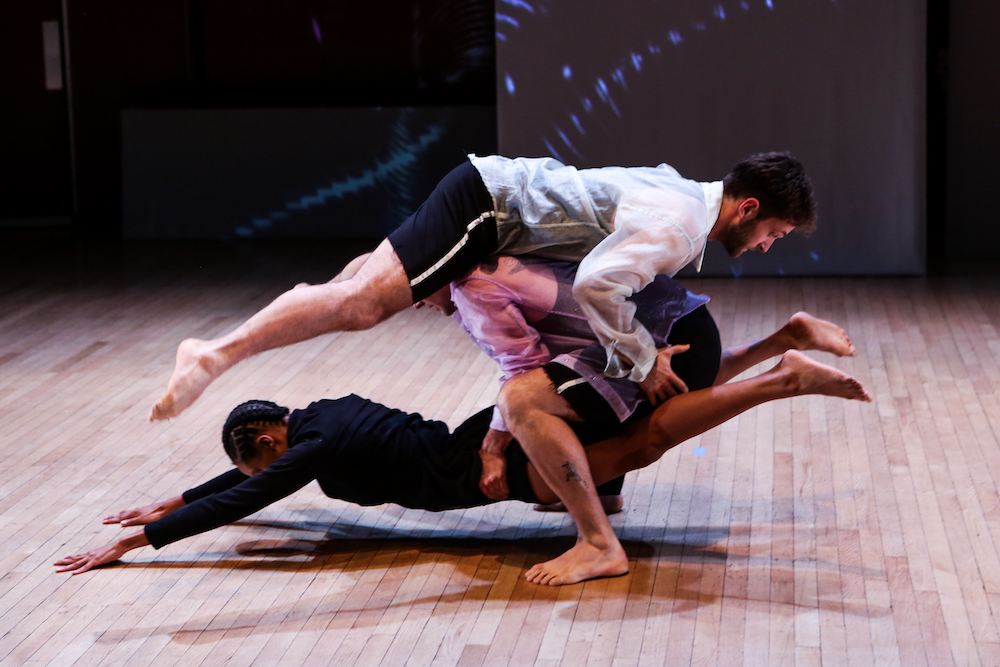 Dancers ( from top to bottom) Ben Freedman, Brandon Collwes and Bria Bacon; Photo: Julie Lemberger
The brilliant performers include some from the original cast in cameos. Silvers told me later that she invited the initial dancers back, and if they couldn't come, allowed them to pick their own replacements —no audition necessary. Hats off to Koosil-Ja, dancing wonderfully throughout the work—no replacement for her. Twenty-six years later and all she needs are knee pads. New to the work or seasoned, these top-notch artists weave technical and poetic virtuosity expertly.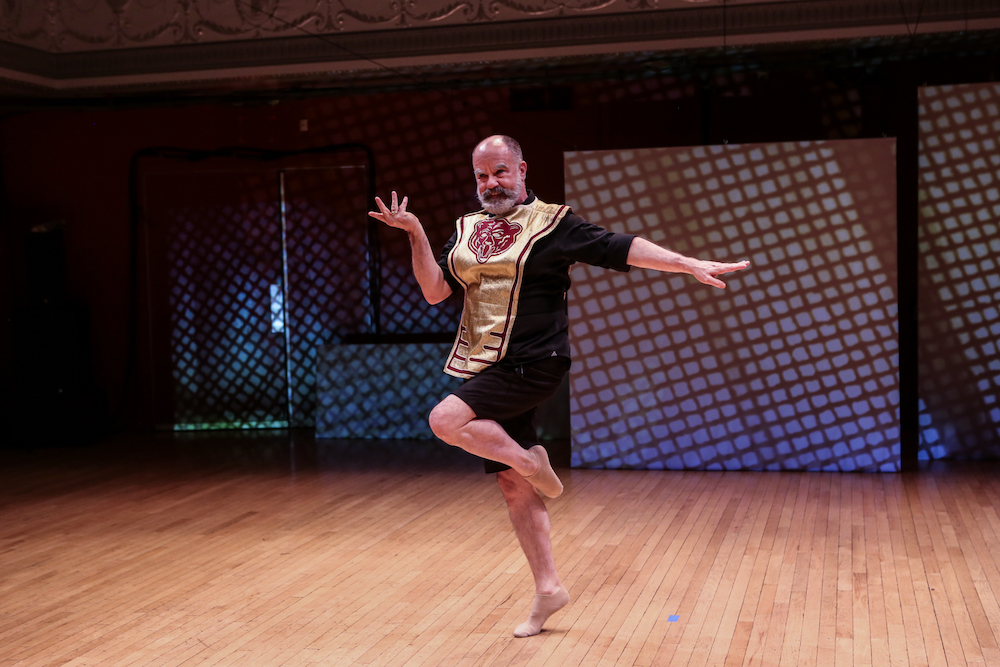 Seán Curran; Photo: Julie Lemberger
Seán Curran captures us with the wizardry of his facial expressions, hand gestures, and almost mechanized springy walks. Melissa Toogood, as powerful on video as she is live, and Myssi Robinson, portraying Tina, eerily crawl their  fingers up their torsos then dart sideways into space, peering out as if surveying their surroundings for a prospective photo shoot.
Melissa Toogood (on video in the background) and Myssi Robinson (live in the foreground);Photo: Julie Lemberger
Is there a story? Did I understand who's who and what's what? Perhaps complete understanding is best left to the remarkable artists here, who saturate their physicality and imaginations in the logic of their performance so that we may freely follow.  Sally Silvers & Dancers invite us for a swim in the stream of consciousness, welcoming us to marvel and be mystified.
---
The Dance Enthusiast Shares IMPRESSIONS/our brand of review, and creates conversation.
For more IMPRESSIONS, click here.
Share your #AudienceReview of performances. Write one today!
---
The Dance Enthusiast - News, Reviews, Interviews and an Open Invitation for YOU to join the Dance Conversation.