IMPRESSIONS: Audrey Ross Presents "Dances I Love" at The Theatre at St. Jeans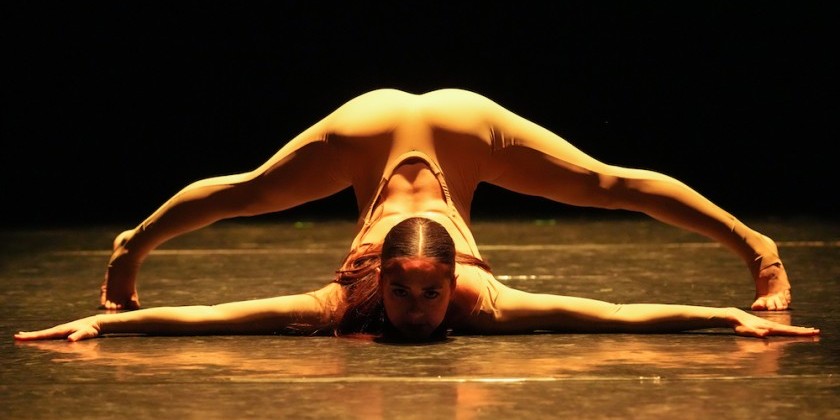 Choreographers: Jaime Blanc, Janet Collins, Margie Gillis, Lydia Johnson, Valentina Kozlova, Lorn MacDougal, and Eleo Pomare
Dancers: Ane Arrieta, Donna Clark, Christine Dakin, Margie Gillis, Valentina Kozlova, Daphne Lee,  and Lydia Johnson Dance Company
Composers: Collin Walcott, Alexander Scriabin, Luciano Berio, Kenneth Klauss, Philip Glass, Michael Levy
---
This concert salutes the complexity of a sensually and emotionally aware woman. Each of the six solos are meaty opportunities for dancers who have mastered the physical challenges of dance and are prime to play on subtle psychological shifts of character.
Opening with GLASS (1974) performed by Ane Arrieta, choreographed by Lorn MacDougal, the program begins on a pure note. Brancusi's sculptures comes to mind as the delicate dancer slowly revolves on the floor, concluding with her hands wrapping around her head protectively. The program closes on a bombastic note with NARCISSUS RISING (1968). Donna Clark clad in leather and chains, struts her sculpted, glistening body as a biker chick, exuding potency of a rainbow kind. The choreographer Eleo Pomare, who died in 2008, might have screamed with delight to see his solo created for a man performed with such conviction. Lighting designer Gary Harris provided the insistent glare of a motorcycle light set upstage center and a strobe that catapults us into club pandemonium.
Donna Clark in Eleo Pomare's NARCISSUS RISING; photo by Steven Pisano
Christine Dakin and Margie Gillis are both riveting. They ride the rapids of a woman's thoughts and feelings with exacting, navigational skill. Jaime Blanc choreographed SHORT STORY (2017) for Dakin, as inspired by Tennessee Williams' "Lady of Larkspur Lotion," with all her lies, promises, and delusions, cleverly set to Luciano Beria's "Sequenza II". Restraint is lost on the radiant Gillis whose BLOOM (1989) is set to Molly Bloom's "Yes" soliloquy written by James Joyce in "Ulysses" and spoken here by Siobhan McKenna.
Both Dakin and Gillis convey a huge range of emotions as easily as a musician plays scales. Dakin's character is set in the American south in 1939; while Gillis transports us to Dublin, Ireland circa 1904. The soliloquy begins with, "I love flowers I'd love to have the whole place swimming in roses God of heaven there's nothing like nature"
Christine Dakin in Jaime Blanc's SHORT STORY and Margie Gillis in her work BLOOM; photo by Steven Pisano
While a breath of fresh air is exactly what Daphne Lee's character needs in APRÉS LE MARDI GRAS (1947), the placement of her solo midway through the program brings exactly that to the program. This festive and funny solo was choreographed by Janet Collins (1917-2003), a Black American dancer who also created the costume (here reconstructed by Yale Lewin.)
Daphne Lee  with accompaniest in Janet Collins' APRÉS LE MARDI GRAS; photo by Steven Pisano
CLEARING (an excerpt from the 2018 dance) featured Lydia Johnson Dance with ten young dancers, and two from Limon2, perfectly captures the music by Philip Glass — formal, clean, sublime.
Lydia Johnson Dance in CLEARING; photo by Steven Pisano
Completing the program was Valentina Kozlova's gentle solo TIL THEN (2022) set to an etude by Alexander Scriabin. 
Valentina Koslova; photo by Yelena Yeva
Six solos and one ensemble piece, each honed to perfection in form and performance, reveal the sensibility of curator, Audrey Ross, a tireless publicist and former dancer who has caught the bug to produce. The dances she includes are ones that she remembered and wanted to see again.
---
The Dance Enthusiast Shares IMPRESSIONS/our brand of review, and creates conversation.
For more IMPRESSIONS, click here.
Share your #AudienceReview of performances. Write one today!
---
The Dance Enthusiast - News, Reviews, Interviews and an Open Invitation for YOU to join the Dance Conversation.