IMPRESSIONS OF: Peter Kyle's "100 Days"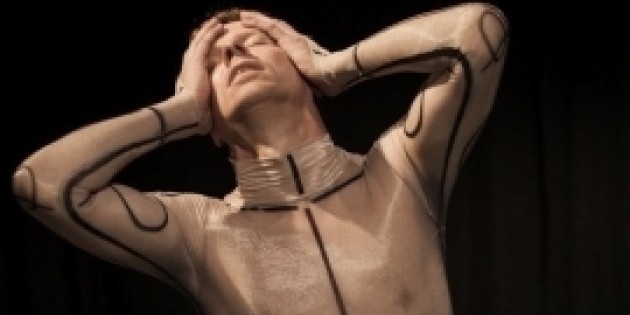 Impressions of Peter Kyle Dance
At Triskelion Arts Aldous Theater in Williamsburg
100 Days (brought back by popular demand)
June 8th and 9th 2013 at 8pm
Conceived, Arranged, and Performed by Peter Kyle
Music by William Catanzaro
Costumes by Garo Sparo
Lighting by Andrew Dickerson
Christine Jowers for The Dance Enthusiast
---
Peter Kyle in his 100 Days ; Photo JJ Sulin

"This is me moving the chair," Peter Kyle says as he unassumingly enters the bare stage space of Triskelion's Aldous Theater. He wears drawstring pants, bright red socks and a tight translucent turtleneck so very close to the color of his skin that, if farther away, he could appear nude. We notice there are black brush strokes on his chest as he modestly announces, "This is what I have to share."
This is the last time Kyle talks to us directly. During the rest of the evening his taped voice narrates the action complimented by William Catanzaro's electronic guitar score. Kyle removes his baggy pants and bright socks to reveal an entire body hugged by the light peach fabric. Black lines are painted where his bones extend; circles are placed where his joints bend. Garo Sparo costumes Kyle almost as an artists' mannequin- a flesh and bone everyman. Andrew Dickerson's warm glowing lights subtly define the soloist's environment.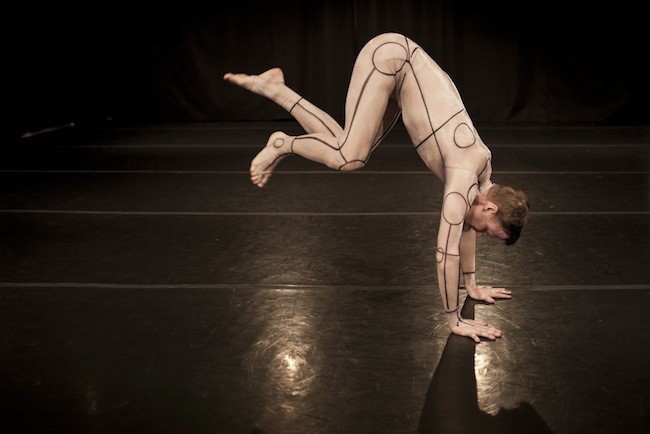 Peter Kyle in his 100 Days ; Photo JJ Sulin
In 100 Days Kyle uses meticulous, articulated movement to draw observations of people he has watched over a period of 100 days between the summer and fall of 2012: from volleyball guys wild at sport; to an elderly gent hunching over and walking gingerly; to a tween, bored out of her mind, flipping her hair dramatically.As Kyle's tween thrusts "her" head back, we can practically taste fruity lip-gloss and hear accompanying squeals of "OMG!"
Remarkably this soloist can also make us feel that he is a chorus. Kyle shows "expert" movers, fearless dancers, rehearsing bits of exciting choreography. Against this backdrop of perfection we are introduced to a beautifully coordinated dancer with one hip that is "tight." While the injury slightly compromises her agility, it also renders her heroic.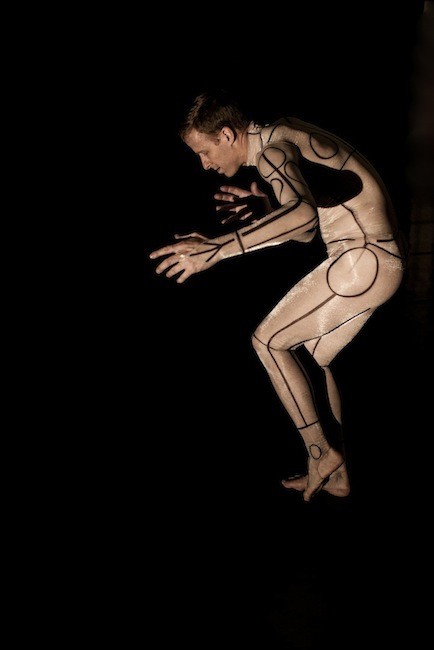 Peter Kyle in his 100 Days:
Depiction titled:"Old Lady gingerly trying on slippers while holding friend up" -Photo JJ Sulin
Kyle captures the essence of the various bodies he has met with exquisite specificity. We see people we know, friends and family - ourselves. We recognize a familiar air in people we don't know.We note the man on the street that we have passed so often but never stopped to consider. Kyle absorbs his subjects, never mimicking or poking fun at them; rather, he finds a dignity in each one. Even fallibilities and imperfections appear beautiful features to celebrate. (Sometimes, oddly enough, I am reminded of Norman Rockwell- the respect he had for his subjects and his particular care with their details.)
A poignant change in direction occurs when Kyle sits slumped, legs spread out in his chair, as his recorded voice recalls his virile father, a man who he saw move from towering athlete and exuberant social dancer to infirmity. Kyle can't budge.
Peter Kyle in his 100 Days ; Photo JJ Sulin
100 Days is Kyle's ode to humanity. Inspired by the poet Rainer Maria Rilke who implored his wife to "look, look, look," on a trip to Egypt (so the poet could vicariously experience her expedition), Kyle has looked voraciously and shared generously. His work reminds us how magnificent this set up of flesh and bones is with its countless possibilities and unexpected nobilities.
In the words of another poet, Walt Whitman, from
I Sing the Body Electric
, " To see him pass conveys as much as the best poem, perhaps more..."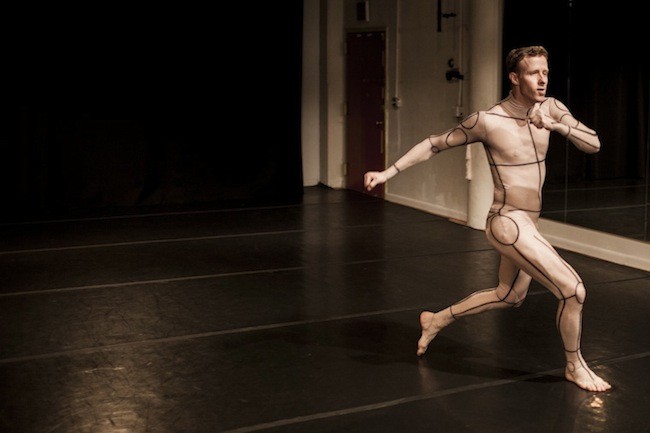 Peter Kyle in his 100 Days ; Photo JJ Sulin