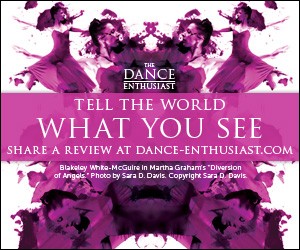 Related Features
Impressions of: Rocio Molina at BAC
Rocio Molina & Rosario "La Tremendita" in the Flamenco Festival 2014
Dancer: Rocio Molina
Music: Rosario La Tremendita (Vocals and Guitar) and Pablo Martin (double bass and loops)
Choreography and Art Direction: Rocio Molina
Venue: Baryshnikov Arts Center
March 20, 2014, 8pm
---

In a class of her own with a sense of physical humor beyond compare, Rocio Molina treated the audience, which included her host and ardent fan, Mikhail Baryshnikov, to a liberating, fearless performance.
Molina knows her form and flamenco tradition; she has mastered her technique. Having won choreography and dance competitions from a very early age, she has nothing to prove and everything to gain by dancing her very particular style. She gives us an endless blast of invention, exploring, with obvious glee, every cranny of Flamenco dance and structure for fresh potency. Born in 1984, she is an astounding performer with the unique charm of such comedic virtuosos as the late Danish pianist Victor Borge or Baryshnikov, especially his dancing Twyla Tharp's 1976 Push Comes to Shove.
Rocio Molina. Photo: Anna Lee Campbell.
The program at BAC begins with Pablo Martin ambling on stage to pick up his double bass, followed by Rosario La Tremendita who sits in a fat, easy chair with a guitar. Molina completes the triangle, arriving in black tights pulled just below the knee, midriff peeking through a black leotard, barely covered by a low-slung sundress. She too picks up a guitar, only to then place her head coquettishly in its waist, thus setting us up for the unexpected! Her subsequent homage to the subtle dance of the guitarist –his strums and embraces – reveals her affectionate, quirky approach.

Molina moves with her body tightly wound, like a boxer ever ready to shift directions, or a femme fatale, ready to taunt, only to pull away. Her fingers flutter as though to speed through the end of a sentence, to say "etc. etc." Her feet are, of course, quicksilver. Often, she completes the rhythmic phrasing with aerial jabs, turns, pitos (finger snapping), and body percussion. Always, she seems to be looking for opportunities to experiment – with tradition, her musicians, and even surfaces, including the legs of a chair, the body of the bass and a low-sided box to dance within.

As to her look, she dons a red shirt that she tosses on and off her shoulders, a move male dancers normally make with their jackets. For the "Petenera", a veil covers her face as she slowly crosses the stage in back dips that bounce at their deepest point, conjuring images of 1920s German modern dance. Slipping into an ankle length coat for her Bulerias, with still only the leotard underneath, she acquires the hip stance of a pop star.  Dismissing all decorum, she also momentarily lets her long, wet hair fly as though she were Janis Joplin.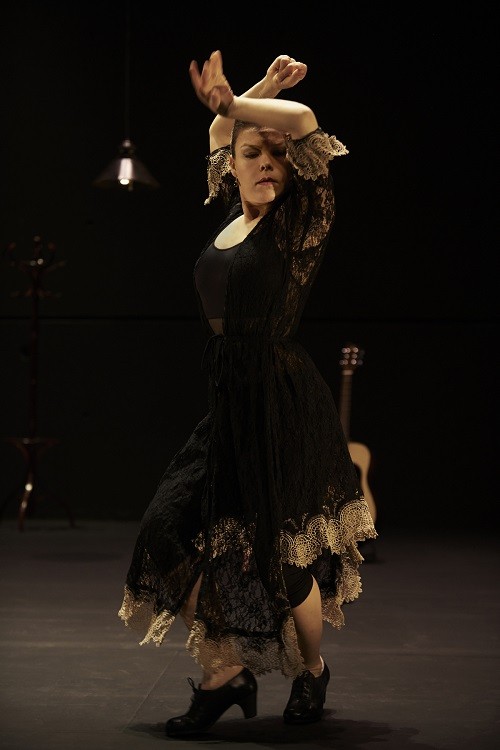 Rocio Molina. Photo: Anna Lee Campbell.
She develops a singer/dancer relationship, suggested traditionally when a singer embraces the dancer with a shawl at the close of the dance, by standing close enough to Tremendita to whisper. Their flirtation includes an invitation to Tremendita to pound Molina's stomach, and later her back, as a drum. For the finale, set for an African hand-drum with bass drum loop, the two walk, side by side, off the moonlit stage.

Perhaps many of her innovations might be lost on an audience who has not seen flamenco before. The de-constructionist approach to flamenco (evident also in the 2014 Flamenco Gala and Israel Galvan's concerts) presenting dance, song, and guitar consecutively, rather than simultaneously, is an alarming trend. Yet, Molina brings us an art born in Spain that blossomed with her global perspective of dance theatre.
As a member of a generation that never knew the isolation of Spain during Franco, Molina is a product of her time, one filled with intense changes. Her wild originality is a tremendous inspiration, goading us to rise to her example.
Follow Deirdre Towers on Twitter @spiffmoves