Related Features
Contribute
Your support helps us cover dance in New York City and beyond! Donate now.
IMPRESSIONS: 92Y's Dig Dance Presents Full-length Vision: AIRs on APAP: Alethea Pace, Chuck Wilt, Hee Ra Yoo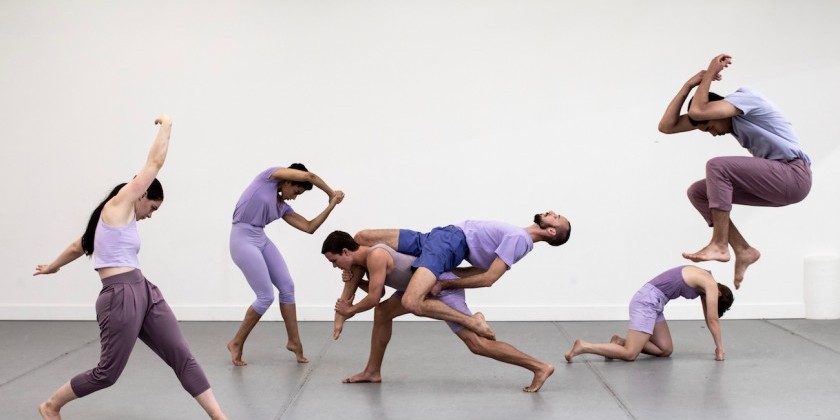 January 4, 2019 at 7:30 p.m.
Creation and Performance: Alethea Pace (Bring me Flowers)
January 5, 2019 at 4 p.m.
Chuck Wilt/UNA
Choreography: Chuck Wilt in collaboration with the performers (COLORING); Roy Assaf (A Girl)
Performers: Maximillion Canion, Kyle Filley, Rebecca Margolick, Jennifer Payan, Emma Whiteley, Chuck Wilt
January 5, 2019 at 5 p.m.
Hee Ra Yoo
Choreography: Hee Ra Yoo (Silk Road, The solo, Chea); Hee Ra Yoo with Rebecca Walden (9 Movements)
Performance: Danielle Alifano, Lauren Camp, Hannah Franz, Elisabeth Jeffrey, Jihyun Kim, Leigh Schanfein, Marina Vianello, Rebecca Walden, Xiang Xu, Hee Ra Yoo
---
The list is long and illustrious, containing everyone from José Limón to Doug Varone, from Pearl Lang to Eleo Pomare. To be a Harkness Dance Center Artist in Residence is not only an opportunity to join a who's who of concert dance, but also to be given resources in the form of a stipend, rehearsal space, and educational opportunities. This treasure trove enables four choreographers — Ephrat Asherie, Alethea Pace, Chuck Wilt, and Hee Ra Yoo — to do what often seems impossible in New York: make work. 
Pace, Wilt, and Yoo unveil the results of their residency at the 92Y as part of Dig Dance Presents Full-length Vision: AIRS on APAP. Each choreographer displays a compelling ethos, yet they all would do well to edit themselves.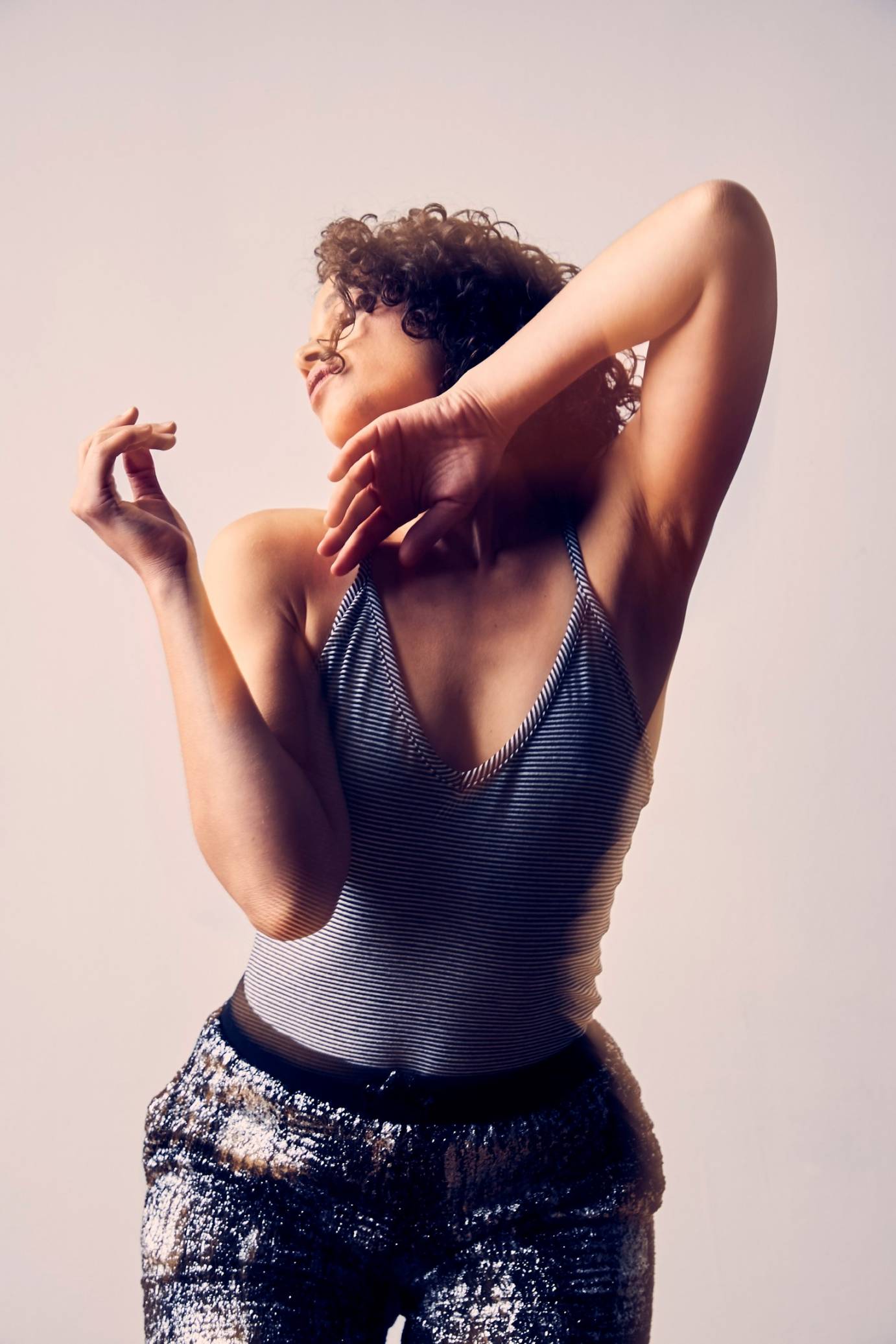 Harkness Artist in Residence Alethea Pace; Photo courtesy of 92Y.
Change is the only constant, and nowhere is this truer than New York City, which, nearly four hundred years after its founding, still appears to be in the throes of a messy, angry growth spurt. During Bring me Flowers, Pace spotlights the Bronx of yesteryear before its beloved landmarks were obliterated for the shiny and the new. Her solo is both a lament for and a celebration of what was. 
Pace unifies the dynamism and rhythm of hip-hop with the weight and flow of modern dance. Initiating from her spine, which whirls like a cyclone, she springs from foot to foot with ease and alacrity. Her arms form curlicues while her hips zip from side to side.
Bring me Flowers is jam-packed with a quick-cutting black-and-white film of 20th-century footage (video by Pace with production design by Mikhail Torich), a multi-composer soundtrack, text (from Claudia Rankine's The Provenance of Beauty and Pace), props (white roses, candles, and a box), and audience interaction (asking people if they remember former Bronx buildings). This excess of peripheral elements overemphasizes the theme and, more importantly, distracts from Pace's luscious movement, which I could watch all night.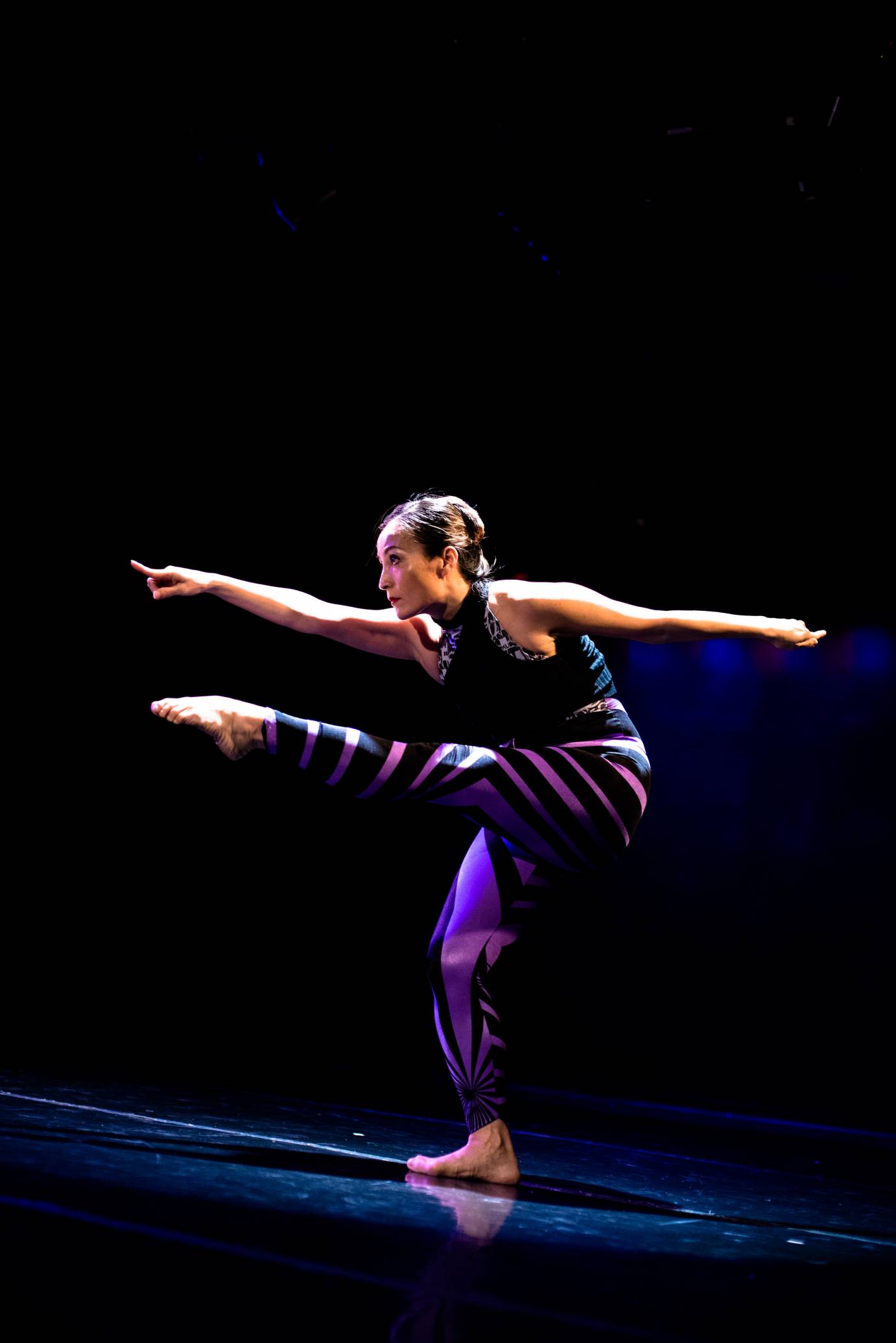 Harkness Artist in Residence Hee Ra Yoo; Photo courtesy of 92Y.
International choreographer Hee Ra Yoo uses an east-meets-west approach on her mostly female ensemble. The west provides the base, which ranges from balletic pointe work to sweeping modern sequences. The east adds ornamentation with gentle hooks of the wrist and delicate arrangements of the fingers, like bouquets of posies.
The program gains strength as its four pieces unfold. The opening creations (9 Movements and Silk Road) overflow with movement motifs and fussy montages, making them pretty but hectic. During The Solo, everything simplifies, which amplifies the impact. This charming bijou features Rebecca Walden in a tutu that she unravels from a grand piano to a music stand. As Ben Weintraub plays Debussy's "Arabesque No 1," Walden dances around and on this tulle valance, the connection from music to movement made visible.
The finale, Chea, has the depth to be developed into an evening-length work. Set to a score of Jambinai ("A Hermitage") and Park Woojae ("Red") seven women and one man locate a community within the confines of the performing space. They bear and share weight; they walk with each other, exchanging tender gestures. Their arms carve in geometric shapes to end with subtle wrist flicks. The pace is measured, but not sluggish, allowing the details to register, the tableaux to linger. 
Harkness Artist in Residence Chuck Wilt
Chuck Wilt founded UNA, a bi-coastal company, in 2013, the year he graduated with his BFA from NYU Tisch School of the Arts. The dancers are equally youthful, yet the excerpts from COLORING are impressively mature (the full piece will premiere at San Francisco's ODC Theater in early March). 
The movement lexicon is familiar: vigorous gestures with soft shoulders, athletic slices of the legs, and quirky moments like a brief solo for Rebecca Margolick where she repetitively kisses herself and the air around her. The phrasal organization, however, is anything but: in unison, then one against the rest, before a trio breaks away as the first rejoins. Actions are minutely and individually stressed, accented, splintered, and attacked before resolving.
Even with the simmer that soon boils over, the mood is one of radical vulnerability. Costumed first in matte black and later in shades of purple, the six performers dance with their skins turned inside out.
Chuck Wilt/UNA in Roy Assaf's A Girl; Photo courtesy of the artist.
For whatever reason, UNA also presents A Girl, a solo by Roy Assaf performed by Emma Whiteley. An absurdist deconstruction of female archetypes (showgirl, pin-up girl, party girl), Whiteley struts, poses, sings, and faux smokes a cigarette on a white-taped suggestion of a runway. Perhaps on a different program, the piece would seem funny, relevant. Here, it's too glib and cynical to square with UNA's eloquent sincerity.
---
The Dance Enthusiast Shares IMPRESSIONS/our brand of review and Creates Conversation.
For more IMPRESSIONS, click here.
Share your #AudienceReview of performances. Write one today!