IMPRESSIONS: A.I.M with Kyle Abraham, Andrea Miller, Bebe Miller, and Doug Varone at The Joyce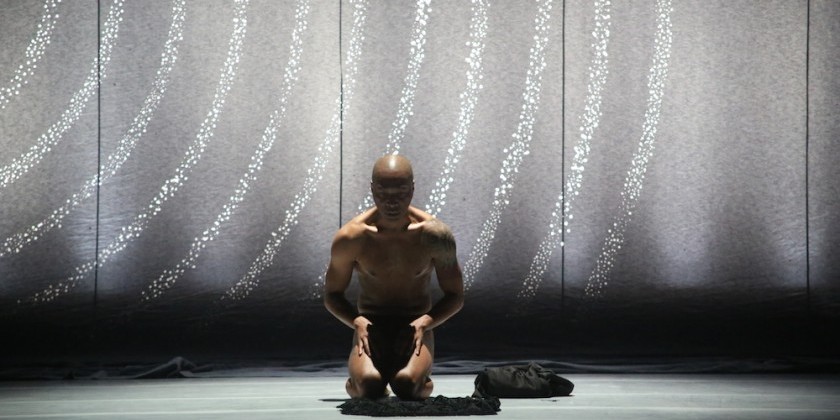 Choreography: Kyle Abraham (in collaboration with A.I.M), Andrea Miller, Bebe Miller, and Doug Varone
Performance: Kyle Abraham, Matthew Baker, Kayla Farrish, Tamisha Guy, Keerati Jinakunwiphat, Claude "CJ" Johnson, Catherine Ellis Kirk, Marcella Lewis, Jeremy "Jae" Neal
May 1 and 2, 2018
---
Does success begat success?  It sure feels that way for A.I.M (founded as Abraham.In.Motion).  Under the artistic direction of Kyle Abraham, the company reaches backward and forward and around itself to suggest that success is a magnet. During its one-week residency at The Joyce Theater, A.I.M adds choreographers beyond Abraham to the lineup while showing three works, two of which are premieres.
The success starts at the top, with Abraham, whose pile of laurels includes a Bessie, a Princess Grace Award, and a MacArthur Fellowship — among others. He's also a professor at UCLA and, this fall, will head uptown to make a piece for New York City Ballet. He doesn't seem content to rest on these laurels, though. Instead, he and his sharp, eager dancers/collaborators have found new ground to break.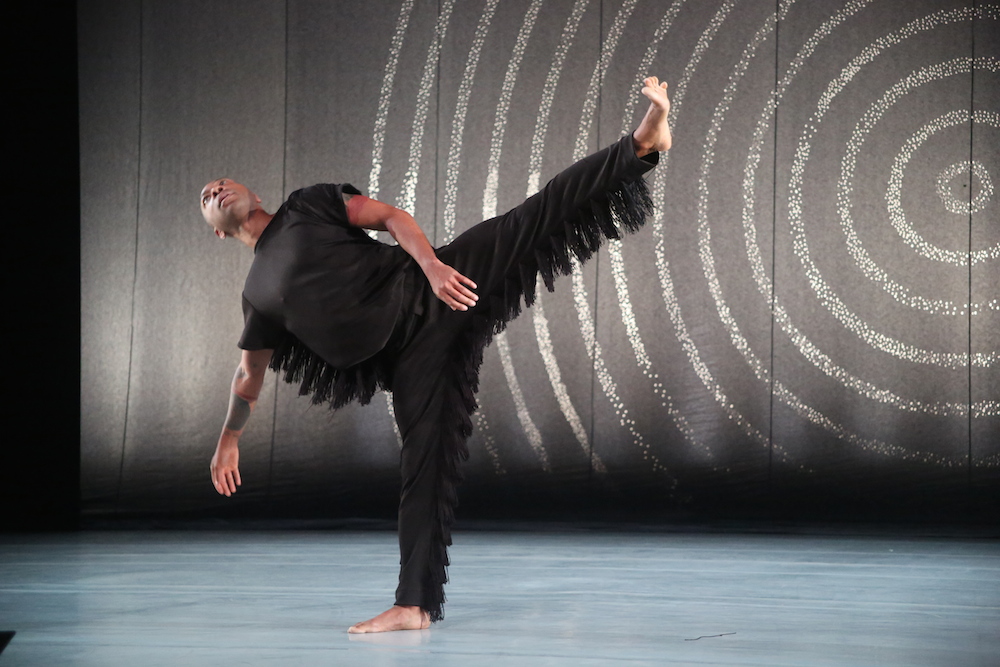 Kyle Abraham performing "INDY" at The Joyce Theater. Photo © Steven Schreiber
To call Abraham's rippling style modern dance meets hip-hop would be, at best, a simplification, and, at worst, a falsehood. While modern dance staples — floor rolls, sweeping arcs of the legs, cushiony lunges — do get tweaked and whetted with hip pops and elbow juts and hunched shoulders, his palette incorporates voguing, ballet, krumping, and salsa.
In Drive, which was commissioned by New York City Center for the 2017 Fall for Dance Festival, eight dancers pass these influences back and forth as lights glare on and off.  Their repartee diminishes the distance among dance styles to form a physicalized Venn diagram of what a body can do, who a person can be.  This slipstream of genre blending and bending results in the backs of dancers being equally as articulate as their fronts — unusual on a proscenium stage, which prizes the face.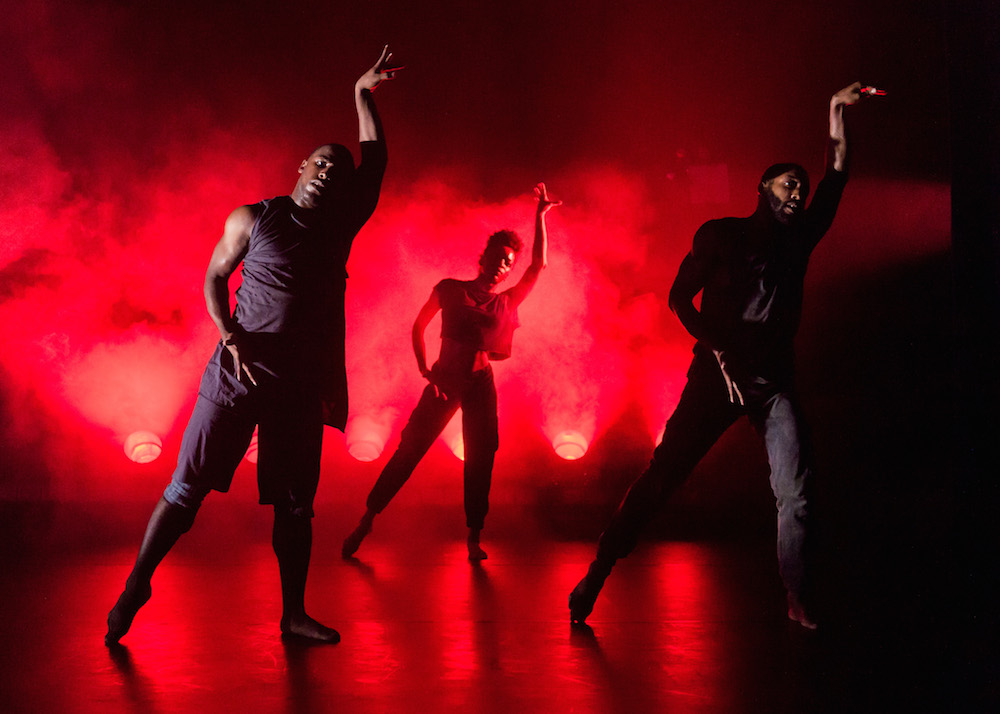 Claude CJ Johnson, Tamisha Guy and Jeremy Jae Neal of A.I.M. performing "Drive" by Kyle Abraham. Photo © Ian Douglas
During Meditation: A Silent Prayer, the dancers use their backs to offer pointed commentary.  As Carrie Mae Weems recites the names and ages of Black men and women lost to racial violence, a sextet faces upstage, unmoving.  Backbones straight, muscles lax, they gaze at Titus Kaphar's backdrop of Black faces that have been overlaid one on top of the other.  It feels as if we're gathered at a funeral, stunned and grief-stricken. Yet the line drawn between the stage and white audience members is stark, unmistakable.  For all their gifts, once offstage, these Black artists become vulnerable to violence. Being a Ford Fellow — which Abraham was in 2012 — won't stop a bullet.
Marcella Lewis of A.I.M. performing "Drive" by Kyle Abraham. Photo © Ian Douglas
A trained cellist and pianist, Abraham personalizes the interaction between music and movement.  The dancing acts as the root, getting under the rhythms, pushing the melodies up, suspending the cadences.  Nowhere is this more apparent than in the immediately canonical and deeply personal INDY set to a score by Jerome Begin.  As Abraham flounces like a runway model, silently screams, and in one hypnotic trick, strolls forward in ultra slow motion, Begin's thick beats spark against and smolder in the crevices of Abraham's body. 
Dance is an ever-evolving, always-overlapping ecosystem where the past inspires the present, which then bounces ideas among itself. A.I.M's inclusion of two seasoned dance makers (Doug Varone and Bebe Miller) and one contemporary (Andrea Miller) hints at the ways they do — and do not — impact Abraham.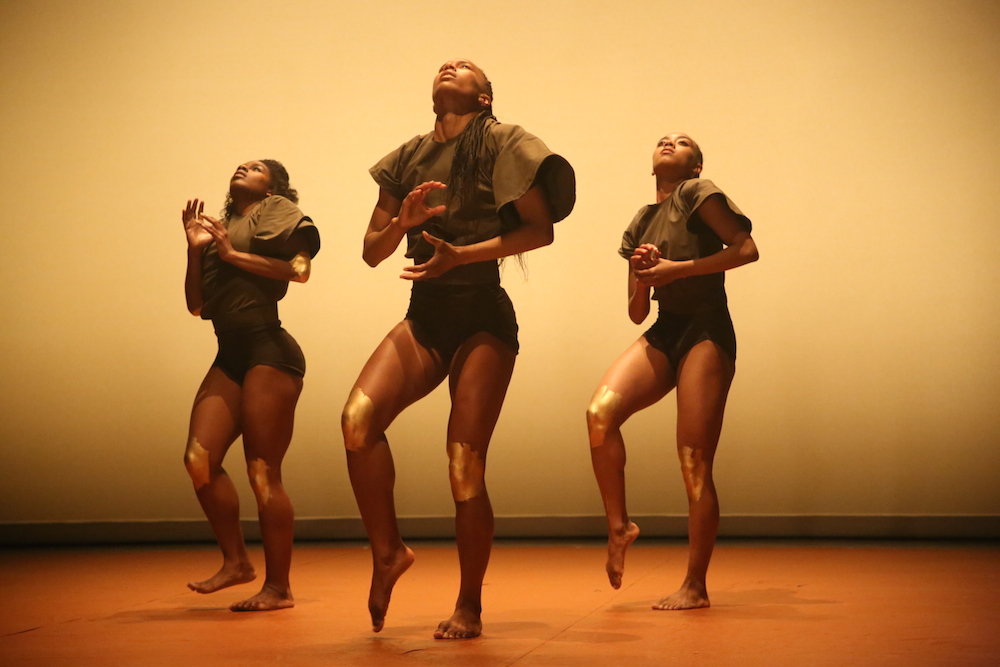 Kayla Farrish, Catherine Ellis Kirk and Marcella Lewis performing "state" by Andrea Miller. Photo © Steven Schreiber
Andrea Miller's state, a world premiere, shimmers like a desert. Three women shift from foot to foot and coil into gorgeous, sculptural curves. Under Reggie Wilkins' sonic haze, the sparseness accumulates into importance the longer the trio imprints themselves against cyclorama of earth tones. 
In Varone's Strict Love (1994), dancers trace cryptic gestures as a recording from an oldies radio station blares. They stay inscrutable, even as The Jackson 5 and Diana Ross agitate them to respond. Their swipes through and jabs at the air seem like objects rather than actions: impersonal and contained.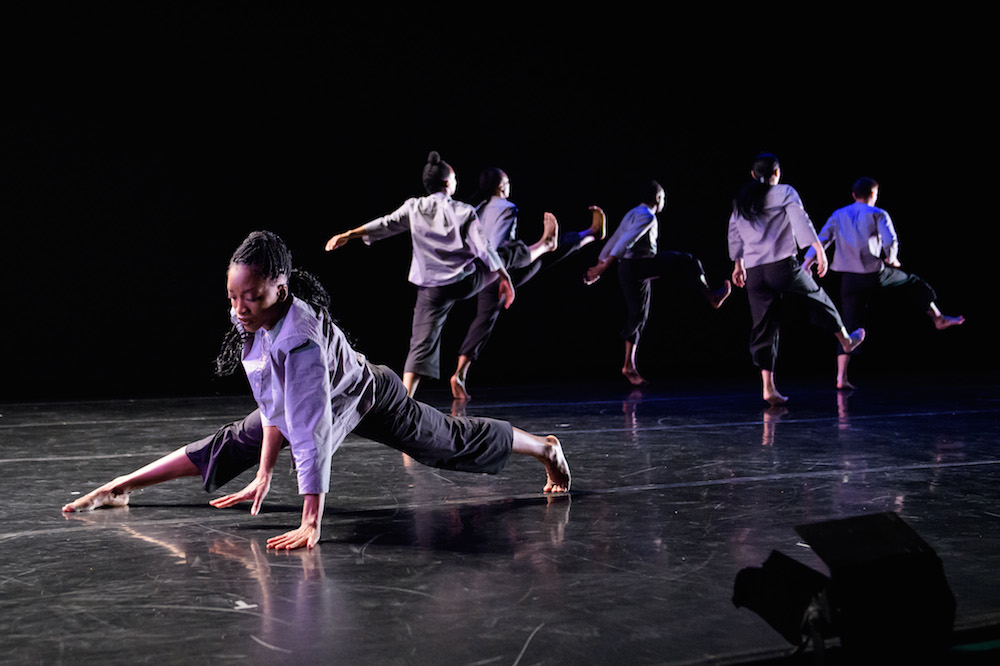 Tamisha Guy and the company of A.I.M performing "Strict Love" by Doug Varone. Photo © Ian Douglas
Bebe Miller's Habits of Attraction (1987) needs to be revived in full. The excerpt presented tantalizes with two male/female duets. These discontented souls grapple antagonistically and slump resignedly. With dynamics of power and gender, the piece resists separation from #MeToo and the complicated conversation we, as a society, are having about men, women, and respect.
In dance, the master can only be as good as his tools. A.I.M shows it's both master and tool, switching easily among tones, tempi, and choreographic voices while remaining vigilant, confident, true to the work, true to itself.
---
The Dance Enthusiast Shares IMPRESSIONS/ our brand of review and Creates Conversation.
For more IMPRESSIONS, click here.
Share your #AudienceReview of performances for a chance to win a prize.