IMPRESSIONS: A.I.M, Kyle Abraham, JLin, and Giles Deacon in an Untitled Commission, Presented by National Sawdust for FERUS Festival 2021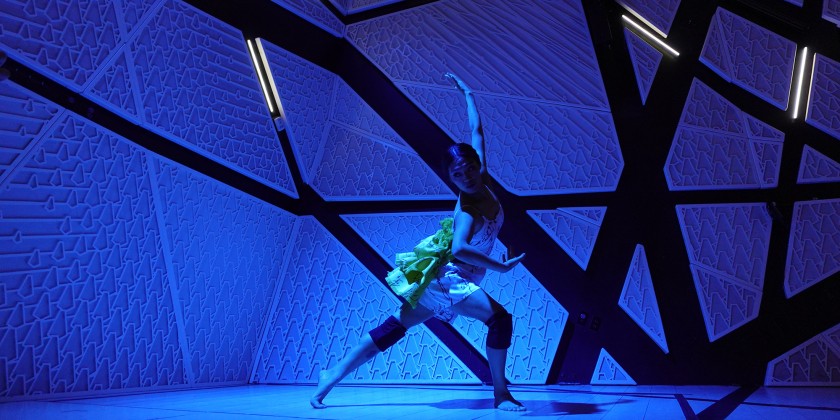 January 9 at 6 p.m.
Choreography: Kyle Abraham // Music: Jlin // Costumes: Giles Deacon
Performance: Keerati Jinakunwiphat and Jae Neal // Lighting: Abigail Hoke-Brady
Editors: Oresti Tsonopoulos and Danielle Sheli Levy // Director of Photography: Danielle Sheli Levy
---
The opening is startling, almost overwhelming. As strident snippets of symphonic music echo, Keerati Jinakunwiphat arches backward. The computer screen, saturated in cobalt blue, ruptures into four panes. A quartet of Jinakunwiphats wheels their arms before Jae Neal appears in two rectangles, flicking their willowy limbs.
And these are just the first seven seconds. Stay alert because the tempo won't relent until the very, very end.
Luckily, this brief piece (with choreography by A.I.M's Kyle Abraham, music by Jlin, and presentation by National Sawdust as part of its FERUS Festival) is digital. You can watch it again and again, which the untitled work necessitates because it unfurls as a churning kaleidoscope of fractured images. Holding onto a moment, like the way Neal's green-fingernailed hands caress Jinakunwiphat's back, will be like trying to remember how starlight ripples on water.
Keerati Jinakunwiphat; photo by Carlton Bright
Not a straight excerpt but not a singularity either, the standalone piece has been recontextualized and reimagined from a longer commission inspired by Mozart's Requiem in D Minor. Depending on the pandemic, that will premiere sometime in the future at the Mostly Mozart Festival, Stanford Live, and University Musical Society in Ann Arbor. Until then, whenever then is, there is this — four minutes of heightened kinetic energy.
The frenetic video editing eats the dance phrases and spits them back out, reframed and refashioned. That's not the bad thing it could be since the piece exists for the virtual sphere of short attention spans, which is far from the dark, focused space of live theater.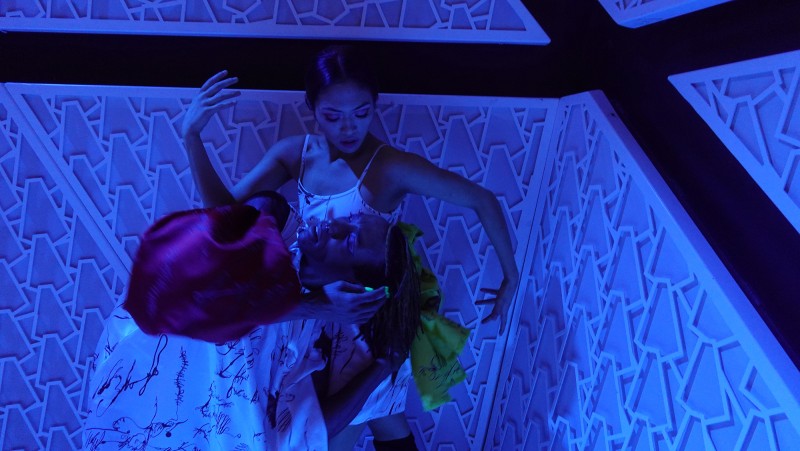 Keerati Jinakunwiphat and Jae Neal; photo by Carlton Bright
Even if the quick cuts prove too busy for your taste, each split-second demands attention. The performers' bodies are ballooned, slivered, and doubled, sometimes in mirrored images that evaporate into or away from each other. Triangles of disembodied torsos melt into the indigo ether before another image spins onto the screen. It's all pretty trippy.
Abraham's choreography responds intentionally to Jlin's surging, three-dimensional score. The glistening beats push Neal and Jinakunwiphat down into pillowy lunges while the electronic ethereality of the source material pulls them up into breezy leg sweeps. They gush through tight turns, acknowledging the musical imperative to move, move, move.
Keerati Jinakunwiphat and Jae Neal; photo by Carlton Bright
Giles Deacon's costumes appear fun and fanciful — airy dresses with satiny accessories (a scarlet puffed sleeve for Neal and a golden bustle for Jinakunwiphat). Yet they rarely register save for a wisp of diaphanous fabric or a blot of bright color. What does register, not as often as I'd like, is the dancers in pedestrian activities: Neal walking, Jinakunwiphat rippling her back. They humanize what can seem otherworldly.
A talkback gamely led by National Sawdust's director and curator Elena Park follows the piece. Minor revelations occur (Abraham was drawn to the dark themes of Mozart's Requiem), but it mostly points to the awkwardness of asking artists to articulate their creative decisions. Intuition elides pat answers, and that's true whether the work is for the theater or the computer screen.  
---
The Dance Enthusiast Shares IMPRESSIONS/our brand of review, and creates conversation.
For more IMPRESSIONS, click here.
Share your #AudienceReview of performances. Write one today!
---
The Dance Enthusiast - News, Reviews, Interviews and an Open Invitation for YOU to join the Dance Conversation.