Impressions of Abby Bender's and Cassie Tunick's "Totally Other"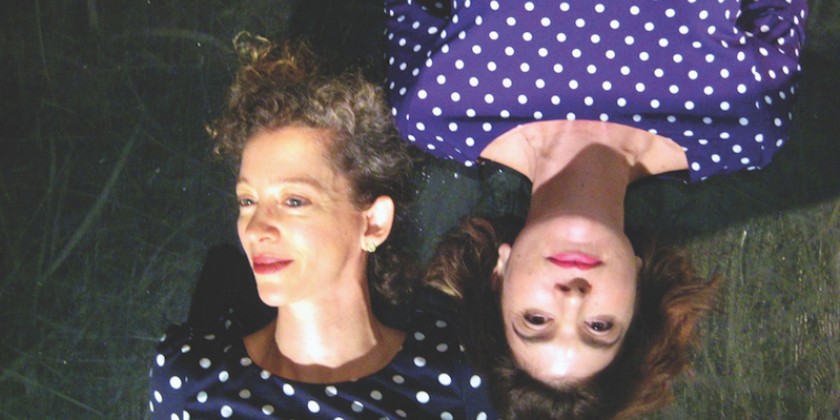 (a short lecture in eleven abstract parts)
Performed and created by: Abby Bender and Cassie Tunick
May 17, 2014
Triskelion Arts, Williamsburg, Brooklyn
---
Triskelion Arts' final season at its 14-year-old location in Williamsburg is winding down. The organization will be relocating to a new facility in Greenpoint in the fall. Taking the Aldous Theater stage one more time as performers, Triskelion Arts Artistic/Executive Director, Abby Bender and her collaborator, the expressive Cassie Tunick, unveil their dance theater work Totally Other. The piece is no-holds-barred and the end of an era is imminent as the artists fervently share their wacky stories.
Totally Other is designed in vignettes with no costume changes and minimal props, except for a handful of essentials: including two chairs, hard hats and, of course, accordions. Andrew Dickerson's lighting creates a singular atmosphere. In one moment, he takes us to a middle school dance complete with whirling disco lights, and in the next, we're outside under a full moon.
Photo: Andrew Dickerson
The characters Bender and Tunick bring to life enrich the work without adding physical clutter to the stage. Bender inhabits a stately man whose diet is, "restricted to foods that are yellow, particularly Wisconsin cheddar." Tunick echoes his mannerisms with a burly weightiness. Together the two artists become a gum-snapping teenager who is a national keyboard champion. Countless thoughtful and humorous confessionals occur throughout entertaining and distracting us from the message at the work's core.
At the beginning of the Totally Other, Bender speaks of the Chernobyl Disaster, the devastating Ukrainian nuclear power plant accident of 1986, mentioning how animals and nature continue to flourish near the affected area as if the destruction never happened. Using Chernobyl as a backdrop, the artists allude to the question: "When Triskelion Arts and its inhabitants vacate their once lively space, will the creative energy be lost forever?"
Our attention is diverted to several colorful individuals while we eat cookies. We watch Bender and Tunick physically manipulate one another using "old school wrestling moves." They turn a sheet into a "tornado tearing through the Midwest" and "a final place of rest." Eventually Totally Other comes full circle.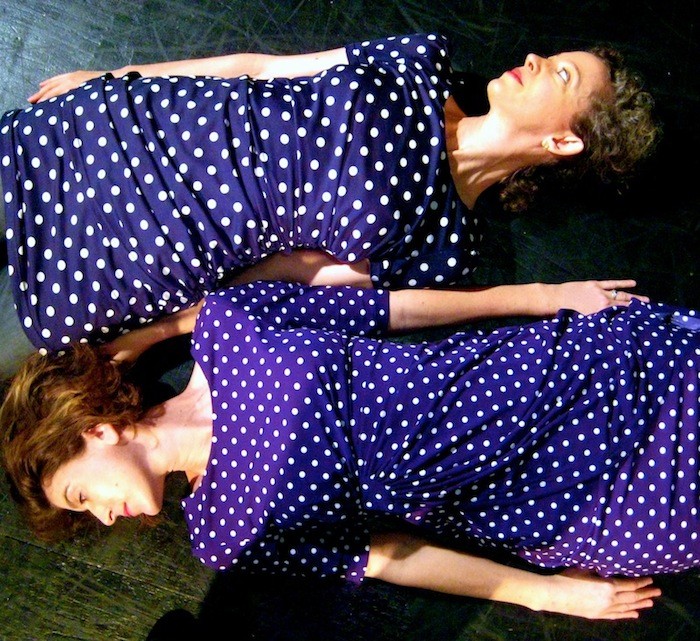 Cassie Tunick (top) and Abby Bender (bottom). Photo: Andrew Dickerson
Instead of framing the impending demolition negatively, Bender and Tunick regard it as an opportunity to start anew. They say, "smash some love in this room," while slamming their chair legs into the stage. They yell playfully, "Tenderness! Smash!" Each smash is announced emphatically with mischievous grins. The cacophony of chairs and the performers' boisterous voices has a strange hopefulness. Totally Other is a fitting ending and beginning for Triskelion Arts. Bender and the community will carry their imaginative spirit forward picking up in the new space right where Totally Other left off.
Follow Trina Mannino on Twitter @trinamannino