IMPRESSIONS: Alpha Omega Theatrical Dance Company's "Solo Suites" @theAO
October 10, 2020
Choreography: Ari Mayzick, Nathan Trice, and Men Ca
Musician: Colin Smith
Performance: Jennifer Florentino, Ari Mayzick, Antone Pagán, Sabrina Petrelli, Nathan Trice
---
"New York's Bravest" used to mean the Fire Department, but today the epithet applies to anyone who isn't afraid to attend a live performance.
Every day the media taser us, administering fresh jolts of Covid-19 panic. Yet some people who have managed to keep their heads gathered on the Lower East Side, on Saturday, exercising their right to assemble. They were eager to watch the dances that the Alpha Omega Theatrical Dance Company was able to present outdoors in its back yard. This lovely program titled Solo Suites featured choreography by Ari Mayzick, Nathan Trice, and Men Ca, augmented by guitarist and composer Colin Smith, who rounded off the evening with a set of moody ballads. The Brooklyn Borough President, Eric Adams, also made an appearance, giving a stump speech as part of his campaign for the mayoralty.
Ari Mayzick; photo by Alpha Omega Theatrical Dance Company
The candidate's presence prompted a question: Is New York City still alive, or are the politicians now fighting over its corpse? Seated around the stage, a stylish audience calmly sipping wine and refusing to be terrified offered a hopeful sign.
A figure from the mythic past returns in Orphée, both choreographed and performed by Mayzick. As the grief-stricken Orpheus, who has lost his beloved, Mayzick sits on a stone bench with his knees drawn up, sulking and aloof. Stationed in a different corner, Antone Pagán recites a letter of apology from the departed. Then Orpheus adopts a heroic stance, his own gestures buzzing around his head and body in a display of energy. There is nobility in suffering, this solo tells us. When the dancer in his scanty, golden-hued cape contracts his chest, and then throws back his head pushing his arms to the sides, he appears to free himself from psychic bonds.
Sabrina Petrelli; photo by Alpha Omega Theatrical Dance Company
Trice's first solo, Is This Becoming?, danced by Sabrina Petrelli, is less lapidary than Orphée, and more organic. It offers shapes that twist and spiral, stretching slowly but with an irresistible force. Petrelli's upper body circles, as if caught in the wind; and a wave passes through her rising from the ground. When the music grows percussive, she moves faster whipping into position. Seated on the floor, she shakes her hands violently as she draws them toward her. Is she a shaman, summoning mysterious energies, or is she the life-spirit of the world?
Trice appears powerfully centered dancing his own solo Particle. Wave. Particle, which he performs with subtle athleticism. When he presses his palms against the stage to raise himself, the movement is deliberate; and vicariously we feel the pressure of the floor against his hands without experiencing any strain. Later, when he sinks to the ground and spins, the movement feels similarly effortless. Trice cups his hands together, collecting an invisible liquid in which he appears to bathe. He wraps himself gently in his own arms. He seems sheltered here, but perhaps, when he stands and gazes off into the distance, he is remembering a different, harder place.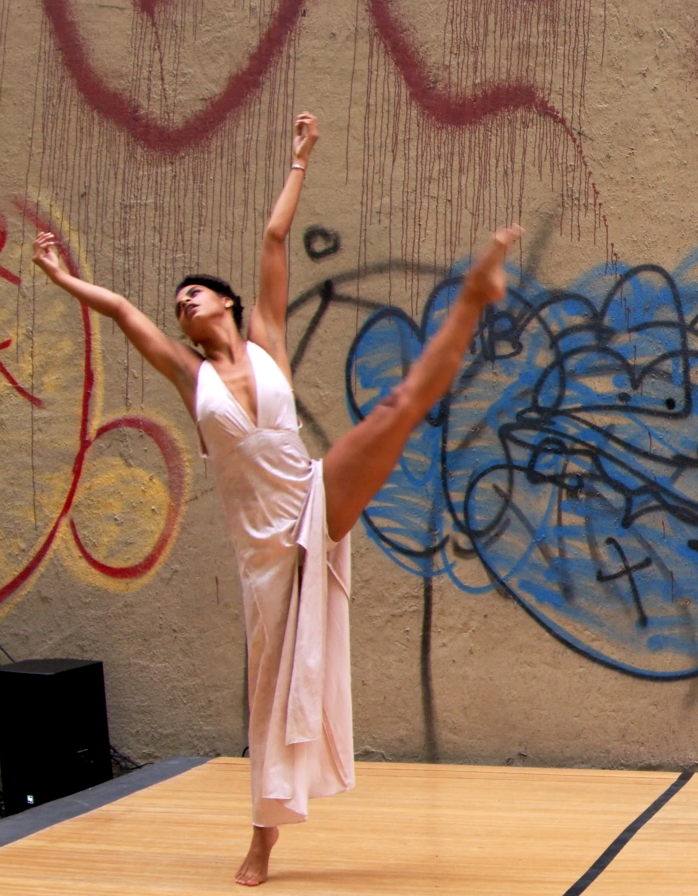 ;Jennifer Florentino; photo by Alpha Omega Theatrical Dance Company
The dance portion of this program concludes with a tongue-in-cheek (we hope) response to Roberta Flack's famously meditative recording of "The First Time Ever I Saw Your Face." Dancer Jennifer Florentino kneels and reaches forward gently to touch—what else?—the cheek of an invisible lover. Then the spirit of ecstasy catches her, and there's no more sitting still. Showing off her line in lyrical extensions, Fiorentino melts and spins through this giddy romantic fantasy choreographed by Men Ca.
The audience seems to buy it; and even the hardest among them applauds. Each viewer is thinking private thoughts, but together our shared energy buzzes. It passes through the circle, buoying the performers, and lifting us all to a higher plane. After months of enforced solitude, the fellowship of a live audience feels amazing. We must never let them steal this font of communion.
---
The Dance Enthusiast Shares IMPRESSIONS/our brand of review, and creates conversation.
For more IMPRESSIONS, click here.
Share your #AudienceReview of performances. Write one today!
---
The Dance Enthusiast - News, Reviews, Interviews and an Open Invitation for YOU to join the Dance Conversation.