Related Features
Contribute
Your support helps us cover dance in New York City and beyond! Donate now.
IMPRESSIONS: American Ballet Theatre's The Masters Program with George Balanchine, Twyla Tharp, and Alexei Ratmansky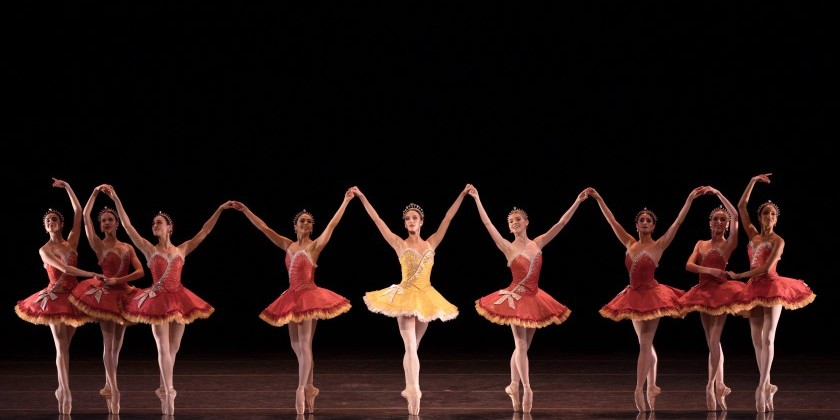 October 19 and 22, 2019
David H. Koch Theater
---
Twyla Tharp has had a long association with American Ballet Theatre. Over several decades she has made 17 works for the troupe and was briefly an artistic associate there in the late 1980s during Mikhail Baryshnikov's tenure as the company's director. It's been nearly a decade, however, since ABT commissioned a work from her. The ballet she has created, A Gathering of Ghosts, is masterful.
The curtain rises on a dark stage peopled with three figures. The lights come up with the first note of Brahms' String Quintet in G Major, Opus 111, and the dance unfolds in a blaze of freewheeling energy. Trios give way to duos and small groupings for eight dancers and the work's star, Herman Cornejo. The program calls these dancers "ghosts" and ascribes fanciful names to them — Louis XIV, Marie Antoinette, Marcel Proust, Greased Lightning, and so on — but it seems they are ghosts only in the sense that they seem to haunt Cornejo's mind. He dominates the stage and can see them, but they don't seem able to see him. Only once, late in the ballet, do they interact.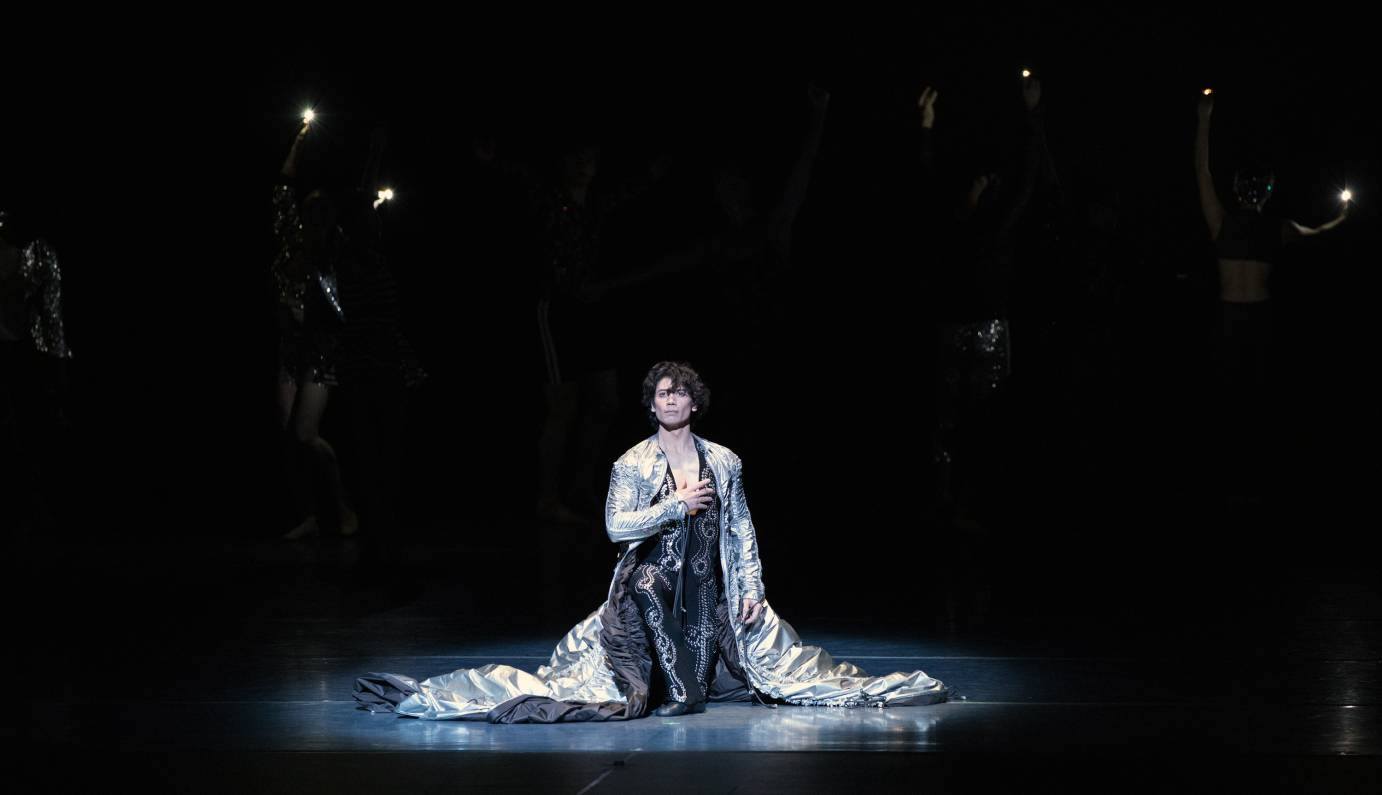 Herman Cornejo in A Gathering of Ghosts; Photo by Rosalie O'Connor.
Cornejo, dressed in a black jumpsuit covered with a swirling silver design (by Norma Kamali), moves with tiger-like power in often virtuosic passages of turns and jumps. His movements are muscle-bound and grounded but also fluid, exuding a casual ease. At one point, he opens his arms and flourishes his hands as if to say to the audience, "Welcome to this world I've created." The role is among the best ever created for this wonderful dancer.
All the dancers in this opening section wear slippers — no pointe shoes in sight —and their movement vocabulary is a recognizably Tharpian mixture of ballet, modern dance and jazz. Shapes and idioms melt into each other. Hips swing to lilting passages in the music, feet are sometimes flexed, the torso is loose and arms frequently fall out of strictly classical shapes.
As the ghosts pair off into couples, some take on distinct personas. Aran Bell and Catherine Hurlin, in silver lamé shorts and top, have the most humorous roles, shaking their shoulders and air boxing each other. In one section, he repeatedly throws her out in the air and then dips her under his body in a move that suggests a radical take on swing dancing.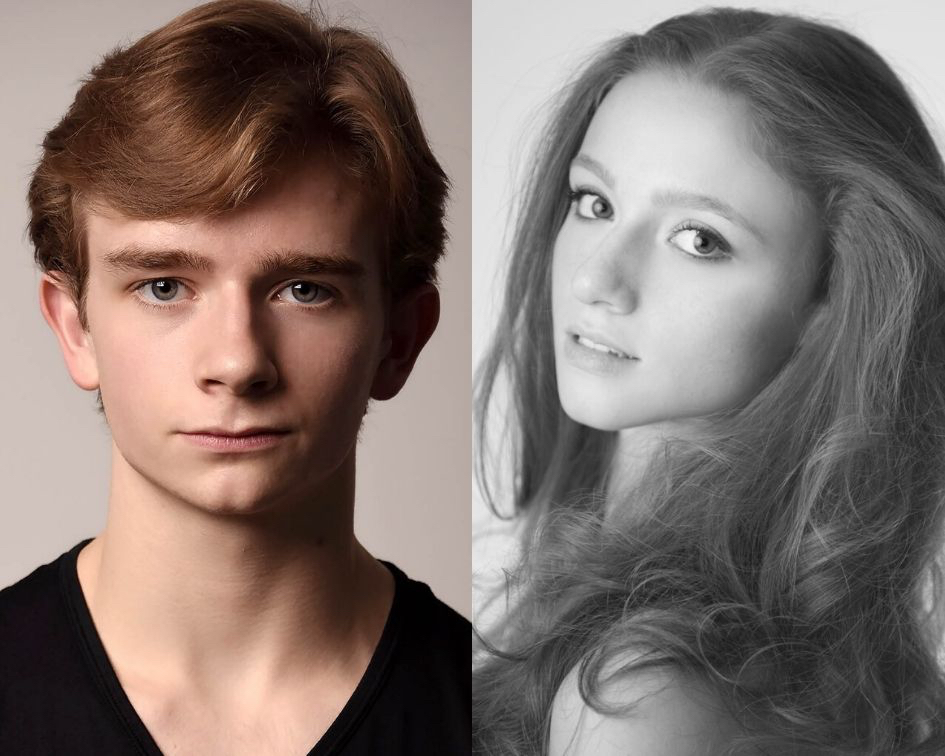 (Left) Aran Bell; Photo by Taylor Brandt. (Right) Catherine Hurlin; Photo by Jade Young
In the second movement, the adagio, Cornejo dances with four pointe shoe-clad consorts. He takes each dancer in his arms, ballroom-style, and pivots them in a promenade before dancing with each in turn. One senses that the consorts are women from his past, existing only in his memory. The consorts have a much more classical movement style than the ghosts and the ghosts definitely have more fun. They also have far better costumes, as Kamali dresses the ghosts in whimsical, varied concoctions of black and silver, while the consorts sport short striped dresses made of heavy jersey.
In the third movement, Cornejo finally gets a break as the ghosts and consorts dance together, while the fourth section features the entire ensemble. In the work's final moments, Cornejo dons a voluminous silver cape, and the work ends with him kneeling center-stage under a spotlight as the stage goes dark except for several tiny lights held by the dancers behind him. This is the closest the ballet comes to conjuring ghosts onstage.
One mark of a great choreographer is that he or she is able to make us hear the music differently. Tharp achieves this in A Gathering of Ghosts, translating whirring passages for the strings, for example, as a driving rhythmic pulse. This is a remarkable feat since, on its own, Brahms' score sounds as though it would be most at home in a 19th-century salon.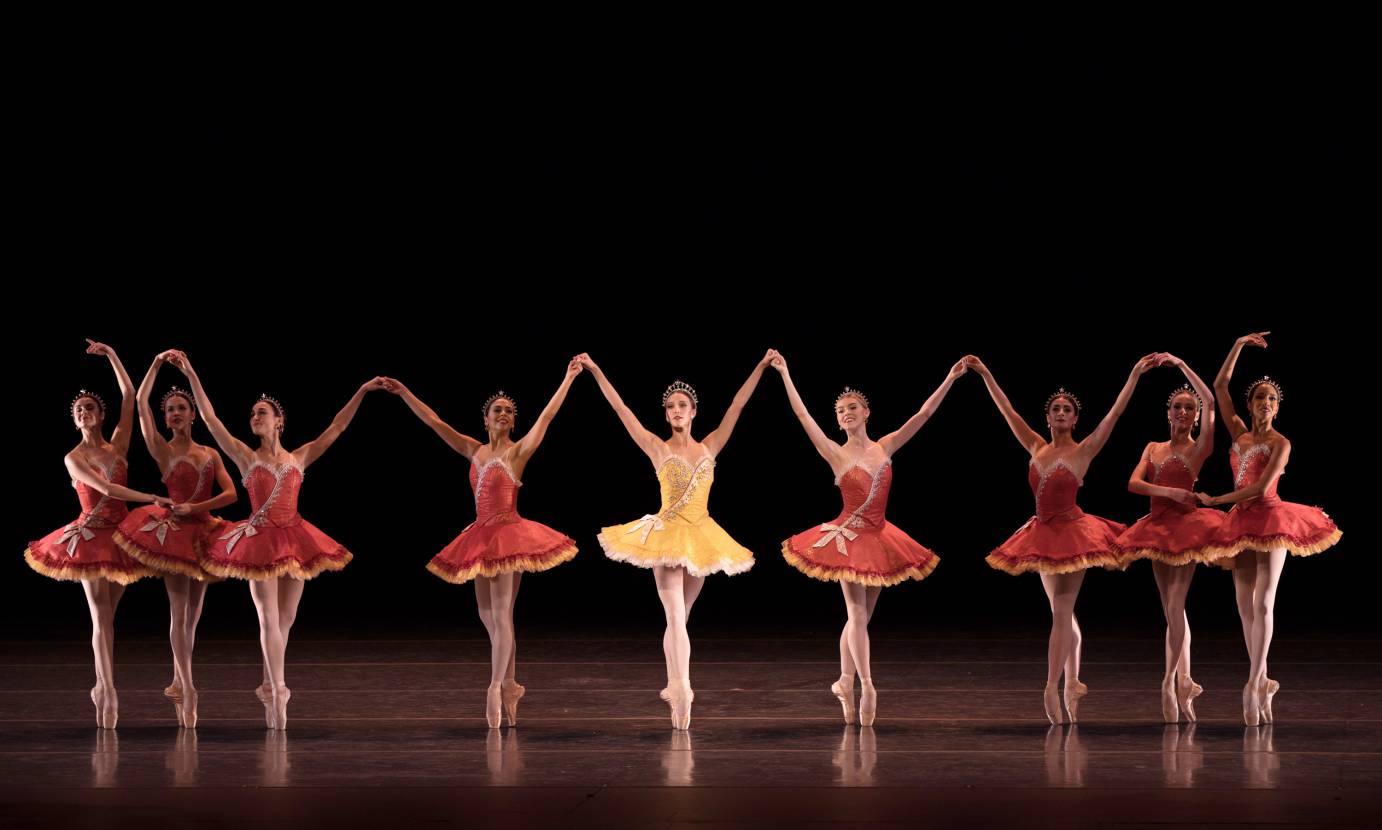 Devon Teuscher in Theme and Variations. © The George Balanchine Trust. Photo by Rosalie O'Connor
A Gathering of Ghosts shared the program with George Balanchine's Theme and Variations (1947) and Alexei Ratmansky's The Seasons. Theme and Variations received a lackluster performance on Saturday night in a cast led by Sarah Lane and Jospeh Gorak — not helped by the orchestra's slow tempi — but it was shown in all its brilliancy Tuesday in a cast headed up by Devon Teuscher and Cory Stearns.
Both Teuscher and Stearns have a natural elegance and a bearing that is regal without being haughty. In the work's extended pas de deux to Tchaikovsky's deeply romantic score, she unfolds like a flower into sunny, generous developpés and moves through the supported turns and repeated diving arabesques with the quality of a silken ribbon. Stearns' marvelous partnering was not only assured but also strikingly musical as he lifted her with a floating quality that breathed with the same breath as the score. I loved the way he executed the work's simplest steps as though they mattered as much as the fiendishly difficult ones.
Alexei Ratmansky is a very uneven choreographer and The Seasons, which premiered in May, is one of his duds. The choreography is awkward and busy, full of styles that clash as much as the colors and styles of the costumes. This is too bad, because the Glazunov score is gorgeous and evokes well each season as it passes: fierce and swirling in winter, full of light twitterings and limpid orchestrations in spring, lush and romantic in summer and frenzied and fast in fall, conjuring a Bacchic festival.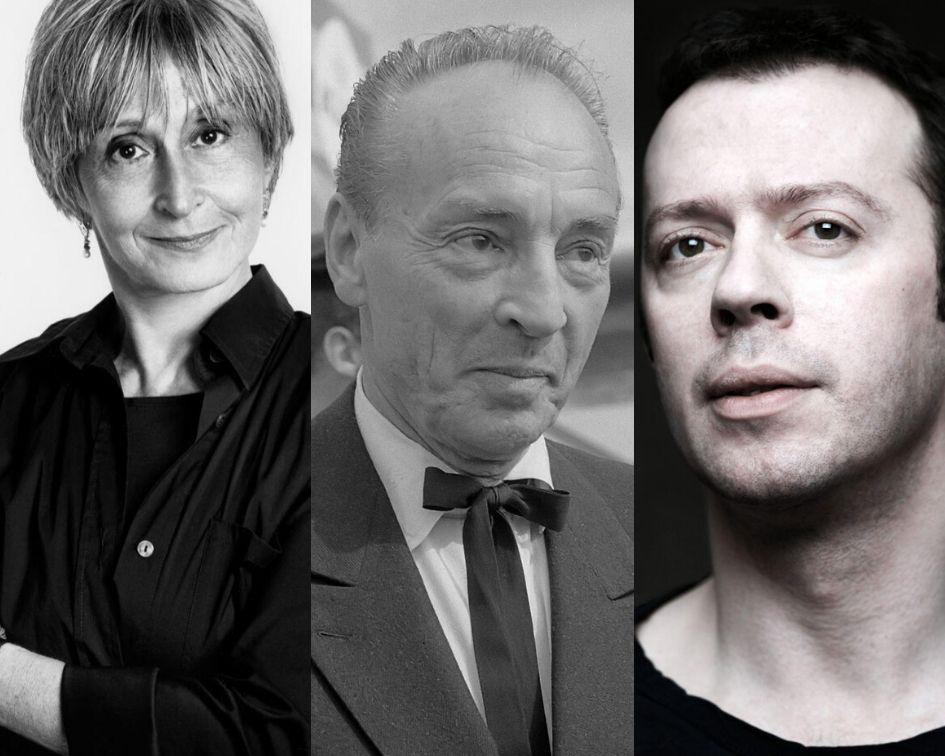 (Left) Twyla Tharp; Photo by Richard Avedon, courtesy of the Richard Avedon Foundation. (Center) George Balanchine; Photo by Jack de Nijs/ANEFO. (Right) Alexei Ratmansky; Photo by Fabrizio Ferri
As the curtain closed on the evening, I found myself wishing that the company would commission more works from Tharp and fewer from Ratmansky, who, for a decade has been ABT's Artist in Residence and whose ballets fill up more and more of the programming. Both are intelligent choreographers but Tharp knows how to get inside a score and unleash its momentum. Her works also make the dancers look good. In the case of Ratmansky, this is not always true.
---
The Dance Enthusiast Shares IMPRESSIONS/our brand of review, and creates conversation.
For more IMPRESSIONS, click here.
Share your #AudienceReview of performances. Write one today!
---
The Dance Enthusiast - News, Reviews, Interviews and an Open Invitation for YOU to join the Dance Conversation.