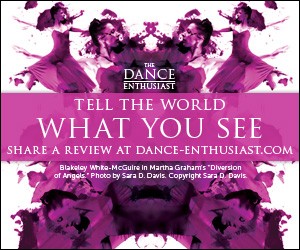 Related Features
Impressions of: Ishmael Houston-Jones and Emily Wexler's "13 Love Songs: dot dot dot"
13 Love Songs: dot dot dot
American Realness Festival, Abrons Arts Center
Thursday, January 9 th - Saturday January 18th, 2014
More Performances on : Friday, January 17 5:30
Saturday, January 18 2:30
---
Creation and performance: Ishmael Houston-Jones and Emily WexlerLighting: Natalie Robin
Text: Some sections originally from "For the Love of Dave Dick" by Emily Wexler and "Some Reasons Why Your Anus is not like Everest" by Ishmael Houston-Jones
---
Watching Emily Wexler stand behind a podium, wielding a megaphone and reading (real, I think) adolescent diary entries, I cringed. Her teenage angst brought to light is silly and nearly too relatable: her reading brought to mind a certain set of very dramatic "love" poems I once wrote myself.
In their collaboration 13 Love Songs: dot dot dot, Ishmael Houston-Jones and Emily Wexler poke holes in the thin veneer of pop love songs and, more broadly, popular ideas about love. They also remind us that laughing at ourselves is as difficult as it is fun.
Emily Wexler in 13 Love Songs: dot, dot, dot. Photo by Ian Douglas.
As Houston-Jones and Wexler move through their series of vignettes, punctuated by their playlist of 13 love songs ranging from Mariah Carey to Pascal Rogé, they perform the conventions of love in a way that can turn quickly from satirical to poignant. In one of the piece's most striking moments, Houston-Jones carefully unwraps a cloth to reveal a knife. Standing, he sharpens it, while Wexler, sitting, gazes calmly up at him. Nervous giggles bounce through the audience, but it is difficult not to imagine the possibility of a tragic, bloody ending to this scene.
Instead, Houston-Jones gently hands the knife off to Wexler, who ceremoniously uses it to cut an onion in half. She passes one half to her partner, and they begin to rub the onions all over their faces, smelling them, biting out huge chunks, and pretending loudly to sob. At first, this is hilarious. But as eyes and mouths water, patches of skin turn bright red, and the hysterics amplify, my brain tricks me. My raucous laughter slows back down into that nervous giggle. Though I know they're pretending, these look like people in distress. What's more real - the performance I know is taking place, or the gut-wrenching sorrow that I see?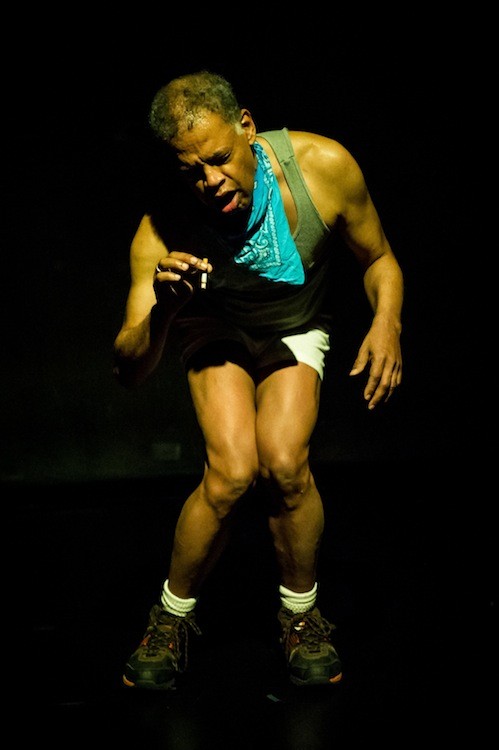 Ishmael Houston-Jones in 13 Love Songs: dot, dot, dot. Photo by Ian Douglas.
Wexler and Houston-Jones, certainly a dynamic duo, have standout individual moments as well. Milking his watery post-onion face for all it's worth, the lights dim as Houston-Jones spends an entire song (Nancy Sinatra and Lee Hazlewood's version of You've Lost That Lovin' Feelin) hunched over, trying to bring a lit cigarette to his lips. The strain in his face and mouth, the constant tiny adjustments in his body, and his complete attention to the task make it oddly compelling. Later, Wexler enters in a flowing, romantic dress. She fills her graceful, lovelorn dance with intentional stumbles and missteps, highlighting the familiar awkwardness that often lies behind conventional romantic gestures.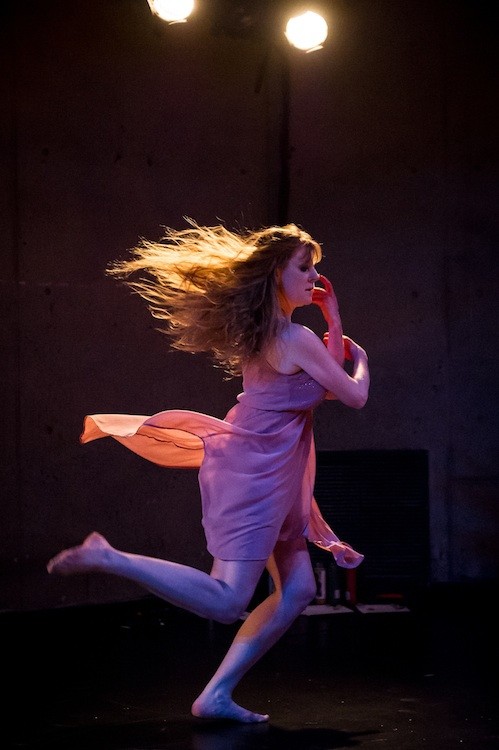 Emily Wexler in 13 Love Songs: dot, dot, dot. Photo by Ian Douglas.
The piece ends with Wexler asking volunteers from the audience to come and lay down on the stage floor. She leads them through a relaxation exercise, instructing them to turn to one side and look at a partner, she then directs them to fall in love with each and every aspect of that person.
As the former audience members lie there, gazing adoringly at one another (giggling and fidgeting occasionally) Houston-Jones hangs pictures on the back wall and lights candles, humming as he creates his shrine. It's silly. It's beautiful. It's romantic. 
Follow Garnet Henderson on Twitter @garnethenderson