Related Features
Contribute
Your support helps us cover dance in New York City and beyond! Donate now.
IMPRESSIONS: American Tap Dance Foundation's Tap City Festival at Symphony Space with Michelle Dorrance, Caleb Teicher and More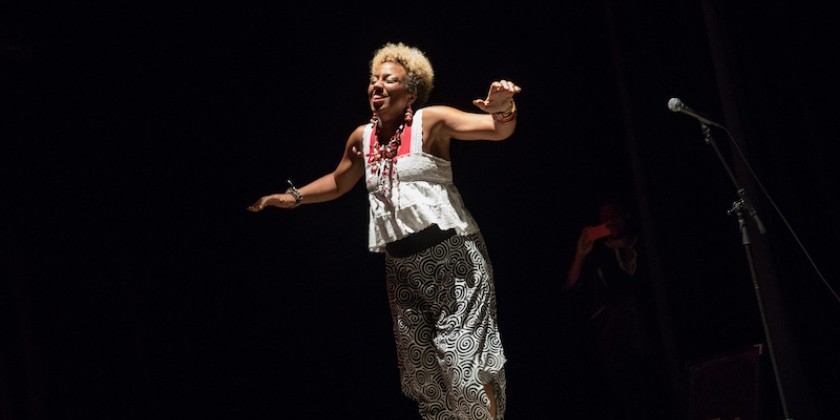 July 11, 2018
RHYTHM IN MOTION Tap Dance Concert Performance – The Rhythm is Gonna Get You!
Peter Norton Symphony Space
Choreographers include: Brinae Ali, Chloe Arnold, Christina Carminucci, Michelle Dorrance, Felipe Galganni, Ana Rokafella Garcia, Lisa La Touche, Charles Renato, Tamii Sakurai, Delores Sanchez, Leo Sandoval, Samara Seligsohn, Caleb Teicher and Nicholas Van Young
---
The old Tap City street sign may have retired, but the American Tap Dance Foundation's annual summer festival is still going strong, 18 years after its irrepressible organizer and master-of-ceremonies, Tony Waag, first produced this popular event. Waag, minus his trademark ukulele, was on hand to welcome everyone to the performance portion of the festival, dubbed Rhythm in Motion, at Symphony Space, in New York, on July 11.
Tap City, of course, is far more than a performance showcase. Each year, the festival gets under way with a breezy river cruise around Manhattan. Waag hands out prizes: Jared Grimes and Katherine Kramer won this year's Hoofer Awards; the organization posthumously honored Leticia Jay with the Tap Preservation Award; and the late Ralph Brown and The Tap Happenings were inducted into the Tap Dance Hall of Fame.
The festival also offers film screenings and hosts an outdoor celebration in Times Square that is the next best thing to a flash mob. Most of the grunt work — and the learning — takes place during a series of master classes and residencies. But for those who did not bring their tap shoes, and prefer to watch from the sidelines, Rhythm in Motion is the highlight.
Felipe Galganni's Samba do Avião; ADG Photography
Wednesday's performance was typically a grab bag.
For reasons best known to himself, Nicholas Van Young danced with a Unicorn head tucked under his arm during the opening number, Soundmovement, turning his routine into a cross between a Disney fairy-tale and The Godfather. What happened to the rest of the Unicorn? Van Young is better known for his experiments with electronic feedback. In Soundmovement, a square of light on stage becomes a digital platform where his tapping generates bell-tones giving him a virtual playmate.
The sigh of wistfulness that the Brazilians call "saudade" seems to blow the next act onto the stage. Vocalist Alice Reys and guitar player Tony Romano support this easy-going dance with the gentle melodies of Antonio Carlos Jobim, as choreographer Felipe Galganni and his friends glide and twist to the infectious rhythm of the samba.
After this refreshing Samba do Avião, Louis Prima's Sing, Sing, Sing supplies a blast of red-hot energy. Chloe Arnold and Robin Passmore have choreographed a shimmying, high-kicking quartet accented with splits and Jitterbug partnering. Giving it all they've got are dancers Vikas Arun, Emma Bigelow, Ivan Owens and Passmore herself.
Chloe Arnold and Robin Passmore's Sing, Sing, Sing; ADG Photography
Brinae Ali performs deliciously in her piece Ndizzy Spellz, which features a playful dialog with horn player Sean Jones on its way to Dizzy Gillespie's Swing Low, Sweet Cadillac. Ali swivels, gently slides in place, and rocks her hips. She strikes poses; and takes time out to sing making music with her breathing. Her feet take off, but then she brings down the volume leaving us in a place of quiet bliss.
Now that women tappers have decided it's OK to wear heeled shoes again, is it any wonder the men are envious? It was only a matter of time before some guy (in this case, Caleb Teicher) found a pair in his size. Teicher begins his piece, Great Heights, seated on a stool. A mournful, slapstick section follows, in which he keeps slipping and falling. Then, Teicher rips off the heavy skirt he's wearing to reveal a gorgeous pair of legs, and he begins to kick and sass his way to happiness. Dancing atop the stool seems like a stunt (OK, it IS a stunt), but viewers may also wonder how Teicher's character feels confined in such a small space after letting it all hang out.
Caleb Teicher's Great Heights;  ADG Photography
Ancestors, choreographed by Dolores Sanchez, features a ghostly trio whose shivering feet dance to an emphatic, djembe beat. Sanchez and dancers Emma Bigelow and April Nieves face inward or outward in a wedge; retreat from us with an evasive, capoeira move; and gather around drummer Maurice Carr before returning to their slumber.
A hint of the inspired madness that awaits us at the end of the program comes in Michelle Dorrance's I'm Confessing, which she choreographed for members of the Tap City Youth Ensemble. Treacherously slow, this nonchalant trio has Lucy Frucht, Luke Nonas-Hunter and Case Prime balancing on their tip-toes and passing steps from one to the other like a bucket brigade, or casually pitter-pattering to a recording of Thelonious Monk.
Leo Sandoval's Phase; ADG Photography
The most adventurous use of music this evening, however, is a number set to Steve Reich's subtle and obsessive "Piano Phase," with a computer standing in for one of the pianos. Noe Kairns is the pianist. Leo Sandoval, who choreographed the piece, dances with Byron Tittle, mirroring and opposing each other, tapping in and out of synch and filling gaps in the rhythm with a sudden, darting leap or a bend to touch the floor. Their performance is a tour de force. Reich's music seems a natural fit for tap — why haven't I heard them together before?
In The Drums Say Africa, hip-hop artist Rockafella (with an assist from Keith Middleton) strays from tap dancing to choreograph an ensemble that suggests a Step team on parade. Rockafella browses through various genres, assembling an eclectic vocabulary that ranges from hip-hop to ballet, and the piece concludes with a flying departure for the mother continent.
 Rockafella's The Drums Say Africa; ADG Photography
The dance that everyone has been waiting for without knowing it, however, comes near the end, when Dorrance and three co-conspirators steal the show with a zany, seat-of-their-pants routine set to music of Fats Waller. It's called Until the Real Thing Comes Along (a letter to ourselves), and at first not everyone is wearing pants. Josette Wiggan begins the piece in a bright red dress, tapping lightly, her body loose and stretchy as she luxuriates in her own fabulousness. She "ain't misbehavin'" yet, but you know she will; and when the other women turn up, dressed as lounge lizards in garishly embroidered jackets, they surround her adoringly.
Fingers wag, and arms flap. An impish Hannah Heller reels the others in, and mimes playing the piano while casting loving glances at the beauties on either side. There's schtick with scarves, and a mock bull-fight. Shaking a bean bag to accompany herself, Melinda Sullivan does a narcissistic turn on a Cole Porter song: "Night and Day, I am the one. It's no matter, darling, where you are, I think of me, etc." Throughout this lunacy, Dorrance is the catalyst, skulking and inciting the others.
There's simply too much on this program to mention everyone. Next year, tap lovers will have to see Rhythm in Motion for themselves.
---
The Dance Enthusiast Shares IMPRESSIONS/ our brand of review and Creates Conversation.
For more IMPRESSIONS, click here.
Share your #AudienceReview of performances for a chance to win a prize.