IMPRESSIONS: "And Then We Danced," a Film by Levan Akin
Director/Writer: Levan Akin
Dancers: Levan Gelbakhiani, Bachi Valishvili, Ana Javakishvili
Producers: Mathilde Dedye, Ketie Danelia // Distributors: Music Box Films and Totem Films
Director of photography: Lisabi Fridell // Editor: Levan Akin, Simon Carlgren
Music: Zviad Mgebry & Ben Wheeler
---
And Then We Danced is a winner and worthy of study whether you are a dancer, cineaste, or an LGBTQIA activist. It is the 2019 official Swedish Oscar Entry for Best International Feature 2019 and an official selection of the Cannes Film Festival — Directors Fortnight 2019. 
The film follows Merab, a dancer who has been training since he could walk for a spot in the National Georgian Ensemble. Another male dancer, Irakli, arrives unexpectedly in rehearsals. He exudes a masculinity and confidence that Merab does not. For all the passion the delicately framed, red-haired Merab puts into every move, the hunkier Irakli delivers more impact with less effort. His first steps are so electric that we realize what we have been missing. Merab is a contemporary dancer who carries his energy high while Irakli releases his into the ground with a commanding finality. 
Photo by Lisabi Fridell, courtesy of Music Box Films.
Levan Akin
, a Swedish-born writer/director of Georgian extraction, initiated the film after witnessing an ugly reaction to a 2013 gay pride parade in
Tbilisi
. Homosexuality is such a taboo that the production team had to lie about the concept during filming. The story developed over the years with long chats between the two Levans (the director Akin and dancer Levan Gelbakhiani) about life as a dancer in Tibilisi. As the plot unfolds, Levan's family is as shocked as the lead who falls hard for his rival, while his long time girlfriend frets that he is being insanely open about it all and will be beaten or, worse, banished. 
The young cinematographer,
Lisabi Fridell
, frames the dancers often from the waist up, so we see shoulders bouncing, fists punching, and torsos twisting violently. Merab's lips curve with every emotional flicker, and his eyes fill with light or pain. For someone who had never acted before,
Levan Gelbakhiani
(Merab) might be an Oscar contender himself.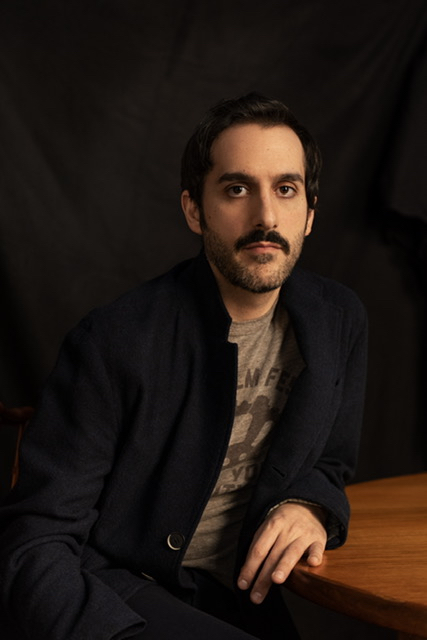 Photo of Levan Akin, courtesy of Music Box Films.
 The film demands that you, the viewer, engage immediately and unceasingly with the protagonists and their plight, leaving you drained and astounded. Fridell dances with the cast, using a rare fluidity and intuitive genius. Outside of the many shots of dancers in the rehearsal studio, street, clubs, and parties, she captures the beauty of Tbilisi and its soulful music, which slows to a meditative, painterly pace, especially for the surprisingly tender trysts.
  
And Then We Danced succeeds in ways hard to replicate, such as the chemistry among the leads. The conflict between the individual and the state is expressed at the beginning by the rehearsal director, who declares that there is no place for weakness in Georgian dance, neither for sex nor impure thoughts. The eyes must be downcast to the floor, he says. Beyond leaving the country, the only recourse against repression is to rebel through creativity, which is cleverly expressed in Merab's final solo.
Photo by Lisabi Fridell, courtesy of Music Box Films.
 Certainly, this is a film for every dance enthusiast! However, you will have to wait until February 7, 2020 when it opens in theaters worldwide.  
---
The Dance Enthusiast Shares IMPRESSIONS/our brand of review, and creates conversation.
For more IMPRESSIONS, click here.
Share your #AudienceReview of performances. Write one today!
---
The Dance Enthusiast - News, Reviews, Interviews and an Open Invitation for YOU to join the Dance Conversation.