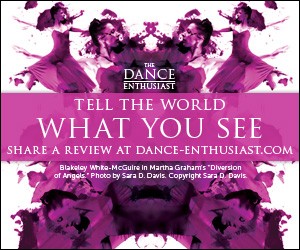 Related Features
Advertise With Us
Make an impression — place an ad on The Dance Enthusiast and receive thousands of eyes on your work every week. Learn more. 
Contribute
Your support helps us cover dance in New York City and beyond! Donate now.
IMPRESSIONS: Australia Festival at the Joyce Theater with The Australian Ballet, Australian Dance Theatre, and Dancenorth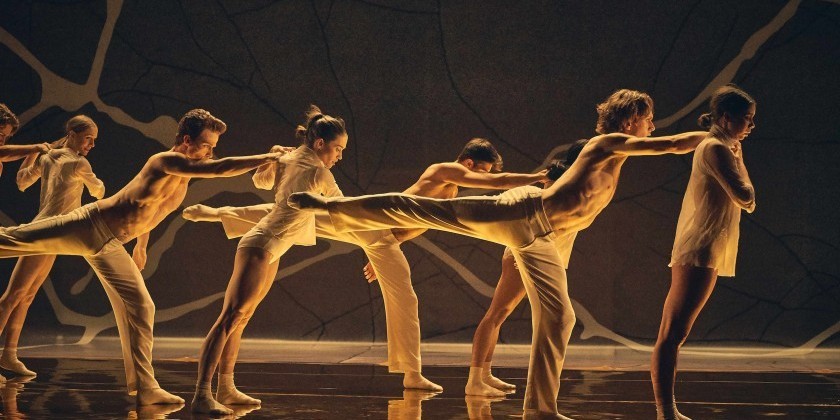 IMPRESSIONS: Australia Festival at the Joyce Theater with The Australian Ballet, Australian Dance Theatre, and Dancenorth
Dates: April 29 (Dancenorth), May 4 (Australian Dance Theatre), May 9 (The Australian Ballet)
Choreographers: Lucy Guerin & Gideon Obarzanek, Garry Stewart, Alice Topp, Stephen Baynes, Tim Harbour
Composers: Senyawa, Brendan Woithe (Klang) John Adams, Alfred Schnittke, Ludovico Einaudi
Costume Designers: Davis Browne, Michael Pearce
---
Relish a challenge? Lie face down on the floor, rest, then levitate, open and beat your legs in a horizontal cabriole. Return to earth. Repeat as needed. That singular sensation is a memory from Australian Dance Theatre's The Beginning of Nature.
Australian Dance Theatre, returning for the first time since 2005 performed at the Joyce Theatre in a two-week Australia Festival along with Dancenorth and The Australian Ballet, both making their NYC debuts. Australian Dance Theatre performed with astounding conviction and power, The Australian Ballet with wit and precision, and Dancenorth with implied glee.
 Australian Dance Theatre's The Beginning of Nature; Photo by Chris Herzfeld Camlight Productions
Conceived and directed by Garry Stewart in 2015, The Beginning of Nature is thoroughly compelling as an apology to the Gods — in the midst of our climate crisis — a contemporary ritual performed with virtuosic force. The Australian Dance Theatre, now over fifty years old, embodies nature's rhythms, the shift of the tides, the changes from embryo to child, day/night, wind/stillness, life/death. 
Moving to a score sung in Kaurna — the first language of the Adelaide Plains, home to ADT, composed by Brendan Woithe (KLANG) who mixes electronic sounds and strings — nine male and female dancers take us to another dimension through their homage to primitivism and to energy from unknown sources. Muscular and sensual, the dancers make you feel their every move, whether throwing themselves to the ground, thrusting their hands down repeatedly, or rippling their arms as one.
Jana Castillo in Australian Dance Theatre's The Beginning of Nature; Photo by Chris Herzfeld Camlight Productions
Stewart had them explore basic verbs, such as grow. He encouraged them to take his choreography and concepts and then transform them into something intensely personal. Often times, they dance on the thin line between animal and human, sending their long hair and bodies flying and falling with violent abandon.
Rich images are presented at rapid-fire pace. In one moment, five hold a green bush to cover the face of a dancer whose hands beat and jab like angry roots. Bamboo sticks are twirled like batons and later held on a man's curled back like spikes on a mythical beast. A man crumbles sand. They are aided by the sci-fi circular set that hovers upon them, changing from green to white, as designed by Daniel Voss.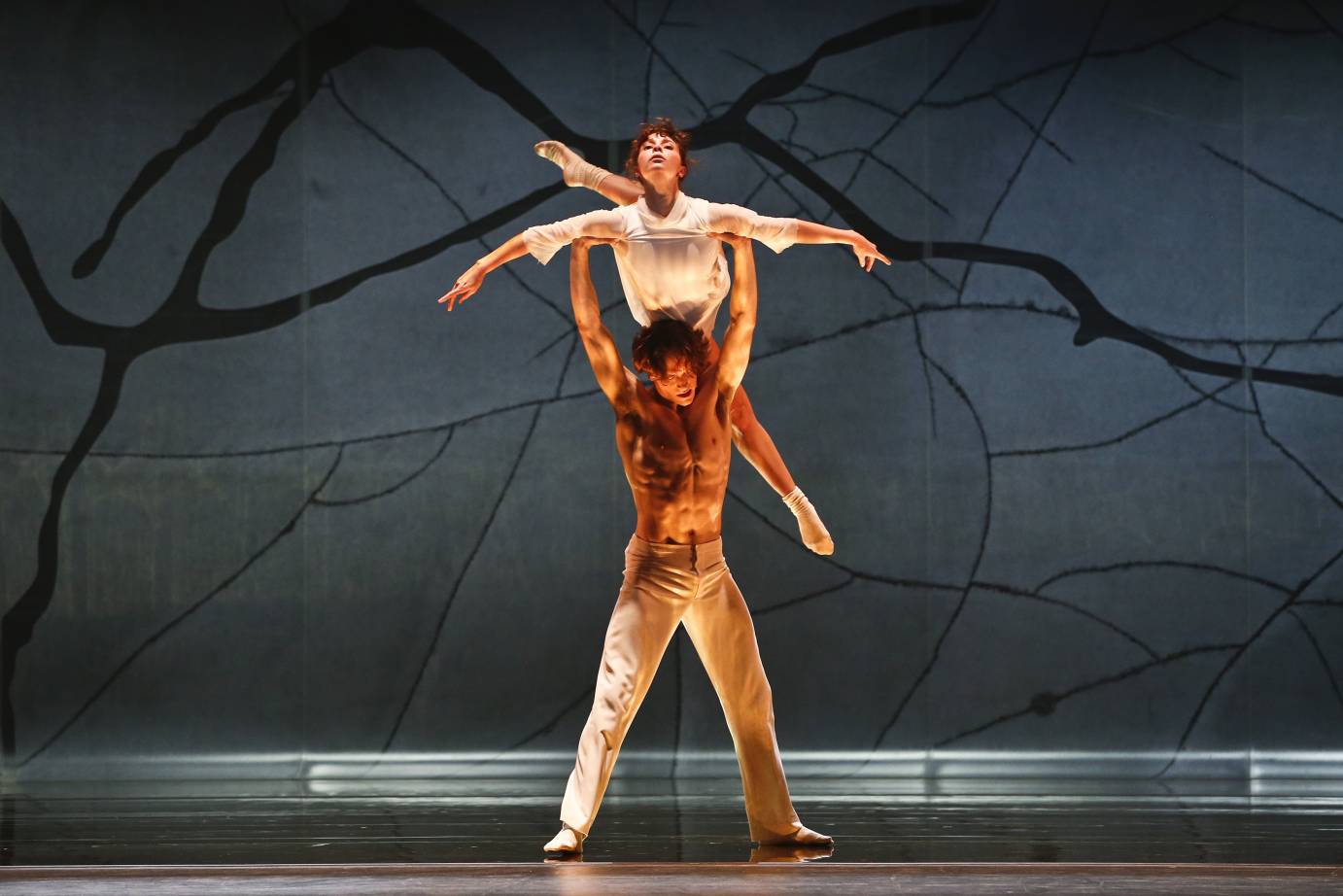 Callum Linnane and Coco Mathieson of The Australian Ballet in Alice Topp's Aurum; Photo by Jeff Busby
Also in its fifth decade, The Australian Ballet brought three works by Australian choreographers: Tim Harbour's Chairman Dances set to John Adams's "The Chairman Dances: Foxtrot for Orchestra"; Stephen Baynes' unsettling duet Unspoken Dialogues performed by Kevin Jackson and Jill Ogai, and Alice Topp's Aurum. 
Inspired by the Japanese art of repairing cracked pottery with precious metals, known as kintsugi, the ensemble work of is feminine and tender, with odd gestures such as a hand placed gently on a partner's face. The audience favorite, Aurum, was supported by the Joyce Theater Foundation's Nureyev Prize, a $25,000 commissioning grant that helps fund a large-scale dance company in the creation of a medium-scale work. Dressed in white — socks, pants, bare chests for the men, transparent tops hitting just below the bottom for the women — the cast of Aurum execute inventive partnering that often sends the women sliding across the floor while held at the armpits. Sometimes the movement is simply a rocking step that echoes the minimalism of the score, piano music by Ludovico Einaudi.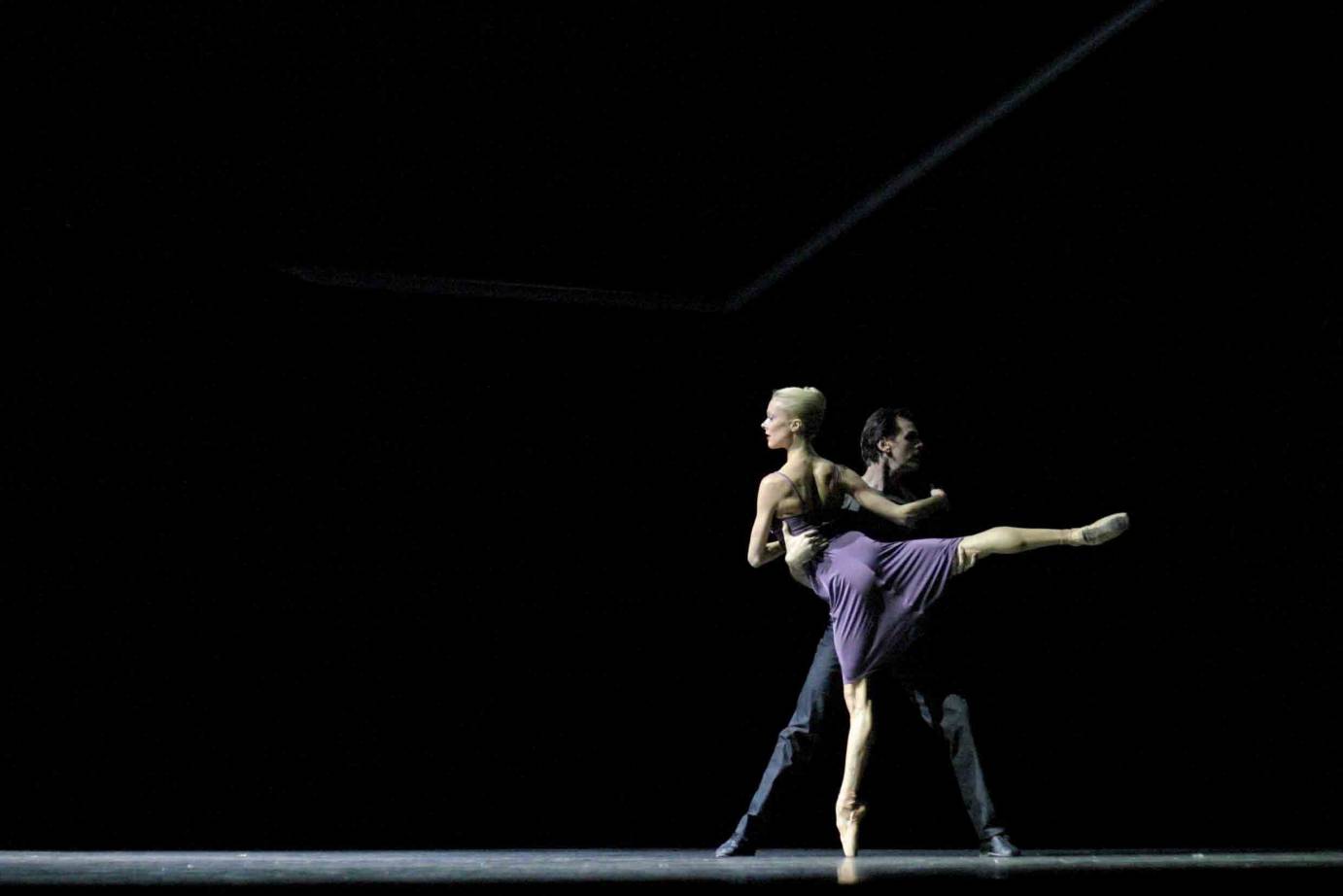 Justine Summers and Steven Heathcote of The Australian Ballet in Stephen Baynes' Unspoken Dialogues; Photo by Paul Chapman
Baynes says, "Unspoken Dialogues is about all the things that people can't say to each other, or say in the wrong way, or hear in the wrong way; it's about two people who struggle to live together but can't live apart." He accomplishes this by starting the piece with an upbeat duet in which the dancers are seemingly in tune with each other, but then, repeatedly the man walks away from the woman, turns his back to her and the audience. She attempts to lure him back by slipping between his legs or other suggestive gestures, ones that he ignores. Finally, he dispassionately reaches for her hand and pulls her quietly upstage, behind him.
Attractor by Dancenorth; Photo by Gus Kemp
Indonesian music duo Senyawa took the inspirational lead in Attractor performed by Dancenorth and created by Melbourne natives Lucy Guerin and Gideon Obarzanek. This cheerful work has fascinating sparks but falls short of its ambition to pay homage to the Javanese tradition of entering trance through dance. While Australian Dance Theatre danced with a convincing wildness, the multiple scenes stirring our imagination with metaphors about creation, the dancers in Attractors fling themselves about, often shapelessly, and run around in a circle. Several times, the dancers double up to have one person frame the other's face with their fingers pinched or open, bringing to mind Indian dance, a tie into the cultural origins of the music.
As revealed in the Q&A with the artists, the Javanese commit hours to their trance dance while the Attractor transpires in an hour. Dancenorth selected volunteers from the audience each performance, to give the audience a sense of inclusion. The volunteers had an hour orientation before the show, and then in the last ten minutes or so of Attractor, they rose from their seats and walked up the stairs on either side of the stage to circle the space with the cast, joining in the fun, if not the self-transformation.
---
The Dance Enthusiast Shares IMPRESSIONS/our brand of review and Creates Conversation.
For more IMPRESSIONS, click here.
Share your #AudienceReview of performances. Write one today!