IMPRESSIONS: "BRIEFS: The Second Coming" at NYU Skirball Center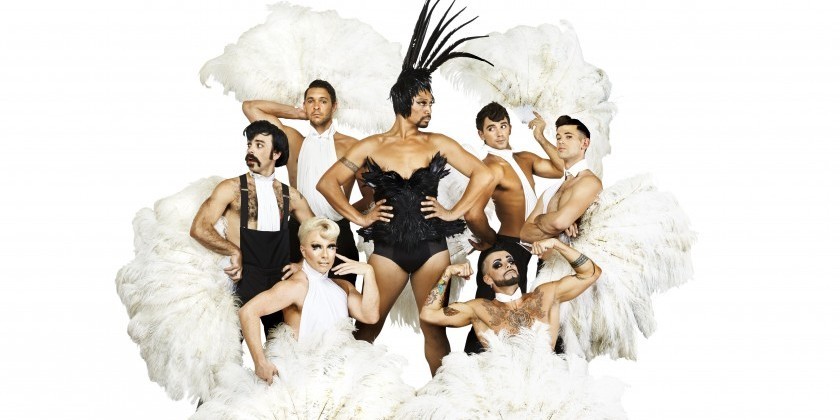 January 6, 2019

Direction: Fez Fa'anana
Performance: Louis Biggs, Dallas Delaforce, Lachy Shelly, Monkey, Thomas Worrell, Fez Fa'anana, Mark "Captain Kidd" Winmill
Executive Producer: Linda Catalano
Costumes: Dallas Dellaforce
Sets and props: Tristan Shelley 
---
"Rule 1: The bar is open."

Shivanna — (Fez Fa'anana) our leggy, bearded, and sparkly-heeled emcee for BRIEFS: The Second Coming — informs us that we can grab more drinks at any time. 
BRIEFS: The Second Coming; Photo by Sebastien Gracco de Lay
We are not in a drag bar or a downtown club; we are at NYU's Skirball Center. So, you will have to squeeze past your row-mates to get your cabernet. Since there is little formality to BRIEFS, shifting the theater's energy from stiff to freewheeling is imperative for what is to come. The bar rule is only one of the tricks in their bag. For this mix of genres (drag, circus, comedy, and camp), crowd reactions are at least half the game, fueling the performers. From feathered strip teases, unbridled sexual humor, jaw-dropping aerials, runway battles, steamy burlesque, and a big disco finish, the "boys" of BRIEFS hold nothing back.
BRIEFS: The Second Coming; Photo by Sebastien Gracco de Lay
There are moments that awe. Aerial artist Thomas Worrell navigates the suspended hoop with unwavering confidence. After twisting skyward and dead-dropping only to be caught by the toes of one foot, he descends and looks at the audience nonchalantly. Getting a vocal urge from the audience, he heads back up. He maintains a smooth musicality, even through more practical maneuvers meant to secure him in a new position. He ends his act by spinning so fast he blurs.

BRIEFS: The Second Coming relies on these individual acts. A mischievous schoolboy solves a Rubik's Cube in record time and then showcases impressive yo-yo tricks — some that involve his nether regions — as he dances joyfully to Alice Cooper's "School's Out." A monkey sparks fire to a hoop and tumbles through it. He later suggestively peels a banana and invites an audience member to eat it as he moans. Shivanna returns, adorned in a silver floor-length gown, for a mini-show that's half magic, half sass. Sometimes her sleight of hand reveals a transformation (a wand into a rose, pieces of cloth into one scarf) and sometimes she just reveals a middle finger or a bottle of champagne.
BRIEFS: The Second Coming; Photo by Sebastien Gracco de Lay
In a striking (and shocking) ensemble number, the six join together for a dog show. Three dogs and their respective owners show off their best hoop-jumping skills to compete for a golden trophy. Here, the combined talent of BRIEFS individuals really shine. Amidst the crazy costuming — dominatrix pleather, hip-hop gold chains, and neon Valley girl —  you could almost miss the fast-paced, high-level tumbling displayed.
The finale "headliner" goes full throttle burlesque. Clad in an array of bright, luscious feathers, "Captain Kidd" parades and preens, finally stripping for a bird bath. Splashing in and out the elaborate glass bath, he takes risky turns on a rope swing while never losing focus on the crowd.
BRIEFS: The Second Coming; Photo by Sebastien Gracco de Lay
It would be plenty of pomp to close the night on, but there's more. After an effusive thank you speech from Shivanna (it's their first time in the US, and it's been quite the journey to get here), all the boys return in glittered Australian flag leotards. The audience joins in a collective disco dance party to "No More Tears (Enough is Enough)." The energy bubbles over and out to the lobby, where the company stands ready for photo-ops, drinks in hand. The bar is still open.
---
The Dance Enthusiast Shares IMPRESSIONS/our brand of review and Creates Conversation.
For more IMPRESSIONS, click here.
Share your #AudienceReview of performances. Write one today!