IMPRESSIONS: Les Ballet Afrik's "New York is Burning" at The Joyce Theater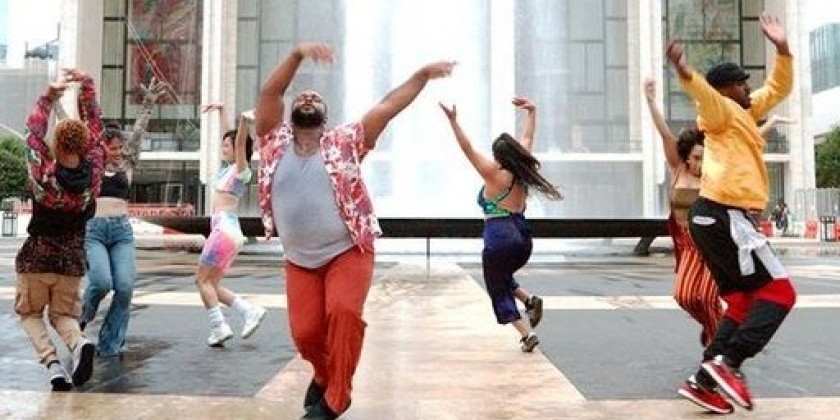 Choreography: Ousmane "Omari" Wiles with contributions the company
Music: Curated by DJ AlginAligns
Lighting Design: Zack Lobel
Presented by American Dance Platform
Curated by Ronald K. Brown 
 January 10 , 2023
---
The curtain rises on Les Ballet Afrik's  New York is Burning and the audience is instantly taken in with light, color, and energy, anticipating an experience. Intermixing the choreographic tastes of Vogue, House, West African, and Hip-Hop,  Artistic Director Omari Wiles's dancers never miss the mark on showcasing their individual personalities. Their energy is contagious and there is always more than one audience member on their feet.
Photo courtesy of Les Ballet Afrik
As the volume increases, so does rhythm. No dancer looks the same, demonstrating Les Ballet Afrik's mission of individual expression, radical acceptance, and connection to ancestry. Wiles shares his voice through movement to restore foundation and community for many underserved minority groups. "This company exists because we are showing you diversity from all across the globe," says Wiles during a vocal segment.
"New York is Burning," first conceived in 2019, draws inspiration from the 1990 documentary "Paris is Burning." Wiles utilizes voguing as a form of expression against racism, homophobia, and the stigma of AIDS. He dedicates many of his ideas to the influence of trans, cis, and female identifying figures who have shaped the Vogue ballroom scene.
Photo Courtesy of Les Ballet Afrik
Delving into memories of underground ballroom culture, Wiles reels in audiences with the vibrant, rising culture of Vogue dance, created by black and Latino LGBTQ+ communities. New York is Burning is a whimsical and nostalgic journey back to the 70s and 90s with snippets of Madonna videos, sparkling disco balls, groovy music tracks, and projected archived Vogue ball clips. The atmosphere is a place where music is life.
Dancers Kya Azeen, Charles Wilborn, and Yuhee Yang stand out in their movement, radiating vibrations of the music through their limbs. Yang delivers a fierce femme attitude and deliberate gesticulations and Azeen dances with an infinite amount of soul, bursting from her feet to the top of her head. Wilborn executed consistent dynamic turns while utilizing his limbs to travel.
A highlight of pure joy and individuality occurs when Wiles displays the movement style he pioneered, Afrikfusion, during a solo with effortless exhilaration. Afrikfusion mixes roots of African, House, Afrobeat, Vogue, and Latin dance styles. To watch Wiles command the stage, owning his movement creation, brings infectious energy across every face in the room. Some audience members smile, some shout, and many cheer, clapping their hands to the beat.
Omari Wiles
Photo Courtesy of Les Ballets Afrik
Self-acceptance and individuality within community pervade Wiles' work. With this one performance, the mission  of the company is clear and unapologetic. "The idea of chosen families is one that is common among those with alternative lifestyles: Artists, people of color, people of a trans experience…," Wiles says in the program's artist statement. "These people, more often the youth, are not welcomed and even threatened by the communities they are born into. This will lead them on a lifetime search for acceptance." 
As the first ballroom experience at the Joyce Theatre, Wiles makes history, and continues to claim space. The message is simple: everyone should have the opportunity to live and to be loved. "Just open the door, because I'm definitely going to walk through," says Wiles.
---
The Dance Enthusiast Shares IMPRESSIONS/our brand of review, and creates conversation.
For more IMPRESSIONS, click here.
Share your #AudienceReview of performances. Write one today!
---
The Dance Enthusiast - News, Reviews, Interviews and an Open Invitation for YOU to join the Dance Conversation.