Related Features
Contribute
Your support helps us cover dance in New York City and beyond! Donate now.
IMPRESSIONS: BalletX Beyond: A Trio of Dance Films Featuring Francesca Harper, Tsai Hsi Hung, and Manuel Vignoulle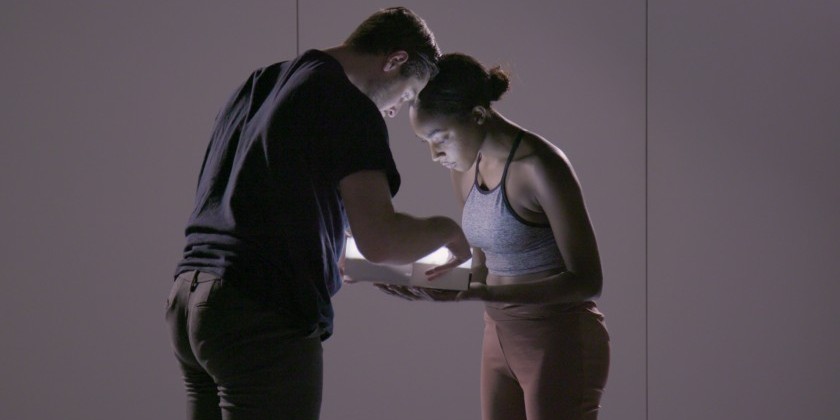 Two X Two: Choreographer: Tsai Hsi Hung // Music: Luca D'Alberto //
Costume Design: Mark Eric // Film: Daniel Madoff //
Heal: Choreographer: Manuel Vignoulle // Vocals: Li Ósc // Film: Daniel Madoff

THAW: Francesca Harper In collaboration with Daniel Madoff, Director of Photography //Music: Arcoiris Sandoval and slowdanger // Text: Poetry of Alice Dunbar-Nelson
---
During these COVID times, when one can only dream of attending theatrical premieres, Philadelphia's stellar young troupe, BalletX, brings the premieres—one-of-a-kind-original dance films—to us.  Sure, there's nothing like experiencing the kinetic energy of dancers live from the stage, but a thoughtfully crafted film can carry us to enthralling worlds far beyond a theater's walls.
With much of my life spent in New York City, I haven't been to Philly to see this stunning company in their home theater, so these three films, BalletX's most recent, were a treat.

Tsai Hsi Hung's Two X Two begins focused on the faces and figures of two men (Stanley Glover and Roderick Phifer) against a large black and white splattered canvas. The artwork disappears, and we find ourselves in a beautifully polished but strangely bare room. (Actually, Philly's Franklin Institute's Pepper Hall, the original reading room of  the first Patent Library in the United States.) Curiously, the bookshelves, which frame the singular window in the space, are empty. At this moment, only one story matters, the legend of the two ministerially-dressed figures before us.
Roderick Phifer (l) and Stanley Glover (r) in Tsai Hsi Hung's  Two X Two ;  Painting by the Choreographer;   Image  by Andrea Yorita
Rapid intertwining limbs that lick and slice the air are countered by slow-motion-moments concentrating on piercing eyes, spiraling torsos, and lean extensions. Periods of quiet and supportive contact interrupt ferocious, yet elegant, sparring. The men, adversaries and brothers, warriors and dance partners, persist in a mythic battle for which there seems to be no victor. The idea of an epic struggle in an empty room resonates, especially during this time of global pandemic and forced isolation.

Heal, Manuel Vignoulle's film, throws us into the middle of three distinct narratives. Backstories, not shown but alluded to, elicit our curiosity as Vignouelle shifts from one tale to another and back again. From the moment we are introduced to each character, we feel their tension and desire for liberation.

A man (Blake Krapels), in a cramped gray corner thrusts and splays his body from wall-to-wall, fighting to break out. A living mummy (Phifer) donned in a dusty suit, head and torso covered in white bandages, clutches his face, tearing and pulling to release himself from the tightly-bound cloth. In the middle of an empty wood, a couple (Shawn Cusseaux,Skyler Lubin), almost nude, cling to each other desperately tumbling over, grabbing, and pushing at  one another's and limbs and torsos. They move forward with  urgency, but where is there to go?
Blake Krapels in Manuel Vignoulle's Heal; Image Daniel Madoff

We wonder. We follow. We hope for them all. A celestial chorus, actually the vocal group Li Ósc, fills the air with divine vibration. Nature offers sacred respite, so does love.
The man once trapped in his corner, finds himself in a huge puddle of mud, soaked-to-the-skin, moving expansively, reveling. The former mummy, suddenly in a forest, presses his body into the dirt and leaves as if worshipping the ground. His bandages fall away. The couple, at first so anxious to propel themselves outward and away, turn to one another for support and solace, drinking each other in.

While in the first two films we are clearly the designated viewers, Francesca Harper's THAW flips the script a bit. The inhabitants of her universe, peer at us through our screens, searching. They quickly scrawl words on small sheets of paper for our benefit. Crumbs to follow? At times, as if to say, "too much paparazzi," they toy with us, covering the camera's eye —our window into their world— to block the view.

We're struck by the cool atmosphere: white walls, white floors, and rectangular boxes of bright light that decorate an otherwise spartan space. Not historical, not natural, it feels as if we're in a holding zone of sorts —a waiting room for the future.
Ashley Simpson in Francesca Harper's  THAW; Image Daniel Madoff

Light is an important feature. Some citizens are wrapped in lassos of it. These ropes, which in other spheres could be seen as deadly, malevolent agents, here, illuminate and illustrate bodies. They bind the couple that first stared out at us —a waiflike, dark-skinned young woman, (Ashley Simpson) and a tall, fair-skinned young man, (Krapels) — they could be the  Adam and Eve of this place. The boxes of light wonderfully take on multiple meanings as search lights, mirrors, and portals to wonder.

Bits of paper fly, a pregnant woman caressing her protruding belly appears and vanishes.  Body parts flash: faces, feet, hips.  A chorus of acolytes participate in emphatic gestural conversation. As their hands rapidly cover and uncover their eyes, perhaps they speak about seeing.  As they curl their fingers into raised fists, maybe it's power. Bringing an invisible something to their lips (magic potion?) they  separate and sensually move to a new potent beat, daring us to watch.
BalletX in Francesca Harper's THAW; Video Still by Daniel Madoff
(from l to right) Richard Villaverde, Savannah Green, Shawn Cusseaux, Blake Krapels, Andrea Yorita, and Ashley Simpson

THAW, brims with captivating symbolism. Rapt, we follow it all. Still, what a surprise, after all the surreal, futuristic, and funky play to suddenly come upon a love story and hear Alice Dunbar-Nelson's Sonnet spoken with utter sweetness and simplicity by Simpson to Krapels :  "I had not thought of violets late, The wild, shy kind that spring beneath your feet…"
It's a testament to Harper's dream conjuring that we can fly so nimbly from future worlds and light boxes to stories of love and wild, shy flowers.

The remainder of the  excellent BalletX cast of THAW includes: Cusseaux, Savannah Green, Chloe Perkes, Richard Villaverde, and Andrea Yorita
---
Keep a look out for more about Francesca Harper on The Dance Enthusiast. She is our  inaugural guest editor of the season , part of The Dance Enthusiast's Moving Visions Initiative.  In Moving Visions, The Dance Enthusiast welcomes artists and enthusiasts to guide our coverage. Our guests share their passion, expertise, and curiosity with us while we celebrate their accomplishments and viewpoints.
To see these films and more world premieres SUBSCRIBE, Join BalletX Beyond.
 


 
---
---
The Dance Enthusiast Shares IMPRESSIONS/our brand of review, and creates conversation.
For more IMPRESSIONS, click here.
Share your #AudienceReview of performances. Write one today!
---
The Dance Enthusiast - News, Reviews, Interviews and an Open Invitation for YOU to join the Dance Conversation.