Impressions of Adam Barruch in the Stripped/Dressed Festival at the 92nd Street Y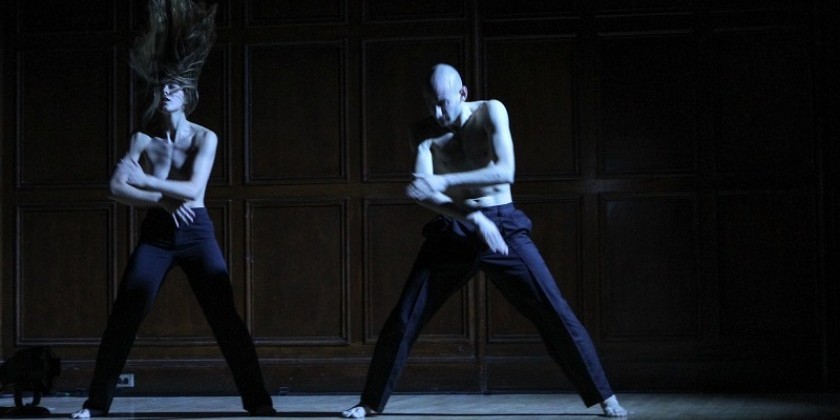 Tackling Narrative and Physical Storytelling in "Belladonna"
A fish tank, a stack of sticks, and a book – these are some of the physical manifestations of Adam Barruch's Belladonna. The approximately 35 minute dance work was presented February 20 – 22 as part of the Stripped/Dressed festival at the 92nd Street Y.
Belladonna was initially inspired by "Rappacini's Daughter," an 1844 short story by Nathaniel Hawthorne. In the Hawthorne story a young student admires from afar a beautiful girl who strolls the garden his study overlooks. The garden is full of poisonous plants. The girl, raised in the garden, has become immune to the plants but she herself is poisonous. The student and the girl begin a romance, with fatal consequences for the girl.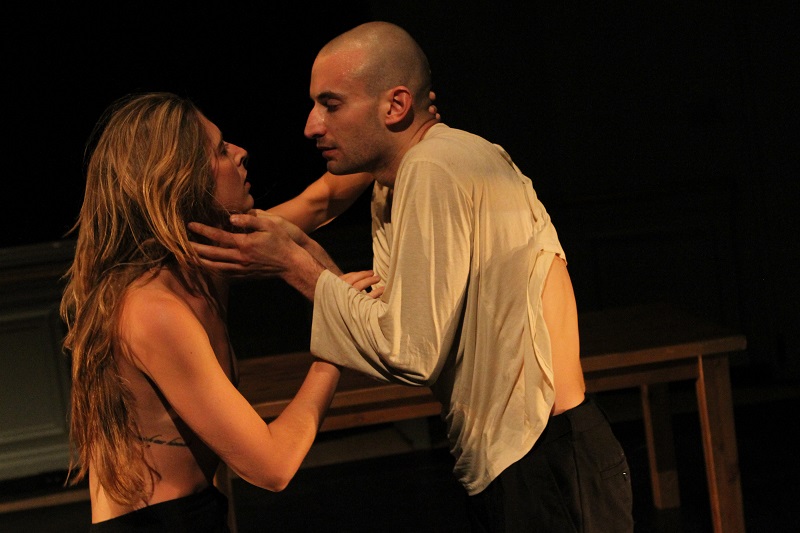 Chelsea Bonosky and Adam Barruch. Photo: Julie Lemberger
Part of the appeal of Stripped/Dressed is that the forum allows the choreography to explain his or her creative process. So it was that Barruch explained the very complicated way he went from Nathanial Hawthorne's story to the fish tank.
First Barruch created movement, in collaboration with his long-time associate Chelsea Bonosky, then delineated scenes. Then they worked on partnering. Along the way there was an inspiring improv session. And musical experiments involving overlaid tracks of countertenor songs and Morton Feldman. Eventually the Nathaniel Hawthorne story became an Adam and Eve narrative that challenges traditional notions of gender. (Male and female become more and more alike and eventually consume one another.) Barruch envisioned the space, and thus the set and costume elements came to be.
It's a pity Barruch overthought the piece. The choreographer's straight dance works are beautiful – fluid and natural with an orderliness that structures. It's very balanced between traditional modern dance and post-Gaga movement making. Indeed Barruch, a Juilliard grad and experienced performer who currently dances with the Sylvain Emard Danse in Montreal, has a real talent for group work and unison movement.
Photo: Julie Lemberger
Barruch explained that with Belladonna he wanted to work in "narrative and physical storytelling." Narrative appears to be a stretch for Barruch. Although the best moments in Belladonna had real dramatic tension – the partnering and gestures that happen by the table in particular – the piece overall was hard to read.
Perhaps this is because the characters are not sharply enough delineated in terms of movement. Barruch explained that he wanted to create movement that was "intrinsic" to Bonosky. But Bonosky and Barruch move in very similar ways – perhaps this is why Bonosky joined the company in the first place? – and the contrast is not strong enough. During the Stripped portion of the program the dancers demonstrated movement phrases for each of their characters. The dancers had given one another words to use as inspiration. 'Butterfly' led to quite literal fluttering of the hands and torso for Bonofsky. (Barruch's movement vocabulary takes its lead from the arms.) 'Knowledge' involved a finger circling the head.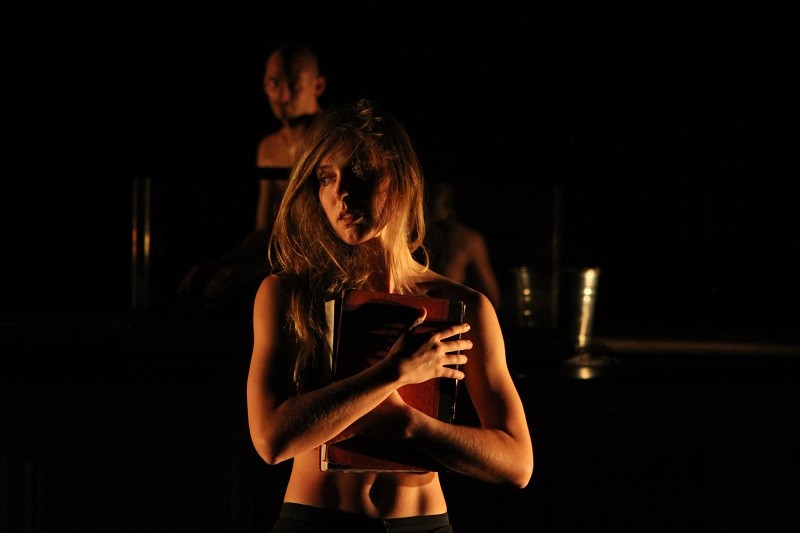 Photo: Julie Lemberger
It was informative for the audience to see movement phrases, learn their inspirations, and see how they come together to create a dance. But building a dance from sign language leaves out one important thing – the audience cannot read any kind of dance language that is created within the game process of the rehearsal studio. Not without help. Not when it happens at such a fast pace. How am I to know that circling the head 'means' knowledge? What other signs are we missing? Why should an improv session that discharges performers' emotions necessarily work as theater?
What would have been better, if Barruch had wanted to stick to the Hawthorne story and I'm not sure he did, would have been plotting the dance so that more time and space were devoted to observing the female character. That these two characters came together so quickly means we had little time to notice they were once not in conflict. Why does he care about her? Why should we care about that?
Photo: Julie Lemberger
Adam Barruch is very talented and very sincere. The best thing for him, if he wants to work in narrative, is to go bigger than Belladonna. Bigger and simpler. I have no doubt his work could add wonderful texture to an opera or other large-scale theater work.
In September of 2015 Barruch and his company will be in residence at the Lobero Theater in Santa Barbara, California for their DANCEworks residency. According to his website Barruch will be working on "new physical theater production of Stephen Sondheim's Sweeney Todd: The Demon Barber of Fleet Street." His first step should be to find a dramaturge.