IMPRESSIONS: Basil Twist's "Symphonie Fantastique" at HERE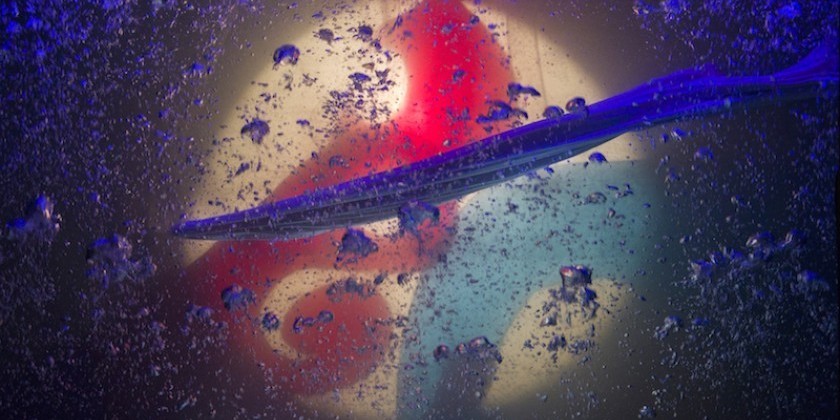 Date: April 2, 2018; 8:30PM
Creator, Designer, Director: Basil Twist
Pianist: Christopher O'Riley
Puppeteers: Kate Brehm, Ben Elling, Andy Gaukel, Jonothon Lyons, and Lake Simons
Lighting: Andrew Hill and Ayumu "Poe" Saegusa (Associate)
Continuing through June 17. For tickets, go to here.org.
---
Symphonie Fantastique, the brainchild of the iconic Basil Twist, calls for a surrender of our compulsive need for beginnings, middles, and endings. Considered Twist's "youthful" foray into abstract puppetry, the 1998 production deserted the status quo of puppets mimicking real-life humans and animals. He had never even seen an abstract puppetry show, but wanted to. So he brought home a discarded fish tank found on the sidewalk and made it happen. His curiosity resulted an enchanting and acclaimed production for audiences and critics alike.
Twenty years later, Twist's work returns to its home at HERE with a few upgrades in tow. However, the rare presence of abstract puppetry on the diverse New York City stage remains. This void has preserved the performance's fresh, downtown vibe. Added intrigue is thanks to the abstract approach — which is as delightfully speculative yesterday as it will be tomorrow.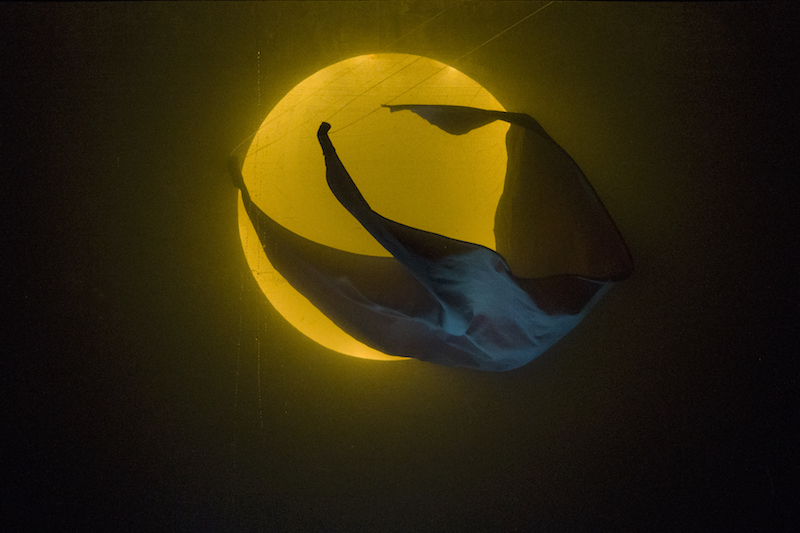 Symphonie Fantastique; Photo: Richard Termine
Abstract or otherwise, inspiration abides. Symphonie Fantastique is born from Hector Berlioz's 1830 symphony by the same name and the story he wrote to accompany it. The autobiographical account chronicles the destructive, opium-using, lovesick moment he was then buried in. In five fleeting movements, the score conveys his intense mood swings from desperation to angst to suspense.
Twist taps into the anxious, hallucinatory mindset emanating from this musical map, though the audience's familiarity with the story is of little importance. Our focus is color, emotion, patterns, and ambiance through his clever pairing of the score with unassuming things. And I do mean things: wisps of fabric, cascades of tinsel, slivers of plastic, bleeds of colorful dye, manipulated light beams, and gushes of bubbles.
Christopher O'Riley in Symphonie Fantastique; Photo: Richard Termine
Their stage is a rectangular window into a 1,000-gallon aquarium — doubled in size since the work's premiere. Five unseen puppeteers animate each object through hidden choreography to create what we see: the coil of material, a shooting streak of color, the ebb and flow of a feather.
A new addition is live piano accompaniment by Christopher O'Riley of NPR's From the Top. As the only recognizable "character," he and the audience share a sense of fellowship. Between movements, he breaks to passionately close his eyes, rub his face, or take a pointed breath. His tactile exaggerations heighten the Suessian goings-on behind him.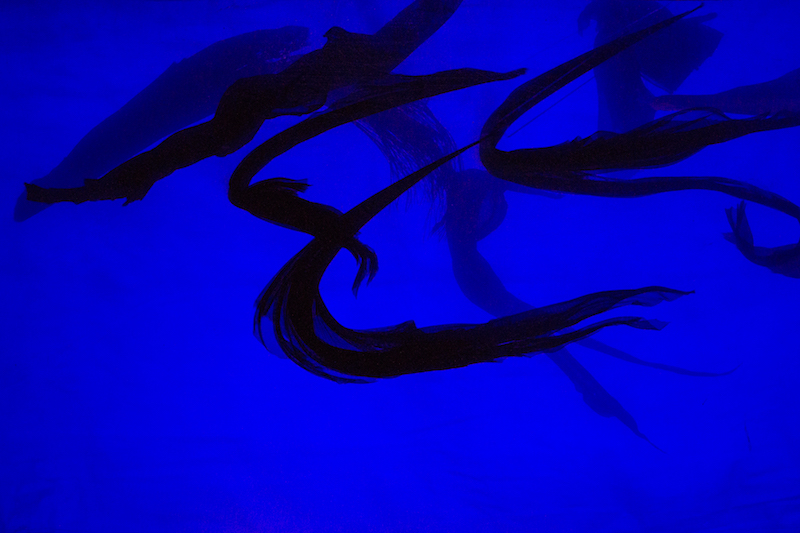 Symphonie Fantastique; Photo: Richard Termine
It's like watching and hearing a watercolor be painted. The puppeteers achieve an impressive, hypnotic state, due, in part, to their 55-minute onslaught of shifting psychedelic imagery that unfurls through water. Occasionally I remind myself that this is live performance and not some paint mixing fad video streaming from YouTube.
But the magic ingredient is Twist's commitment to music visualization. The parade of objects ripple and pull up and away in such seamless rhythm with the score, it's as if O'Riley's fingers command more than sounds. You can't help but be mesmerized. We morph in and out of scenes that might only be unified in random and mundane conjuring sensory images. You're free to receive them as you wish.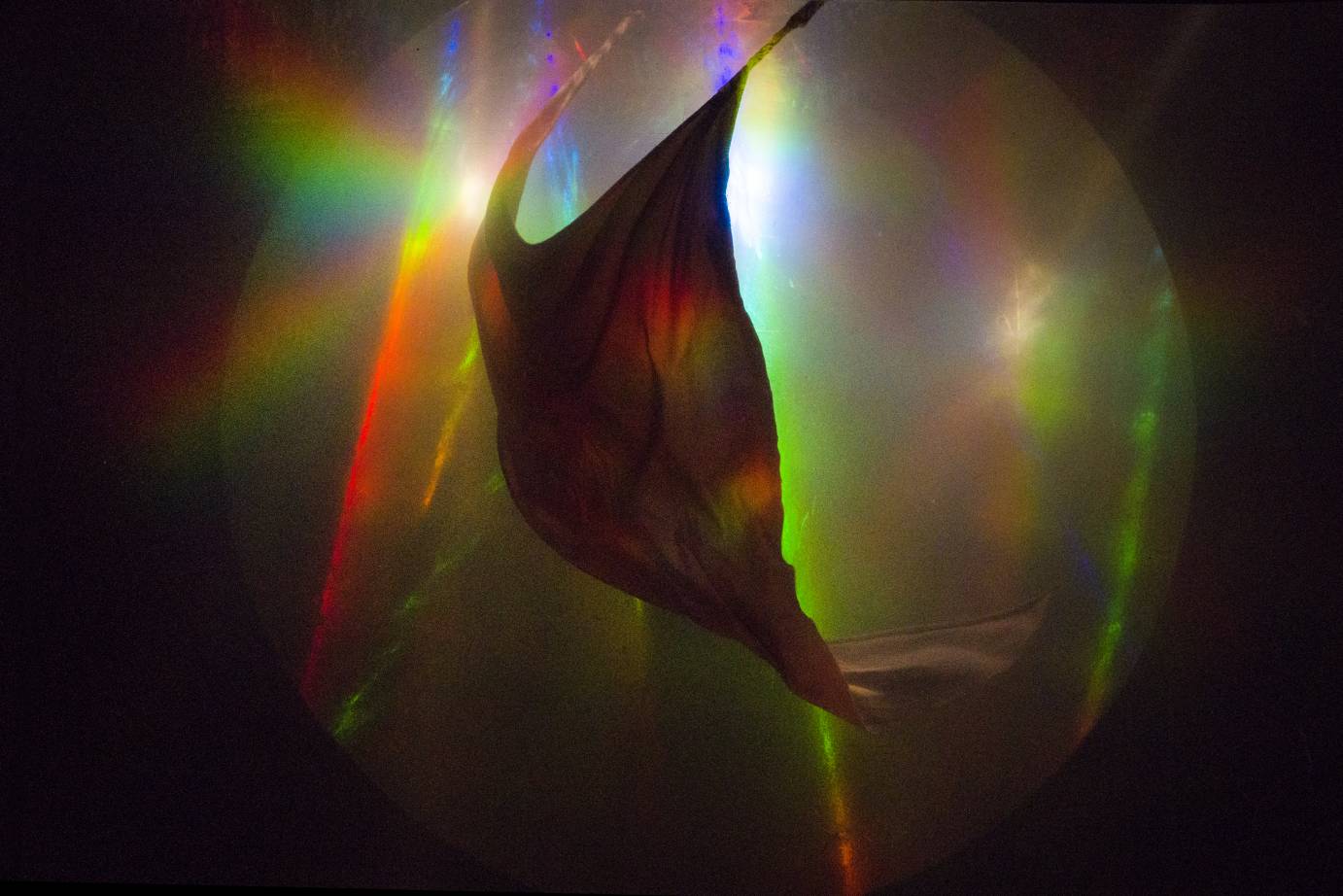 Symphonie Fantastique; Photo: Richard Termine
Two feathers bow to one another and pause while their individual barbs settle into the water's soft momentum. To me, this is a picture of peace and simplicity. To the gentleman next to me, perhaps those feathers are two lovers. Four fabric strands shoot up, down, up, down in a scene of increasing frenzy. Are we peering into a lake of swimming minnows? Is this a manifestation of jealousy? The water takes on a deep purple hue that fades to mauve. Panels of tinsel billow like they're breathing. Perhaps it's a cabaret moment? From darkness, a projected orb appears. Its warmth grows, and a sheer cloth darts across. Is that the sun, a bird, an angel?
Any meaning you assign is yours. Twist serves up this creative liberty through this puppetry experiment driven by pure beauty. At twenty years old, the work stands as a stunning, audience exercise in enjoying the journey. The destination, if any at all, is immaterial.
HERE's Dream Music Puppetry Program, which launched with the premiere of this work 20 years ago, is one to watch. Not only is it among few ventures dedicated to expanding the repertory of adult puppet works, but Twist is at the helm. You have until June 17, 2018 to see Symphonie Fantastique.
---
The Dance Enthusiast Shares IMPRESSIONS/ our brand of review and Creates Conversation.
For more IMPRESSIONS, click here.
Share your #AudienceReview of performances for a chance to win a prize.