Related Features
Contribute
Your support helps us cover dance in New York City and beyond! Donate now.
Impressions (The Dance Enthusiast's Brand of Review): "Beauty and the Beast" For Adults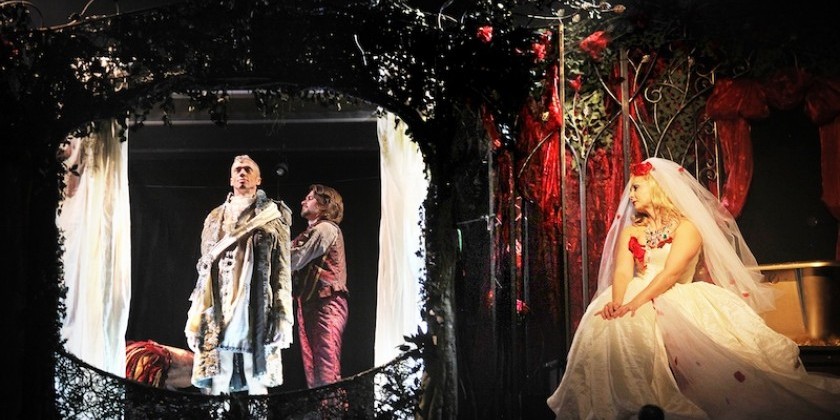 Burlesque Star Julie Atlas Muz Performs with Husband Mat Fraser
Produced by ONEOFUS in co-production with Improbable
Performed by Mat Fraser, Julie Atlas Muz, Jess Mabel Jones, and Jonny Dixon
Directed by Phelim McDermott
Set Design by Phillip Eddolls
Costume Design by Kevin Pollard
Sound Design by Ed Clarke
Performances run through March 30.
---
Fairy tales exude a powerful allure. From sanitized Disney versions with their happily-ever-after endings to darker interpretations that stress macabre undertones, these stories, combining magic and meaning, expand to fill our psychological needs.
In Beauty and the Beast, husband and wife duo Mat Fraser and Julie Atlas Muz splice the traditional narrative with monologues chronicling their personal love story. During a prelude of sorts, they introduce themselves, she vamping in a clingy black dress while he sports a casual t-shirt and bare feet. Atlas Muz is a well-known burlesque dancer, a former winner of Miss Coney Island and Miss Exotic World. Fraser addresses the obvious: He has flipper-like arms, a disability caused by the drug Thalidomide, which was prescribed to his mother to curtail her morning sickness. 
Mat Fraser and Jule Atlas Muz in Beauty and the Beast. Photo: Sheila Burnett.
Fraser and Atlas Muz met while performing in a Coney Island sideshow, and their experiences in alternative theater demonstrate a skillful understanding of merging art and entertainment. Aided by puppeteers Jess Mabel Jones and Jonny Dixon (who manipulate a variety of props to move the story along), they reenact scenes from the classic fairy tale with winking good humor. After Beauty (Atlas Muz) asks Beast (Fraser) to dance with her, he treads on her feet and strains to find a dance position that works with his foreshortened arms. This awkwardness soon turns to hilarity as Fraser performs nimble martial arts moves that Atlas Muz struggles to duplicate. The scenario ends with a tender kiss.
Beauty and the Beast is often bawdy. After performing the predate ritual of bathing and grooming, the two sit at an ornate table and eat with lascivious abandon from platters arranged to look like genitals. The climax of the piece features Fraser and Atlas Muz enjoying a lusty coupling, their naked bodies cycling through a variety of acrobatic positions.
Red roses are a recurring motif. A classic emblem of romantic love, they also symbolize Beauty's captivity. She regrets the greed that has caused her confinement and pines to return home to her sisters and father, which Beast ultimately grants her. Beast, on the edge of death due to her absence, clutches a red rose and croons about how home is where the heart is. Beauty reappears to save him and realizes that she treasures Beast. No longer a sign of her oppression, the red rose represents a willing submission to love.
Photo: Sheila Burnett
Atlas Muz and Fraser spurn the artifice of presentation for natural deliveries and total ease of character. They occasionally trip over words and go off script (the script was provided to the press), but this lack of polish enhances their appeal as real people who beguile with genuine warmth and congenital charm. It is impossible not to adore them.
Beauty and the Beast enchants with its irresistible mix of fun and debauchery, but its most winning moments are when Atlas Muz and Fraser speak to us directly, relating anecdotes from their relationship. Their heartfelt devotion to each other makes this reality way better than any fairy tale.