Impressions of: Bobbi Jene Smith's "A Study on Effort" at The Invisible Dog Art Center as part of the 2017 COIL Festival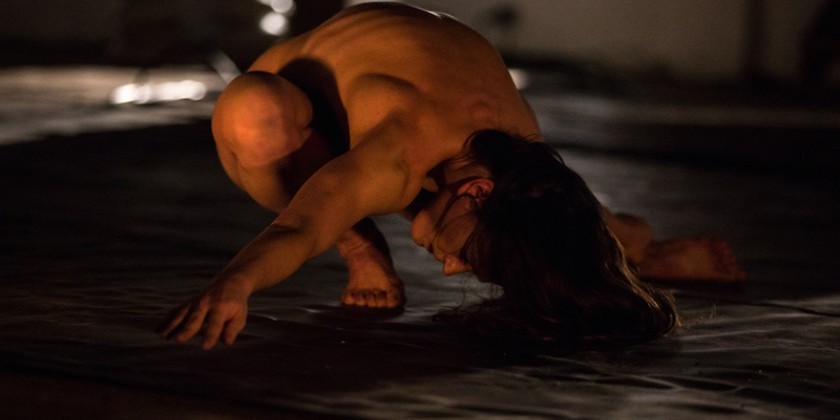 Performed by Bobbi Jene Smith and violinist Keir GoGwilt
Presented by ArKtype / Thomas O Kriegsmann and The Invisible Dog Art Center in partnership with PS122
January 12-14, 2017
---
Lights can tell a story, suggest a mood, or indicate a passage of time. During A Study on Effort, ambient constellations complement dancer Bobbi Jene Smith and violinist Keir GoGwilt's approach to "10 tasks that question physical, emotional and metaphoric effort..."
Luminous shades of amber peek through four warehouse windows at The Invisible Dog Art Center. The glow reveals a nude Smith, walking behind GoGwilt. Her nakedness contrasts with his all-black attire as he coaxes ominous sounds from his violin. He walks upstage, and she sinks into her right leg, creasing her left leg at the knee. The muscles tighten around her right leg while the left softly skims the ground to float forward. This effort foreshadows her sustained moments throughout.
The audience occupies three sides of the performance space. Our vantage points vary, but the violin tethers our attention. Quick pulses lay within sustained chords. GoGwilt strokes and plucks strings to manipulate the sound with minor variations while Smith's gestures animate it. Our focus shifts seamlessly between the pair as they alternate between the background and foreground.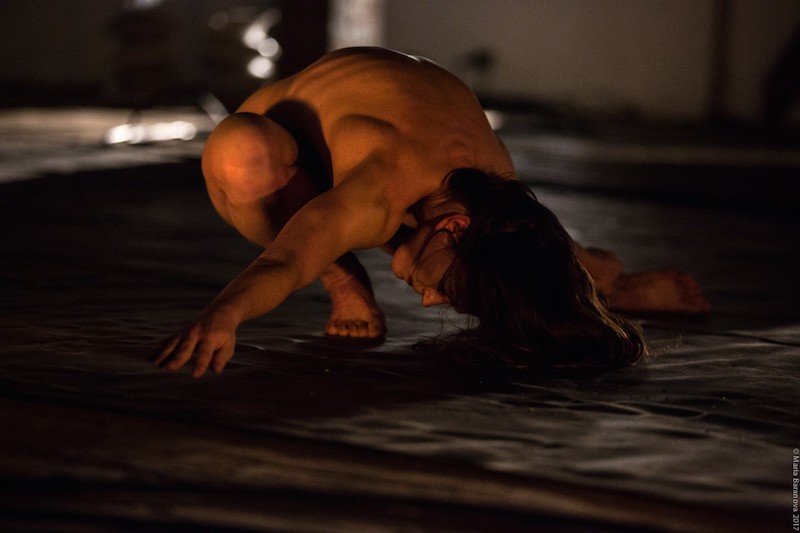 Bobbi Jene Smith in A Study on Effort; Photo: Maria Baranova
Next, light blossoms to reveal Smith wearing a slinky black dress. GoGwilt slices the air with his bow creating a whooshing sound. Smith's chest and head toss upward with her arms, which dislodges heavy breathing and guttural grunts.
Throughout the work, additions or subtractions of light punctuate distinct vignettes. During one moment, light floods the corners as GoGwilt leads a procession toward the audience. Smith carries a heavy white sack of sand. Grains escape from a tiny hole and hit the Marley with a crackle. In another moment, front lights illuminate Smith stacking several white sacks. She grinds her pelvis on the pile until pleasure provokes breathy moans.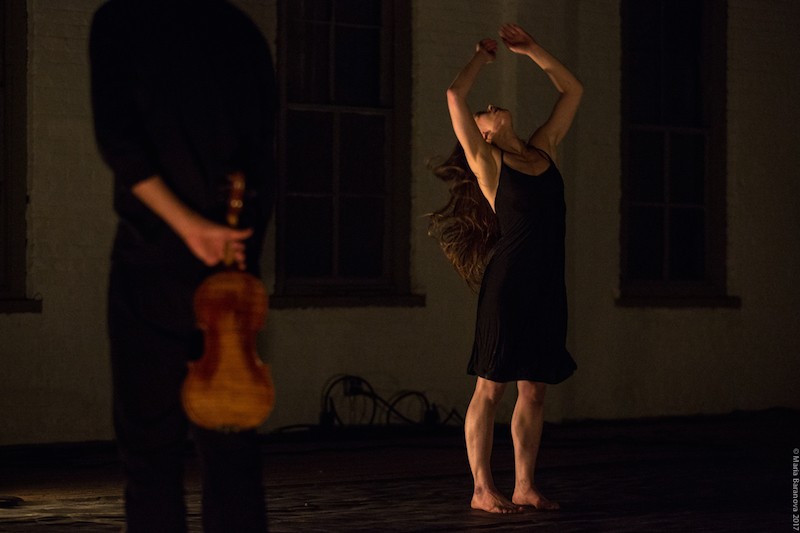 Bobbi Jene Smith in A Study on Effort; Photo: Maria Baranova
Their circular journey of effort concludes with both sitting legs crossed on the floor. Smith, nude again, holds a leafy green plant. She reclines into a horizontal position as chunks of dirt sprinkle across her chest. GoGwilt continues to play as they overlap forlorn moans.
Riding the current of one heartbeat, Smith and GoGwilt work well together. A Study on Effort merges their collective consciousness to generate a curious and inoffensive ecosystem of investigation. It is impossible to see the intricate details or buoyancy of information that saturates their receptors, but the composition is visually pleasing for the viewer and no doubt informative for the makers.
---
The Dance Enthusiast Shares IMPRESSIONS/ our brand of review and Creates Conversation.
Read Impressions here, including reviews of other COIL Festival performances, including Molly Lieber & Eleanor Smith and Jillian Pena
Share your #AudienceReview of this show or others for a chance to win a $75 giftcard to Trader Joe's.