Impressions of Jonah Bokaer's "Other Myths"
At LightBox NYC
U.S. premiere - Lightbox NYC
May 3, 2015
Choreographer: Jonah Bokaer
Performers & Collaborators: Zoltán Grecsó, Evin Hadžialjević, Katharina Illnar, Szabi Pataki, and Karolina Šuša
Score: Soundwalk Collective - Stephan Crasnaescki, Simone Merli, and Kamran Sadeghi
Commissioner & Curator: József Kardos - The Ludwig Múzeum of Budapest, Palace of the Arts (2014)
---
Myths, while particular to their cultures of origin, can unify us all regardless of heritage. During the performance of Jonah Bokaer's Other Myths, we tap into our fascination with storytelling, and the nuances and relationships among cultural mythologies. Bokaer, who presented the work at Lightbox in New York on May 3, focuses on Eastern European mythology, and, as the title suggests, reminds us that there is more to the spectrum than the commonly mined Greco-Roman legends.
Other Myths, commissioned by The Ludwig Múzeum of Budapest, brings Bokaer together with five dancers from Hungary, Croatia, Austria, and Slovenia. Each contributes a myth with origins in the Carpathian Mountains—the vast European mountain range that sits geographically among the dancers' home countries. Ranging from tales of "Vila"—dancing night creatures from the story of Emelka, and forerunners of the "Wilis" of Giselle—to monarchs who misinterpret cultural symbols, each myth has been preserved and passed down through generations.
Our audience of about 100 fits snugly around the perimeter of the rectangular playing space, marked with white tape. Before the performance commences, a woman invites us to move around as we please. With a level of autonomy not often allowed in a seated venue, we are able to decide how to engage with this story, individualizing our experience beyond the notion that we each see and interpret things differently.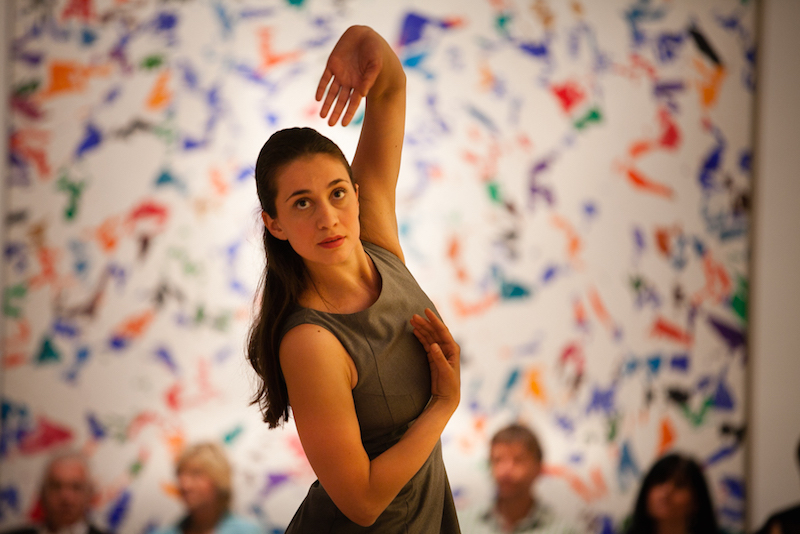 ​Dancer: Karolina Šuša; Photographer: Benjamin Coffin
For Bokaer, who has choreographed internationally for proscenium stages, museums, and galleries, this is another space in which to challenge audience-to-performer orientation—an exciting venture for both parties.
Evin Hadžialjević and Katharina Illnar emerge from an offstage corridor. The women mirror each other, in a duet that becomes a motif through the evening. Standing head to head they slowly find a way to their hands and knees and eventually curl up on their sides. Karolina Šuša enters, moving at a measured pace along the centerline of the space. She moves her arms in close proximity to her torso, each movement melting into and generating the next. 
We notice projections on two opposite walls. Audience members, some standing against the projection surfaces, become part of a shifting landscape. One side shows a street scene where the dancers perform in a square in Zagreb; the other wall shows the dancers again, in rehearsal at a museum in Budapest. Bokaer's inclusion of the two recordings gives the year-old work a sense of timelessness—there is a history here.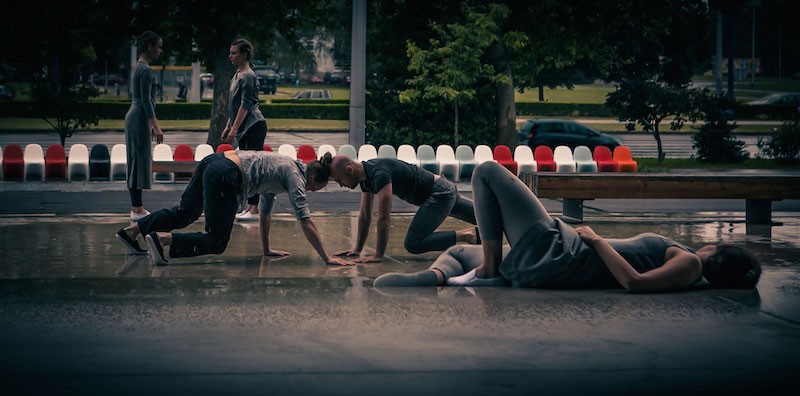 Photo: Livio Deponte; *Site in Zagreb
Soon, Zoltán Grecsó and Szabi Pataki join the others. They drift through space, stopping to gaze at the opposing projections. The score by Soundwalk Collective called "Medea Mix," plays continuously. Comprised of original field recordings taken along the perimeter of the Black Sea, the music is atmospheric and at times urgent. We feel a percussive build as Grecsó and Pataki begin to scamper through the space and collide. They lock limbs, and at times heads, in a bestial duet. This physicality resurfaces later, as we watch the vigorous and unpredictable explosion of Grecsó through the space. He catapults across, pierces upward, and slinks downward, finding satisfying points of suspension.
The evocative movement in Other Myths is derived from the legends the dancers shared. With Bokaer as director and curator, the group physicalized their stories and proceeded to abstract them. While we notice images reminiscent of majestic goddesses, burly creatures, and messenger figures moving with rapid ferocity, we are by no means spoon-fed a narrative.
Bokaer and his collaborators welcome us into their intimate work. While we can perceive the chimerical sources of Other Myths, we are also able to lose ourselves in scenarios that arise from our own imaginations.