IMPRESSIONS: Brian Rogers' "Screamers" co-presented by Abrons Arts Center and the Chocolate Factory Theater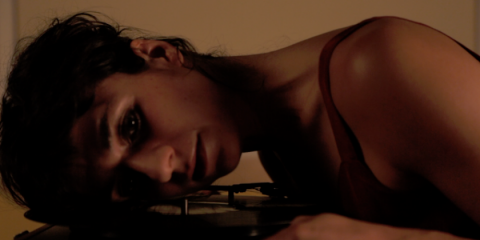 Writing, Direction, Music, and Editing: Brian Rogers
Production, Dramaturgy, and Directional Consultation: Madeline Best
Director of Photography: Jeff Larson // Production Design: Sara C. Walsh
Lighting: Jon Harper // Sound Recording: Stephen Bruckert
Performance: Andrew Dinwiddie, Jim Findlay, Daniel Fish, Vallejo Gantner, Keely Garfield, Jon Kinzel, Quinn Larson, Molly Lieber, Jay Wegman
---
Thump. 

Thump. 

Thump. 

Do you hear that? It's the sound of my heart slapping against my chest as I watched Brian Rogers' Screamers. Receiving its screening at Abrons Art Center and co-presented by the Chocolate Factory Theater (Rogers is the artistic director of the latter), the hourish-long film is as taut and tight as a nerve stretched to its breaking point. 

This, though, is no lurid gore fest where only the tropes exceed the body count. Instead, Screamers inhabits the psychological realm where reality has been shattered into fragments of memory and figments of imagination. The viewer is cast as a sleuth, probing what's real and what's not to arrive at an answer that may say more about him, her, or them than the actual film.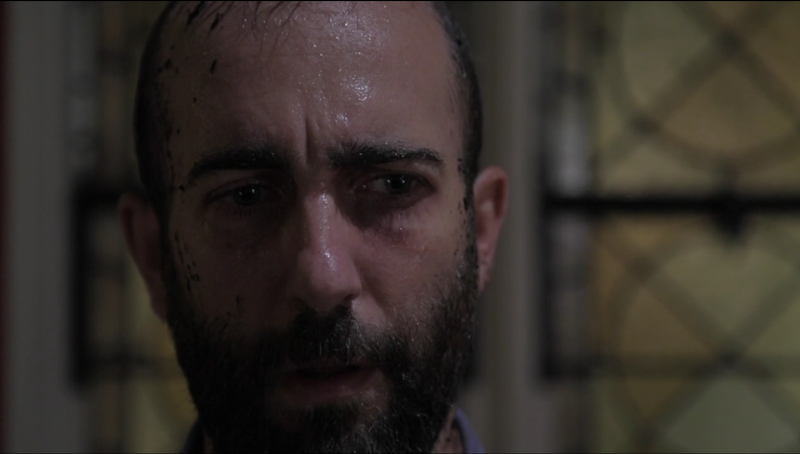 Andrew Dinwiddie in Brian Rogers' Screamers; Photo: Jeff Larson
The plot centers on former dancer Jeanine, delicately embodied by Molly Lieber. She has abandoned the sacred space of the stage to move upstate with her husband Jim (Andrew Dinwiddie) in search of a more profane goal — domestic bliss. Their new home is a deconsecrated Catholic church that's thick with the ghosts of liturgical memories and white-sheeted furniture. 
Jeanine grapples with the sacraments of wifehood, making spaghetti dinners and changing bed linens. Yet, clouded with depression, she remains in a type of purgatory, disinclined or, perhaps, helpless to divorce herself from her past. Often, she's shown in a scarlet dress, peeking from behind a stage curtain to observe a child in the audience. Is this the role that terrifies her so much, or is she just cracking up?
Molly Lieber in Brian Rogers' Screamers; Photo: Jeff Larson
In a small town where there's little to see and even less to do, to paraphrase the former priest of the church, Jeanine appears to develop a drinking problem. She imbibes red wine and shares morning coffee with the priest who's doctored his hip flask with liquor. Several times, she lies on the floor, crimped into the fetal position, vomiting. The pinkish-red puddle splashed next to her acts as an indictment. 
Jeanine looks to be in an extended brownout, sometimes experiencing, other times remembering, events differently. One time, she helps a rain-soaked Jim into the shower; the next time, she fumes at him. The filmography's quick cuts and iterative scenarios suggest Jeanine exists in a kaleidoscope that whirs her around and around to slightly new combinations of the same old options. 
Jay Wegman and Molly Lieber in Brian Rogers' Screamers; Photo: Jeff Larson
The people who populate Jeanine's world add to her instability. Jim seems so nice until he's not, yelling at her not to burn the sauce. The priest tells her he can't be her friend, only her confidante, thus turning their relationship into a one-sided game of telephone. Detachedly, Jeanine wafts through encounters with a violent poet, an imperious woman, and a taciturn repairman. She's present but rarely a presence.
During Screamers, time unfolds in a gnarled fashion, twisting around and weaving through itself. The spare, cryptic dialogue enhances the idea that the characters have been here before, saying and doing similar things forever. Even the film's end circles around to a beginning. The priest rambles through the church performing the rites of deconsecration. Is this just another stitch looping us back in time, or is he readying the church for yet another person it can envelop in its shadows? The fun — and the fear — is in figuring that out. 
---
Reprise screenings of Screamers (the film) at Kaufman Astoria Studios are scheduled for November 2018. More info coming soon.
The Dance Enthusiast Shares IMPRESSIONS/ our brand of review and Creates Conversation.
For more IMPRESSIONS, click here.
Share your #AudienceReview of performances for a chance to win a prize.