Related Features
Contribute
Your support helps us cover dance in New York City and beyond! Donate now.
IMPRESSIONS: Bryn Cohn + Artists' "The Art of Loss" at The Theater at the 14th St Y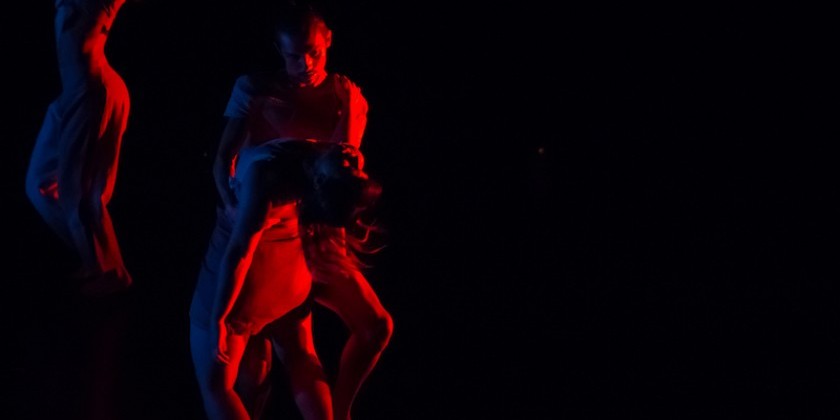 February 18, 2018
Works: Skin, A Perfect Union, HOME, If You Sink, 4AM
Choreography and Direction: Bryn Cohn
Performers: Chelsea Ainsworth, Nico Gonzales, Jessica Malat, Yuliya Romanskaya, and Will Tomaskovic
Rehearsal Director: Yuliya Romanskaya
Lighting Design: Tim Cryan
---
Bryn Cohn + Artists presents The Art of Loss, the company's first-ever repertory program, at The Theater at the 14th St Y. The title alone reflects choreographer Bryn Cohn's interest in exploring charged emotions through physical representations.   
Cohn does everything "right." Her dancers are precise, nuanced, and technically adept; her compositions are balanced and visually stimulating. But perhaps because three of the five works are excerpts, the program is slight, unfulfilling, distilling the "human experience" into something too obvious to be impactful.
The most satisfying piece is If You Sink, a duet for Chelsea Ainsworth and Will Tomaskovic. In the striking opening, Tomaskovic traces lines in space (we imagine him alone in a moonlit studio) as the dainty Ainsworth approaches slowly from behind.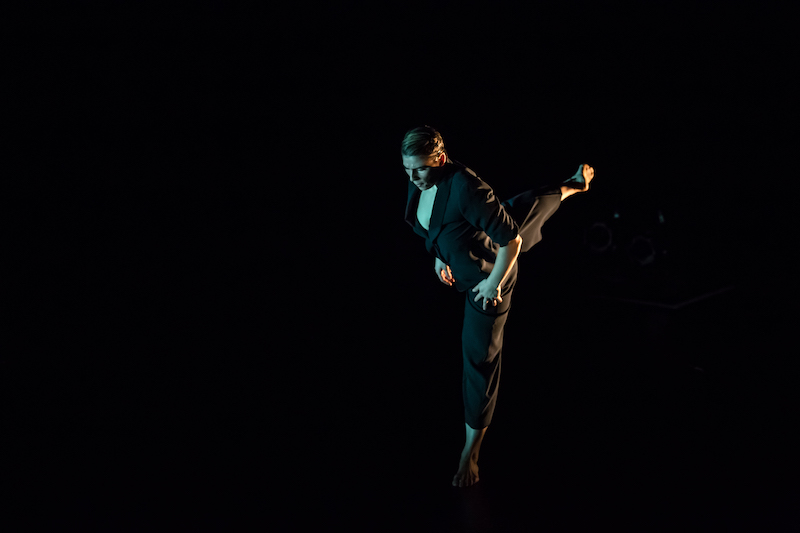 Bryn Cohn + Artists' The Art of Loss; Jaqlin Medlock Photography
Using pas de deux references and gestural unisons that travel, the dancers employ clear images that clarify their relationship, like when Ainsworth reaches for Tomaskovic's hand. In the end, he walks away and she follows, throwing her arms around him as he drags her off.
In Skin, the story of Pygmalion (a man falls in love with his sculpture) surfaces in a male duet. After Tomaskovic slowly comes to life, he and Nico Gonzales carve the space around one another, creating new barriers for the other to navigate. Balletic shapes are curved and distorted as the two push and pull, rarely losing contact.
A Perfect Union features Cohn's first-ever music composition, a mash-up of inaugural and political speeches in which the phrase "perfect union" is repeated until it loses meaning. Familiar voices waft through the score: Bill Clinton, Jimmy Carter, George W. Bush, and, of course, Donald Trump. The juxtaposition of Bush's 9/11 speech ("today we came under attack") with Trump's oath of office is a particularly cheeky nudge.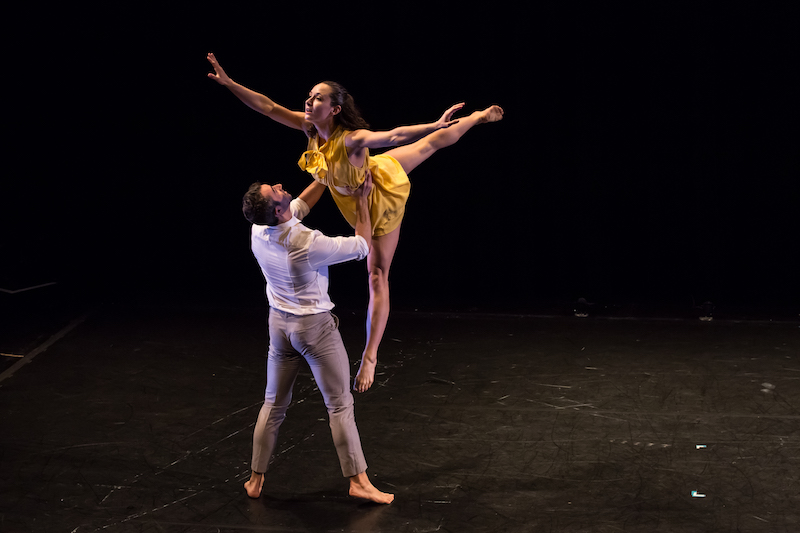 Bryn Cohn + Artists' The Art of Loss; Jaqlin Medlock Photography
Soloist Jessica Malat appears moved by invisible forces, physically manifesting the lack of control evoked by the soundscape. She performs sharp, jabbing gestures with her elbows, as though trying to break out of something confining, and then kneels, as though praying. At the end, Malat responds to "but what will America look like?" by slapping the floor and then looking up at the audience for a split second.
During the excerpt from Home, the dancers rearrange and disassemble a table and chairs, as if to symbolize the deconstruction of a utopian family. This re-orientation places the dancers in moments of confrontation where lengthy eye contact suggests more complexity swimming beneath the surface than is presented dance-wise. Alliances are created through extended hands, and then broken as grips slide and release. While a fascinating visual exercise, Home feels too blatant to pack an emotional punch. 
The last piece, 4AM, places contrasting textural elements side by side with moments of manic, drunken chaos and blaring red lights, and then moments of reflection. The cast lines up upstage, facing the black curtain before, in unison, falling to their knees. Once again, the visual spectacle overwhelms the potential for poignancy.
---
The Dance Enthusiast Shares IMPRESSIONS/ our brand of review and Creates Conversation.
For more IMPRESSIONS, click here.
Share your #AudienceReview of performances for a chance to win a prize.