Related Features
Contribute
Your support helps us cover dance in New York City and beyond! Donate now.
But Wait, There's More: More Impressions of Fall for Dance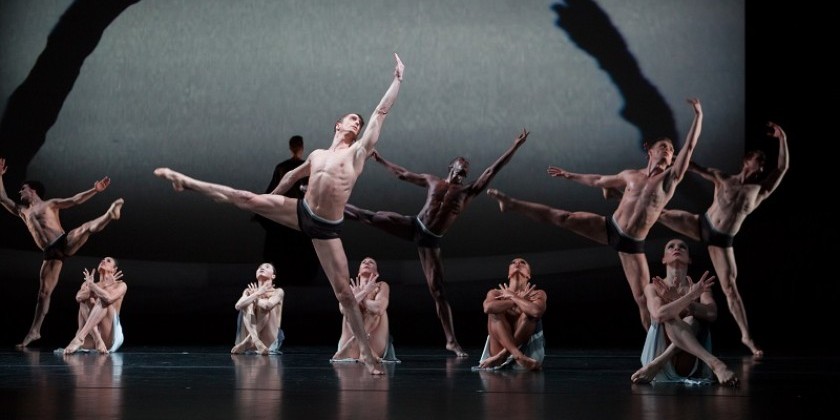 Programs Four and Five at New York City Center Rock the House

New York City Center, New York
Program 4 - Thursday, October 3rd and
Program 5 - Friday, October 4th, 2013
---
The two programs that concluded this year's Fall for Dance program brought terrific dancing to the New York City Center stage.

Sidi Larbi Cherkaoui's Faun, set to the Debussy score with additional music by Nitin Sawhney, opened as a solo for dancer James O'Hara. He stretched and slithered on the ground as if he were a waking animal on the forest floor. Trees were projected on a backdrop in hazy twilight and blinking ignes fatui added to the bewitching atmosphere. I felt as if I witnessed the sensuous awakening of a Faun whose sculpted body rose and fell with sculptural fluidity. This might seem to be a contradiction in terms, but O'Hara's movement consisted of a plethora of detailed molds that oscillated from one to the next until he ambled elastically off the stage on one side, presumably in search of the next clearing.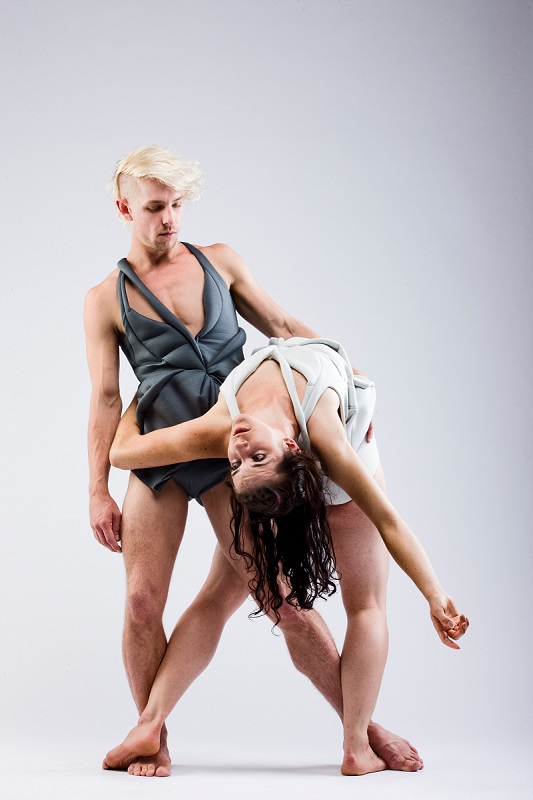 Sidi Larbi Cherkaoui.
The agile nymph who displayed her beauty and strength in just such a glade was Daisy Phillips. The Faun approached her from the other side of the stage from which he had left it and thus the illusion of travel beyond the confines of the stage space was ingeniously illustrated. Our Nymph was ready to make the Faun's acquaintance and proved herself to be a worthy partner. She supported him in fascinating momentum-based spiral malleability. The sensuality of ebb and flow and onrushing movement was a joy to behold. The moment she brushed her hand over his groin was an essential move that completed this mating dance of magic.
A pastiche of jazz music by Oscar Peterson, Billie Holiday, Ella Fitzgerald, and Glenn Miller provided the swinging soundtrack to Richard Siegal's O2JOY for Los Angeles based company BodyTraffic. Artistic directors Lillian Barbeito and Tina Finkelman Berkett were joined by Miguel Perez, Guzmán Rosado, and Andrew Wojtal. They all danced and shimmied and sashayed to one's heart's delight and had the audience in the palms of their hands. Siegal's choreography is witty and varied. This West Coast company is an exhilarating force on any shore.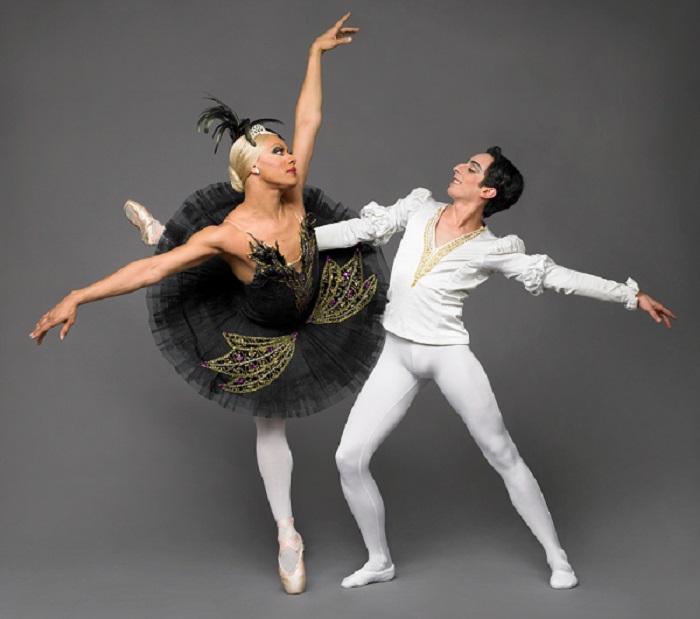 The fun continued with the Black Swan Pas de Deux. Steely technique and high camp are the ingredients that the artists of Les Ballets Toackadero de Monte Carlo contribute to the evening. These men in tutus manage to make you laugh with and not at them. Their technical abilities are astounding. 32 fouettés are executed to perfection by the splendidly overacting Odile, Yakatarina Verbosovich (Chase Johnsey) and Siegfried, Innokenti Smoktunmuchsky (Carlos Hopuy), displays noble bearing, high ballon and extension, as well as multiple turns. The staging by director Tory Dobrin includes not only Von Rothbart (Vyacheslav Legupski/Paolo Cervellera), but also the unfortunate Odette (Sonia Leftova/Boysie Dikobe) who makes several hilarious cameo appearances.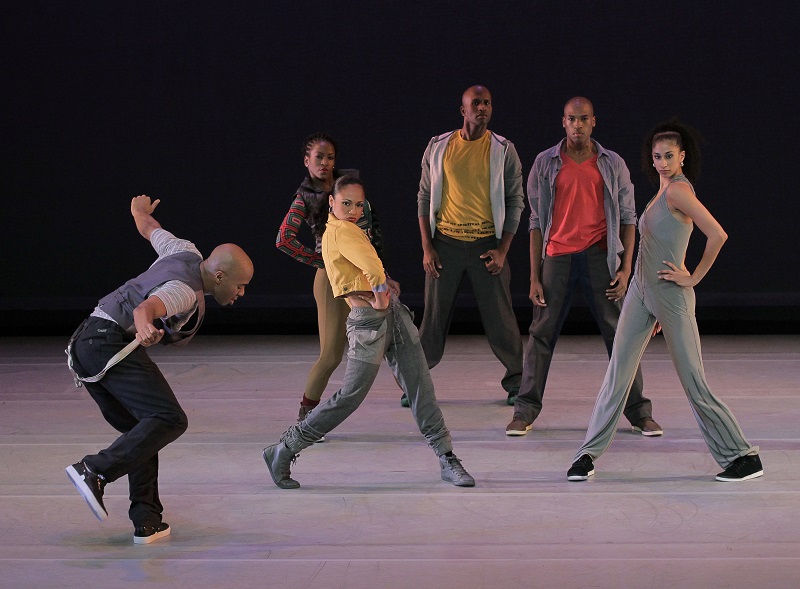 Alvin Ailey American Dance Theater
The formidable dancers of the Alvin Ailey American Dance Theater with guest artist Matthew Rushing appeared in Rennie Harris's Home. Dorrance Dance presented SOUNDspace and tore up the floor with electrifying tap dance. Choreographer Doug Elkins gave a new spin to Shakespeare's Othello and José Limón's The Moor's Pavane in his Mo(or)town/Redux. Beautifully danced by Alexander Dones, Cori Marquis, Kyle Marshall, and Donnell Oakley, this modern-day interpretation is clever and engaging. (Note: The Moor's Pavane was part of this festival's Program 3 which I did not get to see. For a review of American Ballet Theatre's staging of The Moor's Pavane during the company's last fall season, please click here.)
The Royal Ballet's Zenaida Yanowsky is a ballerina whose long limbs are matched by her fascinating sense of timing. But more than that: There is a glow about her. She drew me under her spell and took my eyes off into a dream scape. I endured the abominable live rendition of one of Arvo Pärt's greatest hits, "FRATRES," which also served as the title for this Fall for Dance Commission by choreographer Liam Scarlett. Partnered by Rupert Pennefather, Ms. Yanowsky created her own world. I have seen her transcend choreography before in Ashton's dances. Yet, to pull off this feat, the choreography has to be good enough to not get in her way. Scarlett's apparently meets this criterion, although I cannot remember anything about it other than her legs, her torso, her arms, her wrists, her fingers, her face, and her iridescent aura.
The Martha Graham Dance Company brought its 1984 edition of The Rite of Spring to the festival. What a treat it was! Beefy men in briefs are nothing to sneeze at, but when they dance like gods, you are bound to develop a taste for ritual, no matter what.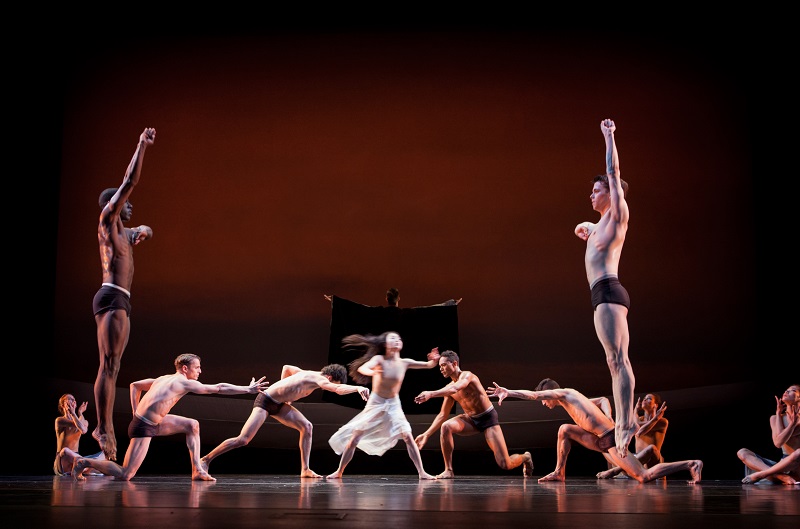 Martha Graham Dance Company.
Xiaochuan Xie was bound and chosen of a group of eight lovely ladies and must have died a handful of times, only to be given new tasks and tortures by The Shaman Ben Schultz and his group of eight male attendants. The heroic movement vocabulary is textbook Graham and the stalwart execution of it is a celebration of male prowess and female venery. Each contraction resonates through row Q (and probably beyond) and every single dancer in the audience who ever took a Graham class rejoices in the procession.
To present one of America's master choreographers' responses to the Nijinsky/Stravinsky opus at that work's 100th anniversary was a stroke of genius. The company under the direction of Janet Eilber looked spirited and dauntless. They all deserve their name in lights. Ms. Xie and Mr. Schultz were joined by Peiju Chien-Pott, Mariya Dashkina Maddux, Natasha Diamond-Walker, Iris Florentiny, Lucy Postell, Blakeley White-McGuire (The Chosen One on Oct. 2), Ying Xin, Tadej Brdnik, Abdiel Jacobsen, Lloyd Knight, Gildas Lemonnier, Lloyd Mayor, Maurizio Nardi, Lorenzo Pagano, and Oliver Tobin.
Historic works by Limón and Nijinsky still serve as inspiration. The choreographers of today who let themselves be inspired assure a rich and colorful dance future.