Related Features
Contribute
Your support helps us cover dance in New York City and beyond! Donate now.
IMPRESSIONS: Cathy Weis' Sundays on Broadway Series Featuring Laura Bartczak, Emily Climer, and Diane Madden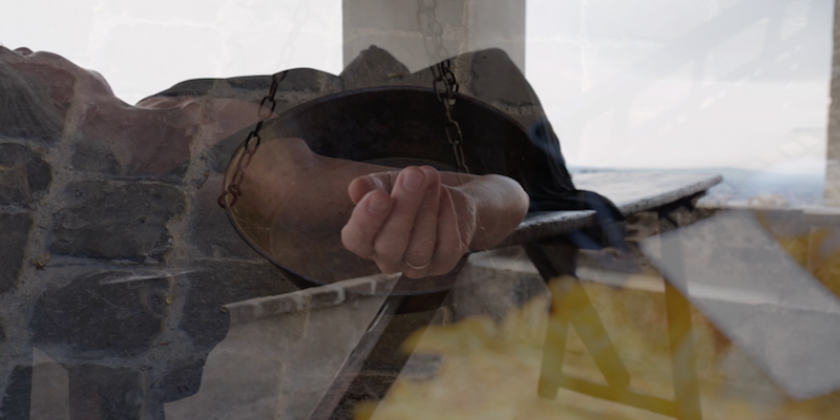 November 11, 2018
WeisAcres, 537 Broadway
Choreographers: Laura Bartczak; Emily Climer; Diane Madden  
Filmmaker: Matthew Burdis
Dancers: Rachel Sigrid Freeburg, Mae Maeda, Dustin Maxwell, Katie Skinner, Katelyn Hales
Amity Jones, Cherie Burnett, Kay Ottinger, Hadley Smith, Corinne Cappelletti, Erin Sheehy 
Sound design by Aaron Rourk. 
Costumes by Rachel Sherk and Emily Climer
Pictured above: Film Still from Take 3; A collaborative work between dancer Diane Madden and artist-filmmaker Matthew Burdis; Photo courtesy of the artists
---
Sundays on Broadway, now in its fifth season at WeisAcres, makes you feel like you are in very cool company. If chosen to participate in this well-attended series, you may be on to something.
The performance opened with
Laura Bartczak
's piece that mines the sculptural aspects of sleep with a super 8mm short film (untitled) of Erin Sheehy's torso, with glimpses of flying hair twisting under dark fabric. Is this meant to represent the undulations of one's unconscious? While the film was projected, a woman lay face down. When the film ended, six more women entered in silence to lay on the floor. We rested as they  rolled face up, then again, face down. Continuing in this leisurely pace, the women (of all shapes) individually claimed a spot on each other, and then arose to reposition themselves, shifting the topography and gradually moving their somnolent group from center stage to stage left. Towards the close, one rose to dance, her limbs floating unencumbered.
Laura Bartczak's untitled; Photo: Laura Bartczak
Next up was
Emily Climer
's 
Phantoms Ghost Phantoms
 with delightfully odd movements (particularly those of Dustin Maxwell) and two artists dressed in padded costumes perfect for riding in bumper cars. The press release aptly described this dance as one "of sustained disorientation wherein two duet worlds collide, connected by states of unknowing, feelings of being unsettled, and sudden attempts at order."
Take 3,
a meditative film on layering made by 
Diane Madden
and filmmaker, Matthew Burdis, closed the program. Shot during their residency at the Mahler & LeWitt Studios in Spoleto, Italy, the film weaves together images of Madden's hand on a table and Torre Bonomo, a medieval tower in the background, with superimpositions and fabrics passed in front of the camera. 
Emily Climer's Phantoms ghosts phantoms; Photo by Andy Ribner
Dancer/choreographer
Vicky Shick
, one of four guest curators for the WeisAcres fall season, including Jon Kinzel, Jennifer Miller, Mina Nishimura, curated this hour-long program. Hosted by Cathy Weis in her 537 Broadway loft, once owned by Simone Forti, the audience can sense palpable history as they ascend the wide stairs toward the space. The storied loft, located one flight above
Emily Harvey Foundation
 (where dance filmmaker
Elaine Summers
once lived and worked) exists in the building erected on the spot where P. T. Barnum museum burned down in 1865. One may wonder if  Barnum's uniquely intuitive spirit continues to lurk in 537.
---
---
The Dance Enthusiast Shares IMPRESSIONS/ our brand of review and Creates Conversation.
For more IMPRESSIONS, click here.
Share your #AudienceReview of performances for a chance to win a ONE-YEAR SUBSCRIPTION to Marquee.TV for you and a friend