Impressions of Chia-Ying Kao's "Where Your Voices Are"
Triskelion Arts
Choreography by Chia-Ying Kao
Performances by Beau Dobson, Tsai-Hsi Hung, Elizabeth Homick, and Laura Neese
Costume Design by Chia-Ying Kao and dancers
Music by Giacomo Merega and Jameson Swanagon
Drawings by Tsai-Hsi Hung
---
It can feel like an us against them world out there. Them can be anybody who's different than us: men, women, black people, white people, Asian people, gay people, straight people, and the list goes on. As the world shrinks and more people compete for resources, clashes between cultures become commonplace. These interactions between disparate individuals are at the root of Chia-Ying Kao's Where Your Voices Are, which received its premiere at Triskelion Arts' Aldous Theater. 
Dancer Beau Dobson drives this point home with an opening monologue as, upstage, three gray-clad women tangle themselves into knots of sculptural beauty. He invites us to share stories about a time when someone different from us encroached upon our life, upsetting our homeostasis. Dobson concludes by asking us to consider who has the power: the one yelling or the one taking the heat?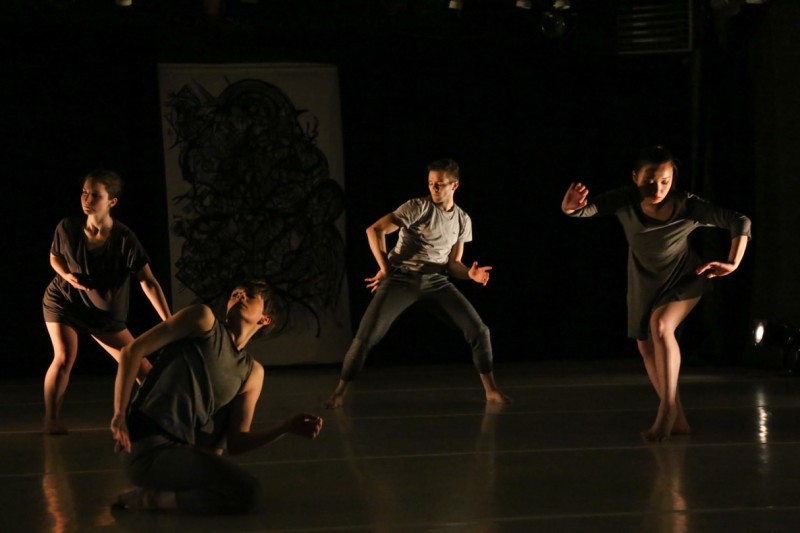 Chia-Ying Kao's Where Your Voices Are. Photo: Stephen Delas Heras
It's a provocative question, but the balance of Where Your Voices Are shrinks from answering it, or even commenting on it. The piece is quiet, a whisper rather than a scream, placid rather than forceful in its handling of the trials confronting our multi-cultural society.
The movement is a melting pot of modern dance conceits stirred into Chinese folk dancing, the result of which is very pretty. Heavily gestural, the foursome articulates their arms like paintbrushes, licking and tracing through the air, the contours suggestive of elegant calligraphy. Searing jumps and frantic dives to the floor explode like exclamation points amongst the gentle actions.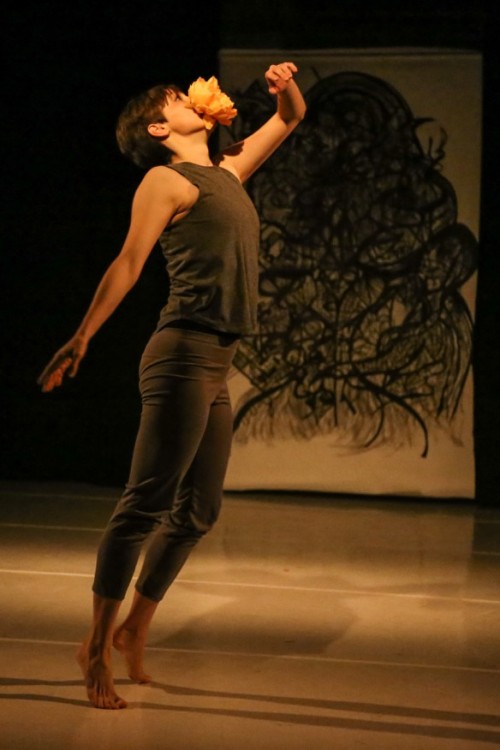 Chia-Ying Kao's Where Your Voices Are. Photo: Stephen Delas Heras
Set against a background of arid jazz meditations by Giacomo Merega and Jameson Swanagon, the dancers offer a watery, loose-limbed presentation, their bodies smudgy and the unison frayed. The reedy bleats and thrumming rumbles of the score try to add urgency, but the tone remains stubbornly low key.
Kao cycles through a number of ideas to highlight the inherent tension of pluralism. Laura Neese, an enormous peach flower stuffed in her mouth, presents a muffled diatribe on the perils of being a woman. She rants about glib chauvinism and the potential of a late-night assault. Elizabeth Homick, attired in a red bikini top and high-heeled boots, removes lollipops from the plastic pockets of a shoe organizer that hangs from her neck. She passes them out to audience members and sucks on a half dozen herself. Kao's point is clear: Our patriarchal society sexualizes, infantilizes, and discounts women. Yet, displayed without nuance or originality, these men-against-women scenarios don't say anything that hasn't been said a thousand times before.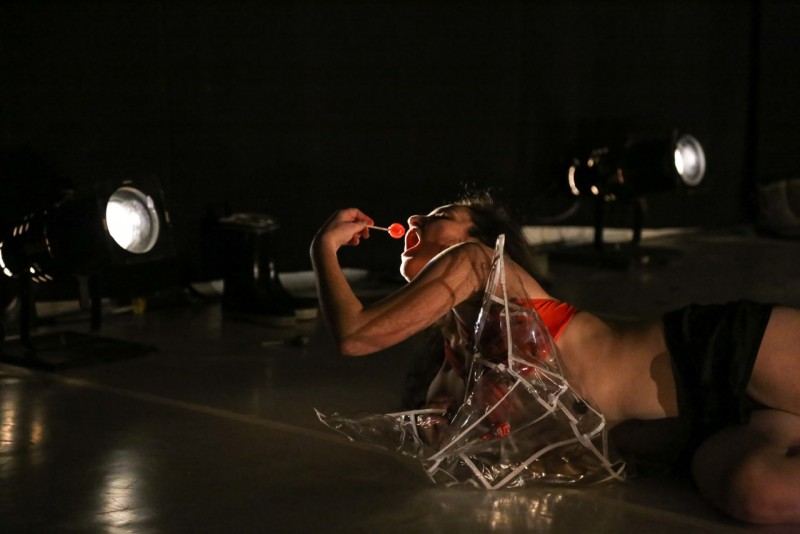 Chia-Ying A‹Kao's Where Your Voices Are. Photo: Stephen Delas Heras
The stakes of Where Your Voices Are seem so low that it's hard to get excited. With the egregious tragedies piling up in the real world, these societal divides deserve attention. More importantly, they demand revolution. But, Kao prefers to render rather than opine. Bereft of commentary, the piece feels like a public service announcement — well meaning but devoid of any significant call to action.