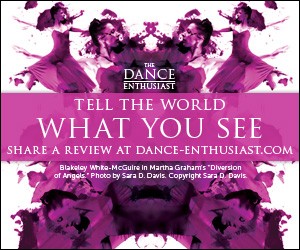 Related Features
A Dance Date at the Ballet - Christine Jowers & Henning Rübsam Attend New York City Ballet's Fall Season Opening Night - "Jewels"
New York City Ballet
Koch Theater, Lincoln Center Opening Night,
September 17, 2019
Choreography: George Balanchine - Premiere of the ballet, April 13, 1967, New York State Theater
Scenery: Peter Harvey/ Costumes: Karinska/ Lighting: Mark Stanley/ Conductor: Andrew Litton
Music: Gabriel Fauré, Igor Stravinsky, Peter IlyitchTschaikovsky/ Piano Solo in Rubies: Stephen Gosling
Dancers: Abi Stafford, Amar Ramasar, Unity Phelan, Ask la Cour, Sterling Hyltin, Andrew Veyette, Emily Kikita, Maria Kowroski, Tyler Angle and NYCB company
---
About Jewels: (a brief history) from the Balanchine Trust for more click here
"Jewels is unique: a full-length, three-act plotless ballet that uses the music of three very different composers. Balanchine was inspired by the artistry of jewelry designer Claude Arpels, and chose music revealing the essence of each jewel. He explained: "Of course, I have always liked jewels; after all, I am an Oriental, from Georgia in the Caucasus. I like the color of gems, the beauty of stones, and it was wonderful to see how our costume workshop, under Karinska's direction, came so close to the quality of real stones (which were of course too heavy for the dancers to wear!)." The Balanchine Trust
---
Henning: Christine, what was most memorable for you tonight?
Christine: Henning, I love going to the ballet and I can't remember the last opening night I have been to. I used to live on 70th street (for a minute) and would walk over to catch performances frequently. What thrills me most — besides living in New York City and going to Lincoln Center for performances — are the loyal fans of NYCB. So many avid balletomanes. I enjoy being in the same room with people who have a passion for this form. After a hard day of work, it is incredible to feel the energy and attentiveness of the audience ready to take in a season of dance, music, and theatrical artistry. We are fortunate to live here aren't we? When I was a young girl, I never imagined that I would be able to go to the ballet, or anything at Lincoln Center, regularly. It is a dream.
H: I especially enjoyed Unity Phelan's generous performance in Emeralds. Her back is supple, and her musical choices never seem calculated. She truly dances on a grand scale. And Ask la Cour partnered her so elegantly. Very lovely! 
Unity Phelan in Emeralds; Photo by Paul Kolnik
C: Unity Phelan's performance transfixed me. What a generous artist. I hope that The Dance Enthusiast has the opportunity to follow her career. When is she dancing again? If I were a young ballerina, she is who I would want to model myself on. And then she was an emerald — my favorite gem other than a fire opal. I wonder how she would fare in modern repertory? One to watch. I am so curious about her. And Ask was an elegant partner — regal. I wonder how they felt about opening night? 
And in Rubies, Sterling Hyltin is snazzy. I couldn't take my eyes off her. Loved her angles and sense of play. In general the jazzy angles of this section were surprising and fun. How fitting for the July birthstone, a hot summer Stravinsky dance. I would have more to say if I took notes, but tonight was about letting the ballet flow through me.  
H: I agree, Sterling is on fire in Rubies. And she plays with dynamics. Too often ballerinas seem to feel they have to go all out all the time in that role. Sterling shifts gears.
Sterling Hyltin and Andrew Veyette in Rubies; Photo by Paul Kolnik
C: That is the sign of a mature artist. She flirts with dynamics and with us. I wonder what she thinks about when she is dancing, and what constitutes a great performance for her? 
Balanchine was inspired when he met Claude Arpels, of Van Cleef and Arpels, and he loved jewels. By the way, so do I. I see a Playbill advert, "The Dance Enthusiast wears diamonds,emeralds, and fire opals by ___ at every opening night." You would be pictured wearing a jeweled watch. I would wear the cocktail ring, bracelet, earrings, and . . .
Why should dancers and choreographers have all the fun? Let's make dance writing glamorous, again. 
H: Christine, I confess that I have a love/hate relationship with Diamonds. I cannot stand the relentless celebration of symmetry and the imperialist hierarchy it represents.
C: I would never think of bringing up imperialist hierarchy. It just seemed that the stage was crowded with patterns. As if we were privy to the inside of a very busy, monochromatic kaleidoscope. I became a bit dizzy.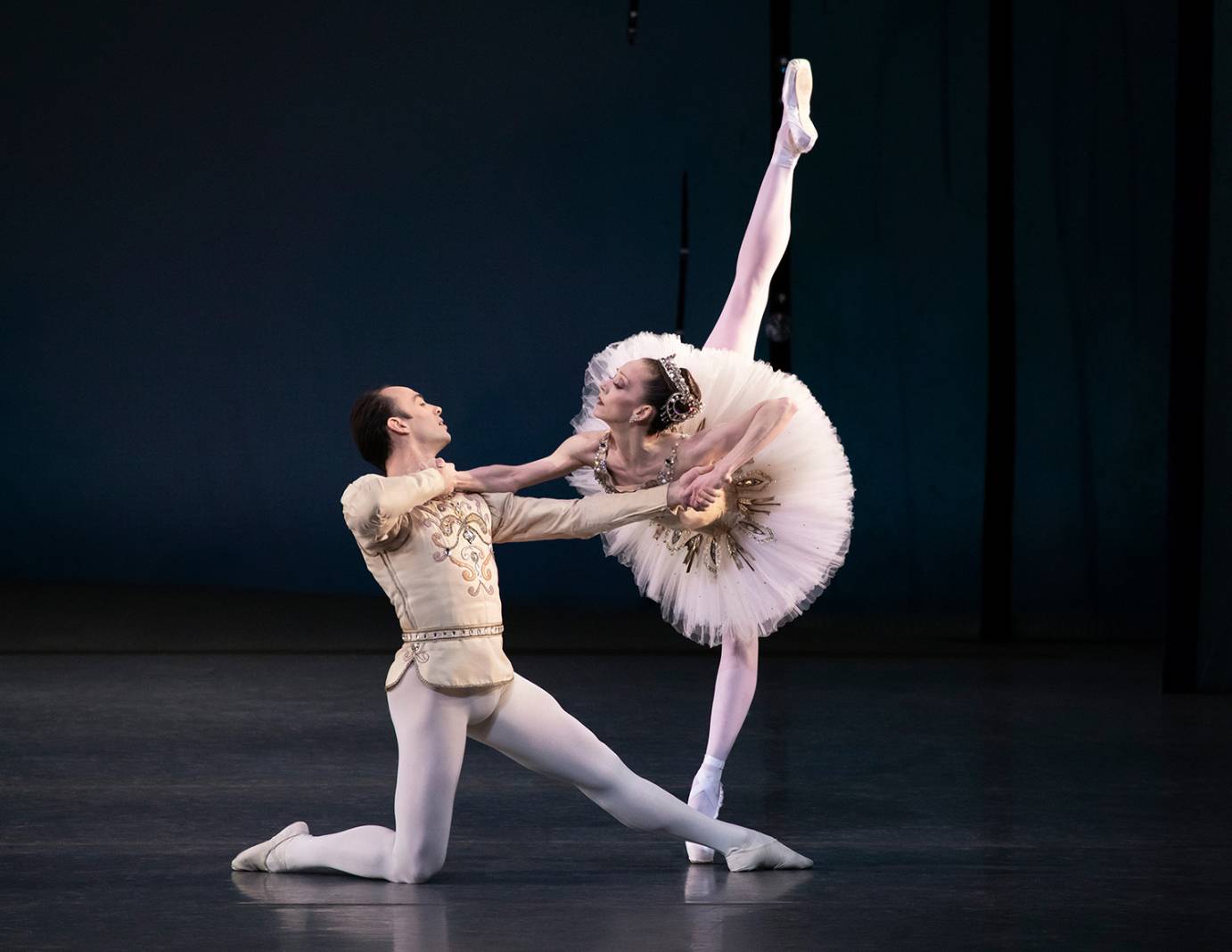 Maria Kowroski and Tyler Angle in Diamonds; Photo by Erin Baiano
H: But that pas de deux is one of the most beautiful duets in the world of ballet. The formalism elevates the relationship and the partners are in awe of each other. They don't text; they are present. But once that pas de deux is done, I want to close my eyes and just live in that beauty until I wake up the next morning.
C: Yes, I did appreciate the pas de deux (and that they don't text it in). What gorgeous lines! But I am more Dionysian than Apollonian so, while I appreciate it, not exactly my cup of tea. I think that has something to do with being from the Virgin Islands. In ballet class, one of my teacher 's, who danced with NYCB, Ms. Sidimus, would admonish me to think of my tendus and not of swaying palm trees, but that was difficult. 
I am looking forward to more ballet this season!
---
---
The Dance Enthusiast Shares IMPRESSIONS/our brand of review, and creates conversation.
For more IMPRESSIONS, click here.
Share your #AudienceReview of performances. Write one today!
---
The Dance Enthusiast - News, Reviews, Interviews and an Open Invitation for YOU to join the Dance Conversation.