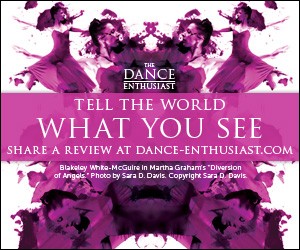 Related Features
IMPRESSIONS: Christopher "Unpezverde" Núñez "The Circle or Prophetic Dream" at Danspace Project
Choreographer: Christopher "Unpezverde" Núñez
Dancers: Marielys Burgos Meléndez, Rafael V. Cañals Pérez, Christopher "Unpezverde" Núñez
Sound Composer and Live Sound Performance: Alfonso "Poncho" Castro
Costume and Prop Designer: Branden Charles Wallace
Text and Audio Description: Christopher "Unpezverde" Núñez, Marielys Burgos Meléndez, Rafael V. Cañals Pérez
Producer: Christopher "Unpezverde" Núñez // Dramaturgy: Marielys Burgos Meléndez
Natural sound recordings: Pablo Castillo //"Carraca" instrument maker: Deiby Rojas Araya
Lighting Designer: Carol Mullins
Danspace Project, November 17-19, 2022
When dance blurs the boundary between performance and ritual, artists emerge as embodied conjurers as the audience becomes both witness and agent. Christopher "Unpezverde" Núñez's "The Circle or Prophetic Dream" offers exactly this: an intimately wrought physical, spiritual, and creative transcendence through sacred music and dance.
Núñez, a Costa Rican-born visually impaired choreographer, explores the intersections of ancestry, mythology, and imagination to construct narrative spaces for cultural preservation and resistance. The movement language in "The Circle or Prophetic Dream" draws on Vortex, Núñez's somatic movement practice that uses the elemental compositions of the body—water and oxygen—circular movements, and diaphragmatic breathing to enhance spatial awareness and proprioception. This practice is abundantly evident in the breadth and clarity of the dancers' shifting movement motifs that gradually build to a deep trance state.
At the sonic level, bilingual, bimodal poetic audio description merges with Alfonso "Poncho" Castro's rich soundscapes and live performance using an array of Indigenous Central and South American musical instruments. The music also functions as a holistic healing practice, pitched at the "universal frequency" of 432 Hz with the intention to unite past with present and personal with universal elements. Layering nature sounds, voice, and ancestral music, Castro moves between instruments and modalities with intentional, meditative delicacy.
Christopher "Unpezverde" Núñez's, The Circle or Prophetic Dream at  Danspace Project : Pictured Musician Alfonso "Poncho "Castro  in Foreground
Photo: Ian Douglas.
Danspace's sanctuary provides an ideal setting for this ritual, embellished by the graphic simplicity and playful detail of Branden Charles Wallace's scenic and prop design. The three dancers each occupy a ten-foot wide circle marked in black tape and connected by lines radiating from the center point of the space. Castro occupies the fourth corner, encircled by instrument-laden tables.
In the performance prelude, the dancers don pink-skinned papier-mâché masks of "carnival conquistadors:" Marielys Burgos Meléndez, as an explorer crowned in butterflies, Rafael V. Cañals Pérez as a devil, and Núnez as a tourist with straw-yellow hair. Each dancer leads a small wooden house on wheels by a rope leash; the house is a metaphor for the body as it is guided by the spirit through the physical world.
Bare-chested and clothed in brightly colored skirts with patches representing various Latin American nations, the dancers explore the meaning of embodiment through sculptural postures and expressive gestures. They interact with their houses, embracing, rocking, admiring, and trailing them with a deliberate sense of playful care. As the audience settles, they place their houses and masks gently outside the perimeter of their circles and allow the ritual to begin.
Christopher "Unpezverde" Núñez, The Circle or Prophetic Dream at Danspace Project , Dancers L to R  Rafael V. Cañas Pérez,  Marielys Burgos Meléndez, Christopher Unpezverde Núñez ; Photo: Ian Douglas
In tune with Núñez's audio description, the dancers begin their Vortex visualization, articulating circles in their joints that travel from neck to shoulders, hips, arms, and legs. Circles are small and large, carved in every plane and dimension, moving inward to outward and compounding into a continuous spin that opens a liberatory space where "dreams float on the surface of the mind." The dancers invoke rising air currents and powerful tornadoes as they tumble, sweep, fly, stir, and gyrate in a full-bodied act of trust and surrender.
The ritualistic trance swells, imbuing the space with an electric presence that rings in the mind even as the dancers' movements subside. Castro captivates with a deeply felt rendition of Cuco Sánchez's "Arrieros Somos" on acoustic guitar, musing on the ephemerality of life as the dancers spin languorously with their skirts spread wide. This tender passage resonates just as its spell is broken: the dancers remove their skirts, laying them flat within their circles as they exit their safe confines to confront each other and the world. Stuttering, rhythmic wordplay and jerky, repetitive movements ensue as the dancers struggle to reconcile split identities and shared destinies. Burgos Meléndez offers an incantation: "corazón adentro / corazón abierto" ("inner heart, open heart") to bridge the gaps between individuals, our histories, and our liberated futures.
The tone oscillates back to one of gentle trance as the dancers exchange corners and come to rest on each other's skirts. They are once again encircled, but now transformed. Rainforest sounds return to the air as Castro's gentle hums and whistles express the integral presence of the human within the universe. Stillness abounds, breathing subsides, and light fades as imperceptibly and inexorably as a sunset. There is a yearning to linger in this blessed darkness and silence, but alas—the world keeps turning.
---
The Dance Enthusiast Shares IMPRESSIONS/our brand of review, and creates conversation.
For more IMPRESSIONS, click here.
Share your #AudienceReview of performances. Write one today!
---
The Dance Enthusiast - News, Reviews, Interviews and an Open Invitation for YOU to join the Dance Conversation.