IMPRESSIONS: Company XIV's "Queen of Hearts" at Théâtre XIV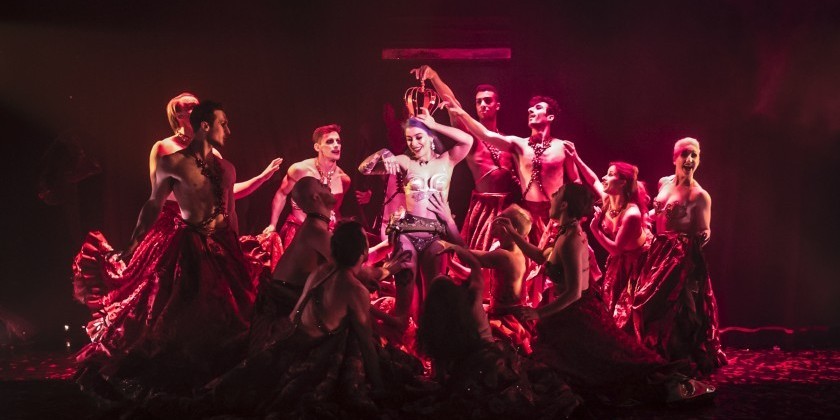 Director/Choreographer: Austin McCormick
Running through November 2, 2019
Get your tickets HERE
---
One pill makes you larger, and one pill makes you small
And the ones that mother gives you, don't do anything at all
Go ask Alice, when she's ten feet tall
And if you go chasing rabbits, and you know you're going to fall
Tell 'em a hookah-smoking caterpillar has given you the call
And call Alice, when she was just small
When the men on the chessboard get up and tell you where to go
And you've just had some kind of mushroom, and your mind is moving low
Go ask Alice, I think she'll know
When logic and proportion have fallen sloppy dead
And the white knight is talking backwards
And the red queen's off with her head
Remember what the dormouse said
Feed your head, feed your head
"WHITE RABBIT" – Grace Slick (Jefferson Airplane)
Company XIV's Queen of Hearts; Photo by Mark Shelby Perry
Lewis Carroll's Alice's Adventures in Wonderland has inspired theatrical productions, films, cartoons, songs, music videos, ballets, and now an over the top, untamed burlesque extravaganza in the Brooklyn neighborhood of Bushwick. And this production will knock your socks off.
Choreographer and artistic director of Company XIV, Austin McCormick, named his ensemble after the French Sun King, Louis. His vision is as adult as Grace Slick's and as ornate as the baroque's sovereign. How lucky that McCormick's palace is not even a block from the Jefferson L train stop.
While tickets are not cheap, I guarantee you'll have a better time here than you would at Versailles, and you won't have to time travel to Woodstock.
---
The Queen had only one way of settling all difficulties, great or small. 'Off with his head!' she said, without even looking around. – Lewis Carroll
Company XIV's
 Queen of Hearts
; Photo by Mark Shelby Perry
---
While the Queen of Hearts gives this evening its name, all the characters sing, dance, or perform thrilling acrobatics. Gorgeous bodies in imaginative costumes and strategically placed miniature fabric swatches, titillate in routines of immense theatrical wit. (If you buy the right kind of ticket you'll have a chilled champagne bottle waiting for you upon arrival on your sofa.)
Queen of Hearts manages to be raunchy and classy, in the great tradition of the highest category of burlesque theater. La Goulue, Mistinguett, and Jane Avril would heartily approve. But while Joseph Oller, the founder of the Moulin Rouge, intended his legendary establishment as "the biggest and most beautiful of cabarets; a temple dedicated to Woman, the Dance and the Cancan," the inclusion of lots of scantily clad men in starring roles makes McCormick's art an equal opportunity entertainment fit for adults of this millennium. 
Alice chases the white rabbit through connecting mirrored wardrobes in a sequence, which reminds the audience, that in a circus, nothing appears as it seems. A caterpillar, wrapped in an S&M style tight bodysuit, gets unlaced and freed to become a butterfly. A ballet interlude brimming with skill and esprit successfully blurs the lines of high and low brow art. In this sensual feast, Company XIV pulls much more than a rabbit out of their figurative top hat.  
Company XIV's Queen of Hearts; Photo by Mark Shelby Perry
The production's songs range from Slicks's classic to selections by Nina Simone, Lady Gaga, and Beyonce. An acrobat hangs upside down from a chandelier while singing a rendition of the Roland Orzabal-penned (Tears For Fears staple) "Mad World." This touches me not only for the beauty of its delivery, but also because it manages to be politically relevant while encapsulating the glamorous absurdity of this experience.
While I feel strongly about giving away secrets, I feel comfortable telling you that the performers double up as cocktail waiters and barmaids, and the libations, named in the spirit of the show, delight ones taste buds.  (I personally recommend the "Curiouser & Curiouser" made with Mezcal, Yellow Chartreuse, and Vermouth.)
Company XIV's Queen of Hearts; Photo by Mark Shelby Perry
In addition to the performers (listed below) and McCormick, lighting designer, Jeanette Yew, and Zane Pihlstrom, responsible for costume, set, and prop design make magic happen. The spell is supported by Sarah Cimino's makeup and the innovative theatrical work of the entire production team.
Some publications rate productions with a certain number of stars. We at The Dance Enthusiast do not have this tradition. I will simply conclude by saying, "This Queen of Hearts is off the charts — wondrous and wonderful."
List of cast and creative personnel HERE.
---
The Dance Enthusiast Shares IMPRESSIONS/our brand of review and Creates Conversation.
For more IMPRESSIONS, click here.
Share your #AudienceReview of performances. Write one today!