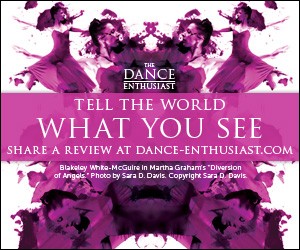 Related Features
IMPRESSIONS: Cuba Festival at the Joyce Theater with Malpaso Dance Company, LOS HIJOS DEL DIRECTOR, and Compañía Irene Rodríguez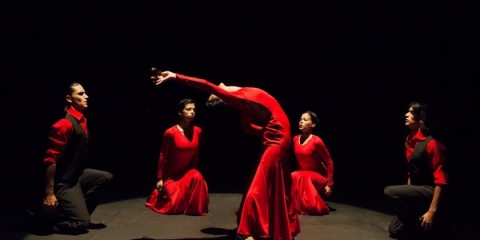 January 10, 2019 Malpaso Dance Company
January 15, 2019 LOS HIJOS DEL DIRECTOR
January 20, 2019 Compañía Irene Rodrídguez
---
Over two weeks in January, three Cuban dance companies commanded the stage of the Joyce Theater. There were hits and misses, but overall, the Cuba Festival showcased the hunger and passion of the Cuban dance community, who was eager to show audiences what it is made of.
Malpaso Dance Company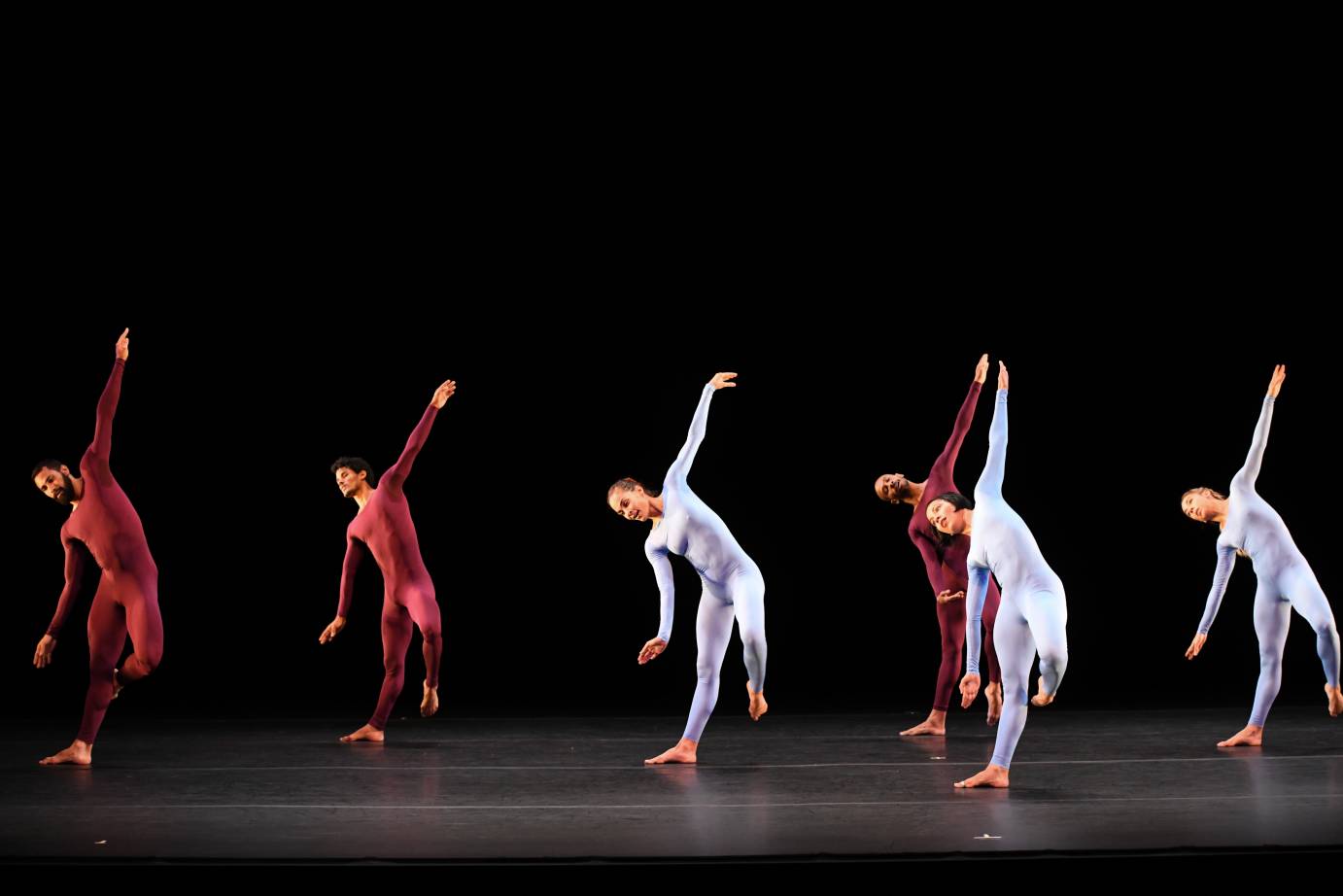 Malpaso Dance Company in Merce Cunningham's Fielding Sixes; Photo by Nir Arieli. 
Malpaso Dance Company had a surprising mixed bill that included pieces by choreographic heavyweights Merce Cunningham and Ohad Naharin. Set to music by John Cage, Cunningham's Fielding Sixes (1980) was an ambitious choice considering the minimalistic, exacting technique. Clad in pastel unitards, the eight dancers pranced and leaped to create geometric patterns and acute angles with their limbs.
Even though the company is trained in release-technique, classical ballet, and Latin dance, the Cunningham movement looked less than natural on their bodies. The crystalline choreography stifled their flowing corporeality. Technical issues, though, were dispelled by the dancers' spirited enthusiasm. The piece acted as both a warm welcome and a nod to an American dance icon.              
Naharin's Tabula Rasa was a better fit. The cast of ten captured the animalistic, full-bodied expressiveness of Gaga set to a haunting score by Arvo Pärt. Common for Naharin's pieces, the dancers wore street clothes: cut off shorts or cargo pants with muted green, mustard, and burgundy tank tops. The fact that Naharin came to Havana to set this piece suggests Malpaso is evolving into a world-class repertory ensemble.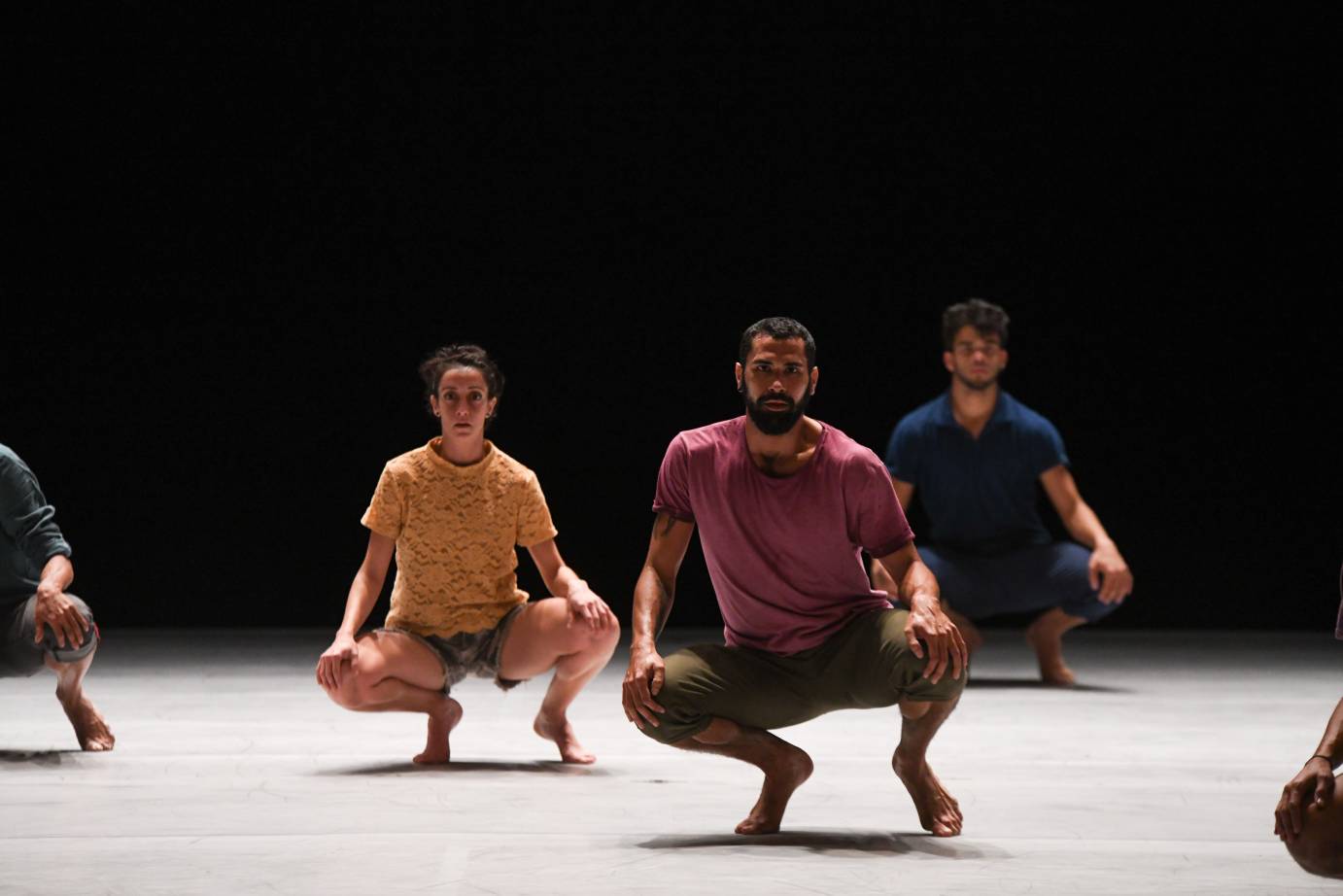 Malpaso Dance Company in Ohad Naharin's Tabula Rasa; Photo by Nir Arieli. 
Ser and Carrying Floor were shorter pieces created by upcoming choreographers Beatriz Garcia and Abel Rojo, both dancers in the company. A gorgeous trio with undulating, serpentine partnering, Ser showed sophistication with its athletic movement and intricate spatial patterns. Carrying Floor, a solo by and for Rojo set to music by Erik Satie, demonstrated superb technique (he has leg extensions for days) and a charming, Chaplin-esque use of props. Rojo repeatedly constructed and then took apart a portable white square panel that he both used as a platform and carried as a package.      
One could argue that this versatile performance lacked Cuban flavor. None of the works were set to Cuban or Latin music, and the evening lacked overt narratives about Cuban history or culture. But for a country on the rise, maybe this was the point. This show was less about where the dancers are from and more about who they are as international artists.
LOS HIJOS DEL DIRECTOR
LOS HIJOS DEL DIRECTOR presented El Último Recurso/The Last Resource, an evening-length dance-theater piece choreographed by the company's director George Céspedes. Dressed in uniform black overalls with red aprons, the four women and two men resembled a team of ninja-like factory workers.
LOS HIJOS DEL DIRECTOR in George Céspedes' El Último Recurso/The Last Resource; Photo by Alejandro Reyes/Danay Nápoles, Simon Wachter
The piece unfolded as a series of wildly athletic vignettes interspersed with moody duets and solos. Clustered together, the group pulsed their heads and hands in quick isolations like a pinball machine. They slid across and rolled on the floor with gymnastic skill. Ferocious dynamos flaunting ripped muscles, the dancers made strong eye contact with the audience as they repeated machete-like arm gestures that chopped and sliced through the air.
Combining the electronic, ambient sounds of Sigur Rós and Trentemøller with the metal thrash of Marilyn Manson and Muse, The Last Recourse aimed to provoke. The program notes even described Céspedes as "controversial" and his work as "edgy and confrontational."
Quaking in pure anger and angst for eighty minutes, the dancers not only pushed the audience but also exhausted them. Several solos set to grating alternative rock music seemed excessively drawn out, and the theatrical elements showed little dramatic range.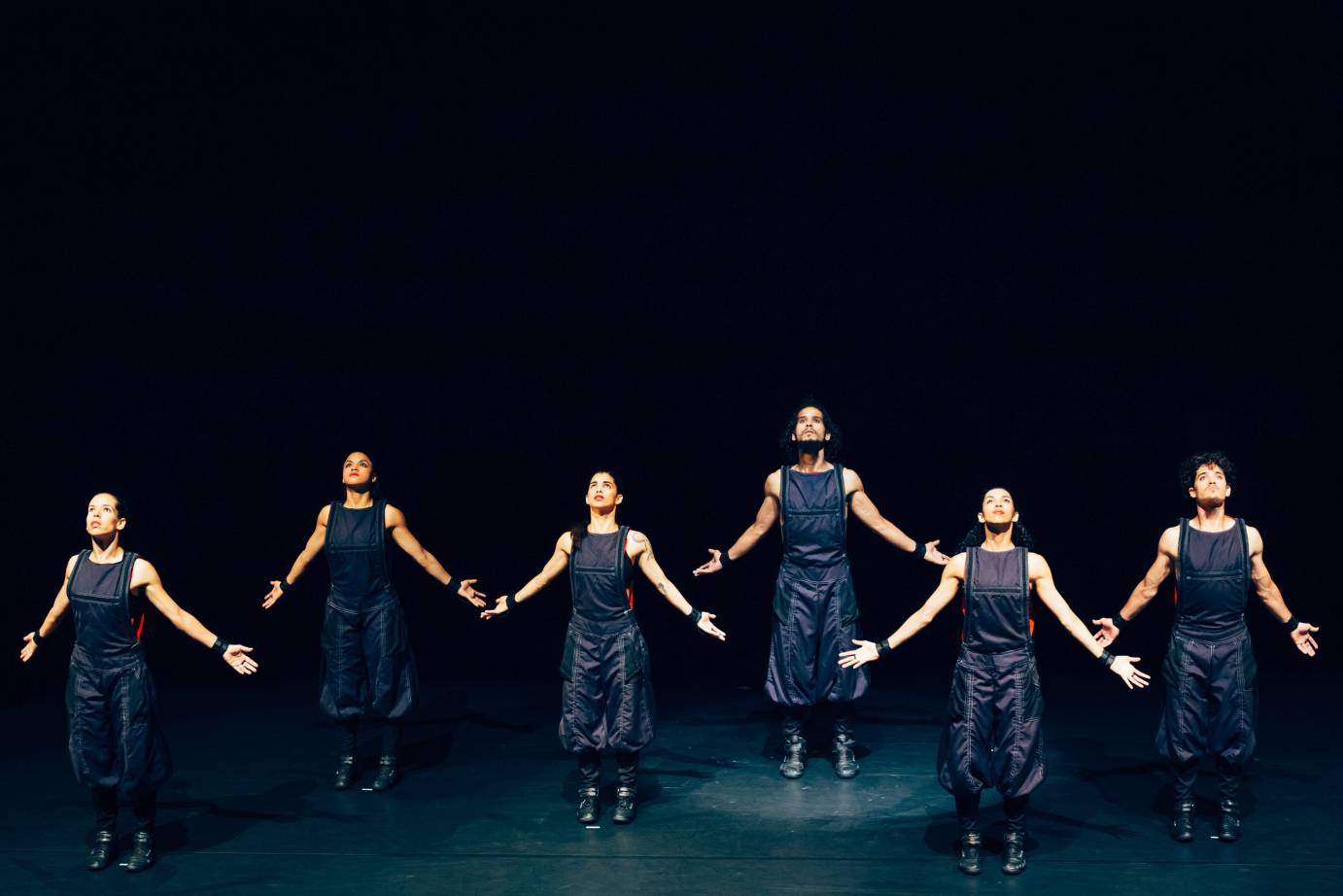 LOS HIJOS DEL DIRECTOR in George Céspedes' El Último Recurso/The Last Resource; Photo by Alejandro Reyes/Danay Nápoles, Simon Wachter
The program notes mentioned Céspedes' company's "aim is to create a new dancing style created in Cuba [that is] danced by Cubans." The Last Resource with its mechanistic repetition could be read as a Cuban allegory about societal restriction, but from a movement standpoint, the innovations did not seem novel. The floor work was reminiscent of David Zambrano's celebrated Flying-Low technique, and the robotic arm work invoked Waack/Punk from the 1970s disco scene. The Last Resource lacked the punch of authenticity that the viewers and, perhaps, the creators were hoping to see.
Compañía Irene Rodríguez
Irene Rodríguez aptly titled her company's electrifying flamenco performance Más Que Flamenco/More Than Flamenco. A fusion of traditional Andalusian dance with Cuban musical influences, the hour-and-a-half event was a thrill ride.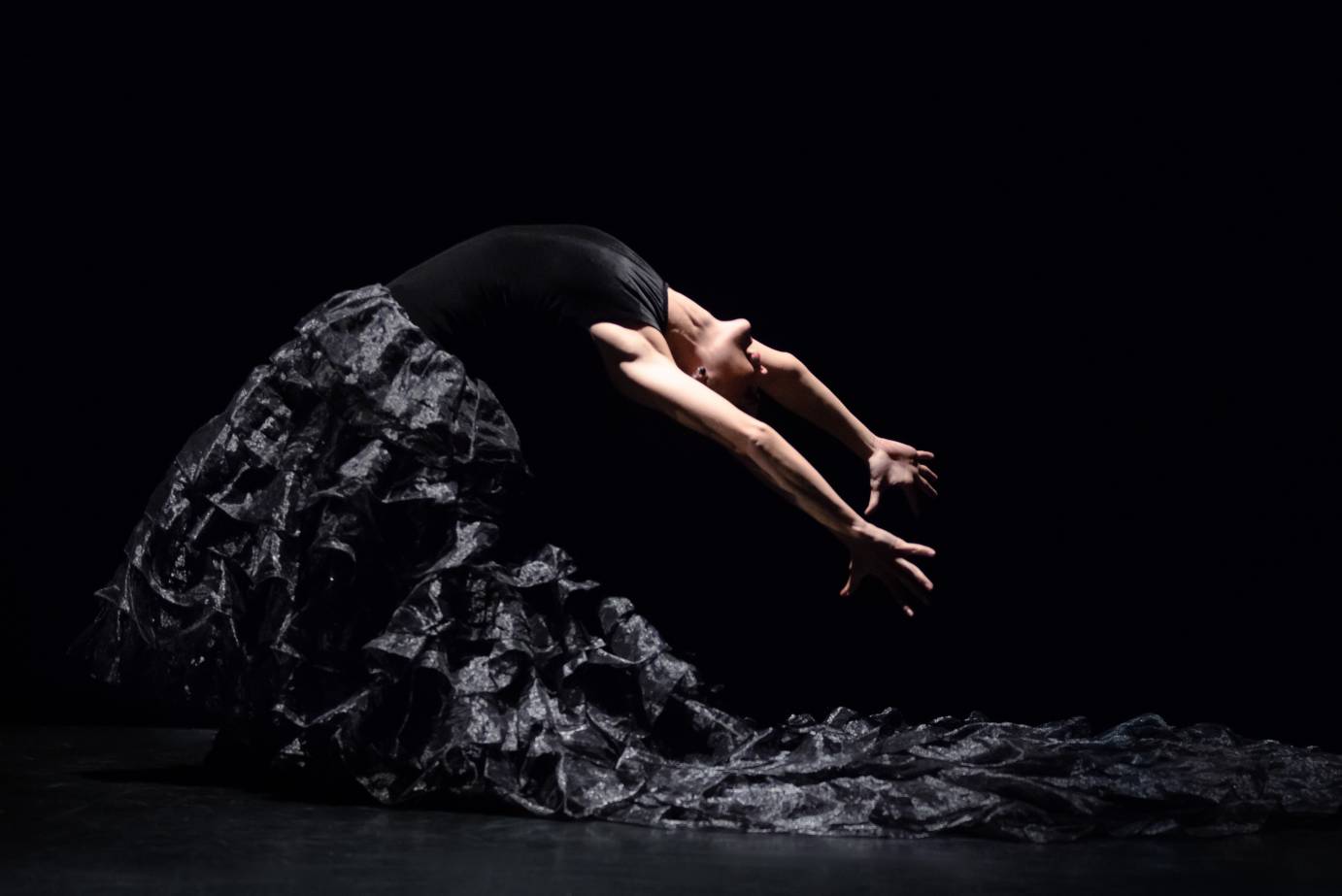 Irene Rodríguez of Compañía Irene Rodríguez; Photo by Christopher Jones
The cast, which included the astounding and seemingly ageless Rodrídguez and six superb supporting dancers, pulled out all the stops. The women's dresses were rich, resplendent cascades of ruffled trains that kicked effortlessly around their ankles. The dancers' feet vibrated furiously as if pulling the rhythms right up through the floor.
Accompanied by a six-person band led by powerful vocalist Andrés Correa, the dancers integrated Afro-Cuban beats into the classical Spanish form. All the pieces were enthralling, but the two New York premieres, El Mito and La Pena Negra, stole the show.
El Mito took place with the curtain just a few feet above the stage, showcasing only the feet of dancers. Through various percussive patterns, the dancers' shoes became characters with personalities of their own. This bold experiment allowed the viewer to focus on the intricacies of the flamenco footwork and appreciate the power and musculature of the dancers' ankles and legs, which are often hidden under the costumes.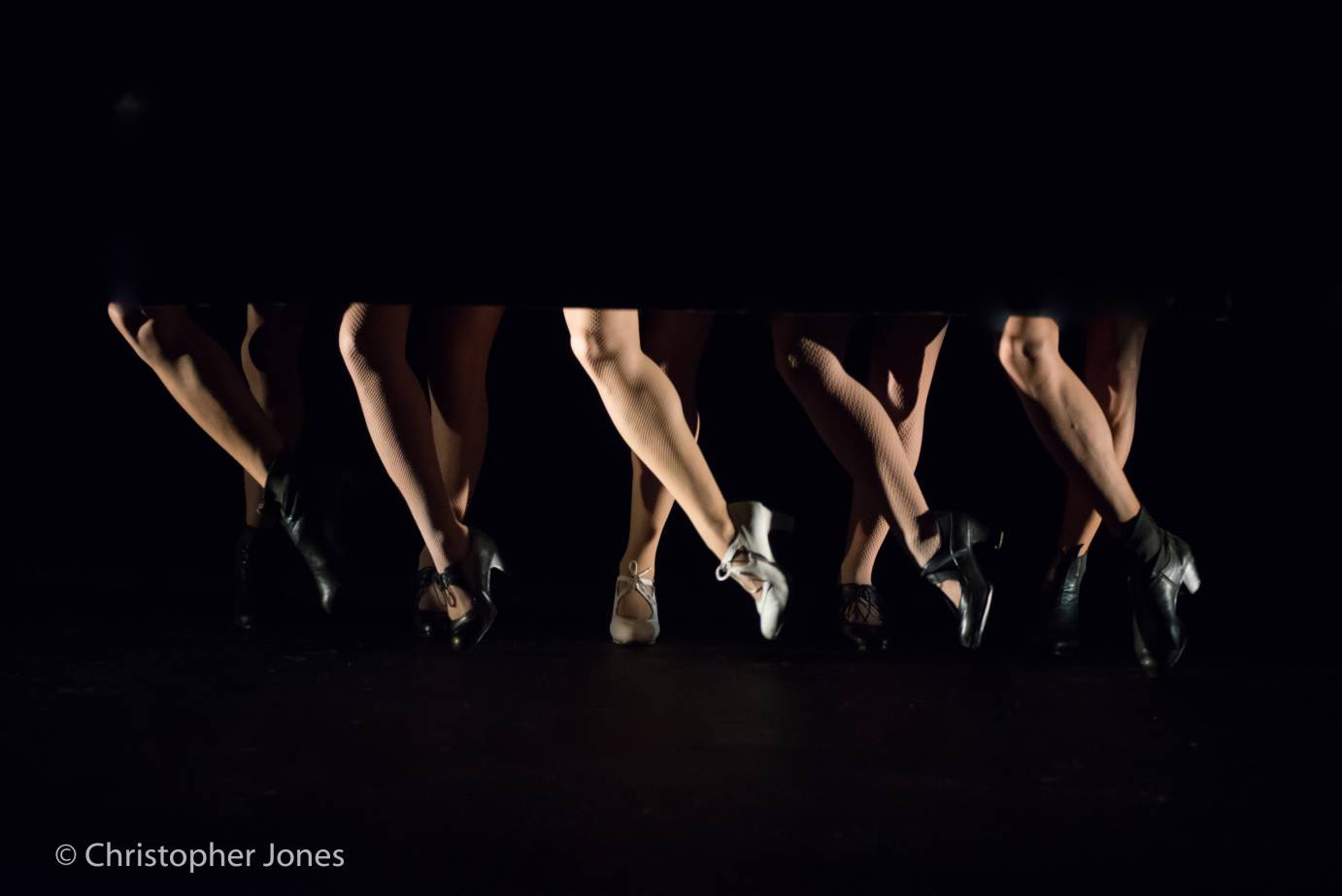 Compañía Irene Rodríguez; Photo by Christopher Jones
La Pena Negra suggested a Zurbarán painting come to life with the ensemble costumed in dark, ascetic dresses and suits evoking Counter-Reformation Spanish nuns and villagers. In contrast, Rodríguez wore a black gown with an enormous ruffled chiffon skirt that she arranged around herself in floral shapes. The piece's historical elements and abstract spatial arrangements formed a beautiful convergence of the old and the new.
Rodrídguez performed the finale solo, Amaranto, displaying an extraordinary level of physical stamina — an exclamation point that closed a fascinating and enriching festival testifying to the developing artistic prowess of the island nation.
---
The Dance Enthusiast Shares IMPRESSIONS/our brand of review and Creates Conversation.
For more IMPRESSIONS, click here.
Share your #AudienceReview of performances. Write one today!