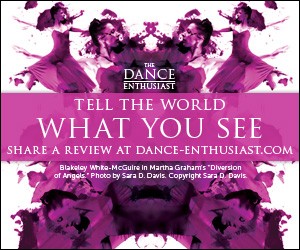 Related Features
Impressions from London: "Currency"
At The Place
London
November 15, 2014
Julia Christ and Association W
Agata Maszkiewicz
Hunt and Darton's Pop-Up Café
Mamoru Iriguchi and Tim Lenkiewicz
---
The Currency series at London's The Place asks: "How does cultural exchange shape our artistic life?" What does this exchange look like? What does it accomplish?
Unfortunately I wasn't able to make the afternoon panel discussion — jet lagged after a grueling 18-hour journey from the Catskills to Heathrow through Montreal, I needed a lie down. This question must have been unpacked extensively there. The artists in the evening lineup hail from various parts of the EU; their geographic origins seem to have little impact on the overall curatorial experience. But the show — and The Place — such a pleasure.
The Place offers an immersive, inclusive, intimate experience. A bar in the lobby, a café downstairs, a 300-seat theatre, and 11 studios for classes and rehearsals. You can practically smell the sweat. Audiences become insiders who support this art form we call dance, who really want performers to excel. There's an energy — of ideas, of participation. Simple details show respect for dancers and the medium, like pitchers of water sitting on the bar for self-service. Dancers get thirsty! And the plates heaped up in the café look delicious, plentiful, and affordable. Dancers get hungry! Dance isn't treated like a second-class citizen here.
Performances happen on three levels of the lovely old building throughout the evening. These are some choice moments, related in happenstance order.
Agata Maszkiewicz "works blue" in her solo, Polska. Shown on the main stage, the piece begins with a video-clip compilation of spectacular sport wipe-outs, like something from "America's Funniest Home Videos," the precursor to "reality" television. Like a pole vaulter getting boinged in the crotch by his errant pole. We voyeurs start giggling at the physical improbability of "mistakes," but as they become increasingly dangerous, bone-splitting, our shoulders begin creeping toward our ears in distress. This visceral engagement becomes more apparent in Maszkiewicz's first episode of movement, where she crumples herself into physically awkward, painful positions, holding each until it looks excruciating before tumbling into another. Like a Francis Bacon nature morte.
  Agata Maszkiewicz performing Polska. Photo by Jakkub Wittchen
I think of a favorite puzzle of mine. When watching concert, proscenium-staged dance versus watching competitive sport, are we watching what movement looks like or are we watching what movement accomplishes?
"Ribald" or "bawdy" hardly describe her next episode of stand-up comedy. I like vulgarity and salty talk, but even I begin to squirm at Maszkiewicz's scatological, overtly sexual humor, performed in utter deadpan. And I laugh so loud at one point I blow snot onto the stage from the second row. With a grimace on my face. My guts all twisted. I won't share that joke here, for it was hardcore. Here's this petite, stringy-limbed, athletic young woman, standing at a microphone with hair-raising taboo words falling out of her mouth! This creates the same greasy discomfort as the video images earlier. This girl is nailing it.
Her finale, throbbed and flopped to the Stones' "Sympathy for the Devil," redefines the idea of pelvic floor in a hot-damn hootenanny.
Here is a trailer for Polska, which might be NSFW.

Meanwhile, Hunt and Darton perform their Pop-Up Café downstairs. While I'm waiting in line for coffee between main-stage performances, a saucy young woman approaches and asks if I'd like a bit of poetry with my main. I don't know if this is Hunt or Darton. When hearing that I plan to only have a coffee, the young woman asks if an aperitif will do. She is wearing the top of a fresh pineapple on her head and sweating. I am down for this.
Hunt and Darton's Pop-Up Café at The Place. Photo by Camilla Greenwell
My friend and I take our seats. After asking my friend to play a record on the turntable set up across the room (he chooses the Beach Boys), two pineapple-topped women take seats across from us. The Baroness Elsa von Freytag-Loringhoven comes to mind, with pineapple tops replacing her signature postage stamps. And like with the Baroness, it is unclear if these ladies are crazy or if they're genius.
I remember some spoken word being performed, NSFW, perhaps about a potato being thrown at a head, that worrisome C word, and a mini performance called "Victory" wherein the performatrixes stood a few feet from us, embodying testosterone-fueled shapes of sportsmen celebrating goals.
Here 's more information on these wackos and their delicious project.
Upstairs in a conference room, Mamoru Iriguchi and Tim Lenkiewicz conduct an audience-participatory event, Blind Date. Ushered into a faux workshop to register a dance company for Companies House, the department of the UK government that oversees such registrations of things, we sit around a large table and are given pens and forms to fill out. After performing some sun salutations to a vaguely Indian soundtrack played on a boombox, the guys talk to each other, basically just shooting the shit, from the table's ends before asking us in round-robin fashion to share the names we have chosen for our new companies. I name my company "Delirious Mother." When asked what kind of dance my company might perform, I reply, "I've been performing it ever since I came into the room." Cheeky monkey.
Iriguchi is a maker of performance and theatre designs. Lenkiewicz directs Square Peg, a contemporary circus company. Should I even wonder about how spaces in the building become gendered at this point? Boys upstairs doing business at a conference table; girls downstairs serving food? How very English to sing a song of sixpence:

"The king was in his counting house,
Counting out his money;
The queen was in the parlour,
Eating bread and honey.
The maid was in the garden,
Hanging out the clothes,
When down came a blackbird
And pecked off her nose."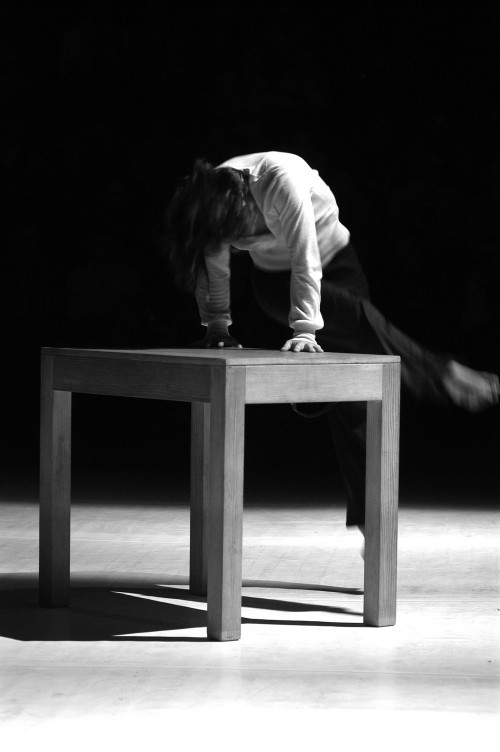 Julia Christ and Association W present Se perdre fait partie du jeu. Photo by Vanesse Teppe
Julia Christ's solo, Se perdre fait partie du jeu (also on the main stage), is harder to parse as a distinct thing, as it reminds me of so many other things. Listing those things is certainly a disservice to her committed performance of the material, but I'll do it anyway. Through most of the solo, Christ manipulates a small, white, four-legged table. This kind of investigation of the body in relationship to gravity and furniture harkens back to Yvonne Rainer's mattress dance (Parts of Some Sextets, 1965). The table legs extend negative space into Oskar Schlemmer abstractions, an architecture of gravitas. The movement material looks abstract but the dancer's affect looks specific. I always find this confusing. In my head, I hear Anne Waldman say "Person beating his body against a building, I saw it" while seagulls caw in the soundscore and Christ pushes against air, as if being blown by the sea. Or by Alwin Nikolais (Tensile Involvement, 1987). Her body scries this barrage of imagery, floor-bound, John Jasperse-esque, inelegant. I try to see the piece for itself. Sounds from the street leak in—sirens and church bells. Christ keeps me curious.
Here's a reason why I like not writing under a deadline: Images shrink and expand in your mind after watching performances, don't they? Things you hear or read in the weeks afterward inform your memories? So. I stumbled across these words after coming back to my village in the Catskills, in an essay by Michael Chrichton on Jasper Johns: Chricton defines Abstract Expressionism as "that movement which took as its fundamental tenet the necessity of communicating subjective content through an abstract art" Do these words help frame Christ's work?
Perhaps.
And they leave me revisiting that favorite puzzle of mine: What does the body look like? What does the body accomplish? If the body is the site and subject of a performance event, can the information we receive ever be abstract?