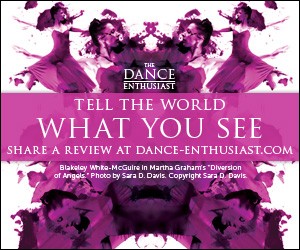 Related Features
IMPRESSIONS: DELIRIOUS Dances "Action Songs/Protest Dances" at Kupferberg Center for the Arts, Queens College
Director & Choreographer: Edisa Weeks in collaboration with the performers
Composers: Taína Asili, Spirit Paris McIntyre, Martha Redbone
Dancers: Noni Byrd-Gibbs, Steven Jeltsch, Johnnie Cruise Mercer, Devin Oshiro, Brittany Stewart
Queens College students: Daniella Alexis Hernandez, Kailani Sahirah Estrada, Teneil Meyer
Musicians: Taína Asili (vocals), Dylan Blanchard (percussion), Gabby Canzeri (bass, vocals), Asali Ruth (vocals), Spirit Paris McIntyre (vocals), Josette Newsam (vocals), Martha Redbone (vocals), Gaetano Vaccaro (guitar), Paula Winter (percussion)
Project Manager: Marýa Wethers //Stage Manager: Mars Garcia
Production Assistant: Katherine De La Cruz // Publicity: Michelle Tabnick
Graphic Design: Nneka Bennett // T-Shirt Design: Kathreena Bunch
Photographer: Tony Turner // Videographer: Dah'Vielle Lucas
Kupferberg Center for the Arts Team: Jamie Benson, David Burkard, Shawn Choi, Julia del Palacio, Yasoda-Devi Debidayal, Ed DiSpaltro, Jake Goldbas, Theresa Lenz, Craig Platt, Jeffrey Rosenstock, Kenneth Talberth, Margaret Victor, Jon Yanofsky
---
Art and activism merged to resounding effect in "Action Songs/Protest Dances" a powerful celebration of music and movement grounded in collaboration, community, and social justice. The culmination of a two-year residency facilitated by the first-ever Kupferberg Arts Incubator, the project brought together Queens College faculty, students, and alumni with outside collaborators in a process of research and development focused on supporting artists of color. Led by Edisa Weeks, who serves as an Associate Professor of Dance at Queens College and as director of DELIRIOUS Dances, the creation process spanned from early in the pandemic through—and likely beyond—this performance series.
Edissa Weeks: Photo: Mirembe
It is this "beyond" that lingers most after witnessing and sharing in the passion and generosity of the performers: their call to action brings with it an intention to reach beyond the stage to touch communities and effect systemic change. It's notable that the Incubator process began in the summer of 2020 amid a climate of racial and social unrest and deep global uncertainty. These charged and generative subjects the artists tackle remain relevant and necessary today. Their message is also rooted in history, with inspiration from the writings and speeches of Civil Rights activist James Forman, whose personal papers are archived at the Queens College Rosenthal Library. Forman played an active role in the Freedom Rides and Civil Rights marches of the 1960s as a member of the Student Nonviolent Coordinating Committee, the Black Panther Party, and the League of Revolutionary Black Workers. His "Black Manifesto" issued calls for reparations and economic empowerment for Black people that, while deemed radical in their day, continue to reverberate in the Movement for Black Lives today.
Poster for the Show: Courtesy of the Production
The evening led off with a short film by Dah'Vielle Lucas that delved into Forman's upbringing in segregated Mississippi and Chicago. and It traced his education and cultivation of a commanding voice he would go on to use to full effect in fiery speeches. The closing line, "If we can't sit at the table, let's knock the f—king legs off it," hung in the air as the artists took the stage.
Taina Asili; Photo: Mike Morgan
The five action songs and protest dances that followed each drew from Forman's work and legacy to varying degrees. All but one of the songs were performed live, with musicians and dancers given equal footing and mutual empowerment on the intimate stage. Composers Taína Asili, Spirit Paris McIntyre, and Martha Redbone introduced their compositions in turn, raising their voices alongside an ensemble of supporting vocalists, guitar, bass, and percussion.
Spirit McIntyre; Photo: Taylor DeClue
McIntyre's "Pattern Map" drew from a sonic grounding in heartbeat and breath. Layered with rhythmic chanting and repeated melodies, it addressed the problematics of individual charismatic leadership and the need for an "ancestral map" to actualize collective liberation. Dancer Johnnie Cruise Mercer's gestural language dug deep into a recognition of suffering and the shedding of burdens through a communal ethos of shared struggle and a shared future.
Johnnie Cruise Mercer; Photo:Torian Ugworji
Redbone's "Body on the Line" likewise highlighted the power of the collective in Forman's concept of "lateral leadership." Noni Byrd-Gibbs' clearly embodied this idea with her movement vernacular, amplified by dancers chanting and wielding picket signs calling for racial, economic, and gender justice.
The ensemble showcased its power to engage directly with the audience in McIntyre's "Manifest and Demand," with the call of "freedom is in our hands" accompanied by the dancers' fists raised first in the bondage then in defiant liberation. Their undulating open palms simultaneously beckoned and transmitted power to grow their community's capacity for imagination and action.
Martha Redbone; Photo: Fabrice Trombert
The striking Devin Oshiro led a softer turn in Redbone's "I Got Gold." Marrying body and soul to bring light to her every action, she carved the space with clarity and assurance, calling to fellow dancers and audience alike: "Who will lend a hand? We will."
Devin Oshiro; Photo: Allison Harp
The closing number, Taína Asili's "Reparations," brought home three of the evening's key themes: liberation, creation, and collaboration in revolutionary action. Brittany Stewart's finely shaped hands and expressive spine articulated these messages with utmost care. The song's chorus connected culture, memory, legacy, health, education, wealth, and destiny, repeatedly calling "it's ours." The air filled with the joyful riches of music, movement, and a breathtaking commitment to the message of empowerment and change.
Brittany Stewart; Photo: Julen Photo
Throughout the evening, tools rooted in African and African diasporic traditions were foregrounded: drumming, call and response, gestural symbology, and rhythmic clapping generated communal connections and charged the energy in the auditorium. This multigenerational group of resplendent artists engaged in a holistic act of generosity by activating their audience and inviting us to participate in their ancestral awakening and freedom making. I can only hope that this project will continue to ignite future grassroots activism, art making, and community-building efforts. Ashe!
---
The Dance Enthusiast Shares IMPRESSIONS/our brand of review, and creates conversation.
For more IMPRESSIONS, click here.
Share your #AudienceReview of performances. Write one today!
---
The Dance Enthusiast - News, Reviews, Interviews and an Open Invitation for YOU to join the Dance Conversation.