Impressions of Da-On Dance's "Root" at Peridance
Salvatore Capezio Theater at Peridance Capezio Center
Choreographer: Jin Ju Song-Begin / Composer: Jerome Begin
Lighting: Tuce Yasak / Musicians: Jerome Begin and Jennifer Choi
Performers: Rohan Bhargava, Maira Duarte, Marija Obradovic, Doron Perk, Jin Ju Song-Begin
---
Does this election season have you down? Words, so many of them, most vicious, are being slung around like mud. It's bad enough if you were born and bred here, but what if you began life on foreign soil and now live in America? The alienation and loneliness might seem more acute due to the hateful rhetoric.
Da-On Dance presents an alternative to animosity and xenophobia, one centered on the commonality of gesture. In Root, which premiered at the Salvatore Capezio Theater at Peridance Capezio Center, four dancers from India, Israel, Mexico, and Serbia join choreographer Jin Ju Song-Begin (she is from Korea) to trace a path from isolation to belonging.
Divisions along both arbitrary and logical lines greet the audience upon entering the theater. Composer Jerome Begin organizes us, still laden with coats and bags, into two clumps based on answers to questions such as "Did you eat dinner at a restaurant before the show?" (yes), "Do you speak another language?" (no), "Are you carrying more than $10 US currency?" (no). Us versus them becomes increasingly random as no clear in-group arises. Finally, we take a seat, anywhere we want, and our group harmony, forged through equality, is restored.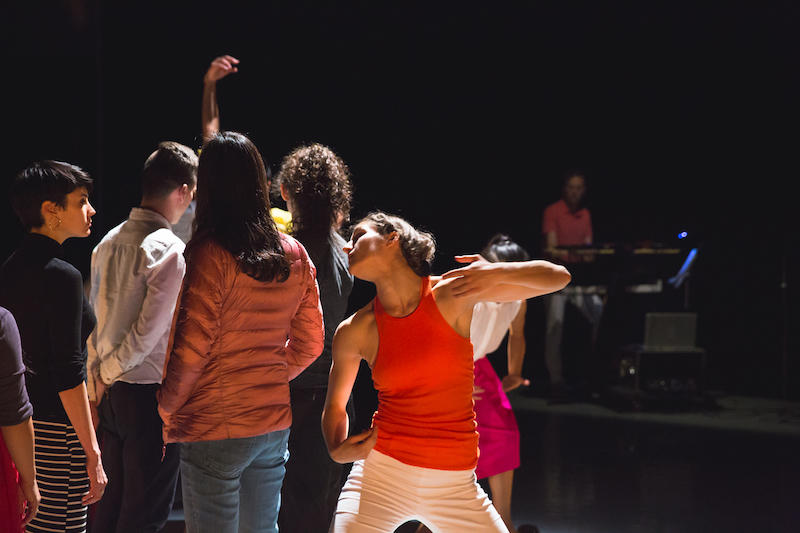 Da-On Dance's Root; Photo: David Gonsier
Root physically unpacks the effects of subjective segregation. The quintet dashes madly to the corners of the stage, as if in a high-stakes game of Four Corners. They speak in their native language, they curl up like babies in white quadrangles of light, and they unspool long scrolls of paper to scribble on them. The live score — electronica mixed by Begin and topped with Jennifer Choi's imposing violin melodies — solemnizes the frenzy.
Song-Begin has an appreciation for the muscular agility of the body, particularly its facility to spring from earth to heaven. Dancers careen through fouetté arabesques, a leg hanging in the air as the torso about-faces. They slam into the floor only to rise again, surging and sprinting and skittering past each other. The brash buoyancy could be exhausting, but the five performers remain tranquil, which grounds the overt physicality in purpose.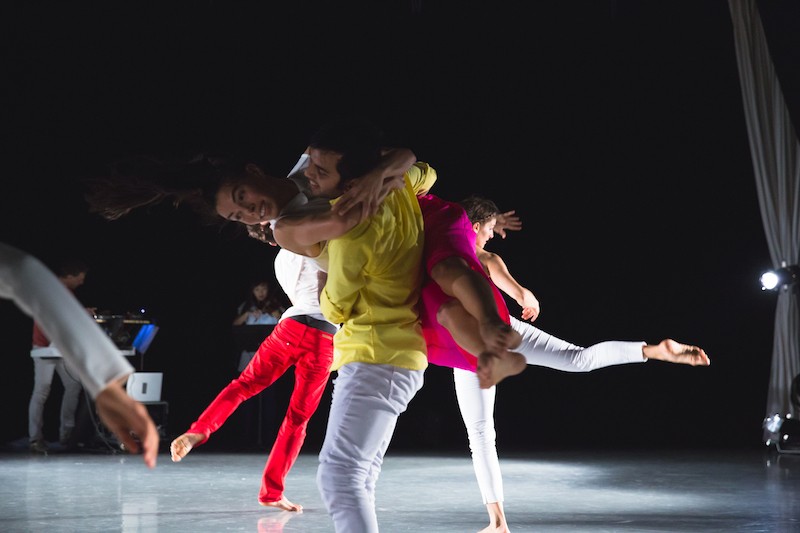 Da-On Dance's Root; Photo: David Gonsier
For as athletic as the choreography is, the smaller gestures convey the most meaning. In one recurring motif, dancers extend their arms down and out in a low V. They twist their arms so the hands face out and then turn them in — vulnerability to self-protection.
While Root opens in an obvious place, it ends somewhere new, with a prescription. Song-Begin seemingly suggests, to connect, we should embrace a more ancient form of communication — touch. The dancers bridge boundaries that moments earlier appeared impenetrable. They lift one, catch another, loop and unloop through clasped hands. They smile and turn cartwheels, children who climb over the walls adults build. There's nothing bitter here, just the sweet beauty of humans dancing with each other, not against each other.
---
The Dance Enthusiast: Sharing Reviews/Impressions and Creating Conversations.
For more about Jerome Begin read about his collaboration with Janis Brenner and Loni Landon.
Share your #AudienceReview of this show or others for a chance to win a Foodies delight, Gourmet Olive Oil