Impressions of Dai Jian and Elena Demyanenko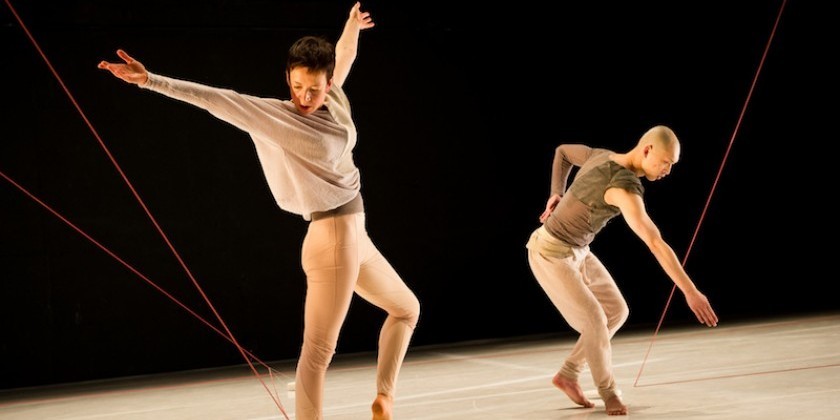 At New York Live Arts
Déjà Vu
Choreography by Dai Jian
Performance by Dai Jian and Austin Selden
Costumes by Zoe Hao
Music by John Cage
Blue Room
Choreography and Performance by Elena Demyanenko and Dai Jian
Music by Nick Brooke and Ian Chen
Costumes Sylvia Grieser
Set Design by Dai Jian and Michael O'Connor
Raw Nerves
Choreography by Elena Demyanenko
Performance by Leah Morrison
Music by Marta Cook
Costumes by Sylvia Grieser
---
By virtue of its status as an incubator for dance, New York often throws individuals together who would not meet otherwise. Dai Jian from China and Elena Demyanenko from Russia met while dancing for the Trisha Brown Dance Company. Simpatico spirits possessing short, wiry physiques, they recently forged a choreographic alliance favoring an intuitive approach and a reverence for images steeped in humanity.

The result of this collaboration is their three-work program at New York Live Arts. The centerpiece is Blue Room, a duet for Jian and Demyanenko. Raw Nerves a solo for Leah Morrison choreographed by Demyanenko, bisects Blue Room, while Jian's Déjà Vu – As a Solo opens the evening.

Set to John Cage's brooding piano score, "Dream," Déjà Vu – As a Solo features Jian, attired in white knickers and top, shadowed by a darkly clad Austin Selden. Jian — his actions twinned by Selden — performs a series of swishing, searching gestures disrupted by bolting somersaults and gymnastic head balances. Selden, cloaked in fuzzy darkness, shrouds Jian's immediacy in the reflection of the past. Déjà Vu – As a Solo is beautiful and searing, yet wholly unrelated to anything that occurs next.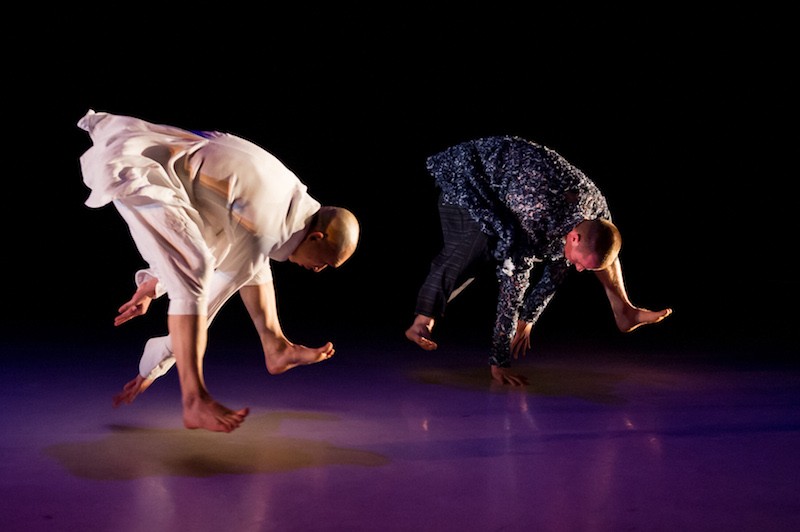 Dai Jian and Austin Seldon. Photo: Ian Douglas.
Blue Room transpires in the confines of a four-cornered set strung like a clothesline. A lone black boot dangles off a downstage cord. More an exploratory conversation than a recitation of steps and ideas, Jian and Demyanenko trace arcane sequences with their arms and slump over each other with floppy limbs. Their bodies, trained in folkloric movements and postmodern conventions, move harmoniously but their intentions seem perplexed and embryonic.
Flashes of witty narratives pulse through Blue Room. In one episode, Jian supports a sitting Demyanenko, using his body as a bench as he shifts across the floor, buckling himself so she remains undisturbed. They, during a sequence of forward and backward paces, seem slyly competitive with Jian dashing in front of Demyanenko at one point.
Often, Jian and Demyanenko seem like a typical couple sifting through the miscellany of their relationship. They mutter in their native tongues and perform a sustained balance in arabesque, their bodies loosely draped over each other.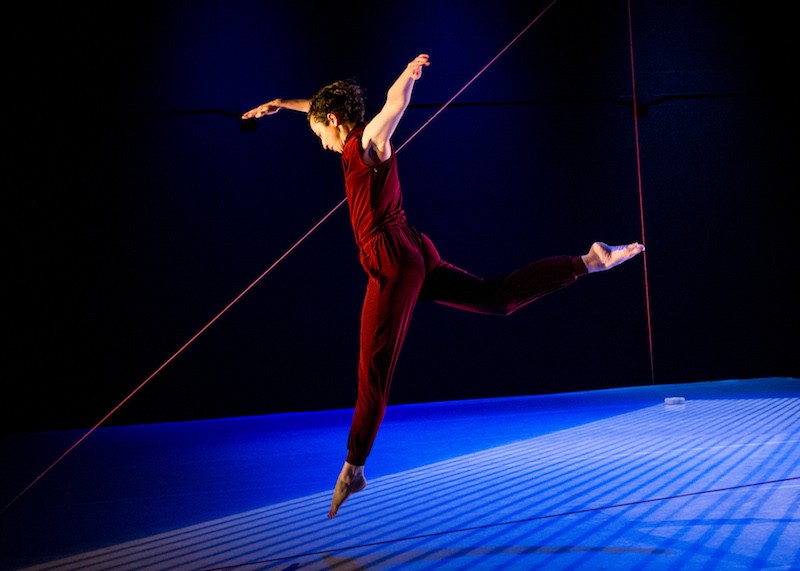 Leah Morrison. Photo: Ian Douglas.
Raw Nerves, which occurs roughly three-quarters of the way through Blue Room, is a solo for Leah Morrison, who sports a high-necked, rust-colored jumpsuit. Trisha Brown's fluid pedestrian style is evident as Morrison coolly kicks, lunges, and rocks to Marta Cook's Eastern-inspired score. Morrison is a pleasing dancer, but the solo's placement grates, and a purpose beyond allowing Demyanenko to showcase her choreographic style never materializes.
When Blue Room recommences, Jian and Demyanenko (who have been lounging on the fringes of the stage) collapse the set into a tighter quadrangle. They recline on their backs and play footsie. The end sees them at opposite sides of the stage, her against the back wall as he drifts into the wings.
Both Jian and Demyanenko boast strong resumes with stints dancing for luminaries like Shen Wei and Stephen Petronio, and, perhaps as a result, the evening feels like choreographic decoupage. They paste phrases and concepts on top of each other, as their nascent voices seemingly process the physical debris accumulated from years of dancing for other people. Sometimes, to go forward, you have to work through your past.
Follow Erin Bomboy on Twitter @ErinBomboy