Impressions of: Danaka Dance's "Thousand Plateaus"- Out of Israel Dance Festival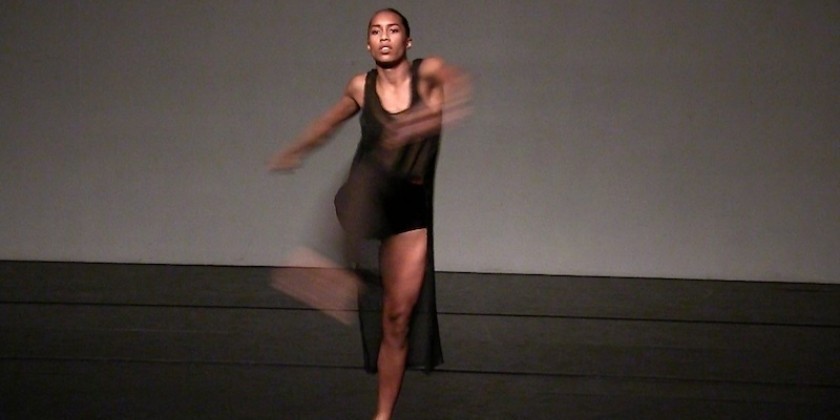 At 92nd Y Buttenwieser Hall
Saturday January 11th, 2013
Choreographed by Danah Katz
Performed by Chuck Wilt, Chihiro Shimizu, Catherine E. Kirk, Catherine Correa, and Danah Katz
Concept, Set Design and Costumes by Danah Katz
---
Danaka Dance's contribution to the Out of Israel Dance Festival at the 92nd St Y is Thousand Plateaus, a mysterious evening-length work. Comprised of an accumulation of cycling solos or "plateaus", the piece is a product of choreographer Danah Katz's ongoing exploration towards the unrevealed.     
The foreboding figure of Catherine Correa stands in the entryway of Buttenwieser Hall as we file in. Unshaken by our presence, she stares straight ahead. She is clad in lace tights, heels, and a shawl made of Mylar, which crinkles softly. Scattered around the space are rock-like sculptural formations constructed from the same shimmery Mylar material. It takes me some time to realize they conceal human beings.
An inverse "theater-in-the-round," Katz arranges the centrally positioned space so that performance surrounds audience. The square composition of chairs affords us limited control of our viewing experience. When soloists disappear around a corner, they leave our awareness, and we have to trust something equally exciting is on the way. No one sees exactly the same show.
Danaka Dance in Thousand Plateaus. Photo courtesy of Danah Katz.
As the dancers emerge from their Mylar encapsulations, the metallic material takes on a series of identities  — it acts as a mirror, a blanket, and a wall behind which dancers hide from the audience. The material's liquescent movement and reflective quality add a fascinating new dimension to the space.
Five accomplished performers clad in black gauze dresses circle us, crawling, slinking, and writhing with an individual groove and a unique collection of gestures. One girl bounces an imaginary basketball with two fingers while another approaches us with cupped hands, as though asking and offering simultaneously. The quintet rarely makes contact with one another. Due to the seating arrangement, the piece feels like a series of solos when, in fact, the dancers perform at once.
Their movement reflects a Gaga influence. Each dancer moves differently, but a deep connection to sensation roots their actions. We see rounded spines, low, visceral crawls, and snaking arms.
Correa, the only dancer not barefoot, wears silver heels. I can hear her on the opposite side of the stage, rapping and scurrying, which gets louder as she rounds the corner. Lanky and lace-clad, her dancing is slippery and distorted, like a late-night partygoer stumbling home after too many glasses of wine. Sometimes, she pauses and stares at us with the fixed gaze of a drug addict.
The work finishes with all five dancers together for the first time. Shuffling around like a little party bus, they each take a turn to groove.
This ending emphasizes the enigmatic effect of Thousand Plateaus. While individual morsels of the work succeed, it feels like an outline that has yet to be colored in and lacks the cohesion expected from an evening-length piece. Correa's outlier role never gels, and the paucity of interaction between the cast is left unexplained. Later we learn that Katz's intention is to flesh it out more, and I am interested to see where Thousand Plateaus goes next.