A Dance Enthusiast Dance Date with NYU Professor Patricia Beaman to see Stephen Petronio's Bloodlines at The Joyce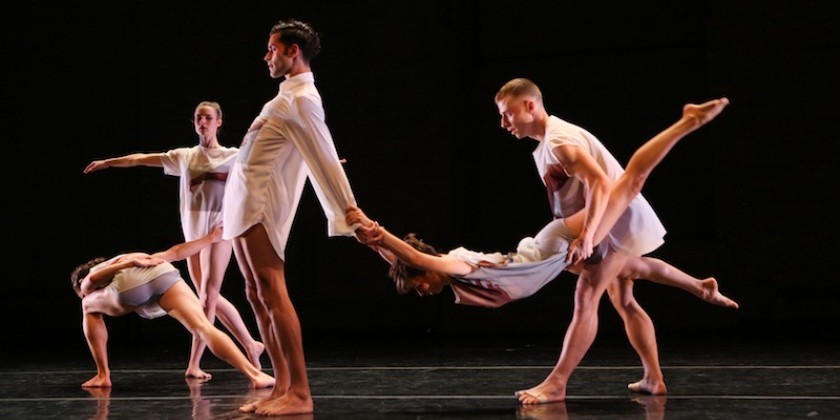 Dance Date with Patricia Beaman: Stephen Petronio Company
The Joyce Theater
Choreography: Anna Halprin, Yvonne Rainer, Steve Paxton, and Stephen Petronio
Music: J.S. Bach performed by Glenn Gould, The Chambers Brothers, Alessandro Marcello, Son Lux, Ike and Tina Turner
Performance: Ernesto Breton, Davalois Fearon, Kyle Filley, Jaqlin Medlock, Tess Montoya, Stephen Petronio, Nicholas Sciscione, Joshua Tuason, and Megan Wright
Pictured above: (L-R) Kyle Filley, Megan Wright, Ernesto Breton, Tess Montoya & Nicholas Sciscione in Stephen Petronio's Untitled Touch.
---
Maybe because it's in the name, but modern dance can seem obsessed with the current, the cutting-edge, the never seen, and the never done. While that makes for a lively, engaged community, it can mean we're haphazard stewards of our past. Yet how do we move forward if we don't know where we've come from?
Stephen Petronio's Bloodlines aims to change that. Initiated in 2014 near the eponymous company's thirtieth anniversary, Petronio expanded the repertoire to include works by post-modern choreographers who've influenced him and the dance world at large. This iteration at The Joyce Theater features pieces by Yvonne Rainer, Steve Paxton, and Anna Halprin — iconoclasts whose choreography many of us have encountered only in text or video. A world premiere by Petronio adds the next rung to the ever-growing ladder of dance history.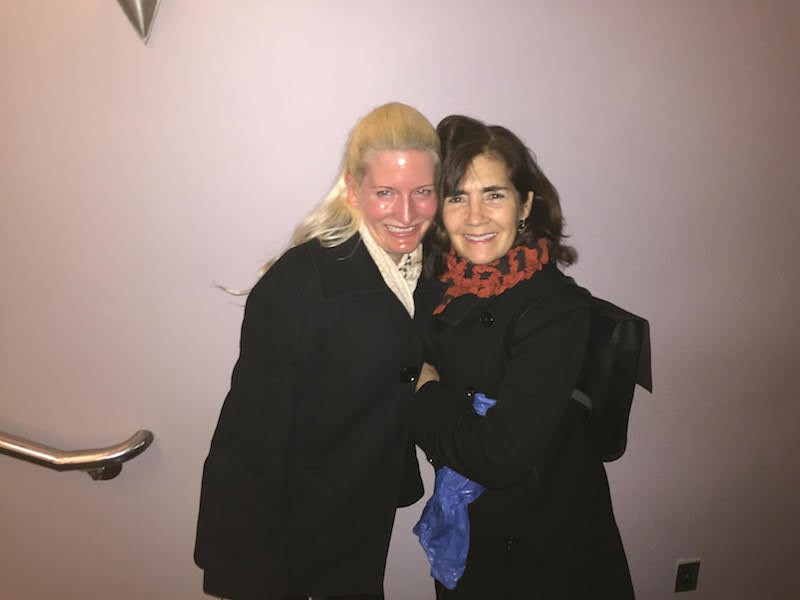 (L to R): Erin Bomboy and Patricia Beaman
To flesh out the impact of these post-modern choreographers, both then and now, I invited Patricia Beaman, Professor of Dance History at New York University's Tisch School of the Arts and Artist-in-Residence at Wesleyan University, to accompany me. Of Bloodlines, Beaman says, "It's part of the canon. What was once considered post-modern is now historical."
Three dances by Rainer open the program: the game-oriented Diagonal in which six dancers call out and then respond to numbers and letters with walks (number one), runs (number two), and prances on their toes, their arms angled like a referee signaling "touchdown" (number five); the paradigmatic Trio A with Flags where three performers execute deceptively difficult pedestrian actions like lunging and balancing, American flags draped over their naked bodies; and Chair-Pillow, which unfolds like a post-modern homage to musical theater as dancers gesture with plump pillows and metal folding chairs as "River Deep, Mountain High" by Ike and Tina Turner blasts.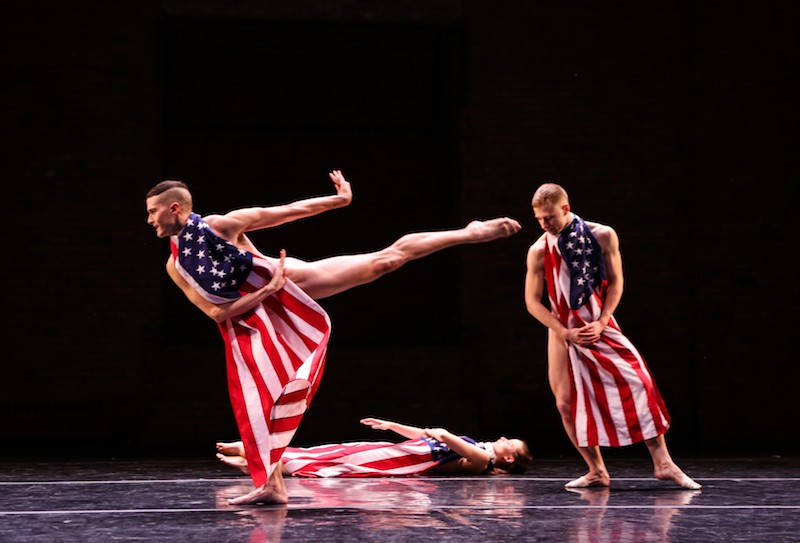 (L-R): Joshua Tuason, Megan Wright, Nicholas Sciscione in Yvonne Rainer's Trio A with Flags; Photo: Julie Lemberger
Using banal actions and little visual artifice per her No Manifesto, Rainer's works still seem radical — both in their rigorous creativity and their challenging viewing experience. At the completion of Diagonal, one man in the audience said, "Thank God" as others nodded in agreement. While the flags and the nudity in Trio A with Flags may strike some as provocative, the stripped-down movement and the lack of eye contact toward the audience feels more revolutionary, even in 2017. Beaman points out that art making was different in the '60s. "People did what they wanted to do for the sake of doing it. They weren't looking to be accessible, and they didn't care if you got it."
The boundary-pushing continues with Paxton's Excerpt from Goldberg Variations, created when he was in his forties to Bach's eternally popular composition of the same name. Paxton is known as the father of contact improvisation — a physical dialogue between two bodies using inertia, gravity, and momentum — but he's also a sensitive, nuanced performer of his own repertory. Here, Nicholas Sciscione, bare-chested and clad in black pants, smudges his face with white paint. Loping and jumping, he undulates his spine like an agitated snake. Beaman says, "When you see pieces set to Bach in modern dance, you think of Paul Taylor or Mark Morris, but this doesn't skate on the surface. The very metabolism reflects the music. That's how deeply the rhythms go into the body."
Bloodlines continues with The Courtesan and the Crone, a solo made and presented by Anna Halprin in 1999 when she was 79. Here, it's performed by Petronio, who's bedecked in a golden robe and an ornate mask. He blows a kiss, extends a beseeching hand, and hoists a breast. These flirty gestures fade into vulnerability as he hugs himself before removing the trappings of femininity: gloves, robe, mask, and wig. Witty but heartbreaking, the solo exposes the ravages of time that invisibilize those who've lost their sexual allure. To Beaman, it evokes the Chinese conjurer in Leonid Massine's Parade, thus stretching this bloodline to one of the early 20th-century masters.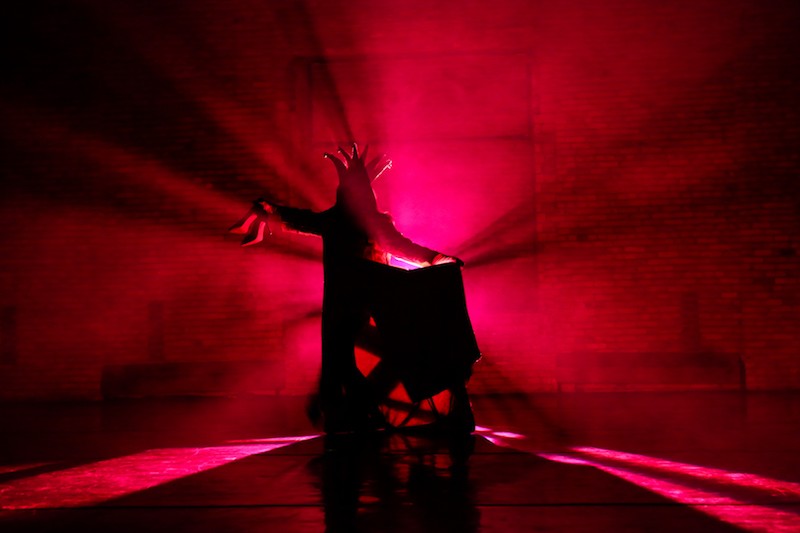 Stephen Petronio in Anna Halprin's The Courtesan and the Crone; Photo: Julie Lemberger
Dance is folklore physicalized, and Petronio's influences are made manifest in his Untitled Touch. Scored to sultry, fluttery electronica by frequent collaborator, Son Lux, eight dancers tap, brush, and graze each other to set off a chain reaction of spills and jerks. The brisk dynamics and matter-of-fact delivery suggest a bleak picture of 21st-century intimacy where swiping right counts for an emotional connection.
Beaman says the post-modern lineage is evident in Petronio's "animalistic and athletic" choreography — honoring his roots while shaping their stems in wholly new ways. She points to the liquid quality that streams through his phrases, which contrasts with his rigor and formality. "The challenge of the task is there as well," she says, highlighting the focus of Untitled Touch on tactile impulse and response.
Beaman identifies one significant change since these post-modern rebels burst on the scene in the '60s — the financial consideration in making dances. They didn't care about grants or making money. These days, she says, "It's a luxury to make art you don't get paid for."
While art making may be an extravagance in our current economic climate, Bloodlines feels like a necessity. To move forward, we must look back.
---
The Dance Enthusiast Shares IMPRESSIONS/ our brand of review and Creates Conversation.
Check out our other IMPRESSIONS here.
Share your #AudienceReview of this show or others for a chance to win a $75 giftcard to Trader Joe's.