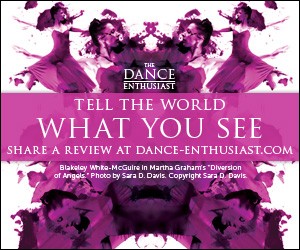 Related Features
Dance Great Britain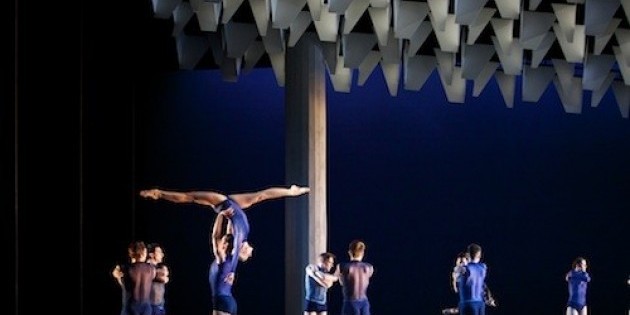 amid torrents of rain- Olympian dance.
IMPRESSION OF: Dance Great Britain
July 7, 2012
part of the London 2012 Festival (and Big Dance, May 18 – July 15, 2012)
Part of the finale of the Cultural Olympiad
www.danceistheword.wordpress.com
www.ballet.org.uk/bigdance
---
Ann Moradian for
The Dance Enthusiast
The Big Dance Festival is dance--happening all over London. You name a dance style and it is probably somewhere to be found. I caught a moment of Swing that transitioned into Maypole and then Morris dancing in Kensington Gardens between downpours. People of all ages and experience were dancing together. Maybe I'll run across the Big Dance Bus today (rather than it running across me). I have no idea what it might be like, but I am definitely curious. There are photos and films, lectures and performances, classes and workshops, everywhere! And many of the events are free.
In a moment of wonderful serendipity I stumbled upon Dance GB while wandering in Greenwich on the grounds of the Old Royal Naval College. This program features the national companies of Great Britain – the English National Ballet, the Scottish Ballet and the National Dance Company Wales -- with commissioned works inspired by the Olympic Games. (A woman seated next to me wondered, naturally, where the Irish contingent was but I couldn't have even taken a guess.)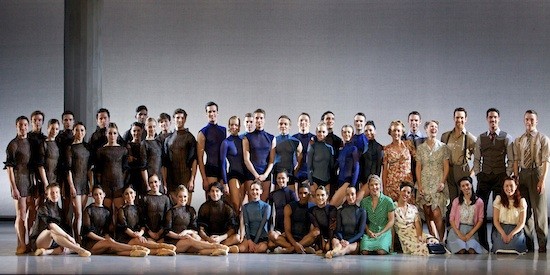 Members of The English National Ballet, The Scottish Ballet, and the National Dance Company Wales -Dance Great Britain National Tour, Photo © Andrew Ross
---
And the Earth Shall Bear Again
This program reminded me ,without a shadow of a doubt, that dancers are among the most extraordinary of athletes.

...our level of excellence is measured not by meters or seconds or scores, but in large part by how effortlessly we perform.
English National Ballet
Choreogreophy by Itzik Galili /Music by John Cage
Costume Design by Natasja Lansen/Lighting Design by Yaron Abulafia
Choreographer's Assistant Elisabeth Gibiat
The English National Ballet opened the evening with A
nd the Earth Shall Bear Again
, choreographed by Itzik Galili. The title is of no help whatsoever but the dancing is an outright marathon of twists and contortions at breakneck speed, with a cast of around 20 dancers filling the stage at almost every moment. They bring the driving, sometimes harsh, music of John Cage very much to life.
The English National Ballet ;Photo © Andrew Ross
This dance is not about grace or beauty, despite the perfect bodies beneath their sensual sheaths of sheer, textured black by Natasja Lansen. The dancers are all dressed exactly the same, doing the same movements (often in distracting attempts at unison), with one dancer seamlessly replacing and continuing the movements of another, as the company washes across the stage in a linear walking wave. It reminds me of a relay race. While there is a strong sense of teamwork at play, there is no sense of humanity or feeling in this work -- just a relentless drive, pushing for more, for faster, for denser movement. It leaves a taste of violence on the skin.
It is curious that such rigid and intricate order could create what often felt like unmanageable chaos. I wish it would have all slowed down just a bit, so we could see the complicated, beautiful, impossible, sculpture of a dance that is buried under all of that speed.

Dream
National Dance Company Wales
Choreography by Christopher Bruce/Music by Ravel and Grace Williams
Lighting Design by Guy Hoare
Design by Christopher BruceThe second piece, Dream, was choreographed by Christopher Bruce to music by Ravel and Welsh composer Grace Williams. Performed by the National Dance Company Wales, it begins with the dancers at play, exuberant as puppies, in every physical game we might have known as children: tug of war, wheelbarrow and sack races, hopscotch and leapfrog. As they grow up, they bring the same passion and joy to the competitive sports we'll soon be seeing at the coming Games. (I don't suppose we'll actually see any ice dancing this summer, but the reference to Torville and Dean's gold medal routine to Bolero did not slip by unrecognized or unappreciated here, and the 'skating' was as beautiful, as seamless and as smooth as if it were truly on ice.)
National Dance Company Wales: Photo © Andrew Ross
There are nice touches of humor throughout and some lovely partnering work, most especially among the men. I loved the wrestlers' duet that became a tender cheek-to-cheek that was then interrupted by a third wrestler. Rather than breaking into a new duet, they became a fluid trio that seemed to defy gravity not only effortlessly, but almost unconsciously.
I was surprised at how the company's 10 dancers filled the stage – I had to count when they bowed to make sure there weren't more! Full of the swirls and bounding of people's lives, and with never a moment of unison, I was astonished that the dance could leave us with such a strong sense of harmony, order and wholeness.
Run For It
Scottish Ballet/Choreography Martin Lawrance
Music by John Adams/Set Design by Martin Boyce
Costume Design by Yumiko Takeshima/Lighting Design by Charles Balfour
The last work on the program, Run For It, was choreographed by Martin Lawrance and performed by the Scottish Ballet. Where the English National Ballet's work focused on the relentless drive to surpass oneself, and the National Dance Company Wales focused on the strength of dreams to nourish our journey toward excellence, the Scottish Ballet's work seemed to be in honor of the dedication and exigence needed to become an Olympic athlete.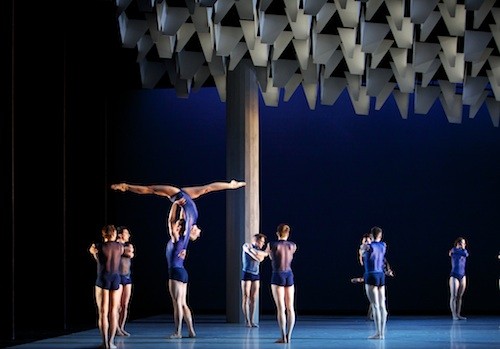 The Scottish Ballet ; Photo © Andrew Ross
While highly abstract, it was accessible through its beauty and elegance. Double-hued leotards in shining variations of blues by Yumiko Takeshima were elegant on these dancers' beautifully sculpted bodies. Martin Boyce's giant pillar served as a reminder not only of the Olympics, but of the Greek gods and their temples. I didn't catch the significance of the lighting sconces hanging from the ceiling pointed toward the stage like paper airplanes, but they were beautiful.
The dancers retained the precision, control and care that are usually associated with classical ballet, while taking on a much more contemporary vocabulary. The word 'rigor' comes to mind – rigor that at its worst can just seem rigid and stuck (and there was a fleeting moment like this), but at its best fills the dancers with their full animal power and sensuality. Pushing constantly, but not rushing. Taking that fraction of a moment to extend the balance to its outer limit before moving into the next transition in a way that tells us that these dancers are in complete control of what they are doing.
The second movement stood out as a particularly beautiful moment, taking on the sweet fullness of John Adams' music without losing an ounce (okay, a gram) of its strength. The rain pounding heavily against the tent top only added to the score and didn't distract the dancers' focus even for an instant.
---
The fact the choreographers and the dancers presented this evening are thoroughly and inarguably musical is noteworthy, as is the level of partnering work each company presented. This program reminded me without a shadow of a doubt that dancers are among the most extraordinary of athletes. This fact is little known–even among ourselves–because our level of excellence is measured not by meters or seconds or scores, but in large part by how effortlessly we perform. If the performance is excellent, the audience will probably never know how impossibly hard the dance is or how much work it has taken to get there.
Amidst the last minute construction for the Summer Olympics in London, the ongoing torch relay and scattered torrential rains, it is a special moment to be here. Of course there is a bit of irritation among the locals for the inconvenience of park closures, the farmers are concerned about the food supply because the rains have turned their fields to mud, and anyone who lives here probably dreads the crowds that will soon be disrupting the smooth rhythms of their daily lives. But there is excitement too, everywhere. The Tower Bridge is all cleaned and re-painted, proudly hosting the Olympic rings, the city is a-buzz, ready to welcome you. And dance, for the moment, is everywhere!