Related Features
Contribute
Your support helps us cover dance in New York City and beyond! Donate now.
IMPRESSIONS: Part One of DANCE NOW NYC 2018 at Joe's Pub with Emcee TruDee
September 5, 2018, 7pm
Dancers: Douglas Gillespie, Nicole Vaughan-Diaz, Gus Solomons, Jr., Louise Benkelman, Brendan Drake, Quentin Burley, Jordan Demetrius Lloyd, Shannon Nash, Jeffrey Kazin, Nic Petry, Tommy Seibold, Celine, Rachel Pritzlaff,  Macy Sullivan, Amber Sloan, Timothy L. Edwards
Composers: Steely Dan, Mandolinman, Kate Bush, Celine, Erik Satie, Zoe Keating, Omar Zubair, and Celine Dion
Choreographers: Kate Weare, Gus Solomons jr, Josh Hilberman, Jane Comfort, Brendan Drake, Nicole Wolcott in collaboration with Timothy L. Edwards
Pictured above: Kate Weare Company's Pictured: Douglas Gillespie and Nicole Vaughan-Diaz in Bridge of Sigh (Excerpt)
---
Following the recent heat wave, this year's
Dance Now
seemed like a rainbow flavored ice, something to snap you out of a stupor. By the end of the concert, the applause was deafening. Everyone felt the rush. Created fifteen years ago as a pilot program of the Downtown Arts Festival, this annual series "challenges artists to investigate new directions within the limitations of
Joe's Pub
." The ten artists who presented their 5 minutes, a time limit enforced by the always engaging emcee TruDee (aka:
Deborah Lohse
), on the cabaret stage of Joe's Pub stayed on the light side, providing an 
amuse bouche
 to explore their longer works.
DANCE NOW host TruDee (aka: Deborah Lohse); Photo: Yi-Chun Wu  
First up, a duet from 
Bridge of Sighs 
performed by Douglas Gillespie and Nicole Vaughan-Diaz, choreographed by
Kate Weare
in 2008, centers around spanking, slapping and teasing looks. For anyone who has seen Weare's work, this excerpt was a reminder of her talent for playing on the rhythms of intimacy.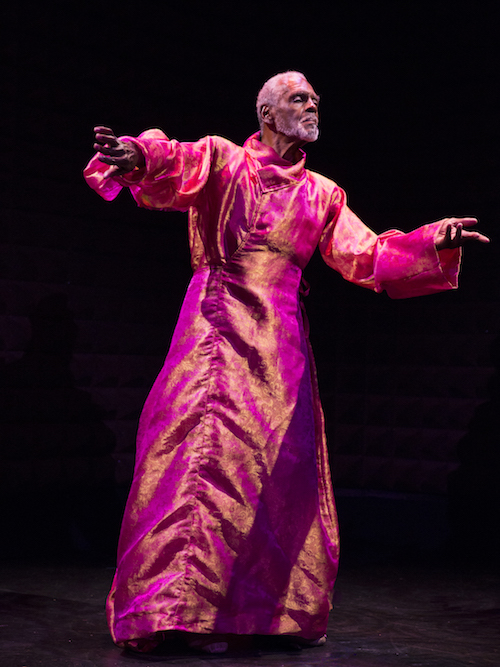 Gus Solomons jr in his solo Dude; Photo: Yi-Chun Wu
Gus Solomons jr
, regal in an effervescent orange robe designed by Oana Botez, owned the stage in the premiere of his largely stationary solo 
Dude
, performed to Steely Dan.
The Bang Group
, represented by Louise Benkelman, Jeffrey Kazin, Nic Petry, Tommy Seibold and Amber Sloan, nailed the charms of nonchalance in 
Contredanse
 as set to a clean tap beat, usually performed in unison, sometimes in a circle, sometimes in two lines.
The Bang Group in Josh Hilberman's Contredanse; Photo: Yi-Chun Wu  
The New York Times
wrote about Dance Now in 2006 that "half the fun is going in blind and walking out with a new artistic crush," a theme that Trudee winningly toyed with in her inter-dance skits. My crush hit me hard with an excerpt from
Jane Comfort and Company
's 
Beauty
 as performed by Ellen Smith Ahern, with the affirming and dismissive sounds by Leslie Cuyjet and Brandon Washington. Aiming to please, Ahern adjusts her poses, her attitudes to win the cooing approval of Cuyjet and later Washington, only to realize after much vamping that the two were oblivious of her. Celebrating her company's 40th anniversary, Jane Comfort made 
Beauty
 with the support of a 2010 Guggenheim Fellowship.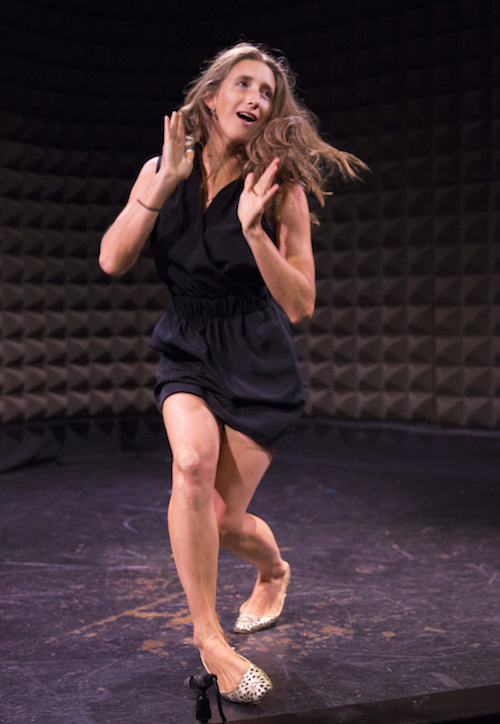 Ellen Smith Ahern in Jane Comfort and Company's Beauty (Excerpt); Photo: Yi-Chun Wu 
For the show finale
This is Desire
, Part II, 
Brendan Drake
began by telling the audience that he had been denied several grants recently on the basis that he had not been forthcoming about being queer. With an increasing din of squeals from the audience who were in on the joke, Drake broke into a jazzy trio with Quentin Burley and Jordan Demetrius Lloyd circling Shannon Nash who can bash her leg on her forehead with slapstick ease.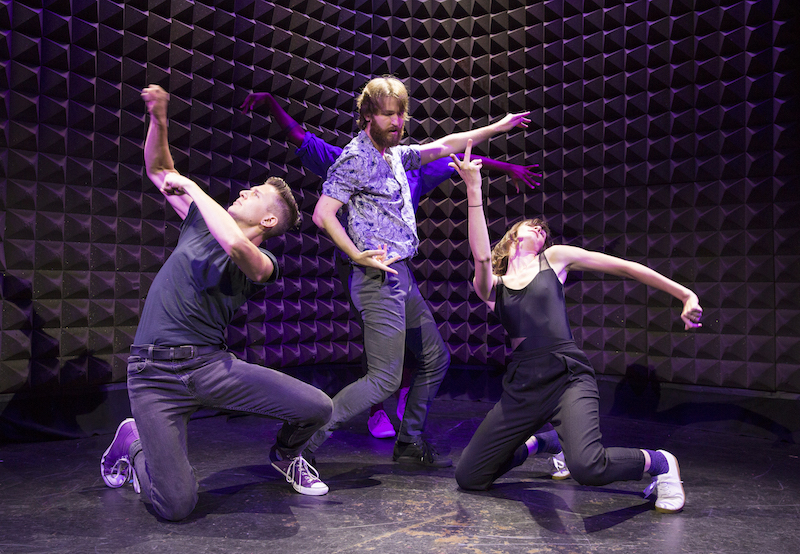 Brendan Drake, Quentin Burley, Jordan Demetrius Lloyd (behind Quentin), and Shannon Nash in Brendan Drake's This is Desire Part II; Photo: Yi-Chun Wu  
Also notable in this program were the powerful gesticulations in This Man performed by Timothy L. Edwards who choreographed his solo set to music by Omar Zubair with Nicole Wolcott.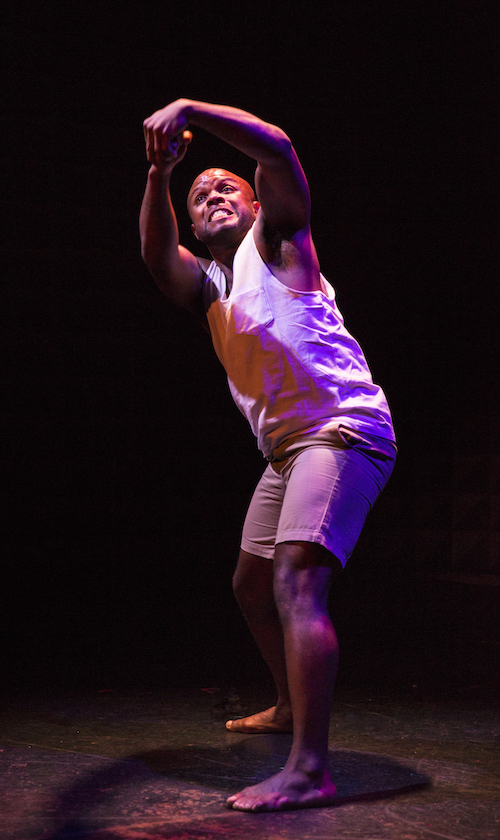 Timothy L. Edwards in his and Nicole Wolcott's This Man; Photo: Yi-Chun Wu  
---
The Dance Enthusiast Shares IMPRESSIONS/ our brand of review and Creates Conversation.
For more IMPRESSIONS, click here.
Share your #AudienceReview of performances for a chance to win a prize.