Impressions of Dance in Paris: Aurélien Bory/Compagnie 111 - "Plexus"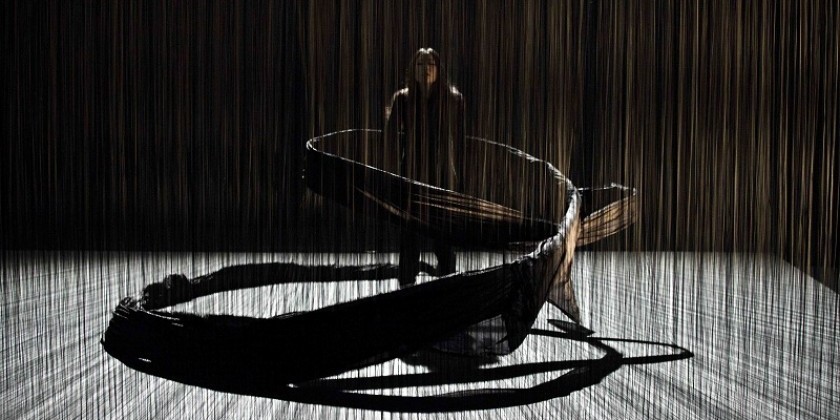 A work for Kaori Ito
January 4-17, 2014 -- Conception, Set Design & Direction: Aurélien Bory; Choreography and Performance: Kaori Ito; Music Composition: Joan Cambon; Lighting Design: Arno Veyrat; Platform & Manipulation: Tristan Baudoin, François Saintemaire; Sound: Stéphane Ley; Costumes: Sylvie Marcucci; Dramaturgical Research: Taïcir Fadel ;Set Construction:  Pierre Gosselin; Machinery:  Mark Bizet; Stage Manager:  Arno Veyrat; Production, Administration, Marketing:  Florence Muerisse, Christelle Lardonné, Marie Reculon
---
NOTES ABOUT THE ARTISTS
Aurélien Bory began his career in Physics and then Acoustic Architecture. He trained as an actor and performed with Théâtre Tatoo from 1998-2000, founding his own company, Compagnie 111, in Toulouse in 2000. Bory is recognized in France and internationally for his distinctive approach to multi-disciplinary theatre, working at the crossroads of theatre, circus, dance, visual arts, music. He says "we need to push things around to the fringe, at the place of wonderings." Click here for the link to Compagnie 111's website 
Kaori Ito is a dancer, choreographer and film artist, originally from Japan, and currently based in France. No stranger to NY, She attended SUNY/Purchase, studied at the Ailey School and danced with NaiNi Chen, in addition to presenting her own work at Joyce SoHo and Queens Museum of Art. In France she has worked with the best -- Philippe Découflé, Ballet Preljocaj,  James Thiérrée, Sidi Larbi Cherkaoui, and Alain Patel, among many others -- and her own choreography has received numerous awards. Click the link for Kaori Ito's website 
---
A black curtain is stretched out across the front of the stage. It billows from the proscenium, hiding everything behind it while embracing the body of Kaori Ito at its center. She holds a microphone to her chest and the rhythm of her heart surrounds us in the space, vibrating deep within our bodies. I am absorbed by the relationship between the sound of the heartbeat and her movements. The violent, irregular jerking of her torso reveals a heart searching desperately for an escape route. I shift all of my attention to hear what it feels like inside of her body.
The curtain shifts and waves like a living creature. When it swallows Ito up, I imagine her retreating into a black womb. Her olive skin glows gently against the darkness. Her pink slip speaks of softness and femininity. There is something sacred in this relationship between the overwhelming magnitude of the darkness, and her vulnerability.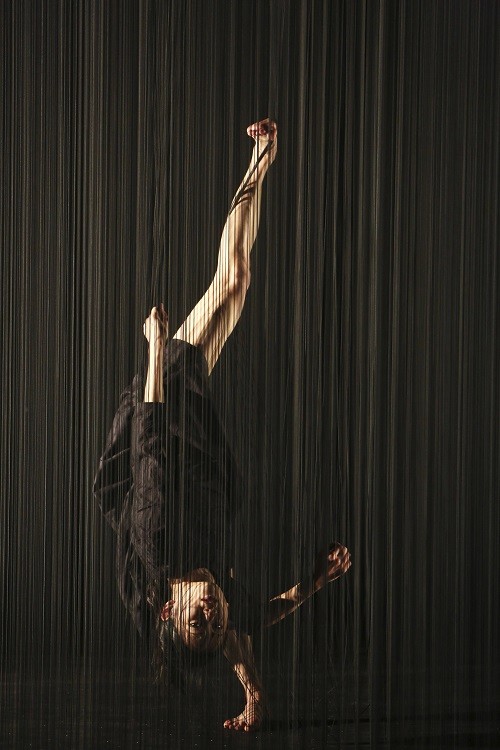 Aurélien Bory/Compagnie 111 in Plexus. Photo by © Mario del Curto.
What is revealed behind Aurélien Bory's curtain is a masterpiece. Strings! Thousands of strings hanging vertically between two parallel platforms -- one that  hovers inches above the floor, the other higher floating above. Microphones amplify the sound of Ito's stomping and shifting. The movement, repetitive and robotic, leaves little trace in my memory.
Ito falls into strings which catch her, arrest her in mid-movement, then send her back to her feet. She continues to fall, jerked around within the many vertical lines that stop her from advancing. While the strings cut into her at every angle, they also keep her from falling.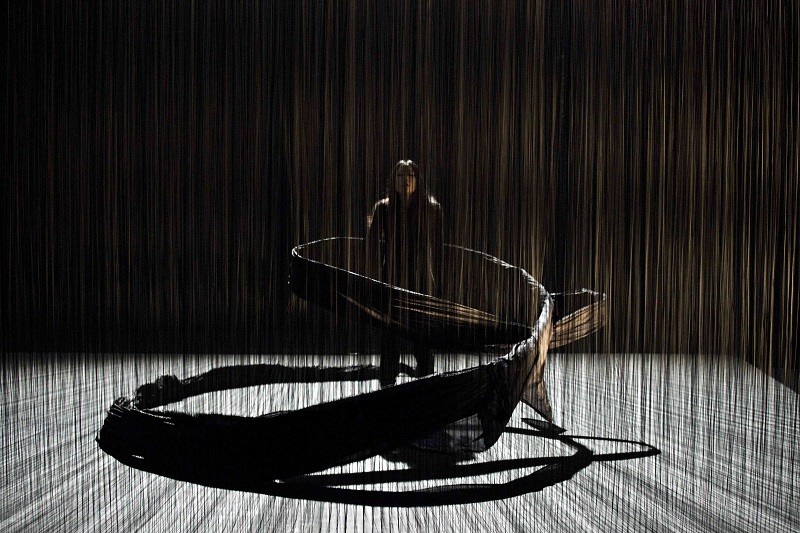 Aurélien Bory/Compagnie 111 in Plexus. Photo by © Aglae Bory.
Dressed in a black tunic dress, Ito stands horizontally in space, her feet on the strings and one hand supporting her weight on the floor. I think, "I know where this is going... Up!" I've seen what this woman can do as an aerial acrobat in the work of other choreographers, and it's phenomenal.
So it comes as a surprise that she heaves herself against the strings surrounding her, first to one side and then to the other. I am amazed when the platform beneath her feet starts to swing side to side in response. (Leave it to Aurélien Bory to design such a brilliant set!) In spite of the thrashings of a caged, desperate, even insane character before me, my interest is glued to the set and the lighting.
Aurélien Bory/Compagnie 111 in Plexus. Photo by © Aglae Bory
Light and shadow come alive through the work of Arno Veyrat. It is magical. Light pours onto the strings, casting fine shadows. It looks like millions of tiny sparkling lights floating in empty space. Horizontal slabs of light pierce the darkness, then tilt and shift. The strings move in response to Ito's movement, and the light begins to flicker like a movie we can only partly see. I love the enormous shadow that follows her like a looming black wall as she walks, bare chested, in a straight line across the stage.
Bory has created Plexus as a portrait of Kaori Ito. Restriction and containment are the basis of her character's psychology, so her movement vocabulary is limited. The work is visually striking, but it becomes heavy. The incessant heartbeat and relentless stomping (sometimes walking) movement vocabulary grow monotonous over time. Even with brief moments of strange, disturbing beauty that intrigue, we sense there many empty spaces between those thousands of strings that remain to be explored.