Related Features
Contribute
Your support helps us cover dance in New York City and beyond! Donate now.
Impressions of: Dance on Camera Festival 2015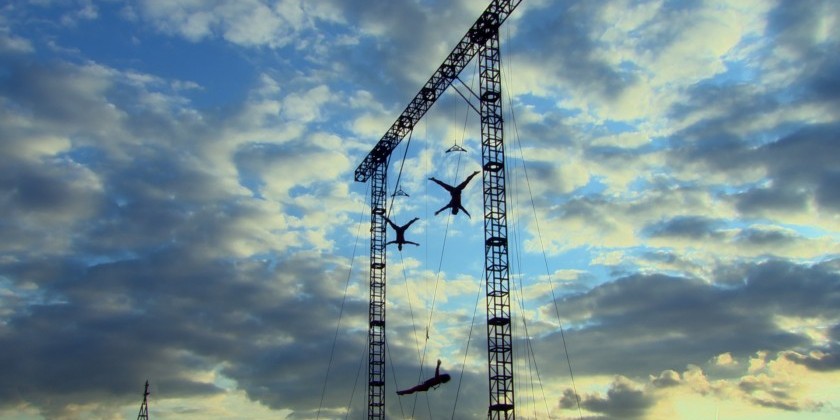 Venue: Walter Reade Theatre
Date: January 30 – February 2, 2015
Pictured above: STREB performing Speed Angels as part of ONE EXTRAORDINARY DAY in London, July 2012.
---
Pop action hero Elizabeth Streb is now 65, acclaimed, and aside from a knee replacement coming up, comparatively relaxed after 45 years of dogged experimentation. Catherine Gund's magical documentary Born to Fly: Elizabeth Streb vs. Gravity reveals her many sides: pensive, challenging, precise, zany, clever, and, yes, born to be wild.
She's also quite humble and always questioning. In the documentary, she showers affection on her collaborator Lois Greenfield, recipient of 2015 Dance In Focus Award, and her mentor Trisha Brown. Just before her homage to Brown in the 2012 London Olympics accomplished by climbing down the glass dome of City Hall, she admits she is scared. She prays in a gritted teeth mutter as she waits for her dancers to bungee jump off the London Bridge, "Please don't hit the bridge." For the film's opening, her dinner party with a rounding of other artists and scholars shows her warmth, also her inclination to fiercely debate the laws of physics on time and space. Whether face down falls are your cup of tea or not, few can resist her thrilling, meticulously planned engineering feats, or those of her daredevil company – all splendidly captured in this 2014 film, a Kino Lorber release.
Film still from "Ghost line" directed by Shona Masarin & Cori Olinghouse. Talent featured in photo: Cori Olinghouse.
So many programs stand out in this year's well attended Dance on Camera Festival, Dance Films Association's 43rd and the 19th to be co-sponsored by the Film Society of Lincoln Center.  Co-curator Joanna Ney was inspired to put in context the 15 minute short Ghost Line, by Shona Masarin and Cori Olinghouse, whose choreography and deadpan comedy seems borrowed in part from silent film giant Buster Keaton and sensibility from Hans Richter.  Memories wove the threads for many of the shorts and the documentaries on Meredith Monk, Ze'eva Cohen, Sally Gross, Jiri Kylian, Benjamin Millepied, Blanca Li, and Mia Slavenska.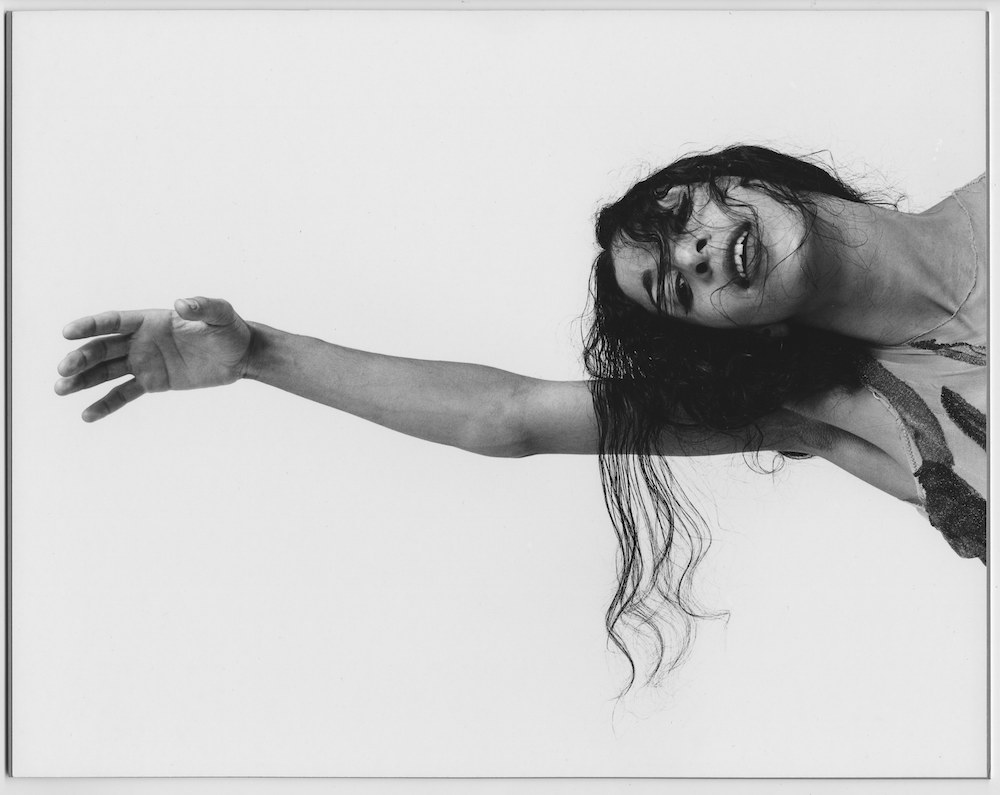 Photo of Ze'eva Cohen. Photo credit: Jack Mitchell.
The pairings of shorts with features often worked seamlessly. Kathy Rose's The Real of Nothingness, a short collage of still and floating graphics in homage to Noh and Japanese theatre, was a perfect set up for Ami Skånberg Dahlstedt's charming and informative documentary set in Japan, The Dance of the Sun.  John Resner's pristine Stella &J ohn gave a psychological introduction to the feature Fall to Rise. The handsome simplicity of Nancy Allison's Hamadryad balanced the complexity of the documentary on Mia Slavenska.
 
Yet, the festival's closing film Desert Dancer left indelible traces in my heart and mind. While the 1947 classic film Red Shoes pivots around a choice of a life devoted to dance or love, Richard Raymond's brave dramatic feature set in 2009 makes the protagonist choose between dance or his country Iran, his home and his friends.  Dance is illegal in Iran, although only 40 years before Iran National Ballet employed 50 ballerinas, including the mother of the featured female dancer who can't resist heroin. Raymond, a young British filmmaker (b. 1977), overheard the story of Afshin Ghaffarian, who dreamed of being a dancer despite a government ban, no available training beyond imitating dance found on Youtube, or a safe place to perform. 
Photo: Freida Pinto and Reece Ritchie in "Desert Dancer." Photo credit: Courtesy Relativity Studios.
Raymond admits to not having a particular love of dance, but he has great instincts. Desert Dancer has excellent choreography by Akram Khan, cinematography by Carlos Catalán, and soulful performances by Reece Ritchie, and  Indian born Freida Pinto, known for her part in Slumdog Millionaire ( who trained in dance for a year before the filming.) It makes a sad first for dance films though – the violence and terror are visceral. Never again can we say everything is beautiful at dance film festivals. Too much of the world is at war; too many people are denied freedom of expression. 
On hand for the Desert Dancer (previously shown Germany and Santa Barbara) was Sarah Arison, who became a producer for the film because the story aligned with the objectives of one of her foundations, National YoungArts Foundation.
In closing, another amazing contribution of this year's festival co-curated by Liz Wolff was Travis Magee's "First Breath," the photo exhibit that jumps off the wall into the center of the Furman Gallery of the Walter Reade Theatre, that runs to February 11. Magee explains his approach, "Transformation is a beautifully traumatic process – physical and emotional – the pain of change and the joy of discover. Like tides carving out the slope of the sand or wind sweeping across the dunes, I asked the dancers to feel the elements changing their bodies and shaping their movements. The forces that transform us are invisible. All we can recognize is that first breath as we emerge."