More Impressions of: Dance on Camera Festival 2014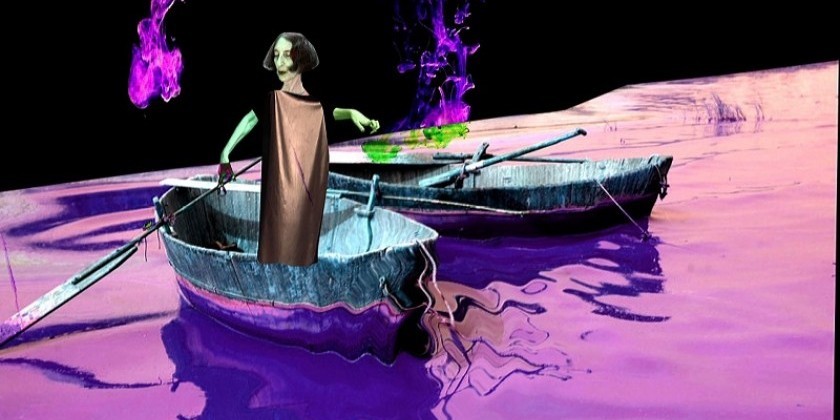 Venue: Walter Reade Theatre, Lincoln Center
Feb 1, 2014; 3:30pm - Shorts Program
---
Co-produced by Dance Films Association & Film Society of Lincoln Center, the 42nd Dance on Camera Festival continues to receive more shorts than long formats. The competition for the slots for shorts within this annual festival is intense. The program allocated to shorts this year had its usual range of ideas and approaches. Kathy Rose, whose work has been shown regularly in DOCF, came to celebrate her latest colorful, surreal fantasy, No More Worrry, No More Blue  set to the score of Greg Boyer. Immediately recognizable for her collage, mixed media style, Rose's work is always imaginative and unique.
Momentum won the audience's affection. This short from Germany, which was picked by the staff of Vimeo to be short of the week, grabs us from the first with a young man, Patrick Hanna, recounting how he discovered dance. He explains bashfully that he never liked to dance, or gave it any thought until tortilla chips, specifically the arch of his hand from chip to dip to mouth, unleashed his terspichorean self. The short spins slowly to a delirious climax, including flashes of his Asian mother, Shoko Ito, in traditional costume snapping open her fan.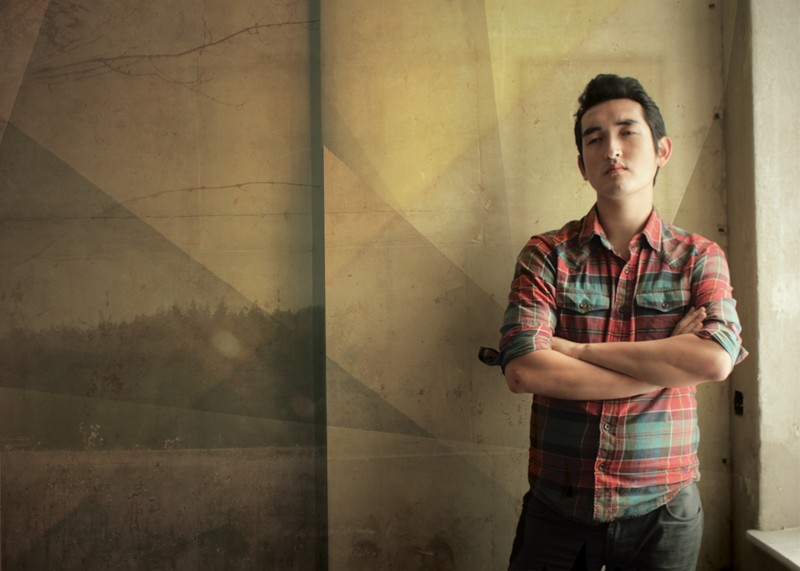 Patrick Hanna in Momentum. Photo:  Aline Reinsbach
The score by Ralf Hildenbeutel guided the choreography of the edit. Except for a few moments with both Mom and son play into the camera, Momentum has an infectious, kinetic charm.
Magma, shot in black and white in the Faroe Islands, succeeds in pulling us into a costumed ritual with a large cast moving in single file through the hills. The lingering affect is one of a few majestic stills set in motion, rather than any particular development of dance, character, or drama.

Rules of the Game by Rick and Jeff Kuperman, recent graduates of Harvard and Princeton, is crafted well. Cinematography, choreography, location are all thoughtful, but the dance suffers from the same premise of the film – constant surveillance. This screen adaptation of "Tit for Tat." has its moments though, such as when two factory workers silently converse with gestures that natural evolve in scope.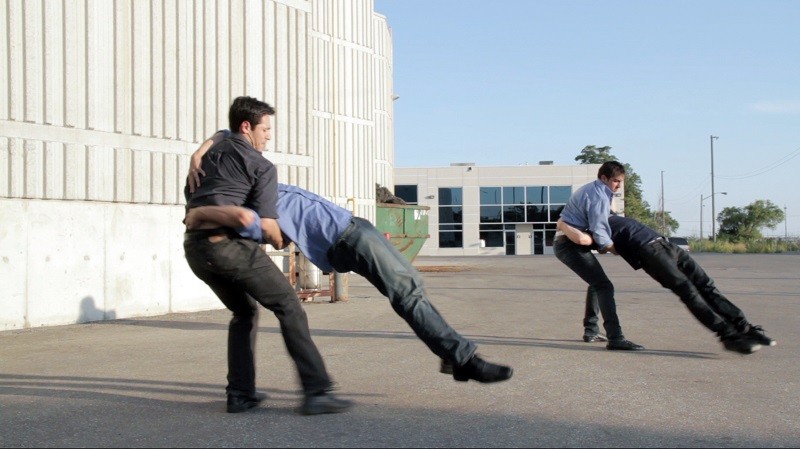 Performers from left to right: Rick Kuperman, Jeff Kuperman, Michel Issa Rubio, Zach Burke in Rules of the Game. Photo Joshua Fraiman.

Eve McConnachie's Healah Dancing has marvelous photography of Erik Cavallari and Eve Mutso. Part of the installation commissioned by the Scottish Ballet for Dance Odysseys, Healah Dancing hints at McConnachie's main job – graphic design.

The ambitious premise for 2412 by John T. Williams is ideological subversion in the United States. An antique television set shows 1984 G. Edward Griffin interview with EX-KGB agent Yuri Bezmenov, while a few men bound on poles hover in the background and Lisa K. Lock strikes strident poses on point on a small block in the foreground. Striking, bold, a short to be remembered.

Drawing Blank by Stefan Verna with support from Bravo-FACT, is a charming play on animating line drawings, choreography/performance by Emily Jean Honeger. Immaculate but free, this short suggests the power of a creation to 'write" itself.
Follow Deirdre Towers on Twitter @spiffmoves
More Information on the Shorts:
2412
John T. Williams, USA, 2013: 8m
CARLY'S EXIT
Harry Amies, UK, 2013; 7M
DRAWING BLANK
Stefan Verna, Canada, 2012, 6Mhttp://www.dance-enthusiast.com/admin/view/features/
HEALAH DANCIN
Eve McConnachie, Scotland, 2013, 5M
MAGMA
Rannva Karadottir & Marianna Morkore, Faroe Islands, 2010; 6M
MOMENTUM
Boris Seewald, Germany, 2012; 7M
NATURAL SELECTION
David Fishel, USA, 2013; 6M
NO MORE WORRY, NO MORE BLUE
Kathy Rose, USA, 2013, 4M
ROOMS
Paul Sarvis, USA, 2013; 6M
RULES OF THE GAME
Jeff & Rick Kuperman, USA, 2013; 9M
SINCE YOU WENT
Ryan T. Smith & Wendy Rein, USA, 2013; 4M
THE PERFECT DANCE
Anne Elvedal, Norway, 2013, 9M